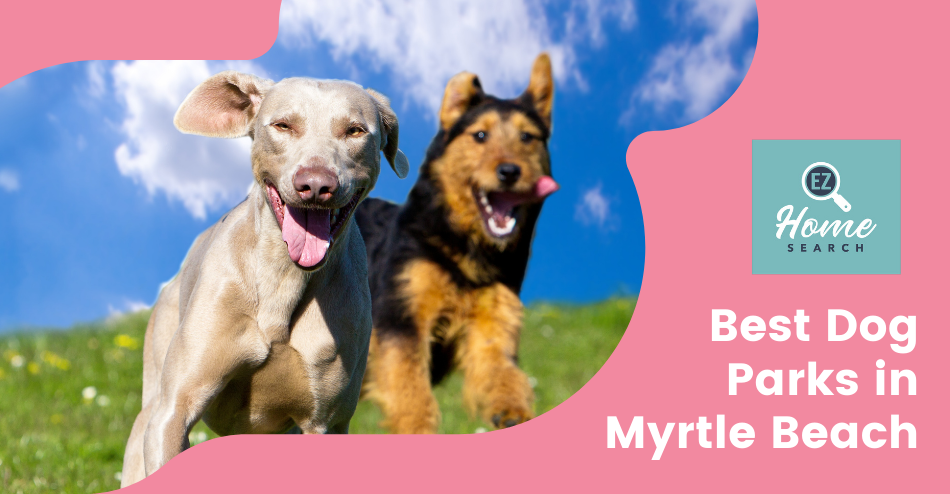 Best Dog Parks in Myrtle Beach: Where are the Best Dog Parks in Myrtle Beach, SC?
Also known as the Grand Strand, Myrtle Beach is a popular destination that offers a subtropical climate and beautiful beaches. The city swells with nearly 14 million visitors each year, and many choose to bring their canine companions along with them to this dog-friendly city. Myrtle Beach is considered a dog-friendly city, with a variety of beaches, parks, and even restaurants that welcome dogs into their space. The following dog parks in Myrtle Beach provide dogs the opportunity to run and play.
Myrtle Beach Dog Parks
There are two dog parks within the city of Myrtle Beach: Barc Parc South and Barc Parc North. Both parks are open from dawn until dusk and allow dogs to get in their exercise without a leash, as long as their owner is present. Additionally, both parks are fully fenced and divided into separate sections for large and small dogs. The height requirement for small dogs is up to 16 inches.
Both Barc Parcs have rules and regulations that are posted at each entrance:
Dogs entering the parks are required to be spayed or neutered.
All dogs entering the parks must be licensed, vaccinated, and healthy.
Dogs under four months old and children under the age of 8 are not permitted inside the parks.
Each owner is required to clean up after their dog.
Aggressive dogs are not permitted to enter the parks, and any dog showing signs of aggression should leave the park immediately.
While dogs are permitted to run without a leash inside the parks, each dog owner should have a leash in their hands at all times. People should not bring food, treats, alcohol, glass containers, strollers, bicycles or children's toys into the parks for safety reasons. Both parks are also smoke-free.
Barc Parc South
Barc Parc South Amenities
Located near The Market Common
Large lake for swimming
Separate areas for large and small dogs
Picnic area
Water fountain for dogs
Address: Barc Parc South, 700 Mallard Lake Dr, Myrtle Beach, SC 29577
A favorite of locals and visitors alike, Barc Parc South features a lake where dogs can swim. With 14 acres, it is conveniently located near The Market Common, a popular shopping, dining, and entertainment area.
Barc Parc South has a small dog area that opened in February 2019 for dogs up to 16 inches in height. The park also has a large dog area and the extremely popular all-dog area, containing a lake where dogs can swim. The park also contains bathrooms, benches, picnic tables, and a water fountain for dogs.
Barc Parc North
Barc Parc North Amenities
3.3 acres for dogs to run off-leash
Separate areas for large and small dogs
Water fountains
Plenty of shade
Address: Barc Parc North, 5000 Claire Chapin Epps Dr, Myrtle Beach, SC 29577
Near the YMCA off 62nd Avenue is Barc Parc North, the sister location to Barc Parc South. This park is located near the Tanger Outlet mall and is the closest option for people staying near highway 501 and the intersection of highways 17 and 22.
The park has ample space for dogs to play fetch, chase each other, or lounge in the sun. Barc Parc North is smaller than the park to the south, but still comes in at 3.3 acres in size. It is also separated into two distinct areas. On hot days, the generous trees provide shade, while the multiple water fountains extinguish even the strongest thirst.
Great Parks in Myrtle Beach that Allow Dogs
In addition to both Barc Parcs, Myrtle Beach has several parks that allow dogs to visit. These parks offer several amenities not found at the local dog parks such as playgrounds and beaches.
Myrtle Beach State Park
Myrtle Beach State Park
312 acres of beaches
Special hours for dogs
Walking trails
Address: Myrtle Beach State Park, 4401 S Kings Hwy, Myrtle Beach, SC 29575
Myrtle Beach State Park, an oceanfront oasis of 312 acres, allows leashed dogs in most areas of the park year-round. Current admission rates are $8 for adults, $5 for seniors aged 65 and older, $4 for children ages 6-15, and free for children five and younger. At times, there can be additional charges for special park programs and other activities.
Visitors should be aware that there is a county-wide ordinance that states dogs are not permitted on any beaches between the hours of 10:00 a.m. and 5:00 p.m. between May 1 and Labor Day. Excluding in and around cabins, dogs are permitted in most other areas of the park if they are on a leash no longer than six feet.
There are at least two trails within Myrtle Beach State Park: the Sculptured Oak Trail and the Yaupon Trail, both rated as easy. The Sculptured Oak Trail is .5 miles long, while the Yaupon Trail is .4 miles long.
It's easy to understand why Myrtle Beach State Park receives high marks. As a result of its popularity, this park can experience high volume on weekends during the summer, with wait times to enter the park lasting up to 45 minutes. Park officials encourage visitors to arrive in the early morning to avoid wait times.
McLean Park
McLean Park Amenities
Dogs are allowed anywhere if they're leashed
Community activities
Gazebo and picnic areas
Meditation gardens
Playgrounds
Tennis courts
Address: McLean Park, 93 Oak Dr, North Myrtle Beach, SC 29582
Located in North Myrtle Beach, McLean Park is a haven in the city. This park spans 10 acres and contains a two-acre lake. Dogs must remain on a leash to enjoy this park, where community activities are often held.
In addition to lush trees and a half-mile paved pathway, McLean Park also contains picnic shelters, a gazebo, and meditation gardens that are available for rent. The park also houses outdoor recreational facilities like playgrounds, tennis courts, and a youth baseball field.
There are numerous trash cans and dog waste bags available for cleaning up after pets. McLean Park is frequently used by visitors staying near the ocean in North Myrtle Beach because of its convenient location and shady areas that provide a welcome respite from the sun.
Visit These Myrtle Beach Dog Parks Today
Whether you live in the Grand Strand area or are visiting Myrtle Beach as a summer vacation destination, you can be confident that there are several fantastic parks where your canine companion can play fetch or go for a leisurely stroll. Each of these parks has its own rules and regulations, so take note before visiting a specific location. Wherever you are in the Myrtle Beach area, there is sure to be a dog park nearby.