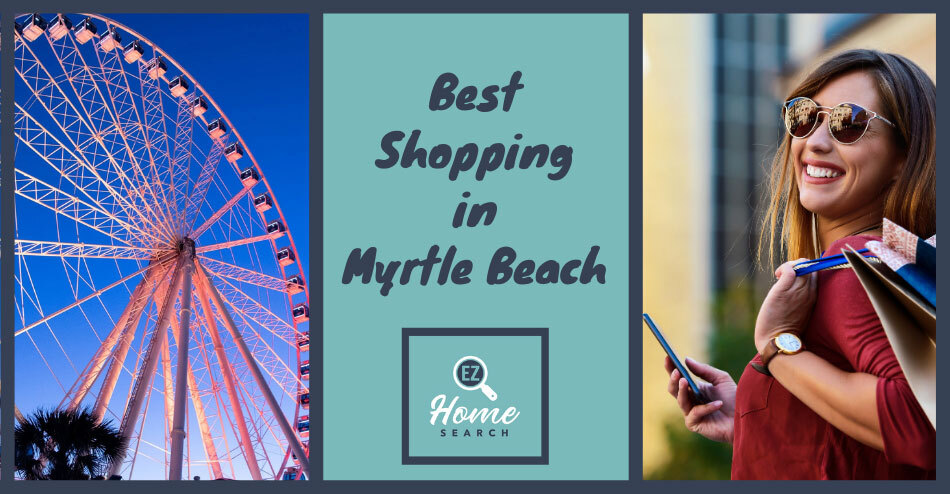 Best Shopping in Myrtle Beach: Myrtle Beach, SC Shopping Guide
People who like beaches, shopping, and beautiful scenery will love Myrtle Beach. While many think of places like Florida or California when they seek time on the sand, Myrtle Beach is one of the fastest-growing communities in the US. People know when they encounter a good thing, and Myrtle Beach has something for everyone. Millions of people visit the community every year, and thousands of those decide to stick around permanently.
While the area offers something for most people, including its well-known popular attractions, many tourists judge a community by its shopping. It doesn't matter how beautiful an area is or how close your home is to an ocean—if there's nowhere to shop for essentials and fun, it isn't a good location. Fortunately, Myrtle Beach doesn't have any problem at all when it comes to a lack of shopping. Here are some of the best places to go shopping in the city.
Broadway at the Beach
Broadway at the Beach Amenities
Outdoor shopping
350 acres of shops, restaurants, and entertainment
Beef Jerky Store
Ripley's Aquarium
Legends in Concert
Crocodile Rocks
Address: Broadway at the Beach 1325 Celebrity Cir, Myrtle Beach, SC 29577
Some people can spend all day at the beach. For others, the sun and sand are just part of the trip. Located just blocks away from the coast, Broadway at the Beach is the perfect place to enjoy all the comforts of tourism. Visitors can find one-of-a-kind meals, entertainment, and shopping all in one place. Nearby destinations include Myrtle Waves Water Park, which is open in the summer, and Broadway Grand Prix Family Race Park for go-kart racing.
The location has one of the largest assortments of shopping businesses in the area, all covering more than 350 acres. Visitors will find specialty boutiques and major national chains side by side. Within the Beef Jerky Store, you will find more than 200 variations on the central theme. Those who prefer sweeter treats will enjoy ice cream parlors like IT'SUGAR or IsCream Candy. IT'SUGAR combines alcohol-infused ice cream and an innovative doughnut shop to offer brief vacations from everyday life. IsCream Candy also serves ice cream and offers a traditional candy shop experience.
Looking for something more than food? Find nationally known names as well, such as Myrtle Beach Harley-Davidson. Visitors can find cookware, cookbooks, and gifts at The Paula Deen Store. With dozens of shops within an easily walkable community, this is a place to experience firsthand.
The Market Common
The Market Common Amenities
810 Billiards & Bowling
Stage Left Theatre Company
Seacoast Artists Gallery
EdVenture
White House Black Market
Barnes & Noble
Address: The Market Common 4017 Deville St, Myrtle Beach, SC 29577
The Market Common is the area for sophisticated experiences. Self-styled as the uptown downtown, the area can be found by taking the Farrow Pkway to Reed Street. Stop by P.F. Chang's for a delicious combination of Chinese and American foods. Travinia Italian Kitchen is the place to go for authentic Italian food. You can also grab a quick snack at The Uncommon Chocolatier or the world-famous Cold Stone Creamery.
For fun activities in the area, 810 Billiards & Bowling is the place. Enjoy great food, craft beers, and cocktails in a relaxed environment. Art appreciators will enjoy the Stage Left Theatre Company or the Seacoast Artists Gallery. The Gallery features breathtaking works of art for your home or office, from sculptures to paintings. For the life-long learning crowd, EdVenture provides a hands-on museum experience.
For the best in modern fashion, the Market Common has a number of enterprises tailored to a variety of interests. White House Black Market provides a personalized clothing style experience. In addition to fashion, Random also carries accessories, jewelry, and vintage goods. The Walking Company is the place for comfortable and stylish shoes from around the world. Round out the trip with a good book at Barnes & Noble or a gift for your furry friend at Elegant Pet Store & Resort.
The Hammock Shops Village
The Hammock Shops Village Amenities
21 shops and two restaurants
Seasonal events
Barefoot General Store
La Tierra Mineral Gallery
BisQit
High Country Olive Oil
Address: The Hammock Shops Village 10880 Ocean Hwy, Pawleys Island, SC 29585
What began as a simple Hammock Shop in 1938 has grown into an inspirational collection of handcrafted items and high-quality decorations for the home. Located in nearby Pawleys Island, the Hammock Shops Village is a group of about 21 shops devoted to a variety of outlets. Most visitors enjoy the hammock weaving demonstrations held every day. Youngsters can relish playing on a nearby playground, while others enjoy wine tastings. The community also hosts a number of special events on the holidays, such as an Easter egg hunt, Halloween trick-or-treating, and Christmas tree lighting ceremonies.
After the special events, don't forget to visit the Barefoot General Store for everyday items like sunglasses or perfume. Affordables is the place to go for apparel and accessories that won't break a budget. La Tierra Mineral Gallery has something for mineral admirers, fossil collectors, and those who just love cool rocks. This is a great shopping community to spend the entire day.
Hudson's Surfside Flea Market
Hudson's Surfside Flea Market Amenities
340 rentable booths
60,000 square feet
Second-hand and hand-made goods
Address: Hudson's Surfside Flea Market 1040 US-17 BUS, Surfside Beach, SC 29575
Just a little south of Myrtle Beach State Park is Hudson's Flea Market. Found in Surfside Beach, the location was originally called Log Cabin Antique and Flea Market when it opened in 1975. The old location was more than a store—it was a place for family and friendships. Vendors roasted peanuts and played bluegrass music. In 1990, the family of the original founder expanded to 400 spaces with more than 70,000 feet of open-air market undercover.
The Market is a great place to find antiques, golf equipment, accessories, clothing, and unique handmade crafts. The facility is open Friday, Saturday, and Sunday in November through February. The rest of the year it is also open on Thursdays.
Barefoot Landing
Barefoot Landing Amenities
Blue Moon Trading Co.
Carolina Vineyards Winery
Lulu's Beach Arcade
MyCup
Waterfront location
Restaurant options
Address: Barefoot Landing 4898 Hwy 17 S, North Myrtle Beach, SC 29582
Located in beautiful North Myrtle Beach, Barefoot Landing is the ultimate in waterfront shopping and entertainment. The area features dozens of restaurants, shops, and entertainment venues along the Intracoastal Waterway. Active types can enjoy the LuLu's Beach Arcade featuring the Mountain of Youth Ropes Course. Don't forget the Alabama Theatre and House of Blues for national sensations and local music talents—this is definitely one of Myrtle Beach's best live music venues.
Between shows and dining experiences, Barefoot Landing is a wonderful area for walking and shopping. Stop at the Carolina Vineyards Winery for wine tastings and tours right there on the strip. Kentucky Mist Distillery offers a similar experience with moonshine and flavored vodkas using whole fruit. Before leaving the area, MyCup offers a wide variety of drinkware, perfect for coffee, wine, or cocktails.
Music lovers may enjoy the Classic Rock Shop for t-shirts and other rock music memorabilia. Speaking of collectibles, lovers of TV, movies, and comic books can't miss Hollywood Heroes & Villains. From magic shops to candle accessories, this is a unique shopping experience visitors never forget.
Coastal Grand Mall
Coastal Grand Mall Amenities
Texas Roadhouse
Mall staples like Hollister and Zales
Lids
Food court
Sephora
Versona
Address: Coastal Grand Mall 2000 Coastal Grand Cir, Myrtle Beach, SC 29577
For the traditional mall experience, Coastal Grand Mall offers an unbeatable selection of shops and national chains. Open 11AM to 7PM, the mall is located near Highway 17 right in Myrtle Beach. The facility features a number of traditional mall restaurants, such as Texas Roadhouse, Abuelo's, and Sbarro. Visitors can also find innovative experiences such as Açai Couples, a superfood bar with açai bowls and smoothies.
Shoppers seeking clothing and accessories can find cutting edge beach fashions for teens at Hollister. For consumers with a wide variety of styles, stores like Buckle or Sears fit the bill. Sports and designer headwear is found at Lids. Find supplies for animal friends at PetSmart or the latest in jewelry at Zales. Spend a day at the Coastal Grand Mall, and you never know what you can find.
The Ultimate Shopping Experience in Myrtle Beach
Within the modern world, most of us can go shopping anytime we want. It is almost always possible to pick up staples from large department stores. However, Myrtle Beach offers a genuine shopping experience unlike anywhere else in the country. Shoppers routinely find new fashions, foods, and accessories they never knew they wanted.