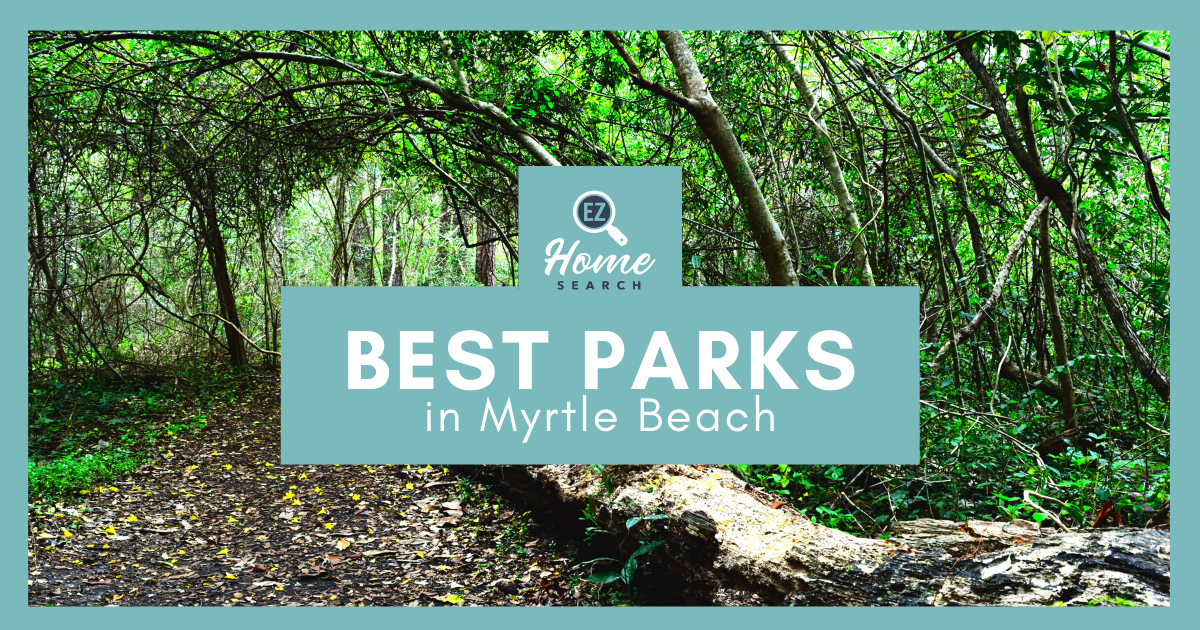 Best Parks in Myrtle Beach: Myrtle Beach, SC Parks & Recreation Guide
Myrtle Beach, South Carolina, has miles of beautiful shoreline, amazing attractions, and more than a dozen parks for all ages to explore and enjoy. Throughout Myrtle Beach, visitors and residents can find a park with walking paths, playground equipment, beach access, and even challenging trails for biking and hiking. From the sprawling Myrtle Beach State Park to the city's large dog park, outdoor recreation has never been easier to access and enjoy.
Myrtle Beach State Park
Myrtle Beach State Park Amenities
Campsites
Cabin rentals
Picnic shelters
Fishing pier
Short walking trails
Address: Myrtle Beach State Park, 4401 S Kings Hwy, Myrtle Beach, SC 29575
The Myrtle Beach State Park opened in 1936, the first of 16 to be developed in South Carolina. It's located just south of the Myrtle Beach International Airport (MYR), the Boardwalk, and the Family Kingdom Amusement Park. Myrtle Beach State Park ranks as one of the best parks in Myrtle Beach because it offers a wide range of things to do for all ages. When visiting the Myrtle Beach State Park, things to do include:
Swimming
Hiking
Biking
Riding equestrian trails
Geocaching
Bird watching
Camping
Fishing
There are 278 campsites available at Myrtle Beach State Park, and 138 of those sites have water, electricity, and sewer hookups. Visitors may opt for one of six types of cabin rentals, all located near the beach, which is open for swimming and other water activities. The park has seven picnic shelters, two gift shops, and a fishing pier. Guests need a daily fishing pier pass to fish or crab off the pier.
For hiking or wildlife viewing, take a trek on the Sculptured Oak Trail (0.5 miles long) or the Yaupon Trail (0.4 miles long). Both trails are rated easy and are a great way to see a variety of flora, fauna, and wildlife like reptiles and more. Hours for the Myrtle Beach State Park vary by season.
Savannah's Playground
Savannah's Playground Amenities
Accessible playground
Zipline
Interactive equipment
Playground suitable for older kids and adults
Walking trail
Address: Savannah's Playground, 3600-3640 Emmens Ave, Myrtle Beach, SC 29577
Visit Savannah's Playground, located between the Grand Park Athletic Complex and Farrow Parkway. It's just north of the Horry-Georgetown Technical College.
Savannah's Playground offers visitors of all ages and abilities several play and discovery areas. The equipment and play areas include a musical play space, challenge ropes and zip-line, water play, and interactive equipment that responds to touch, either mechanically or digitally. There is an early childhood development area for children ages 0 to 5 years old, and a special playground for older children and adults. A large swing set serves all ages and abilities, and the fitness trail has equipment and stations for circuit-based exercise.
Gardens By the Sea
Gardens By the Sea Amenities
Picnic tables and benches
Beach and ocean access
Playground
Free to visit
Address: Gardens By the Sea, 5506 Ocean Blvd #5504, Myrtle Beach, SC 29577
The Gardens By the Sea Park is a white sands beach located near the Pine Lakes Country Club and The Dunes Village Resort. Plan a leisurely day outing to Gardens By the Sea for fun in the sun on the beach. It's the ideal spot to swim, sunbathe, and just relax. Build a sandcastle, and then take a dip in the ocean. Don't forget to bring a picnic lunch; there are tables and benches available for public use.
Facilities at the Gardens By the Sea Park include public restrooms, water fountains, and a playground, which has a great view of the beach and ocean and includes slides, swings, and other equipment. There is no admission fee and public parking is available nearby. The park is within walking distance to food and sweet treats like ice cream.
Horry County Bike Run Park
Horry County Bike Run Park Amenities
Seven-mile trail
70 acres of land
Maintained by the Cape Fear Southern Off-Road Bicycle Association
No admission fee
Picnic shelters
Address: Horry County Bike Run Park, 150 Frontage Rd B-2, Myrtle Beach, SC 29579
Looking to get out and active? Head to the Horry County Bike Run Park, also known as "The Hulk". It's a seven-mile mountain biking and hiking trail that winds through more than 70 acres of parkland. The trail is rated "difficult" by the South Carolina Trails, and it features both natural and boardwalk surfaces. Access the park off the Robert M. Grissom Parkway and Frontage Road. It sits just south of Route 31/Carolina Bays Parkway and near the Grande Dunes Golf Club.
The Horry County Bike Run Park originally was established by the Myrtle Beach Triathlon Club and other running/cycling groups in the region. Today, the Cape Fear Southern Off-Road Bicycle Association maintains the park that's open to the public with no admission fee. There's a parking area near the entrance, and the park also has a picnic shelter and a bike repair area. The trails can and do close due to weather and wet conditions.
Barc Park South
Barc Park South Amenities
Dog park
Lake for dogs to play in
Off-leash park
Separate spaces for small and large dogs
Waste receptacles
Address: Barc Park South, Mallard Lake Dr, Myrtle Beach, SC 29577
Myrtle Beach has one of the best recreation areas for humans and their canine companions: Barc Park South. Located near the Myrtle Beach State Park, this dog park in Myrtle Beach offers an open space play area for dogs only. It's a leash-free park that spans about 14 acres and includes a lake for dog splash and swim time. The dog park is fully fenced for safety, and it features separate spaces for small and large dogs. Other facilities include restrooms, shade structures, and receptacles for dog waste.
When planning a visit to Barc Park South, please note that children ages eight and younger are not allowed in, and dogs must meet the height requirements posted on the entrance gates to the facilities. Rules for dog (and human) behavior also are posted and must be followed. This includes all owners remaining in the park within view of their dog at all times. Myrtle Beach also has Barc Park North located at 5000 Claire Chapin Epps Drive.
A Myrtle Beach Park for Everyone
Myrtle Beach truly is a paradise for outdoor recreation, from dozens of premier golf courses to miles of beach and parks for all ages and abilities. Come to Myrtle Beach for its state park and camping facilities and to spend some time at one of the beach parks, like Gardens By the Sea. Take your best canine buddy to Barc Park South, and don't miss out on a hike through the Horry County Bike & Run Park.