Your Mount Holly, NC Real Estate Questions Answered
Posted by Preston Guyton on Thursday, June 30, 2022 at 5:20 AM
By Preston Guyton / June 30, 2022
Comment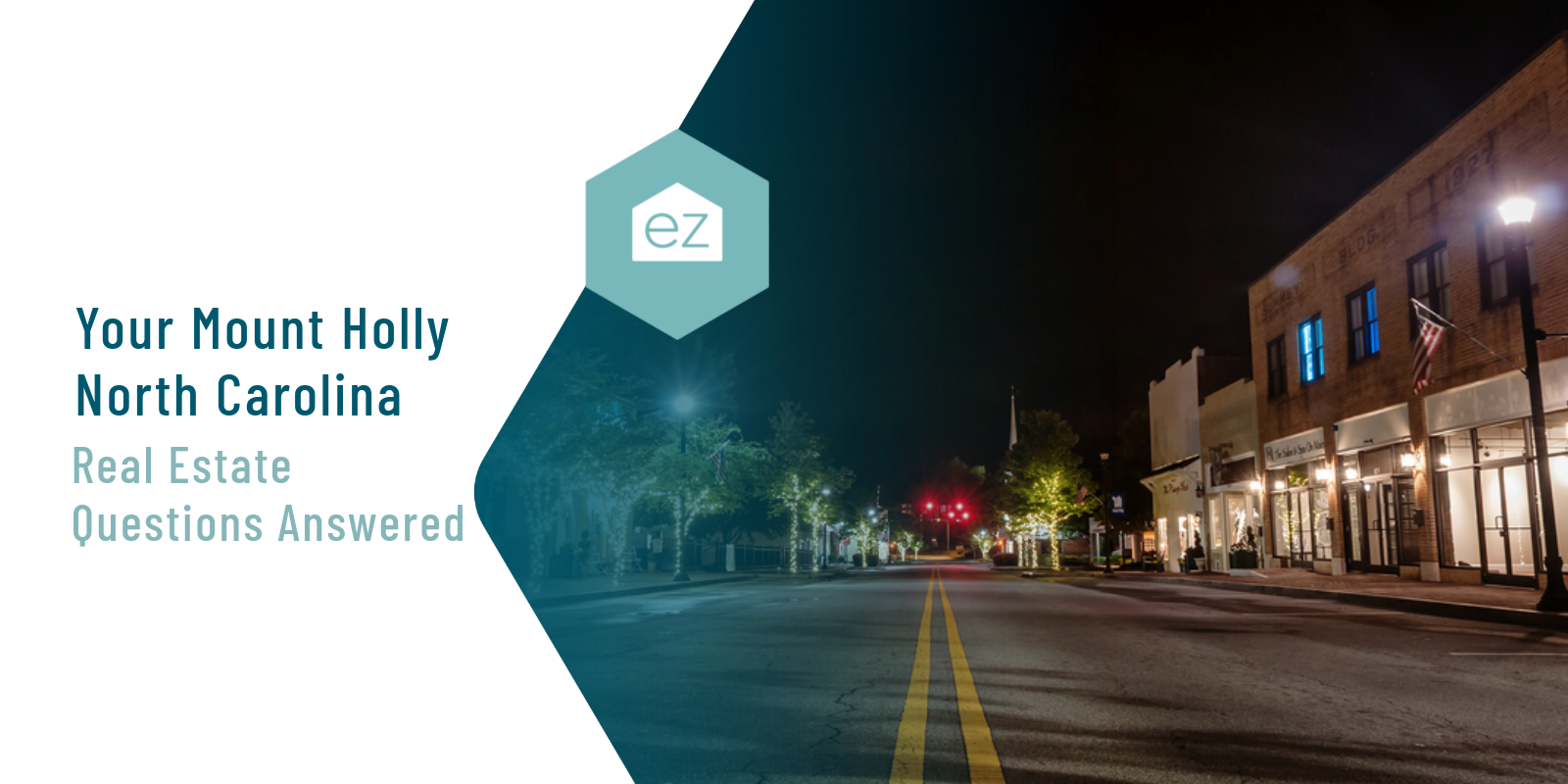 Your Mount Holly, NC Real Estate Questions Answered
If you're considering moving to Mount Holly, North Carolina, you're picking a great place to live. This charming suburb on the banks of the Catawba River is a small community with a vibrant small business and arts scene. Six parks offer countless outdoor recreation opportunities, including two right on the waterfront with boat launches. Plus, there are all the essential lifestyle amenities you'd need, like retail, breweries, and dining.
You probably have many questions about what it's like to live there. Luckily, we've got answers to all of your Mount Holly real estate questions. Keep reading to learn everything you need to know about making a move to this charming town.
What is the average price of a home in Mount Holly, NC?
The housing market in Mount Holly is affordable. The median home price in the town was just over $385,000 in April 2022, and there are plenty of homes available in all price ranges.
There were 149 homes for sale, ranging from $35K to $899.9K. The lowest prices were residential lots ideal for building your dream home. The most expensive listing was on over seven acres with 4,400 sq ft under air, four bedrooms, and 3.5-bathrooms, plus a detached workshop and barn.
Are there any condos or townhomes available in Mount Holly, NC?
There are a few townhomes and condo complexes in Mount Holly. Prices for these properties started in the $220,000s for a two-bedroom, 1.5-bathroom unit. Pricing went up to $410K for a four-bedroom, 2.5 bathroom unit with over 2,000 sq ft in May 2022.
Some places you can look for condos or townhomes are Mountain Island Village, Autumn Woods, South Gateway, and Water's Edge.
What is the property tax rate for Mount Holly, NC?
Mount Holly's property tax rate in 2021 was $0.485 per $100 of property valuation. Gaston County charged $0.83. Combined, residents paid $1.315 in property taxes for 2021-2022.
What county is Mount Holly, NC, in?
Mount Holly is located in Gaston County, bordering Mecklenburg County across the Catawba River. Gaston County is known for its outdoor recreation, small-town charm, and its proximity to Charlotte. Key attractions include the Daniel Stowe Botanical Gardens, Crowders Mountain State Park, and the Schiele Museum of Natural History.
Other towns in Gaston include Belmont, Cramerton, Dallas, Gastonia, Lowell, McAdenville, Ranlo, Stanley, and Spencer Mountain. The county runs the ninth-largest school district in the state.
How close is Mount Holly to Charlotte, NC?
Mount Holly is about 16 miles west-northwest of Charlotte. The airport is just over the Catawba River, giving residents easy access to domestic and international flights. The drive into the city usually takes around 30 minutes, but it can sometimes take longer during rush hour traffic.
What is the cost of living in Mount Holly?
The cost of living in Mount Holly is about 9% lower than the average for the nation. Healthcare was the only cost above the national average, which was 1% above the median cost. Housing was 17% under the national average.
Is Mount Holly, NC, growing?
Yes! Mount Holly's population has been growing rapidly since the early 2010s. The town had a population of about 13,656 in 2010. As of July 2020, that number had grown to 17,703 people. It is estimated to be growing at a rate of 1.4% annually. About one-fifth of its population is 18 years of age and younger.
What neighborhoods are in Mount Holly, NC?
Some of the most popular neighborhoods in Mount Holly include Mountain Island Lake, Catawba Heights, and New Town.
Mountain Island Lake is a 3,000-acre lake that offers boating, fishing, swimming, and picnicking. Several parks on the lake provide hiking trails, playgrounds, and sports fields. Housing is predominantly townhomes.
The Catawba Heights neighborhood is located near Belmont Abbey College and has easy access to I-85.
New Town is a master-planned community with various housing options, including apartments, townhomes, and single-family homes. This community also has its own shops, restaurants, and parks.
Autumn Woods' development dates back to 2006. You'll find an eclectic range of styles and lot sizes here. Home sizes range from 1,100 to 2,800 sq ft.
Runnymede began construction in 1996 and has traditional homes from 1,216 to 2,015 sq ft with prices near the national median. There is an HOA association.
Are there any waterfront properties found in Mount Holly, NC?
Yes! Mount Holly's borders follow the Catawba River, including Dutchman's Creek near downtown, and wrap around a peninsula in Mountain Island Lake. This is a great town to look for waterfront living, especially if you want something affordable and near the Charlotte metro.
In May 2022, a few waterfront properties were located on Mountain Island Lake. These properties tend to be more expensive, with prices starting in the $400,000s and around $1 million.
How is golf in Mount Holly, NC?
A few golf courses are around Mount Holly, but none are inside city limits. Your closest options to play are:
Pine Island Country Club is a private club with an 18-hole course, a clubhouse, and a swimming pool. Memberships come in a range of levels. The club is off NC Hwy 27 in Charlotte.
Green Meadows Golf Course is an 18-hole course that is in nearby Stanly. This course is open to the public and offers 5,700 yards with a par 70.
What areas are near Mount Holly, NC?
Charlotte is about 16 miles southeast of Mount Holly. This city is the largest in North Carolina. As a major metropolitan area, Charlotte has multiple dining, shopping, and entertainment options. You'll enjoy live music venues and professional sports. The US Whitewater Center is convenient to Mount Holly and Charlotte, being situated on the Catawba River across from the town. The Charlotte-Douglass International Airport is also an easy drive from Mount Holly.
Belmont is roughly four miles south of Mount Holly. This town is home to Belmont Abbey College and has a historic downtown area.
Gastonia is about 13 miles east-southeast of Mount Holly. The county seat has a historic downtown area with shops and restaurants. It is also home to the Schiele Museum of Natural History.
Huntersville is about 17 miles northeast of Mount Holly. This town's amenities include a variety of parks, golf courses, and shopping centers. It is also home to the Carolina Raptor Center.
The US Whitewater Center is nearby in Charlotte across the Catawba River and offers whitewater rafting, kayaking, tubing, and rock climbing.
McAdenville is famous for being Christmas Town USA. It's a few miles south of Mount Holly. Residents decorate their homes and businesses with lights and decorations for the holiday season.
What to know about living in Mount Holly, NC
Mount Holly is a great place to live if you're looking for a smaller town with easy access to Charlotte. The historic downtown area is thriving with local boutique retailers and dining venues.
The town is located beside the Catawba River south of Lake Norman and has access to a few parks and trails. You can enjoy ten miles of the river from Mount Holly.
The best time of year is during the spring or fall. The temperatures are milder during these seasons, and there are various events held in town, like the Mount Holly Folk Festival and the Catawba Riverfront Music Series.
Families have many school options in Mount Holly, including public, private, and charter options.
If you're looking at living in Mount Holly, contact a local real estate agent to find the right neighborhood for you.