Moving to Charlotte - Your EZ Guide to Everything Charlotte, NC
Posted by Preston Guyton on Thursday, April 1, 2021 at 4:47 PM
By Preston Guyton / April 1, 2021
Comment
Moving to Charlotte - Your Guide to Living in Charlotte, NC
Thinking of moving to Charlotte? You will when you're through reading this.
Here, you'll see just why people choose this city as their home, as well as receiving a comprehensive guide on what it's like living in Charlotte.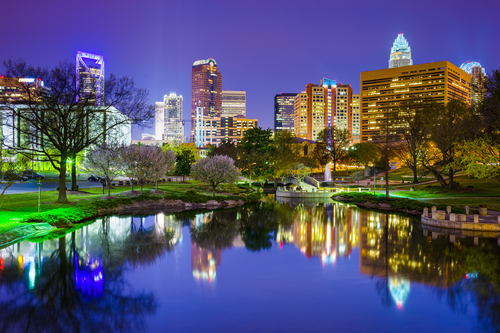 Cost of Living and Population Growth
The city of Charlotte offers an affordable cost of living which attracts more people every year. More than 40% of Charlotte's population consists of those who have moved in from a different state in search of its southern charm. In comparison to the country's highest median rent prices coming in at around $2,600, Charlotte's rent prices for a one-bedroom come in at just $1,190, followed by a two-bedroom at only $1,420.
Aside from the affordable rent prices, utility costs for Charlotte are also more on the light side. On average, residents pay approximately $142 for their utilities which include heat, A/C, and electricity. Because of this, the basic cost of living in Charlotte is about 8% lower than the national average, making it a great city to live in.
In terms of population, Charlotte is the most populous city in North Carolina. As of 2019, the U.S. Census Bureau estimates that it has a population of 885,708, making it the 15th most populous city in the country.
Job Market
When it comes to jobs, Charlotte is one of the best places in the country for job hunters. In a recent survey by Glassdoor, Charlotte came in as the 24th best place to find work. In 2017, the city had an unemployment rate of 4.9% and a median salary that is higher than the country's average. Because of these factors, Charlotte is an excellent choice for individuals looking for high-paying jobs.
Some of the biggest and top employers in the Charlotte area are Lowe's, American Airlines, Wells Fargo, and Bank of America. The job market in this city is heavy in the Insurance and Finance fields; however, the Social Work and Health Care sectors are actually #1 when counting total employment numbers. On the other hand, tech is becoming more of a focus in recent years, with companies such as Amazon placing large warehouses around the area.
Things To Do

If you love your liquor, then you're going to love Charlotte. The city is highly committed to the wine and beer scene, with fine vineyards, hundreds of breweries, and plenty of unique experiences you can't find in other cities. Some of the best breweries to visit include; NoDa Brewing, Blue Baze, Legion Brewing Triple C Brewing, and more! The vineyards you need to check out include Stony Mountain Vineyards, Vesuvius Vineyards, and Dennison Vineyards.
Charlotte also offers great nightlife for people of all lifestyles and ages. Apart from the vineyards and breweries, there are also a variety of restaurants, bars, clubs, events, live music, and entertainment to choose from. If you're more the outdoor type of person, you'll also find great places for adventures such as beaches and mountains. While the Charlotte area does not border any ocean, it's easy to forget when there are places like Lake Norman and the Catawba River Mountain Island Lake.
Another advantage to living in Charlotte is that apart from beaches, you're also near mountains too. As a result, you get the urban lifestyle that a major city like Charlotte offers while also having an epic outdoor lifestyle. The Crowders Mountain State Park is only a 30 to 40-minute drive away, which offers beautiful views, challenging hikes, and towering cliffs. It also has 11 trails and 9 acres of lakes for as much fishing and hiking as you want. From Charlotte, you can take your pick of mountains like Chimney Rock, Blowing Rock, Banner Elk, and more.
Climate
The climate in Charlotte is one of the best reasons to move to the city, especially if you come from an area that's covered in snow for 6 months at a time. If you love skiing or winter sports, the mountains offer excellent places for you to enjoy a day on the slopes. You'll be happy to know that Charlotte can provide you with all four seasons, with some of the most stunning foliage during the Fall.
Furthermore, the winter months aren't as harsh as those found in the north. It doesn't often snow, and you'll only encounter it once or twice a year. On the other hand, summers in Charlotte can get quite hot, but this is something that residents have grown accustomed to. It's not like the scorching heat one might experience in southern states like Texas or Florida.
Traffic
Various reports show that drivers in some cities will spend hours of their lives staring into brake lights. While nobody likes to sit in traffic, you can rest easy knowing that this isn't such a big problem in Charlotte. According to the analytical data company INRIX, they were able to observe traffic patterns that point to the most congested cities on the planet.
While it's not the most traffic-free city, it was found that the Charlotte metro ranked at #24 as the most congested urban area in the country. This number reflected in their 2019 Global Traffic Scorecard, which looked into more than 975 cities throughout the world.
Public Transportation
Depending on where you live in Charlotte, there are plenty of transportation options available to you. The LYNX Light Rail connects various neighborhoods, making it popular with intercity commuters. It uses a track that runs for 19.3 miles, with round trip fares costing around $4.40 for adults. Moreover, it becomes cheaper with the more tickets you buy, and many local universities offer pass programs for students looking to get more affordable tickets.
Apart from the LYNX system, there's also the CATS (Charlotte Area Transportation System), which includes their shuttle and bus system that reaches further places. It consists of a shuttle service going to the airport, which is useful for frequent fliers who want to avoid the costs of having to park by the airport.
If you fancy a healthier way to get around, Charlotte is also home to the biggest bike-sharing program in the south; B-Cycle. With a pass, you'll be able to rent a bike to use around the city, giving you a great way to explore the area without having to look for parking. It also gives you time to soak in the places you visit.
The Charlotte/Douglas International Airport sports the Charlotte skyline in the background. It is currently the 11th busiest airport in the world according to traffic and is served by many domestic and international airlines such as Lufthansa and Air Canada, while also serving as the second-largest hub for American Airlines. It offers nonstop flights to various destinations around the U.S. and flights to Central America, Canada, the Caribbean, Mexico, South America, and Europe.
Golf
A big factor that makes people consider living in Charlotte is the fact that you can play golf all year. There's literally a golf course for people to enjoy every 10 miles. Some of the best golf courses to look out for include the Charlotte Country Club, the Quail Hollow Club, and the Myers Park Country Club. Furthermore, some of the top golf courses in the world can be found in Southern Pines and Pinehurst, just 2.5 hours away from Charlotte by car. Because it's close to North Carolina, Charlotte is a convenient location for people who want to play golf outside of the state.
Water Sports
There are plenty of ways to enjoy water sports in Charlotte, starting with the U.S. National Whitewater Center. It covers various water sports for all skill levels and ages. The center offers a relaxed environment intended to encourage first-timers and the youth. However, activities such as Adventure Rafting are available for thrill-seekers where they can traverse through the whitewater channels on fast-paced class III-IV rapids.
If you're looking for an action-packed afternoon, make your way to Aquaventure Watercraft Rentals and Boat Club. Here, you can rent a ski boat or jet ski from an hour up to a whole week. You can even rent out kayaks, paddleboards, and yachts, along with all the necessary accessories for a fun day out on the water. You might also want to check out Paddle Charlotte Aloha on Lake Norman, "the home of paddle sports in Charlotte, North Carolina." This company specializes in paddleboard instruction and rents out paddleboards and kayaks. Their instruction includes techniques for turning and paddling as well as water safety tips.
If you have a long weekend, you can always take a 3.5 hour drive and enjoy the beaches of Wilmington. The beaches in the Wilmington offer some great opportunities to rent an oceanfront condo or oceanfront home. Kure Beach, Carolina Beach, and Wrightsville beach are 3 great options if you want to enjoy a beach day or weekend.
Dog Friendly
Charlotte is known for its dog-friendly parks, restaurants, and other attractions. No matter how you plan to spend your weekends, the city has plenty of options for your and your fur baby to choose from. One of the most popular spots to visit for dogs is the Canine Café, which features an on-site dog-friendly bakery and all-natural pet food and supplies. They can even customize cakes for your good boy/girl on their birthday. If you need to go away for some time and want to make sure your dog is well cared for, you can take them to Pet Paradise. Here, your dog can enjoy a relaxing time socializing with other dogs or lounge in a bone-shaped pool.
Each spring, Pet Palooza Festival and Walk for the Animals take place at Independence Park in Elizabeth, which benefits the Humane Society of Charlotte. During this event, dogs and their humans can participate in a fundraising walk, pet-friendly demonstrations, festivities, and contests. If you're looking for playdates, you can take your buddy to Twenty-Two, an art gallery beneath Soul Gastrolounge in Plaza Midwood. If your dog prefers a more active way to enjoy the outdoors, you can take advantage of Charlotte's climate and spend the day at one of the many parks in the city. One of the best parks for dogs is the McDowell Nature Center and Preserve, which has nine trails for your dog to explore.
Attractions
There's never a shortage of attractions and places to visit in Charlotte, which means there's always something new to see. One of the most popular places to see is Carowinds, an amusement park split into two parts — one on the North and one on the South state line. Here, you'll find roller coasters, kid rides, and a hotel where you can stay for more fun the next day. Other places include ImaginOn, the best learning center for kids and teens. A collaboration between the Children's Theatre of Charlotte and the Charlotte Mecklenburg Library, it features theater performances, cool hangout spots, a studio for making music and videos, and an interactive Story Lab.
For adults, the Charlotte Brews Cruise lets you sip back and relax through a tour of a number of Charlotte's most popular breweries. The driver will take you from one brewery to the next, where you can get a look at the brewing process from behind the scenes while enjoying various kinds of beer. At the Blumenthal Performing Arts Center, you can laugh at a comedy show, watch a Broadway musical, enjoy the ballet, and more. With three theaters in the center, it offers a wide range of entertainment. It's also located in Charlotte's Uptown neighborhood, so you can grab a bite to eat before or after a show.
Shopping
Charlotte has many traditional shopping malls to offer, however, the city also holds one-of-a-kind shopping destinations that will guarantee you'll find something to buy. One such mall is the Sleepy Poet Antique Mall — a 60,000 square foot mall that's known for its beautiful and unique antiques. Vintage clothing, decor, furniture, and records fill each corner of this large building, where you can be sure to see something different with every visit.
The Latta Arcade is a historical shopping arcade in Uptown Charlotte. This two-story building was built in 1914 and is host to plenty of shops and restaurants that offer a unique experience. It features a stunning skylight in the middle atrium and also has an interesting history. If you prefer an outdoor shopping experience, you can find Specialty Shops SouthPark in the southern part of Charlotte. It offers a mix of locally owned boutiques, big-name stores, and restaurants, all under the sun.
Art and Culture
It should come as no surprise that Charlotte is passionate about their music. Whether you're at a coffee shop, a local bar, or a large music venue, there is always live music playing in this city. Large concerts are held at venues such as The Fillmore Charlotte, PNC Music Pavilion, Spectrum Center, Charlotte Metro Credit Union Amphitheatre, and more. If you're more into art, the Bechtler Museum of Modern Art allows you to bask in natural light as you look through the 1,400+ works of art it has to offer. Designed by Mario Botta, it is one of the rarest museums in the country — and only the second museum to be designed by the Swiss architect.
If you love festivals, then the Yiasou Greek Festival is for you! This family-friendly festival is held in September every year in the neighborhood of Dilworth. With plenty of Mediterranean flair, you can learn traditional Greek dances or eat as much spanakopita you please. Food is also deeply embedded in Charlotte, and is home to the famous chef, Rocco Whalen. His restaurant, Fahrenheit, was featured in Gourmet magazine's "Guide to America's Best Restaurants." Furthermore, the famous North Carolina Barbecue, Mac's Speed Shop, and Queen City Q are just some of the many BBQ joints loved for their homemade sauces and smoked meats.
Sports and Sports Teams
Charlotte has become famous not just in the country, but across the whole world thanks to its sports teams. The Charlotte Hornets, The Carolina Panthers, NASCAR, and The BB&T Knights are just some examples of what makes Charlotte a sport-centered city. This city has tremendous pride for its teams — just walking down the streets of Uptown Charlotte will show you the logos of every team all over the city.
If you fancy a night out, the city of Charlotte and its teams can provide you with great entertainment. As a Triple-A baseball team, the BB&T Knights play at Truist Field, an amazing stadium located in the heart of Uptown with skyscrapers against the gorgeous ballpark. Whether you're watching a Hornets game, Knights game, or Panthers game, there are plenty of options for dinner and drinks afterward.
Education - Schools and Colleges
One reason why families choose to settle in Charlotte is because of the high level of quality education that students receive. The Charlotte-Mecklenburg area is the largest school district in Charlotte and encompasses 169 schools that host around 150,000 K-12 students. The city places high importance on education and boasts colleges such as UNCC, Davidson, NC State, Duke, UNC, and Wake Forest, most of which are only a few hours drive away. All of these in-state colleges offer great value and education for Charlotte residents and their children.
Real Estate
Those who already live in Charlotte know just how affordable the cost of living is in the area. The median value of a home in Charlotte — which is around $190,000 — is notably lower compared to the national average of about $211,000. In the past few years, Charlotte homes have increased in price to keep in line with the rest of the country; however, Charlotte has appreciated a bit quicker. Charlotte is quite affordable partly because of how low the price of land is.
This is because there's plenty of room to build homes, and as a result, new builders can use this affordability to their advantage and build high-quality homes for a lower price. However, homes in built-out and desirable locations are much more expensive than expected. In terms of growth, Charlotte was known as the country's fastest-growing metro area between 2004 and 2014, after gaining 888,000 new residents. Census data retrieved from 2005 to 2015 indicated that Charlotte had the highest millennial population growth in the country. As a result of its progress, it is currently the third fastest-growing major city in the U.S.
Many have made the move to Charlotte and never looked back. Many people who consider relocating to North Carolina will often end up moving to Charlotte thanks to all the pros it has to offer compared to other locations. From the great food, entertainment, and affordability, this city has so many opportunities to offer, all waiting for you.