Your Mauldin, SC Real Estate Questions Answered
Posted by Preston Guyton on Friday, August 5, 2022 at 12:05 AM
By Preston Guyton / August 5, 2022
Comment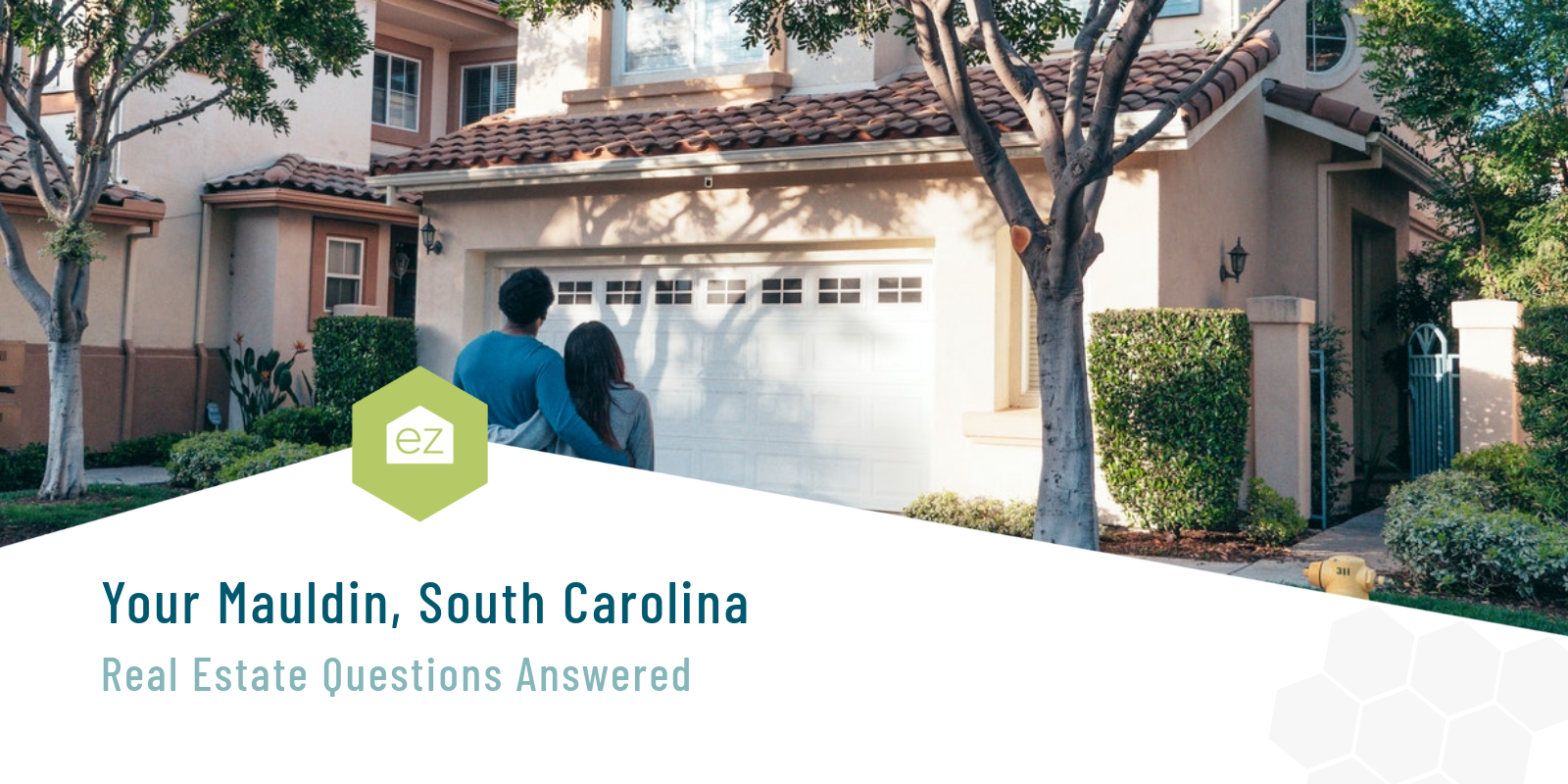 Your Mauldin, SC Real Estate Questions Answered
Mauldin is a progressive community in the heart of Upstate South Carolina. With great neighborhoods, expansive parks, the best schools in the area, and an internationally accredited Police Department, Mauldin is an attractive place to live for families and individuals. Residents have a large array of restaurants and family-friendly activities at every turn.
Are you thinking about making Mauldin your home? Here are answers to some common questions about Mauldin real estate to help you decide.
What is the average price of a home in Mauldin, SC?
The Mauldin housing market is strong and growing. Home values have steadily increased over the past few years, so now is a great time to buy a home in Mauldin. The median price of a home in Mauldin was $339,900 in July 2022, with 234 homes for sale.
The good news is you can find homes for sale at a wide range of prices to fit your budget and needs. The least expensive property was $35,000 for an almost acre of undeveloped land. The most expensive was $1.5 million for a four-bedroom, 3.5-bathroom home on 2.4 acres with views of Greers Pond.
Are there any condos or townhomes available in Mauldin, SC?
Seeking maintenance-free living? You'll find a selection of condo and townhome options available in Mauldin. Prices start in the mid $150,000s and go up to around $352,900. If you're looking for a chance to customize your home features, your options include new construction townhomes.
Some places you can look for condo or townhome living include Holly Ridge, Camden Cottages, Crescentwood Village, Whispering Meadows, Parkland Townes, Eastcreek Park, and Cardinal Creek.
What is the property tax rate for Mauldin, SC?
All South Carolina primary residence homes are assessed tax at 4% of property value. Secondary and other residents pay 6% of property value.
Property taxes are charged in mils or 1/1000th of a cent. The charges for Mauldin residents based on 2021 rates are as follows:
Greenville County, 63.3
Greenville County Schools, 194.2
City of Mauldin, 53.9
Mauldin Fire District, 29.0 (if outside city limits)
Arena, 4.0
The typical total mils charged was 331.8 for a city resident. Once you have a specific home in mind, your best bet is to search for the address in Greenville County records.
What county is Mauldin, SC in?
Greenville County in Upstate South Carolina is Mauldin's home county.
The county seat is the town of Greenville, the most populous city in the county, followed by Mauldin. Other major cities in Greenville County include Simpsonville, Taylors, Greer, Easley, and Travelers Rest.
Greenville County offers residents a high quality of life with access to great schools, healthcare, recreation, and entertainment. The county is also home to several Fortune 500 companies, making it a great place to live and work.
Is Mauldin, SC, growing?
Yes! Mauldin's population has been growing steadily for years and is currently around 25,000. It grew 7% between 2010 and 2020. The city is expected to grow as more people discover all that Mauldin has to offer.
Greenville County is also growing, with a population of over 516,000. The county's population is expected to increase as people move to the area to experience its excellent quality of life.
What neighborhoods are in Mauldin, SC?
More young people, families, and retirees are choosing Mauldin for its pleasant and safe environments, big lots, green spaces, access to local services, and affordable homes. Mauldin has many neighborhoods to choose from, depending on your preferences. There are new construction developments, historic houses, as well as townhomes.
If you want to be close to downtown restaurants and shops, check out Downtown Mauldin. Otherwise, here are a few neighborhoods that are worth exploring.
Forrester
Forrester Heights suburb has 270 homes developed in the late 2000s to bring affordable upscale living near Mauldin. A typical home has a full brick facade, four bedrooms, two bathrooms, and a two-car garage. Layouts range from 2,200 sq ft to 4,000 sq ft.
Nearby are the Forrester Woods and Forrestor Farms neighborhoods, with 350 more single-family homes. Its amenities include a pool, swim team, tennis court, and playground. Homes range from 1,600 to 3,300 sq ft. The Forrester Woods trail
Planter's Row
Planters' Row has five distinct neighborhoods, each with different floorplan options, making the community ideal for all lifestyles. Choose from homes in the Orchard, Preserve, Grove, Vineyard, and Autumn Ridge. Development began in the 1990s and continued through the 2010s. Community amenities include a pool, playground, soccer field, and tennis courts. An active HOA maintains a community calendar.
Eastcreek Park
This gated townhome community beside Gilder Creek has homes with open floor plans and up to 2,000 sq ft of space. The location near I-385 makes getting around the Upstate easy. Mauldin Park and Mauldin High School are a few minutes down Butler Road.
Knollwood Heights
Living here, you'll appreciate an inviting community with 18 acres of woodlands about maintaining a sense of privacy. Home styles vary, but there are bungalow-style, brick, and two-story homes. Many of the 240 homes are set back on spacious lots ranging from half-acre to over an acre.
The development is pedestrian-friendly; it's common to see residents walking and biking in the community. Another advantage is the community pool with a local swim team. The Knollwood Neighborhood Association organizes various seasonal events to bring residents together.
Brookside
Located off Brooks Road, this neighborhood of 322 single-family homes is a mature community with cul-de-sacs and large trees. The amenities include a five-lane pool with a kid's area that hosts a local swim team. A clubhouse has a kitchen area and a covered patio.
Most homes are two-story with 2-5 bedrooms and 2,000-2,700 sq ft.
Hillsborough
This established community was developed in the 1970s. As such, you'll find mature landscaping and smaller homes on spacious lots.
Are there any waterfront properties found in Mauldin, SC?
While Mauldin is not located on the water, a few properties are located on lakes or creeks. Gilder Creek and Laurel Creek are the primary watercourses.
If you genuinely desire lakefront living in this part of the Upstate, some lakes near Mauldin include Saluda Lake, Lake Robinson, and Lake Cunningham.
How is golf in Mauldin, SC?
Mauldin is home to several great golf courses. The nearest courses include:
Holly Tree Country Club is a private country club based in Simpsonville with golf and tennis facilities. The course was designed by George Cobb around small lakes and Gilder Creek.
Legacy Pines Golf Club is an 18-hole, par 71 course in Greenville. It is public with membership options.
The Preserve at Verdae Golf Club is an 18-hole, par 72 course in Greenville. This private club was designed by William Byrd to make the most of the natural Carolina forest.
Are there golf course communities in Mauldin, SC?
No golf course communities are located in Mauldin, but some are in the surrounding area. The Verdae is one such golf course community development. Another option is The Cliffs at Mountain Park, a sprawling resort-like community along Lake Keowee.
What areas are near Mauldin, SC?
Mauldin is a suburb of Greenville, SC. It is located in the rolling Upstate region and is about four miles from Downtown Greenville and its cultural attractions. Enjoy spending time at the many shops, restaurants, and live music venues.
Other great and historic Upstate communities are an easy trip from Mauldin. Tour small towns such as Simpsonville, Five Forks, and Fountain Inn. In these areas, you'll find many great places to live, work, and play in a more rural or small-town setting.
To the east is Spartanburg, home to seven colleges such as Wofford College, Converse College, and the University of South Carolina Upstate. The city has a vibrant downtown with live music, art galleries, nightlife, and excellent restaurants.
To the south is Simpsonville, a city in Greenville County. It's known for its artistic traditions and Main Street with local shops and restaurants. The city also has several parks and recreation areas.
Historic Fountain Inn awaits beyond Simpsonville. It's a historic textile town with a revitalized downtown brimming with antique stores and boutiques. The city also has some parks and recreation areas.
Drive west, and you'll land in Clemson, home of Clemson University. Besides being a college town, the city has a lively downtown with shops and restaurants. It's near the expansive Lake Hartwell, offering plenty of vacation and recreation areas.
Heading north will take you to Asheville, NC, a city in the mountains known for its live music and arts scene. The city has several famous attractions, a bustling brewing scene, and live music venues.
What to know about living in Mauldin, SC
Mauldin is a great place to live, work, and raise a family. With its convenient location, great schools, and low crime rate, it's no wonder that Mauldin is such a popular place to call home in the Upstate region.
If you want to live in Mauldin, contact a local real estate agent to find the right neighborhood.