Your Kinston, NC Real Estate Questions Answered
Posted by Preston Guyton on Saturday, May 14, 2022 at 4:52 AM
By Preston Guyton / May 14, 2022
Comment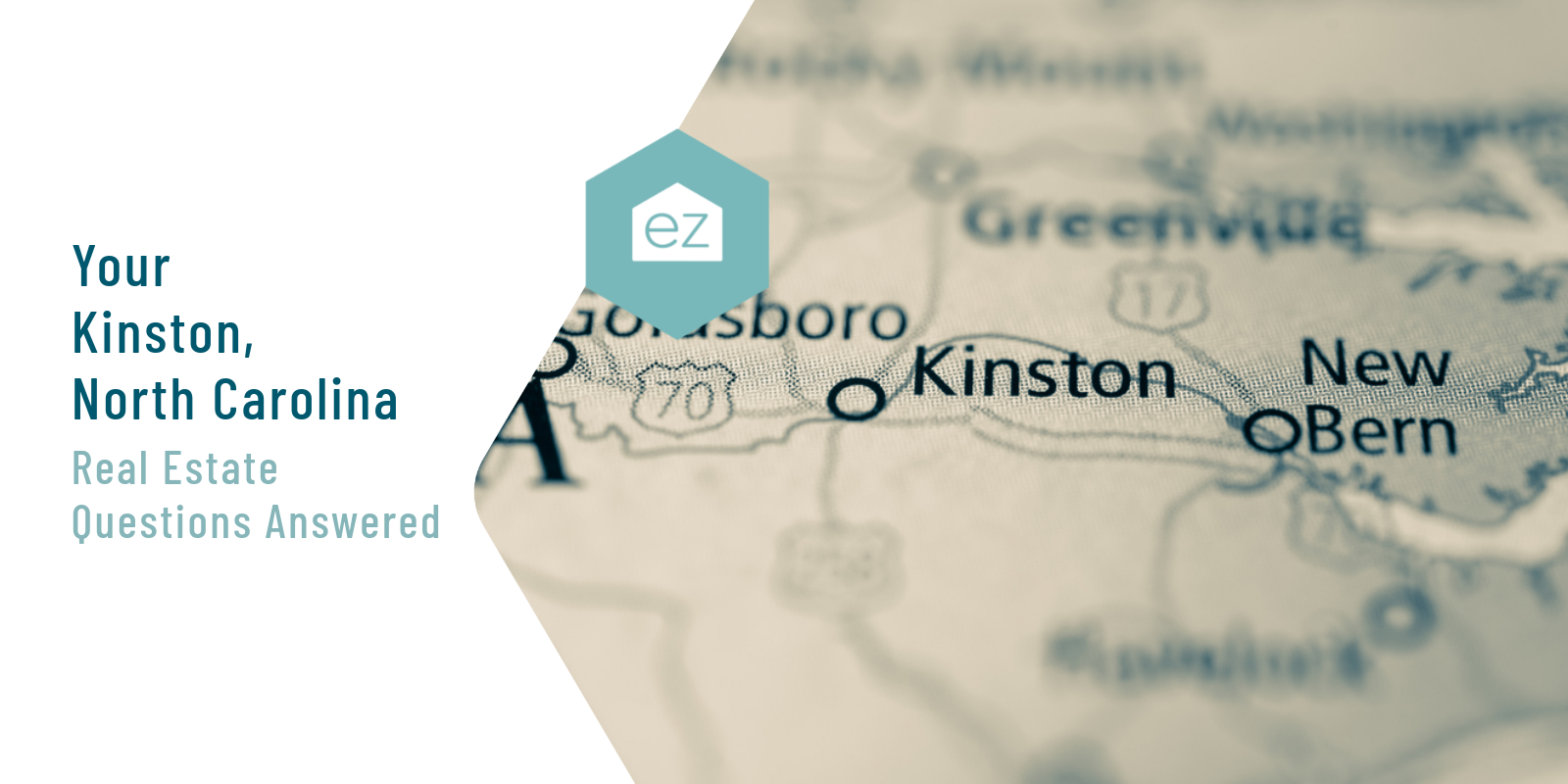 Your Kinston, NC Real Estate Questions Answered
When it comes to finding the perfect place to call home, Kinston, NC, tops the list for people looking for a rural or slower pace of life. This charming town is located in Lenoir County and is just a short drive from North Carolina's biggest cities, like Raleigh and Charlotte. The area was featured on PBS' A Chef's Life, drawing interest in its rural, small-town lifestyle. Kinston is also home to several schools, parks, and other outdoor amenities that make it a great place to live.
If you're thinking about making a move to Kinston, you may have a few questions about life and housing in this friendly town. To help you out, we've answered some of the most commonly asked questions about Kinston real estate.
What is the average price of a home in Kinston, NC?
There were 116 houses for sale in Kinston, with prices ranging from $8K to $1.3M in April 2022. Kinston had multifamily, affordable townhomes, and single-family houses, with a median list price of $159,900.
The most affordable home was a historic property on over half an acre for $29,900. The home was 904 sq ft with two bedrooms and one bathroom. The highest-priced listing was $625,000 for a custom home with four bedrooms and 3.5 bathrooms on 3/4 of an acre.
Are there any condos or townhomes available in Kinston, NC?
In April 2022, Kingston had five available condo or townhome properties available. These were primarily duplexes and villas.
The most expensive listing was $215,000, with two bedrooms, two bathrooms, and just over 2,000 sq ft. The lowest-priced listing was $103,000 with two bedrooms, two bathrooms, and 1,222 sq ft.
What is the property tax rate for Kinston, NC?
The Kinston property tax rate was $0.73 per $100 of assessed property value during the 2020-2021 tax year. Kinston is part of Lenoir County, which charged $0.845 per $100 of value. Residents pay a combined $1.575 tax rate. There was also a special assessment of $0.27 per $100 of value for the downtown service district.
What county is Kinston, NC in?
Kinston is located in Lenoir County, which is part of the Carolina Coastal Plain region. The county was established in 1791 and is named for General William Lenoir, a general in the Revolutionary War.
Lenoir is primarily a rural county with a traditional agricultural base. Around 400 farms were operating in Lenoir County, and it has been a top producer of tobacco, cabbages, cotton, and corn. Today it also supports a manufacturing economy, with companies like E.I. Dupont, Electrolux Home Products, and Smithfield Foods.
The climate in Lenoir is mild, with average temperatures ranging from the high 20s in the winter to the low 90s in the summer. The town receives an average of 45 inches of rain per year and experiences all four seasons.
Is Kinston, NC growing?
The US 2020 Census counted 19,900 residents, a decline of over 2,000 residents since 2010. It is losing residents at a rate of 0.01% a year. Lenoir County also declined in population by 7%, down to 55,122 people. The county is expected to decline another 3.5% by 2030.
The median resident age was 43 in 2019. About one-quarter of county residents were under 18 years of age. Around 20% were 65 or older. Approximately 45% lived in a rural area.
What neighborhoods are in Kinston, NC?
Kinston has a reputation as a friendly place to live. It has been named an All America City twice.
It is not particularly a large town, but the neighborhoods and subdivisions are close-knit communities. If you're looking at places to live in Kinston, some places to check out would be downtown, Westwood, Centennial Arms, and Hardee Heights.
Downtown Kinston will have more historic homes and real estate available. It also has more options if you're looking for townhomes or multifamily-style living. It also places you closer to some of the restaurants and local amenities.
Hardee Heights was developed between 1940 and 1969, so you'll find some homes built in the mid-century style. It does also have some newer construction homes.
Homes in Westwood are slightly newer and range from 1,800 sq ft to 3,200 sq ft. You'll find a variety of styles for your housing options.
Castle Oaks offers homes on generously sized lots with square footages from 1,300 to 2,000. Homes here were built in the 1970s and 1980s.
Sedgefield Forest homes tend to have a larger footprint, ranging from 2,700 sq ft to 3,600 sq ft. The community has mature landscaping, and often you'll find the homes have been recently remodeled.
Are there any waterfront properties found in Kinston, NC?
The Neuse River runs along and through the south of town. However, there isn't a lot of real estate available along the riverfront. Most of the riverfront is a nature park with walking trails.
It's challenging to find waterfront properties in the greater Kinston area. They are likely to be private ponds, some watershed runs, or small lakes.
How is golf in Kinston, NC?
Kinston Country Club has an 18-hole, par 72 course. The course was originally built by Ellis Maples in the 1950s and was renovated in 2002. The clubhouse includes a restaurant and banquet facilities. The club is a family-oriented private club first established in the 1920s.
Lenoir County also runs the Bill Fay Park Golf Course, a 9-hole, executive style course. This course is open to the public and managed by the college's recreation department.
Falling Creek Golf Course is an 18-hole, par 71 course located in Lenoir County. It is a semi-private course that opened in 1967 and was designed by Gene Hamm. Club amenities include a clubhouse, swimming pool, and cafe.
North of town is the Cutter Creek Golf Club, a master-planned community on 634 acres.
Are there golf course communities in Kinston, NC?
If you're looking to live a golf community lifestyle, the closest experience is the homes around the Kinston Country Club. There are homes with golf course views that place you near the club's amenities. Otherwise, look outside of town at the Cutter Creek Golf Club.
What areas are near Kinston, NC?
The small towns closest to Kinston are Falling Creek, Dover, and Woodington. Each town is about 10-15 minutes away by car. Goldsboro and Elroy are located to the west of Kinston and are about a 20-30 minute drive.
In Goldsboro, you'll find a larger city with more amenities like shopping, dining, and entertainment options. Elroy is a smaller town with a quaint Main Street area similar to downtown Kinston.
New Bern is located to the southeast of Kinston and is about a 30-40 minute drive. It's a historic city with charming boutiques, dining, and musuems. There are some waterfront real estate options here.
Greenville's nickname is "Gem of the East." The city is located north of Kinston and is about a one-hour drive. It's a larger city with a university, plus more dining and shopping options.
Jacksonville is located to the southeast of Kinston and is about a one-hour drive. It's a coastal city with beaches, boating, and fishing.
What to know about living in Kinston, NC
Life in Kinston is about small-town living. Expect a slower pace of life and to be in a place where the neighbors know each other. If you're a fan of the outdoors, you'll want to check out Neuseway Nature Park. This park is home to several hiking trails, a playground, and a fishing pond.
If you're looking for something more cultured, you can visit the Kinston-Lenoir County Museum. This museum is dedicated to preserving the history and culture of Lenoir County. You can also catch a show at the Paramount Theatre, which hosts a variety of live performances throughout the year.
If you're looking at living in Kinston, contact a local real estate agent to find the right neighborhood for you.