Your Greenville NC Real Estate Questions Answered
Posted by Preston Guyton on Thursday, December 23, 2021 at 5:53 AM
By Preston Guyton / December 23, 2021
Comment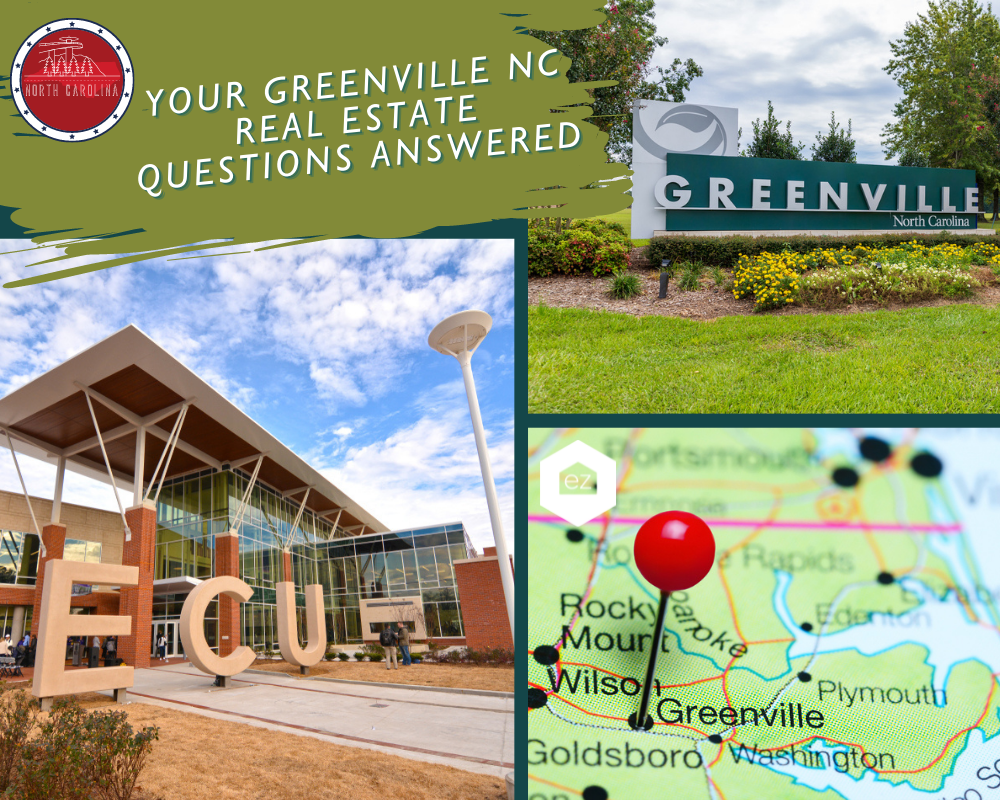 Your Greenville, NC Real Estate Questions Answered
Greenville is the "Gem of the East," a thriving destination in eastern North Carolina. The town is recognized as an educational, economic, and cultural hub for eastern North Carolina. It seems to balance the classic small-town feel with a progressive outlook of a metropolitan university town. You'll find neighbors chatting on the porch paired against creative visual performances on the East Carolina University campus.
If you're considering moving to Greenville, North Carolina, let us answer some common questions about the real estate market.
What is the average price of a home in Greenville, NC?
As of October 2021, Greenville NC had 430 homes for sale. The median list price was $235,000. The average home price per square foot was $124. The market began with a listing at $25,000 with 975 sq ft, 2-bedrooms, one bathroom, and fixer-upper potential. The highest-priced listing was $1.2 million for a historic home on over four and a half acres with 1,926 sqft, 4-bedrooms, and one bathroom.
The average home prices have been trending upward year-over-year. In November 2021, median prices were up 13%. Most homes are receiving 100% of their asking price.
Are there any condos or townhomes available in Greenville, NC?
Yes, our search from December 2021 had four available condominium or townhome properties on the market in Greenville. The lowest-priced listing was $115,000 for 3-bedrooms, 3-bathrooms with 1,200 sq ft at University Terrace Condominiums. The highest-priced listing was $159,000 for 1,100 sq ft, 2-bedrooms, and 2-bathrooms in Upton Court.
There is a high renter population in Greenville. It may be more challenging to find condominiums or townhomes for sale.
What is the property tax rate for Greenville, NC?
The county administers North Carolina property taxes. Greenville is located inside Pitt County, which in 2020 had a $0.6797 tax rate. The next reassessment of property values will take place in 2024.
For the 2021 fiscal year, the Greenville City Council set the property tax rate at $0.4945 per $100 of assessed value. This was the lowest rate the city has had since 1984. Your precise taxes will vary a bit depending on your address, as there are Fire Service District property taxes, landfill fees, and an industrial development fund.
What county is Greenville, NC in?
Greenville is located in Pitt County, North Carolina. Located 78 miles to the east of Raleigh and about 90 miles from Atlantic Beach, Pitt County and Greenville are fast-growing regions in the state. The county has a long history dating back 250 years to the British Colonial government.
Pitt County is part of the coastal plains region. It has a relatively mild climate and experiences all the year's seasons. The average temperature is 84F, and the average winter low is 44F. It gets about 48 inches of rain each year.
Based on the cost of living index, the cost of living in Greenville is 12.4% below the national average. The most expensive category was health care, while housing was the most affordable category when compared to national spending averages.
Is Greenville, NC growing?
Greenville had 87,521 residents in the April 2020 census. It is the largest city in Pitt County by population. However, with a prior population count of 84,554, the city had less growth than anticipated. In the past, Greenville has typically shown tremendous growth. From 1980 until 2010, the city doubled its population. Other studies show that Greenville was a popular place for inbound growth.
The city's population projections place it at near 120,000 residents by 2035. North Carolina anticipates that Pitt County will grow by 12% from 2020 to 2030.
What neighborhoods are in Greenville, NC?
Greenville is made up of various subdivisions and neighborhoods. Like the Uptown District and the Convention District, some of these districts have more entertainment and dining attractions than residential real estate. In total, there are 122 neighborhoods and community developments inside of the city.
Here are a few places where you can search for homes in Greenville.
The Bedford neighborhood near the heart of Greenville has mature trees and established custom-built homes built in a more traditional style. There is an older and newer section.
Find expansive homes in Chesapeake Woods, a subdivision with custom-built homes on the northern tip of Chesapeake Place.
Lynndale is an established neighborhood in the heart of Greenville. Many homes here are custom-built and are surrounded by mature and established landscaping. It is close to some shopping and office buildings.
Cannon Crossroads is a suburban neighborhood with single-family homes and apartment complexes.
Brook Valley is near the Brook Valley Country Club in the eastern part of Greenville.
Englewood is a small community between 14th St, Elm Street, and Alt 264.
Greenville Heights abuts the Tar River and Memorial Drive. It's close to the amenities of the Uptown District and East Carolina University's Main Campus.
Westhaven is in the southern area. Residents are close to prime shopping and dining.
Are there any waterfront properties found in Greenville, NC?
Some waterfront properties are available along the Tar River, although much of the property along this waterway is a park. A few other creeks run through the city, such as Hardee Creek, Bell Branch, Meeting House Branch, Fornes Branch, and Greens Mill Run. In general, waterfront properties are rare. What is available usually isn't suitable for much recreation, like motorized boating or fishing.
How is golf in Greenville, NC?
Golf enthusiasts have several courses to play in Greenville. Options range from the private Brook Valley Country Club to the public Bradford Creek Golf Course. The Greenville Country Club is two miles away from the center of the city. Ironwood Golf and Country Club is five miles from the Greenville city center and has over 7,000 yards of play.
Players have another five courses within five miles of Greenville, primarily public courses. One option is the Farmville Golf and Country Club, one of the area's oldest operating golf clubs.
Are there golf course communities in Greenville, NC?
You have about seven different choices when it comes to golf course communities in Greenville.
Brook Valley has a range of home styles and amenities. The country club has a clubhouse, swimming pool, two lighted tennis courts for members, and a covered shelter with built-in benches. The country club is a private club with a championship course, swimming, tennis, and dining amenities.
Charlestowne at Bradford Creek Sits beside the Bradford Creek Golf Course, a public course. This is a small community with some homes on the main road overlooking the golf course. It is across the street from Deveron, a duplex-style townhome community between some of the holes on the Bradford Creek course.
Ironwood Golf and Country Club is an 18-hole par-72 golf course that runs along the Tar River. The homes in this neighborhood have golf course views from the Southberry Village, Golf View Drive, and Oaksong Drive areas. Residents live near East Carolina University and Vidant Medical Center.
Star Hill Farms has a reputation as being an exclusive neighborhood with estate-like homes. Many of the homes are custom-built and have different architectural styles. The eastern side is against the Greenville Country Club. It's also a short drive from Brook Hollow.
Westover is a small community with elegant, custom-built homes with Greenville Country Club views. The neighborhood has mature trees and landscaping. Residents are within walking distance of the country club.
What areas are near Greenville, NC?
The Tar River runs through Greenville to the greater Pamlico River. This is a destination for boating and kayaking.
Greenville is one of the larger towns in the eastern coastal plains. People come from the surrounding small towns into Greenville for its amenities. Immediately surrounding Greenville are the smaller towns of Ayden and Winterville. In some ways, these towns act like suburbs of Greenville. To the east off of NC 264 in Washington. To the west is Farmville.
Highway 33 runs through Greenville and will take you to Hobucken on the Bay River with views of Pamlico Sound and the Outer Banks.
What to know about living in Greenville, NC
Your lifestyle in Greenville, North Carolina, will be a mix between urban and rural amenities. The people here are famous for their hospitality. Greenville offers many choices when it comes to employment, entertainment, and education. Residents live near the region's center for health care. Overall, Greenville has a lot of diversity in the lifestyle it provides for its residents.