Your Graham, NC Real Estate Questions Answered
Posted by Preston Guyton on Thursday, August 4, 2022 at 8:37 PM
By Preston Guyton / August 4, 2022
Comment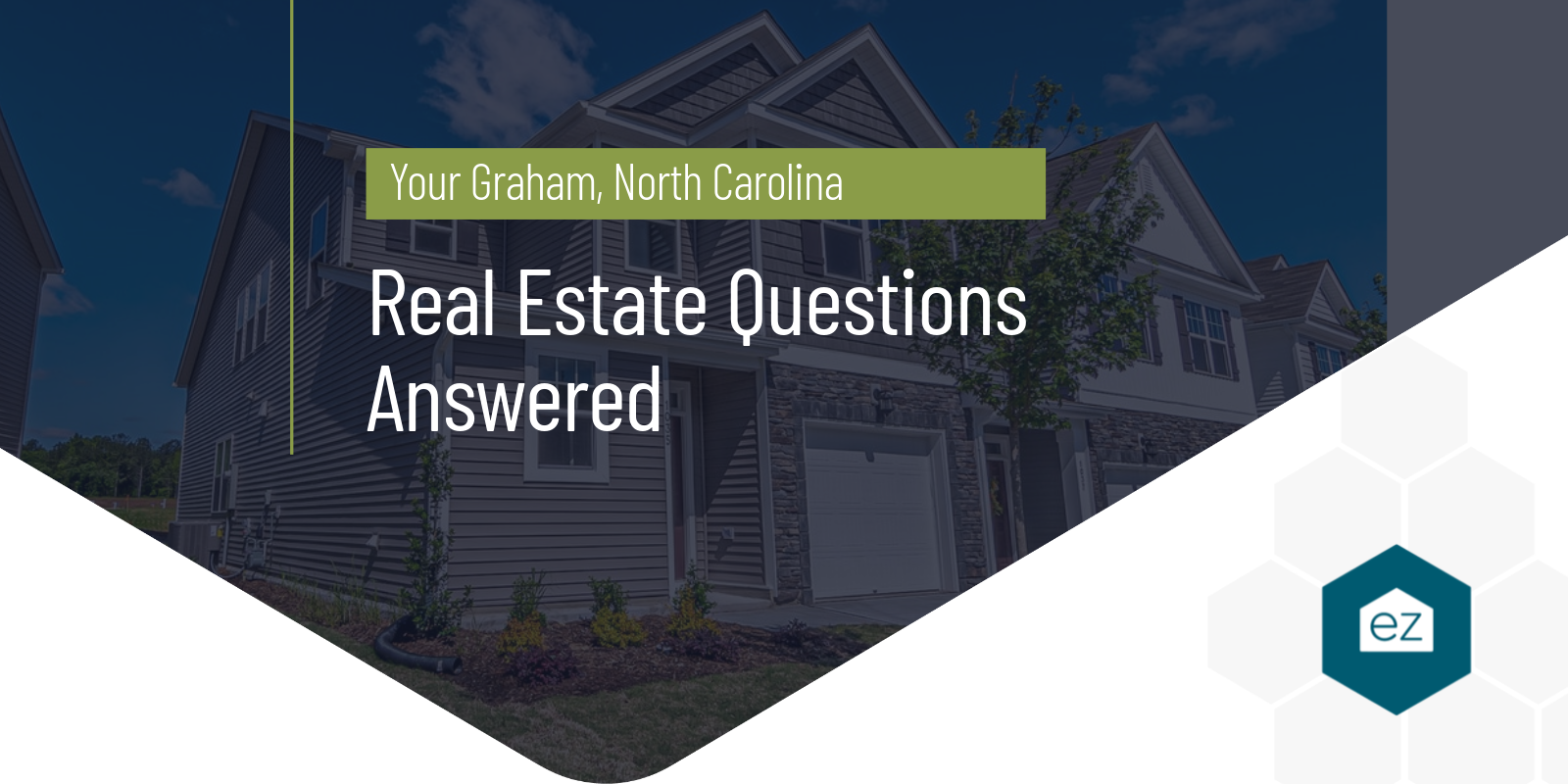 Your Graham, NC Real Estate Questions Answered
Graham, NC, is a historic cotton mill town with long roots in Alamance County. Today it's a thriving center with a growing economy thanks to the thousand-acre NC Commerce Park. Arts and cultural attractions are a growing part of the town's identity, as evident in the new public art displays and a children's museum. The downtown revitalization project hopes to bring even more businesses into the town center to boost the attraction of living here.
Are you thinking about making Graham your next home? If so, you probably have questions about what life is like in this charming Southern town near Burlington. Here are some of the most commonly asked questions about Graham real estate.
What is the average price of a home in Graham, NC?
The real estate market in Graham is strong right now. Home values have been on the rise in recent years, and there is a good selection of homes available for sale at all price points. Whether you're looking for a starter home or something larger to accommodate your growing family, you'll find great options.
In June 2022, 162 homes were for sale with a median list price of $320,000. Prices were up 45.6% year-over-year.
The most affordable listing was a vacant residential lot for $18,875. The most expensive was $979,900 for a working timber farm with a three-bedroom, two-bathroom home on 75 acres.
Are there any condos or townhomes available in Graham, NC?
Yes, there are condo and townhome complexes in Graham. If you're looking for maintenance-free living, these might be an excellent option for you.
June 2022 had four listings. The most affordable was $150,000 for a three-bedroom, 2.5-bathroom condo. The most expensive was $235,000 for a three-bedroom, 2.5-bathroom townhome.
Some areas to look for condos or townhomes are Riverwalk, Riverbend, and Shamrock Valley. A local real estate agent can direct you to more areas in Graham with this particular kind of housing.
What is the property tax rate for Graham, NC?
Graham's property tax rate was $0.455 per $100 of property valuation in 2021-2022. Alamance County charged $0.66 for a combined $1.115 in property taxes. A home worth $100,000 would owe $111.50 in property taxes. Alamance will revaluate properties in 2023.
What county is Graham, NC in?
Graham is the county seat for Alamance County. The county was established in 1849 from parts of Orange and Guilford counties. It was named for the Great Alamance Creek, which runs through the county.
For much of its history, it was a textile-producing hub. Occupation dates to the pre-colonial era, when the region was home to the Sissipaw peoples. It was an active center during the American Revolution and Civil War. Around the area are historic sites like the Alamance State Battleground, Dentzel Carousel, and Charlotte Hawkins Brown Memorial.
Modern Alamance County is a diverse mix of urban and rural areas. Graham is the center for local government, but Burlington, Mebane, Elon, and Haw River are other notable towns.
Elon University and Alamance Community College offer local higher education opportunities. Three College Observatory, the only public astronomical observatory in North Carolina, is on the campus of Elon University.
Is Graham, NC growing?
Yes, Graham is growing! The population was 17,157 in 2020 and over 3,000 residents more than in the 2010 Census. The annual growth rate is 0.7%.
The median age in Graham is 39.3 years old, with one-quarter of its population being under 18 years old. The town has a diverse mix of residents, with a 60.2% white population, 24% African-American, and 17% Hispanic or Latino.
What neighborhoods are in Graham, NC?
Graham is a small town, but it has different neighborhoods and subdivisions to explore. Some of the most popular Graham neighborhoods are:
Downtown Graham is being revitalized, with new shops and restaurants popping up. Around downtown, you'll find historic homes in Victorian and other styles. Johnson Heights is one such neighborhood tucked off the southwest corner of downtown.
Haw Village is a newer home community developed by Century Communities. The single-family homes came in five different floor plans with four to five bedrooms.
Broad Acres is an established neighborhood developed in the 1960s and 1970s near Main Street, I-40, and the Haw River. The median home price in June 2022 was $200,000.
Greenway Park is a few minutes from downtown Graham, Bill Cooke Park, and I-85. Development started in the 1950s and continued through the 1990s, so you'll find an eclectic range of styles and home sizes. Most homes are two or three bedrooms and about 1,200 to 1,800 sq ft.
Shamrock Valley is a new construction community with single-family and townhomes. It is about three miles from I-85. Home sizes are about 3-4 bedrooms and over 2,000 sq ft.
These are just a few of the many great neighborhoods in Graham. Whether you're looking for a quiet suburban setting or something more urban and lively, you're sure to find the perfect place to call home.
Are there any waterfront properties found in Graham, NC?
A local real estate agent would be able to show you any waterfront listings that are currently available. Waterfront properties are typically found on private lakes or the Haw River. Mallard Creek, Valleyfield, Riverwalk, and Forks of Alamance are communities along the Big Alamance River with some waterfront properties.
How is golf in Graham, NC?
The golf scene in Graham has several courses to choose from, including the Challenge Golf Club, Southwick Golf Course, Alamance Country Club, and The Valley Golf Club.
Challenge Golf Club is a public course that offers a challenging layout for players of all skill levels. It was voted the no. 24 "Most Improved Golf Course in America" in 2019 by Golf Advisor. The course is along the scenic Haw River and features rolling hills.
Southwick Golf Course is a public 18-hole course on the Haw River known for its picturesque views and well-manicured fairways. It is a par-70 course designed by George Cobb.
Alamance Country Club is a private club that offers members access to an 18-hole championship golf course, tennis courts, swimming pool, and more. It is in Burlington.
The Valley Golf Club is a public course in Burlington situated on 200 acres of rolling hills and offers stunning views of the Haw River. Ellis Maples designed the 18-hole par 70 course.
No matter your skill level or budget, you're sure to find a golf course perfect for you in Graham.
Are there golf course communities in Graham, NC?
The Challenge is a master-planned golf course community in Graham. Development is newer, with homes constructed from the 2000s through the 2020s. The club amenities include a clubhouse and swimming pool.
What is the cost of living in Graham, NC?
The cost of living in Graham is very affordable, coming in 18% cheaper than the US indexed average and 8% less than the state average. Notably, housing was 41% less than the national average. Only utility and miscellaneous costs were above the US average by 3% and 2%, respectively.
What areas are near Graham, NC?
Graham is optimally positioned between North Carolina's Triangle and the Triad. You can access all the world-class education, health care, and entertainment amenities afforded by two major metro areas.
Near Graham is Burlington, a town known for its low cost of living, family-friendly atmosphere, and easy access to outdoor recreation. The town is active with a historic downtown district with breweries, restaurants, shops, live events, antiques, and more.
The Triad is closer, as Greensboro is less than 24 miles away to the west. Attractions here include the Greensboro Science Center, the Greensboro Coliseum, and Wet 'n Wild Emerald Pointe.
Beyond Greensboro awaits Winston-Salem, where you have your choice of arts and entertainment venues, including the Southeastern Center for Contemporary Art and the Winston-Salem Symphony. Winston-Salem is just 50 miles away, making it an easy day trip.
The Research Triangle is east, starting with Durham at 30 miles away. One of the many reasons to visit Durham is Duke University, the Nasher Museum of Art, and the American Tobacco Historic District. Durham is an incubator for the arts, with over 5,000 events showcasing talent each year.
At Chapel Hill, a few can't-miss attractions are the Morehead Planetarium, the Ackland Art Museum, and the Carolina Basketball Museum.
Raleigh, the state capital, is next and only 54 miles away. Attractions here include Pullen Park, the NC Museum of Natural Sciences, and the Marbles Kids Museum.
What to know about living in Graham, NC
The climate in Graham is mild, with average temperatures ranging from the low 50Fs in winter to the high 80Fs in summer. The area experiences relatively little snowfall each year, so you can enjoy all your favorite outdoor activities without worrying about being cooped up indoors.
Graham is a great place to raise a family. The public school system is excellent, and there are plenty of activities and amenities for families to enjoy. Its location makes it easy to visit nearby cities for a day trip or weekend getaway. With its affordable cost of living, Graham is a great place to call home.
If you're looking at living in Graham, contact a local real estate agent to find the right neighborhood for you.