What to Know Before Buying an Oceanfront Vacation Rental
Posted by Preston Guyton on Friday, May 20, 2022 at 2:57 PM
By Preston Guyton / May 20, 2022
Comment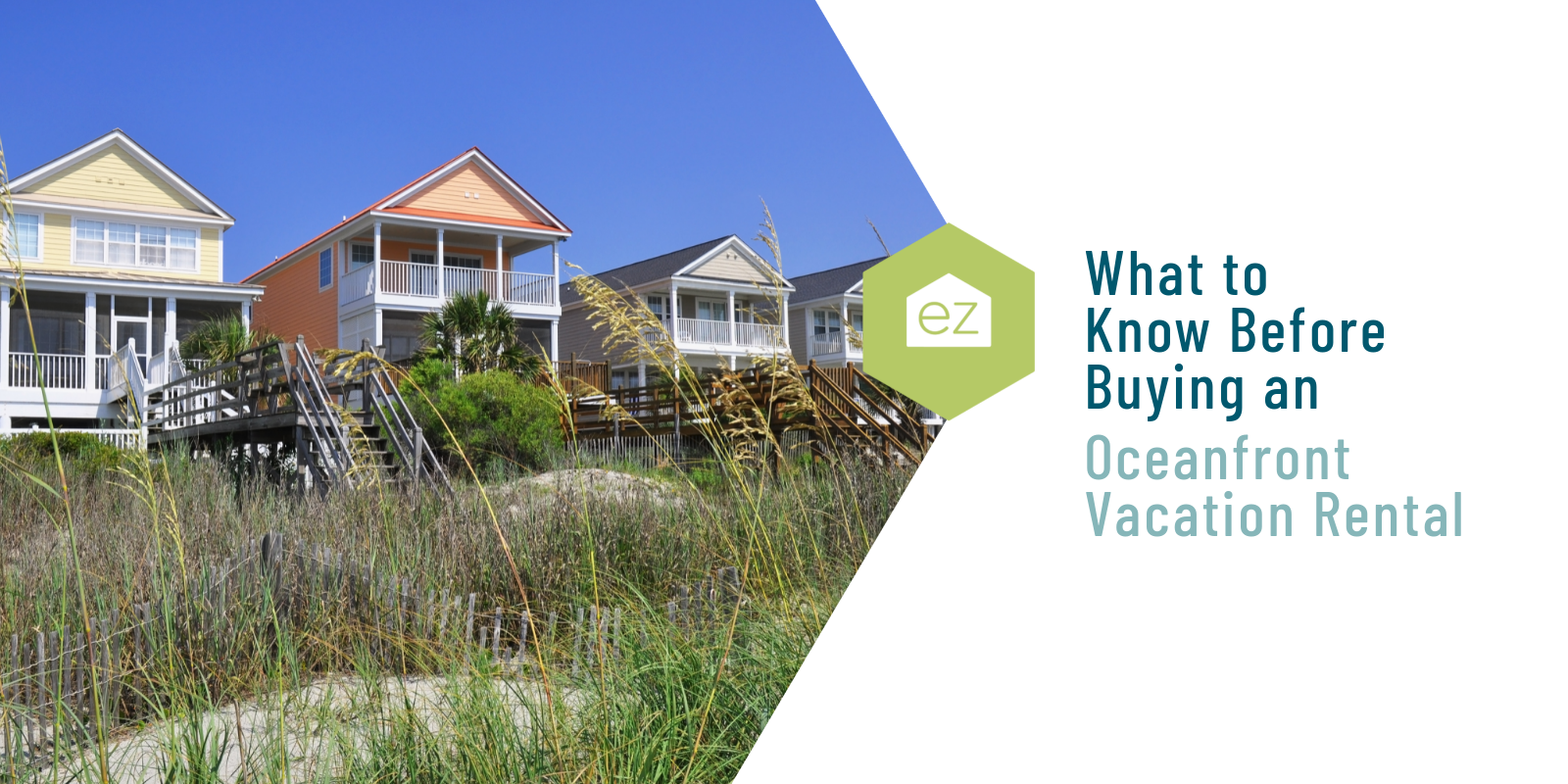 What to Know Before Buying An Oceanfront Vacation Rental
Are you thinking about buying an oceanfront vacation rental? Vacation rentals have specific considerations, like weekly turnover, frequent marketing, and municipal restrictions. Oceanfront rentals have additional factors, like the wear and tear from being close to the waterfront and zoning regulations.
Getting the most out of ownership means understanding what it takes to make a smart purchase and factoring in property management. Before making your purchase, learn the ins and outs of this real estate submarket. Here's what you need to know about buying an oceanfront vacation rental:
Target market
Know who you plan to rent to? A vacation rental caters to a specific submarket. Options vary widely: budget, luxury, couples, business travelers, or large families on vacation together. It may help you to create a "renter persona" or an "avatar" to understand your ideal renter.
Having a specific target market helps determine what type of property to buy. It will also guide you on what amenities and decor to include on-site.
Matching the property to the audience
Once you know who your target market is, you can start thinking about matching properties to that key audience. There are a few factors to weigh. First, what type of property is your target market looking for? Large families likely won't fit in a typical condo, but couples don't need a multi-bedroom house. On the other hand, budget renters may prefer an oceanfront condo.
Once you've bought the property, you'll need to outfit it to match the audience. For example, luxury guests expect top-of-the-line amenities and furniture. You may need to remodel or install new furniture to meet expectations.
Occupancy limits
The occupancy limit is the maximum number of people allowed to stay in the rental property at any given time. The occupancy limit must comply with local ordinances and regulations.
If you're looking at catering to families or large groups, you need the facilities to match. Use the number of bedrooms and bathrooms to rule out properties that won't fit your target market. The good rule of thumb is two people per full-size bed with a cap at five people per bathroom.
On-property amenities
To better match properties to the ideal tenant, think about on-property amenities. What amenities will your guests be looking for while staying at your oceanfront rental property? Some of this may come from the area. Visitors along the Grand Strand may be looking at an oceanfront and a golf vacation, so proximity to a golf course could be key. Other amenities for an oceanfront rental would be a patio, beach chairs, umbrellas, or kayaks.
Pools can be a great way to increase revenue but can be time-consuming to maintain. Look at the rental rates in similar locations with and without a pool to see if the rental income justifies the added expense.
Ask local rental companies what the renters are looking for and what on-property amenities are the most requested. A lot of these answers can be found using the houses currently on the rental list and determining their gross income.
Knowing the desired on-property amenities will help you determine which properties to include in your search.
Find the best areas for buying an oceanfront vacation rental
There are a few things to consider when determining the best areas for buying an oceanfront vacation rental. You'll want to research the area to determine what its visitor traffic is like and the specific data on those visitors. See our resource for buying oceanfront in South Carolina.
Look at how many people visit your beach town each year and how they get there. Visitors who fly may want their vacation home to be a convenient (and inexpensive) taxi or Uber ride away from the beach. Plus, knowing where visitors are coming from assists with your marketing efforts.
Not all rental areas are the same. Certain beachfront sections rent much better than other areas in the Carolinas market. Look at occupancy rates. This will give you an idea of how popular the area is with renters. The higher the occupancy rate, the more popular the area is likely to be.
Find the average length of stay in the area. This metric will give you an insight into how long renters are staying in the area. The longer the length of stay, the more attractive the area is likely to be.
Some areas will also have different renter types. What does the typical vacation crowd look like? Talk to rental management companies about how rough they are on the houses and the estimated rent prices.
Nearby amenities
Even if you are oceanfront, guests still want to be close to shopping, food, and other outdoor activities. Proximity is key to a great vacation experience.
Look at what there is to do in the area. Is the oceanfront rental close to attractions, golf courses, restaurants, or shopping? The closer your rental property is to these amenities, the more appealing it will be to potential renters. The idea of walking to where you need to go is especially attractive.
Estimated gross rental income
Besides planning to appeal to a specific rental audience, you need to factor in your takeaway from the rental. Start estimating gross rental income for the property purchase. This is the projected income from renting your property before expenses. To do this, you'll need to research the average rental rates in the area for similar properties.
If the home you are looking at is in your target area and is currently rented, the owner should have rental history information. An existing vacation rental should have current bookings for the upcoming season, so take a look at those to better project future income.
A gross rental income will give you a good idea of what to expect in terms of income. You'll need to know what the property can bring in to budget for expenses.
Analyzing metrics against your goals
Analyze the property's metrics against your ownership goals. This means looking at occupancy rates, length of stay, and projected revenues. You can set goals for your rental property and track your progress over time by doing this.
It's also important to compare your metrics to other properties in the area. This will give you a good idea of how your property is performing compared to others in your market.
Should you build?
If you're considering buying an oceanfront vacation rental, you may be wondering if you should build or buy an existing property.
Building a new property has its advantages. You'll be able to design it exactly how you want and include all of the features and amenities you think will appeal to renters. You'll have control over the construction process and can ensure that everything is up to your standards.
When going this route, understand the design requirements, the elevation of the property, the size of the lot, if there is enough room for a pool, and the build restrictions. Ensure the builders you are interviewing have built oceanfront homes. It is a different type of construction. The builders need to have subcontractors who can handle the work that needs to be done. When looking at lots, ask about the flood zone and the property's elevation. Depending on its elevation above sea level, this can change the building area you have and add height restrictions.
Building a new property also has its disadvantages. It can be a riskier investment, as it's often more expensive to build than to buy an existing property. There is also no guarantee that you'll be able to rent it out as much as you'd like.
Planning for long-term maintenance
Vacation rental owners expect to invest in regular property cleanings between tenant turnovers, toiletry items and sheets, and landscaping. Running a vacation rental also means anticipating regular upkeep like painting, repairs, and replacing appliances over time.
Oceanfront property has special considerations because of the salt air and sand. Conditions can be brutal on anything outside the home. It is a good idea to do yearly maintenance, and the off-season is an excellent time to clean up and care for miscellaneous and cosmetic issues. Ensure you have a long-term maintenance budget to take care of any maintenance issues that come up unexpectedly.
Rental management companies
If you're buying an oceanfront vacation rental, you may consider working with a rental management company. These companies can handle all aspects of renting your property, from marketing to cleaning to maintenance.
Working with a rental management company takes a lot of the work off your plate in exchange for a percentage of rental profits. You'll need to work the property's fee into your ownership budget.
Do your research when choosing a rental management company. Make sure you understand their fees and what services they include. Talk to other owners who have used their services to get an idea of what it's like to work with them.
It's also important to remember that you'll still be responsible for the mortgage, taxes, and other expenses associated with owning a vacation rental, even when it is vacant.
Buying an oceanfront vacation rental
As you can see, there are many things to consider before buying an oceanfront vacation rental. From occupancy rates to target markets, it's important to do your research to make the best decision for your needs. However, if you're looking for a beautiful property that you can rent out to vacationers, an oceanfront vacation rental may be ideal.
If you have any questions or want more information, please feel free to contact us. We would be happy to help you in any way we can.