Reasons to Consider Buying a House in Boone, NC
Posted by Preston Guyton on Friday, September 30, 2022 at 4:34 AM
By Preston Guyton / September 30, 2022
Comment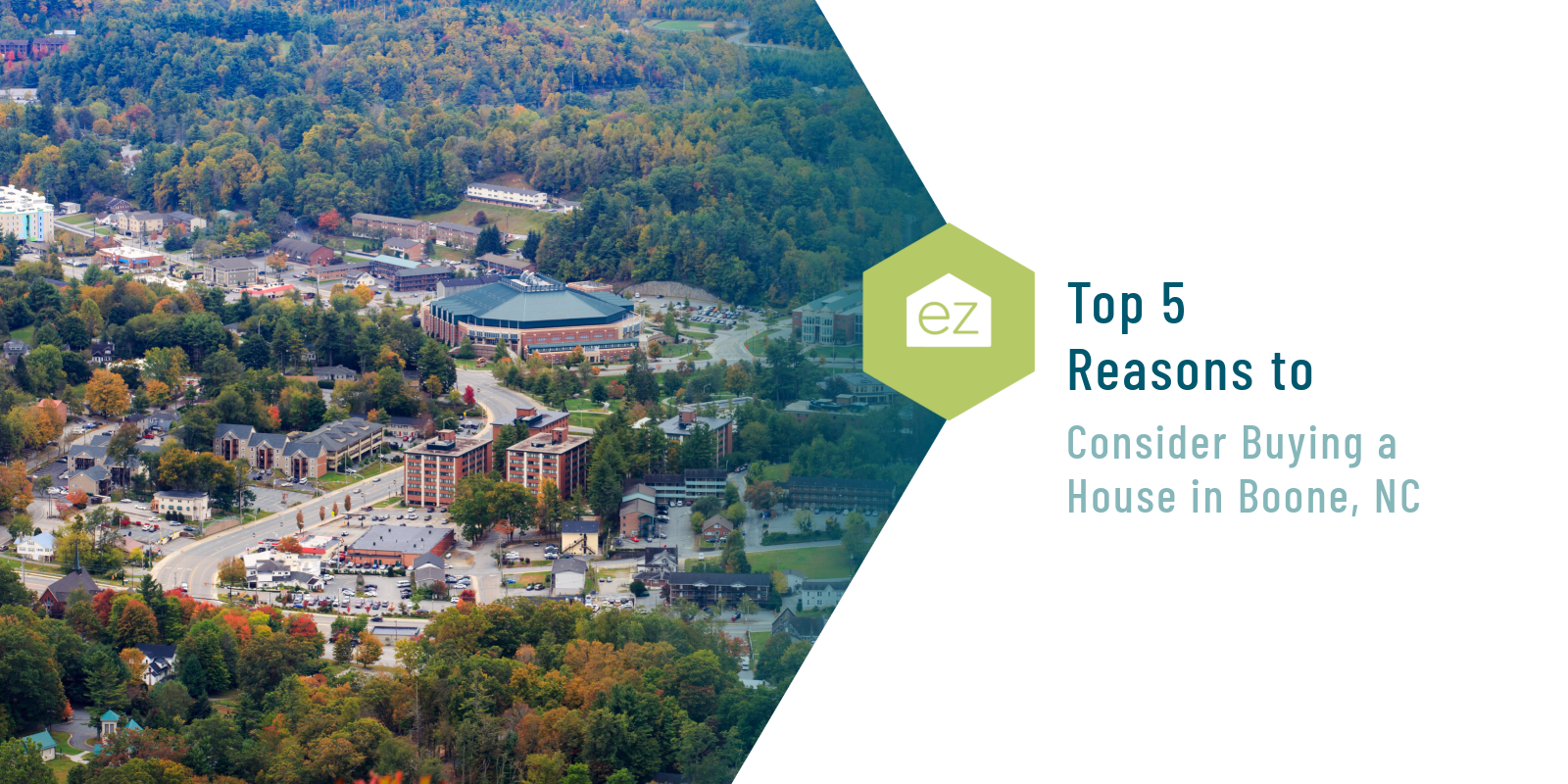 5 Reasons to Consider Buying a House in Boone, NC
Are you considering buying a house in the mountains of North Carolina but aren't sure where you'd like to live? Or, maybe you aren't sure about what your options are. With so many small, charming mountain towns to choose from across Western North Carolina (WNC) and the upstate of South Carolina, it will be challenging to narrow down your choices and settle on the best place to buy a house.
Well, lucky for you, EZ Home Search is your source for the latest real estate market news and information from around the Carolinas and beyond. We're dedicated to providing you with all of the information and resources necessary to make the best home-buying decisions for you, your family and your finances. Today, we're bringing you our top 5 reasons to consider buying a house in Boone, North Carolina.
A Little About Boone, North Carolina
Before we get started, it's important to give you a short overview of the town of Boone, NC. A small college town with a population of just over 20,000, Boone is located in Watauga County, NC, just 85 miles from the city of Asheville, NC. The town of Boone is situated in the northwest mountains of North Carolina, nestled between the borders of Tennessee and Virginia in the very top corner of the state. Whether you're a student, retiree, raising a family, or a single professional looking for a fun, happening place to live and work, Boone is a great place to move and truly offers something for everyone.
That said, here are our 5 reasons to consider buying a home in Boone, North Carolina.
1 - Boone, NC Offers an Active Outdoor Mountain Lifestyle
As we discussed, Boone is a rurally located town in the Blue Ridge Mountains of North Carolina. The mountains of WNC offer a variety of outdoor activities all of their own. This remote region of the state is filled with natural wonders and outdoor attractions for people of all ages to enjoy.
First, Boone, NC is conveniently located near two rivers – the Watauga River and the New River. Boone offers its residents easy access to the Watauga and New Rivers and some of the best riverfront living in this region of North Carolina. From there, you are sure to love the freedom to go tubing, kayaking, whitewater rafting, fishing and a range of other river-based activities while living in Boone, NC.
In Boone, the outdoor fun doesn't start and stop with the warm weather, either. One of the most popular outdoor activities in Boone, NC is skiing (or snowboarding). Boone is a short drive away from three of the region's best ski resorts including:
Appalachian Ski Mountain
Beech Mountian Resort
Sugar Mountain Resort
Each of these is nearby and allows you to buy a day pass or a season pass. Boone locals can go hit the slopes and enjoy a day of skiing or snowboarding with friends and family whenever the opportunity presents itself.
After skiing or enjoying the activities afforded to you by the Watauga River or New River, Boone is one of the top destinations for hiking the Blue Ridge Mountains of WNC. You can hike, bike, run or simply enjoy a stroll around the gorgeous Blue Ridge Mountains at any one of Boone's many hiking trails. Enjoy the short yet scenic 1-mile loop at Bass Lake Loop or take on a more challenging 5-mile hike at Boone Fork Trail.
2 - The Seasonal Climate in Boone, NC is Unmatched
All of the above activities aren't possible without an excellent seasonal climate. So, one of the best aspects of buying a house in Boone is the climate you'll enjoy living in this region of the state. Unlike other areas around the Carolinas and the southeast, Boone, NC offers a seasonal climate where you get to enjoy all four seasons – spring, summer, fall and winter.
Now, if you've never experienced falls in the Blue Ridge Mountains of the Carolinas, then you're certainly in for a treat. Fall in the mountains of North and South Carolina is when the leaves change colors and the mountain foliage transforms into a beautiful canvas of red, green, orange and yellow.
The temperature rarely goes above 85 degrees in the summer or below 20 degrees in the winter, adding to the benefits you'll enjoy from the excellent mountain climate in Boone, NC. For anyone who's used to living through the brutal winters in the northeast or midwest, winter lows in the 20s or summer highs in the 80s are definitely a welcomed change of pace.
Each season in Boone lasts the perfect amount of time, too. As soon as you start to get tired of the hot summer days or cold winter nights, it's just about time to turn the page and enjoy the next round of seasonal temperatures.
3 - Boone, NC is an Excellent Place to Retire
Speaking of relocating from other parts of the country, Boone is one of the best places to retire and enjoy a slower pace of life. If you're buying a house at a certain stage of life, one of the most important things to consider is whether or not it's a place you'd like to retire. For anyone in retirement or close to it who's thinking about making a move or settling down and buying a house, Boone, NC needs to be at the top of your list.
For many of the area's retirees, Boone offers a beautiful blend of dining, shopping, arts, culture and outdoor quality of life. As we discussed, Boone is great for anyone looking for an adventurous and active outdoor lifestyle. But, Boone is also a great place to sit back, relax and enjoy the quiet, peaceful serenity of the mountains.
When you're not venturing outdoors or relaxing on your back porch taking in the views, retirees can enjoy one of Boone's local golf courses. The mountains create a fun and challenging game of golf that's the perfect way to start your days or cap off your afternoons. It's more than relaxing to play a fun round at one of Boone's many local golf courses such as:
The Boone Golf Club
Mountain Aire Golf Club
Willow Valley Resort
Sugar Mountain Public Golf Course (in Banner Elk, NC)
Boone, NC is a great place to retire and enjoy your golden years in a peaceful and beautiful mountain destination. Boone offers plenty of dining, shopping, golf, enrichment opportunities and outdoor recreational activities for people of all ages but especially retirees. Don't just take our word for it. In a 2018 article published by Forbes.com, Boone was listed as one of the top 25 places to retire.
4 - Boone, NC is Home to Appalachian State University
One of the unique aspects of Boone, NC that make it an attractive place to call home is Appalachian State University (Go Mountaineers!). The university's student population is right around 20,000, nearly the same as the town of Boone itself but not factored into the official population numbers. This means Boone, NC is a city with double the population during the school year. That's a substantial factor for anyone looking to invest in a home around Boone.
It also means Boone offers a unique blend of a college town combined with a quaint mountain lifestyle. App. St. helps strengthen Boone's local economy in several ways but mostly by providing good-paying university jobs for locals, adding to the population numbers and through its high-profile football program.
The App. St. Mountaineers are one of college football's top programs and have upset wins over the University of Michigan and most recently, a big win over Texas A&M University – both nationally recognized powerhouse programs. There's nothing quite like Saturdays in Boone when the Mountaineers are hosting a home football game.
App State's annual home "blackout" game is one of the biggest events of the year for the town of Boone, NC. The influx of fans staying in hotels, dining at restaurants, shopping in retail stores and congregating along the main street all help boost the local economy and make Boone, NC an active and fun place to work or own a business.
However, App. St. University directly impacts the local housing market in Boone, too. Not all students live on campus in the student dorms and a number of them rent apartments or houses near campus. The high number of student renters in Boone influences the local housing market and creates opportunities for anyone looking to invest in rental properties or multi-family housing. When you also consider that the university helps drive the need for vacation rentals in the area, you can begin to see the various ways App. St. directly impacts the real estate market in and around Boone.
5 - Boone, NC is an Attractive Real Estate Market
Speaking of the market, the main reason Boone, NC is a great place to buy a house and settle down is it's a slowly growing city in a great county with an attractive real estate market. Since 2000, Boone's population has increased by over 33%, which is faster than 72% of U.S. cities similar in size and area. Although this is pretty significant growth, it's been a slow and steady growth, which is great for the local economy and the housing market.
Currently, there are 153 homes for sale in Boone, NC with an average listing price of around $550K. Although this average listing price is a bit higher than similar mountain towns and communities, it's still an incredibly attractive market for investors and homebuyers. And this number only reflects the current housing market in Boone city limits.
Boone is approximately 6.1 square miles, making it a fairly small city by any measure. However, you can find incredibly affordable houses for sale across the outlying areas in Watauga County, North Carolina. Since Boone is centrally located in Watauga County, it's an equal distance drive to the city regardless of which direction you live in.
Although you might be outside of Boone's city limits, it's not more than about a 20-minute drive from anywhere in the county. So, you'll still be close enough to enjoy everything the city has to offer from anywhere in the county.
You'll also be happy to know that the Watauga County Schools (WCS) system is one of the best school districts in North Carolina – great news for anyone with kids or starting a family soon. The excellent schools coupled with the number of available options make Watauga County and Boone incredibly attractive areas for buying a house. Currently, Watauga County features more than 1,000 homes for sale with an average listing price of $499K and new homes hitting the market every day.
Discover New Home Listings Around Boone and NC with EZ Home Search
Boone combines a quaint mountain feel with the artistic vibe of a university town. The result is a fun, artistic, cultural, hip and happening gem of a town that's quickly becoming one of the most popular mountain destinations for people of all ages and all walks of life. Whether you're looking for a quiet place to retire, a rustic vacation home, or a small town setting in the mountains to raise your kids, Boone, North Carolina needs to be at the top of your list. That's where the pros at EZ Home Search have you covered.
We pull our listings directly from the local MLS and keep them updated with fresh listings every 15 minutes. Register for your free EZ Home Search account now and you'll never miss a listing. Whether you're actively looking for a home to buy or just want to keep up-to-date on the latest real estate news, closings and listings, EZ Home Search has you covered.