Your Boone, NC Real Estate Questions Answered
Posted by Preston Guyton on Thursday, May 5, 2022 at 4:14 AM
By Preston Guyton / May 5, 2022
Comment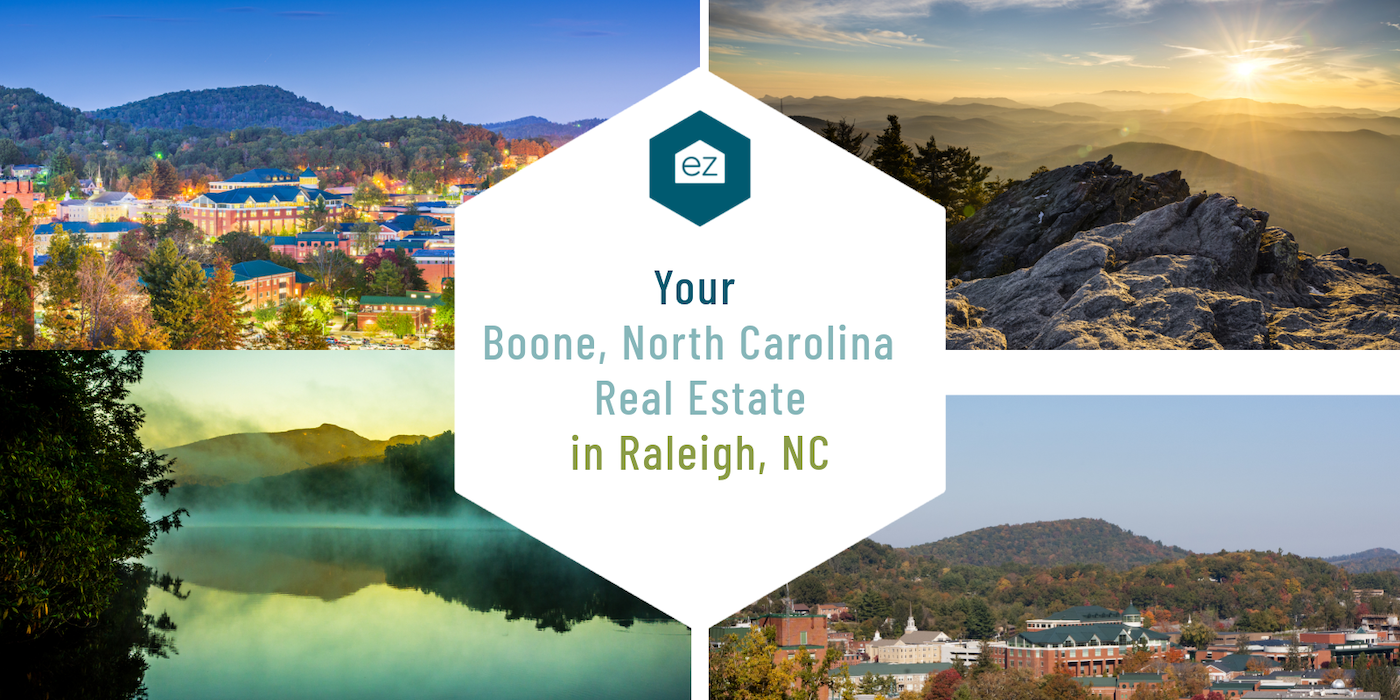 Your Boone, NC Real Estate Questions Answered
Choosing to relocate to Boone, NC, is a fantastic decision! Set in the beautiful Blue Ridge Mountains, not only is the town picturesque, but it's also a thriving community with multiple things to do for residents. Boone has something for everyone, from world-class hiking and skiing to charming shops and restaurants.
If you're thinking about moving to Boone, you probably have some questions about the real estate market. Here are some answers to some of the most common questions about Boone real estate:
What is the average price of a home in Boone, NC?
The median price of a home in Boone was $475,400 in April 2022, with 110 listings. Prices were up 22.5% year-over-year, with an average per sq ft of $297.22. However, prices can range anywhere from $9,900 for undeveloped residential lots to over $5.5 million.
The most affordable listing was an undeveloped quarter-acre lot with mountain views for $124,900. The most expensive listing was $3,199,000 with five bedrooms, 5.5 bathrooms, 5,727 sq ft, and 12.3 acres with panoramic Blue Ridge Mountain views.
Are there any condos or townhomes available in Boone, NC?
As a ski and summer resort town, and home to a university, Boone does have condos and townhomes available whether you're looking to buy one as a permanent residence, a second home, or as an investment.
April 2022 had 24 properties listed, with the most expensive being $1,375,000 for a three-bedroom, 3.5-bathroom townhome with over 3,000 sq ft. The most affordable listing was a two-bedroom, two-bathroom condo with 832 sq ft for $225,000.
Some places to look for condos or townhomes include Echota, Ridge View, Townhomes at Brookshire, Deer Valley, Turtle Creek, Hampton Estates, Creekside Villas, and Yonahlossee.
What is the property tax rate for Boone, NC?
For the 2021–2022 tax year, Boone's property tax rate was $0.44 per $100 of assessed property value. Watauga County charged $0.403. The town also charged a municipal fee of $30. The Boone Fire Service District tax was $0.06.
What is the cost of living in Boone, NC?
The cost of living in Boone is 5% less than the national average. The median home price is 13% higher than the US rate, and health care is 14% above average, but transportation costs are 44% lower. Other costs are near the average national expenditures.
What county is Boone, NC in?
Boone is the county seat of Watauga County, located at the northwestern tip of North Carolina in the Appalachian Mountains.
There's much to do in Watauga County. There's hiking, fishing, camping, and skiing for outdoor enthusiasts. Part of the state's highest peak, Grandfather Mountain, is in Watauga County and is a popular visitor destination.
The county is also home to many boutique shops and restaurants and cultural attractions like the Watauga County Historical Museum and the Blowing Rock Art & History Museum.
The surrounding area is a destination for winter skiing, fly fishing, and mountain biking. Watauga has many state and national parks nearby, including the Blue Ridge Parkway, Grandfather Mountain State Park, and Pisgah National Forest.
The Blue Ridge Mountain climate is mild, with cool winters and warm summers.
Is Boone, NC growing?
Boone had 19,090 residents in the April 2020 US Census. It added around 2,000 new residents since 2010. Boone is expected to keep growing at a steady rate. Watauga County is anticipated to grow by 10% by 2030.
What neighborhoods are in Boone, NC?
Boone has over 44 neighborhoods and counting. Find places to live close to downtown and the Appalachian State campus, near fly-fishing, skiing, mountain biking, on mountain tops or secluded valleys. Boone has a community or home to match whatever lifestyle you'd like.
Some communities to consider when looking for a place to live in Boone include:
Echota is a gated community on the banks of the New River offering stunning mountain views and resort-style amenities like an indoor/outdoor pool, tennis courts, and a clubhouse. Homes here range from cozy cottages to spacious single-family homes.
If you're looking for beautiful mountain views, Ridge View is your place. This established neighborhood features a mix of single-family homes and townhomes. Amenities include a park and walking trails.
Seven Oaks is a lovely mountain hamlet for your list. One of the reasons so many people choose to live in Seven Oaks is the beautiful views and scenic vistas. The cost of homes in Seven Oaks ranges from $150,000 to $300,000.
Hampton Estates is a newer community perfect for those who want to be close to all the action but still have some quiet. Homes here are spacious and modern. Community amenities include a swimming pool and clubhouse.
Greystone is a prestigious mountain community in Boone. The spring 2022 prices ranged from $600,000 and $2 million. With beautiful vistas and proximity to shopping, it's easy to see why so many people choose Greystone as their home.
Are there any waterfront properties found in Boone, NC?
Boone itself doesn't have a lot of waterfront real estate if you're looking for a lake or a pond. However, if you're in the market for a trout stream or a mountain creek, you can find it in and surrounding Boone. Look along Boone Fork Creek in the Twin Lakes development or in Firethorn. Echota has two stocked ponds with bass, trout, and bluegill.
The tributaries of Wilson Creek are regulated wild trout streams. It has a delayed harvest, as does the Watauga River. The Pine Run Public Fishing area is along the South Fork of the New River that starts in Boone.
How is golf in Boone, NC?
The Blue Ridge Mountains' finest public course, Boone Golf Club, takes full advantage of the region's breathtaking beauty and breathtaking views complemented by meticulous course upkeep. It is open from April to November and features bentgrass greens and has a driving range. The course was designed by Ellis Maples, who is also responsible for the other nine courses in the area.
Hound Ears Club is a private golf and country club launched in the 1960s. It has a full-service Golf Shop and PGA professionals. The George Cobb-designed course has been ranked as one of North Carolina's Top 100 courses by the Carolina Golf Panel.
Boone residents live near eight other prestigious golf courses, such as Grandfather Golf & Country Club and Blowing Rock Country Club.
Are there golf course communities in Boone, NC?
Boone's most distinguished golf course neighborhood is Hound Ears. Homes in the community ranged from $400,000 to $1.5 million. The amenities are one of the reasons living here is attractive. Hound Ears has a clubhouse, community center, fishing, fitness center, golf course, and an outdoor pool with mountain views. There are tennis courts, picnic areas, and walking trails available in this Boone neighborhood.
Other nearby golf course communities include Echota and around the public Boone Golf Club. Blue Ridge Mountain Club is in nearby Blowing Rock.
Are there gated communities?
Heavenly Mountain has everything you can desire. The amenities available to residents include a clubhouse, common areas, community center, fitness center, nature trails, an outdoor pool with mountain views, picturesque views of the mountains, tennis courts, and walking paths. Many shopping opportunities, as well as dining and entertainment options, are in the Heavenly Mountain area.
Blue Ridge Mountain Club in nearby Blowing Rock is a gated community offering common areas, fishing, nature trails, mountain views, scenic views, parks, tree-lined streets, picnic areas, and walking trails. Home prices ran $600,000-$2.5 million in spring 2022.
Boulder Cay is a gated community with 0.5-2 acre lots and a location convenient to Appalachian State and the Boone Mall. Mountain vistas and panoramic views are available. The homes at Boulder Cay ranged from $100,000 to $200,000.
Twin Rivers provides fishing, mountain views, scenic views, and walking trails inside its gated community. Spring 2022 prices ranged from $400,000-$1.5 million.
Yonahlossee has expansive views of Grandfather Mountain in a resort community. Amenities include seven outdoor clay tennis courts and three indoor climate-controlled turf courts, a heated indoor pool, a Racquet Club, a fitness center, and more.
Other gated communities to explore include Boulder Creek, Echota, Greystone, Jackson Ridge, and Firethorn.
What areas are near Boone, NC?
Banner Elk is about 10 miles from Boone and has an elevation of 3,625 feet. It is home to Lees-McRae College and a popular ski resort, Sugar Mountain Resort.
Beech Mountain is the highest town in North Carolina, with an elevation of 5,506 feet. It is about 15 miles from Boone and features the Beech Mountain Sports Complex.
Blowing Rock is a village located atop the Blue Ridge Parkway at an elevation of 4,100 feet above sea level. The population was 1,241 at the 2010 census. Blowing Rock has several art galleries, shops, restaurants, and hotels.
Grandfather Mountain is a mountain on the eastern escarpment of the Blue Ridge Mountains in North Carolina. At 5,946 feet, it is the highest peak on the escarpment and the highest peak in Watauga County.
Linville is an unincorporated community and census-designated place (CDP) located in Avery and Burke Counties in the US state of North Carolina. The population was 12,786 at the 2010 census. Linville is home to Linville Caverns, a popular tourist attraction.
The Pisgah National Forest is a half-million-acre forest that includes parts of 12 counties in western North Carolina. You'll find mountain biking, fishing, hiking, and camping opportunities inside the borders.
Asheville is located about 40 miles from Boone and is a popular tourist destination. It acts as a jumping-off point for the North Carolina mountains.
Boone is about 2 hours and 45 minutes from Charlotte. It is also a few hours from the Tennessee and Virginia border. Boone's proximity to so many different areas makes it a great location to live in.
What to know about living in Boone, NC
Boone is a vacation destination, but it's also a great place to live. The climate is milder than other parts of the state due to the elevation. There are many things to like about Boone, including the small-town feel, the access to outdoor activities, and the friendly people.
Boone has various housing options available, from apartments and condos to single-family homes and townhomes. There are also many gated communities available for those who are looking.
If you're interested in living in Boone, contact a local real estate agent to find the right neighborhood for you.