Moving to Georgia - 13 Must Visit Cities Before Making a Move
Posted by Preston Guyton on Sunday, April 4, 2021 at 7:40 AM
By Preston Guyton / April 4, 2021
Comment
Considering a move to the Peach State? Get excited. Georgia is the jewel of the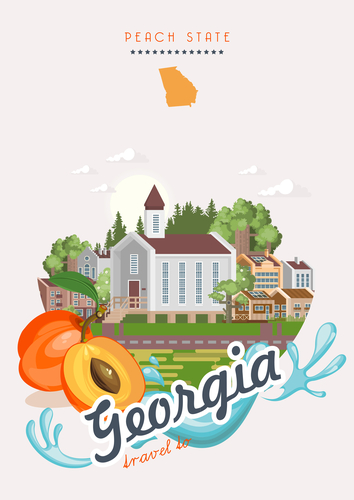 South, a mix of heritage and high technology, cityscapes and natural splendor, quaint cottages and sports stadiums, diversity and southern hospitality found nowhere else on Earth.
Get ready to experience the friendly people, financial prosperity, limitless greenery, and vibrant creativity that have made Georgia a hub of world commerce and culture since the state was founded by James Oglethorpe in the 18th Century.
From all four corners and everywhere in between, here's what Georgia has to offer…
Atlanta
Atlanta is the metropolis of the South — the beating heart of Georgia's commerce, culture, and creativity since its humble beginnings as a railroad terminus in 1837.
But it's also the greenest metropolis you will ever see. Dubbed the "City in a Forest," Atlanta's soil nurtures over 100,000 shade trees planted by the nonprofit Trees Atlanta. Covering 47.9% of the city, these cheery trees make Atlanta the most forested metro in the world.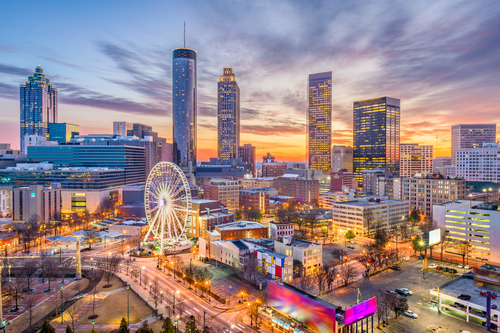 But the trees aren't the only things cheery about Atlanta. Still an economic powerhouse, Atlanta hosts thriving segments of the FinTech, healthcare information, logistics, finance, and advanced manufacturing industries.
For 18 years running, Atlanta-Hartsfield Airport has been the busiest airport in the world, a transit hub for 101 million passengers per year and covering an area equivalent to 45 football fields.
But commerce isn't the end of Atlanta's charms. Atlanta does double-duty as a hub for arts and culture. Incentives to filmmakers have made Atlanta a second Hollywood, the location of choice for over 140 films and TV shows since 2008. A short list of disruptive music artists to hail from Atlanta include Outkast, Ludacris, Black Lips, Manchester Orchestra, Killer Mike, and Childish Gambino.
There's never a dull moment in Atlanta, either. Residents and visitors can enjoy a thriving nightlife and live music scene, as well as The Varsity, the world's largest drive-in restaurant. Not to mention the Atlanta Aquarium, Martin Luther King Jr.'s birthplace, and world-class art and science museums.
Additionally, one of Atlanta's most famous native products is lionized in the World of Coca-Cola, a high-tech museum replete with tasting rooms for the company's signature syrupy concoctions.
From gritty to affluent, athletic to artistic, Atlanta is the city that has it all — the beating heart of Georgia, where the ambitious of the South come to live their best lives.
Savannah
Atlanta gets all the ink, but Savannah is actually the original Georgian city. Founded in 1733, Savannah boasts colonial America's love affair with town squares. Savannah has 22 of them — cheerful parks festooned with public art and monuments, surrounded by adorable shops and architecture — the perfect place to pass a carefree afternoon in the Georgia summertime.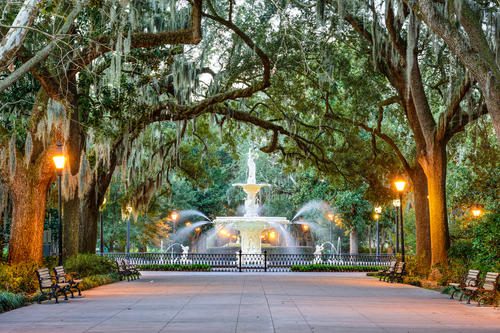 Savannah is also a city on the sea, and the sea means beaches — perfect for sunbathing or a refreshing dip in the Atlantic ocean. In the evenings, world-class seafood restaurants serve up the catch of the day, prepared by award-winning chefs who come to Savannah specifically to hone their craft with the freshest fish and shellfish around.
As the summer gives way to cooler months, Savannah hosts the world-famous Savannah Jazz Festival, Black History Festival, and Book Festival. Savannah College of Art and Design is widely recognized as one of the best art institutes in the world. The creative geniuses who attend the college contribute to an eclectic, lively downtown arts and culture scene.
Don't let the historic charm fool you. Savannah is a hotbed of high-tech industry, from aerospace to health tech to logistics. This is no sleepy little town.
But all it takes is a stroll down Bull Street, basking in the culture and history around you — charming churches, moody forts, and pristine colonial architecture — and Savannah wins your heart forever. The tree-lined residential neighborhoods bost excellent schools and a heartfelt commitment to beauty and community.
Augusta
In 1736, Georgia's founder James Oglethorpe established Augusta along a navigable stretch of the Savannah River. This colonial core forms a historic Riverwalk, lined with parks, monuments, and playgrounds.
This part of the river, known as the Augusta Canal, is a paradise for lovers of light watercraft. In the summertime — mild and pleasant compared to more humid corners of Georgia — you can spot kayaks and paddleboards piloted by fit, carefree Georgians from all walks of life, united by the love of the water and the outdoors.
Augusta is home to five colleges, as well as thriving cybersecurity, manufacturing, and medical industries. Fort Gordon is also a key source of economic productivity. All this in a small city noted for having more green spaces than concrete.
Venture from the historic core and you will discover a city of sparsely-populated suburbs, surrounded by trees and perfect for homeowners who love nature and privacy.
Augusta residents enjoy a beautiful city with a lower-than-average cost of living without having to scrimp on the cultural offerings. Augusta residents are spoiled with a plethora of theaters and music venues, including James Brown Arena (named for one of Augusta's most famous sons)
Artist's Row, along Broad Street, is dotted with art galleries and holds a thriving First Friday festival every month, with special hours for the adorable boutiques and diners that line the street.
If you want an affordable Georgia lifestyle with an incredible quality of life, it's hard to beat Augusta.
Athens
Like its Greek namesake is synonymous with artistry and reason, Athens, GA is synonymous with academic excellence. The University of Georgia was chartered here in 1785, while prep school Athens Academy and the U.S. Navy Supply Corps School contribute to Athens' reputation for intellectual rigor.
While Union General William T. Sherman passed through here on his march to the sea, much of Athens was spared, and many pre-Civil War buildings survive. This makes Athens a densely packed gem of Antebellum history, home of some of Georgia's most spectacular architectural treasures. The colonial architecture mixes with Greek revivalist marvels that sprang up around the University to contribute to the city's classical mystique.
Perched on the edge of Oconee National Forest, a haven for nature lovers, Athens includes one of the country's oldest Black-owned vaudeville theaters. Luminaries from Louis Armstrong to Duke Ellington performed there, contributing to Georgia's reputation as a hotbed of jazz music. This small city has spawned more than its share of influential music acts, including R.E.M., the B-52s, and The Black Crowes.
Full-time residents of Athens enjoy a low cost of living, high livability index, low crime rates, and favorable urban density. They also enjoy easy access to parks, museums, nature centers, and botanical gardens.
For academics and non-academics alike, Athens, GA echoes with Georgia's history.
Columbus
Manufacturing and transit hub Columbus sits adjacent to Alabama on the banks of the Chattahoochee River, where a series of locks and dams make it a key historical hub of river commerce, connecting Georgia to the Gulf of Mexico.
The site of the last Civil War battle east of the Mississippi, Columbus played a pivotal role in supplying the Confederacy. Today it remains a hub of textile manufacturing and the site of Fort Benning, an Army base that supports more than 120,000 active-duty US military personnel.
But it's not all warfare and industry in Columbus. Columbus was also the home base to legendary blues singer Ma Rainey and author Carson McCullers. Coca-Cola was invented here, and the Coca-Cola Space Science Center hosts a variety of cool attractions, including a replica of the Apollo space capsule and the Space Shuttle.
Residents and visitors can hear music at the Springer Opera House or the Columbus Symphony Orchestra, stimulate their minds at the Columbus Museum, relax in Callaway Gardens, stroll the Chattahoochee Riverwalk, and observe the behavior of wild animals at Pine Mountain Wild Animal Safari.
Its importance during the Civil War has left its mark on Columbus. The Port Columbus Civil War Naval Museum exhibits several Civil War-era river battleships.
People who choose to make their homes in Columbus will discover a low cost of living with plenty of space to spread out, as well as good schools and great access to healthcare. If that doesn't sweeten the deal enough, Columbus is also home to the longest urban whitewater rafting course in the US!
Macon County
If you want a pastoral lifestyle in the Georgian country, Macon County has you covered. An agricultural fixture of central Georgia since well before its establishment in 1837, Macon County leads the state in the production of a variety of agricultural products. Perhaps the most notable product is the one Georgia is best known for — Macon County is the state's #1 producer of peaches.
In addition to rolling fields of agricultural land, Macon County is dotted by four tiny municipalities — Oglethorpe (the county seat), Ideal, Marshallville, and Montezuma. At the southernmost tip of the county lies one of the most solemn monuments of the American Civil War — the Andersonville National Cemetery, where the over 13,000 people who died of starvation and disease at the Confederacy's most notorious POW camp are memorialized.
Macon County is an ideal destination for families seeking a respite from city life with its crime, traffic, and pollution. Here in Macon County, fish still leap from clean streams and wild deer wander undisturbed forest hills. Families can enjoy great schools and wide-open spaces to stretch out and live their purpose. And of course, one of the highlights of the bread-basket lifestyle is farm-to-table cuisine. Farmer's markets about where locals can take advantage of the freshest milk, cleanest produce, and tastiest ingredients in the state.
When work and school and it's time to play, families can enjoy easy access to Whitewater Creek Park, Montezuma Bluff Wildlife Management Area, and special events like Wild Turkey Day and Dear Day in Oglethorpe.
Sandy Springs
This suburb to the north of Atlanta resisted multiple attempts at annexation by its big sister to the south, asserting its identity through several public votes to retain its autonomy as a separate city. Historically rural but now an organ of the urban Atlanta metropolis, Sandy Springs remains stubbornly true to its country roots and marches to the beat of its own drum.
For one thing, it remains a hub of industry and commerce in its own right. UPS, Cox Communications, Mercedez-Benz USA, and several other giants have Atlanta addresses for their corporate headquarters, but the headquarters themselves are actually located in Sandy Springs.
This isn't the city's only claim to fame, either. Sandy Springs hordes some of the best attractions in the Atlanta Metro within its 38 square miles. There's Abernathy Greenway Park, also known as the "Playable Art Park," festooned with public art that children can play on. There's the award-winning Act 3 Productions black box theater, legendary Cafe 290 jazz club, and a museum highlighting the life of famed WWII diarist Anne Frank.
Sandy Springs also features easy access to Chattahoochee National Recreation Area, a 48-mile stretch of riverfront paradise for floating, fly-fishing, hiking, and outdoor adventure. Closer to home, there's a beautiful City Green, the perfect place for a picnic with family and great friends, replete with fountains and water features.
South Fulton
First incorporated in 2016, South Fulton sprawls across the greenery just to the southwest of Atlanta. Its claim to fame remains the Georgia Renaissance Festival, widely regarded as one of the best RenFests in the country. In fact, in 2017, the City Council voted to change the city's name to Renaissance, GA, but the change was vetoed by the mayor.
Despite this missed opportunity, the Renaissance Festival is a must-go between April and June. Visitors dress up in their finest medieval costumes, chomp on giant turkey legs, watch realistic jousting reenactments, play with animals at the Royal Petting Zoo, and shop at a 32-acre outdoor bazaar filled with handmade crafts for sale.
The artistic pedigree of South Fulton doesn't stop at the RenFest, either. There's also Wolf Creek Amphitheater, 435 acres of dedicated art space that hosts concerts, plays, and festivals — everything from local artists to touring superstars. Atlanta residents routinely make the pilgrimage to South Fulton to see hot shows at Wolf Creek.
For people who choose to make their home here, South Fulton offers spectacular housing surrounded by greenery. Golf enthusiasts will be particularly happy — South Fulton is home to some of the best golf courses in the region, from the casual College Park Golf Course to the ritzy and exclusive Piedmont Driving Club.
Travelers will find South Fulton particularly convenient — suburban bliss with easy access to Atlanta-Hartsfield, the country's busiest airport.
Roswell
Located north of Sandy Springs on the Chattahoochee River, Roswell's history goes back as far as 1830, with the arrival of Roswell King.
Three families established mills and plantations in this region, and their historic mansions have been preserved and restored. This includes Bulloch House, where President Theodore Roosevelt's mother grew up. Add to that Barrington Hall and Smith Plantation, and Roswell is a gem of Antebellum history, the good and the bad preserved in amber for residents and visitors to marvel at.
The modern city of Roswell is a great place to grow up — ranked the 18th safest city in America according to City Crime Rankings. Frommers also named Roswell as the third best place to raise a family, while Morgan Quinto Press selected Roswell from 371 cities for its "Safest 25" rankings.
Many residents of Roswell commute from their pleasant homes, surrounded by greenery, to nearby Atlanta. Chick-Fil-A, The Kimberly Clark Corporation, and the Consulate General of Honduras all have headquarters in Roswell.
Outdoor adventures abound in Roswell. The city is adjacent to the Chattahoochee River National Recreation Center, a popular preserve for tubing, fly fishing, and hiking. Other attractions include the Chattahoochee Nature Center, Primrose Cottage, Faces of War Memorial, and the Computer Museum of America.
Johns Creek
Located just to the east of Roswell and still within the Atlanta metroplex, Johns Creek is the oyster that protects a pearl of Georgian heritage — Autrey Mill Nature Preserve and Heritage Center. This 46-acre ravine forest preserve is a monument to the region's pastoral past.
The preserve encompasses Heritage Village, a recreation of four original buildings and landmarks that simulate Georgian country life in the 1800s and early 1900s. The Autrey Mill forests also contain replica Native American dwellings, remnants of the region's history as part of the Cherokee Confederacy.
Present-day Johns Creek is a suburb of adorable houses and rich culture. The town is home to the Johns Creek Symphony Orchestra, the only part-time professional orchestra in the Atlanta Metro. In April, Johns Creek showcases its heritage and diversity at the Johns Creek International Festival, which draws over 23,000 attendees on average.
Johns Creek is also a golf lover's dream, with five private golf courses and one public course for your putting pleasure. Other attractions include the North Atlanta Dance Theatre and the Mark Burkhalter Amphitheater, a 1,400-seat open-air amphitheater framed by stacked stone and natural pine arches. Johns Creek Art Center is renowned as a world-class arts education center, with classes for children and adults to unlock their creativity.
Warner Robins
Warner Robins was founded during WWII. Originally just a stop on the railroad line with a sawmill surrounded by peach orchards, that changed when the US War Department established Wellston Army Air Depot here. That, along with its proximity to Robins Air Force Base, put Warner Robins on the map. It also explains the city's motto, shortened to the hard-to-pronounce acronym EDIMGIAFAD — "Every Day in Middle Georgia is Armed Forces Appreciation Day."
Warner Robins enjoys a sterling reputation for quality of life, voted for two years running as the best place in Georgia to raise a family by Business Week. CNN Money also included Warner Robins in 2012 of the best and most livable small cities in America. The deciding factors were the great schools, reasonable cost of living, and overall happiness of the residents.
Fans of Friday Night Lights will find that Warner Robins gives rural Texas a run for its money — at least in its enthusiasm for high school football. The Warner Robins High School Demons (named after the "Screamin' Demons" of the 7th Fighter Squadron out of Robins Air Force Base) have brought home numerous State Championship titles. Their rivalry with the Northside High Eagles was ranked by USA Today as the #3 high school football rivalry in America. As many as 21,000 fans pack local stadiums for these rivalry matches, a great time for all involved.
Alpharetta
This suburb of Atlanta, just to the north of Johns Creek and Roswell, has earned the prestigious nickname of "New Buckhead." The ritzy Atlanta neighborhood of Buckhead is associated with class and affluence. As the "new Buckhead," Alpharetta is quickly becoming the destination of choice for Atlanta's new moneyed class to put down roots and establish an elegant home in one of the town's sprawling estates.
That's not to say that Alpharetta keeps its nose in the air. Dubbed the Seventh Friendliest City in the Nation by Forbes, Alpharetta seems to exist in a constant state of celebration. There's always a party, festival, or ceremony going on, lending to a generally festive atmosphere of goodwill that contributes to its reputation for a high quality of life.
Why the explosion of affluence so far north of Atlanta? Chalk it up to the spontaneous appearance of a high-tech hub north of the Chattahoochee River. With over 700 tech companies calling Alpharetta home, this little city on the edge of a forested mountain enjoys one of the highest concentrations of high tech industry in the country.
But all-work-and-no-play isn't the Georgian way. There's tons to do in Alpharetta, from live music at the spectacular Chukkar Farm outdoor venue to exotic shopping at the downtown European Market ... tasty beer to sample at Jekyll Brewing, and major shows to catch at Ameris Bank Amphitheater.
The word is out — Alpharetta is where discerning Georgians go to live the Good Life.
Marietta
Just a short drive northwest of Atlanta, Marietta feels like a world apart. Its turn-of-the-century town square evokes an earlier age — a dining and shopping district rich with atmosphere and history, crowned by a spectacular fountain in the central park. The historic train depot and welcome center is just the start — Marietta has six historic districts, remarkable for such a small town.
The Marietta Players perform dramas and comedies year-round in the preserved Strand Theater, while the Marietta Gone With the Wind Museum celebrates the most famous fictional Georgian in literature and film, Scarlett O'Hara, with a vast collection of Gone With the Wind memorabilia.
Thursday through Sunday, residents can take a leisurely trolly tour of Marietta's many pre-Civil War heritage sites. Kennesaw Mountain National Battlefield Park, the site of some of the most brutal combat in the Civil War, affords hikers and picnickers sprawling panoramic views of Atlanta below.
One of the friendliest cities in Georgia, Marietta flexes its personality year-round through a series of unique festivals. There's the Marietta Greek Festival, Pigs & Peaches BBQ Festival, Kennesaw Big Shanty Festival, and "Chalktoberfest," which is exactly what it sounds like — a beer-and-chalk-art festival.
For beauty and quality of life a stone's throw from Atlanta, it doesn't get much better than Marietta.
Tolerant and prosperous, cultured and competitive, worldly and outdoorsy, Georgians know how to live the good life — spectacular food, amazing neighbors, and a limitless sense of humor. Whatever you want out of life, Georgia can serve it up … with a heaping side of Southern Charm. If you are looking at moving to other southern states be sure to check out our articles on Moving to South Carolina and Moving to North Carolina.