EZ Home Search Guide to Living in Montgomery County, NC
Posted by Preston Guyton on Saturday, January 8, 2022 at 6:03 AM
By Preston Guyton / January 8, 2022
Comment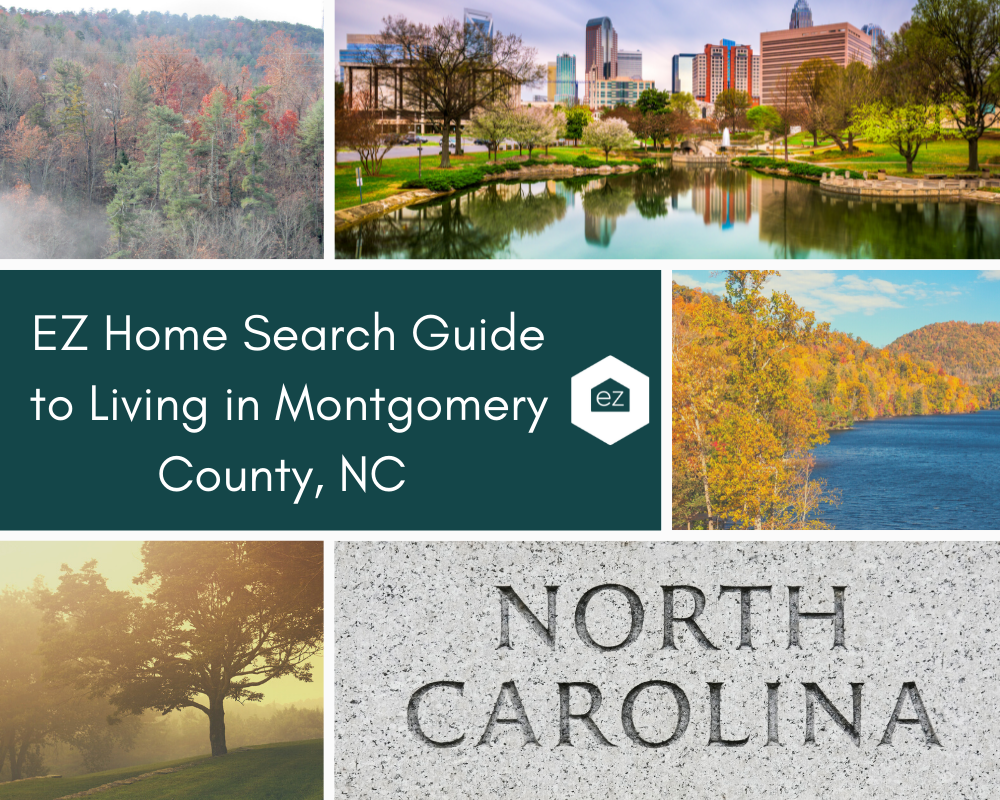 EZ Home Search Guide to Living in Montgomery County, NC
Live in tune with nature in the Uwharries Mountain region of Montgomery County, North Carolina. This rural community allows you to unwind with a hike in the forest or a day on the lake. Montgomery County's small towns and communities preserve rich cultural history and traditions. The friendly people who live here are proud of their community and its abundant natural resources.
If you're looking to live far away from it all, explore Montgomery County. Our guide breaks down what you need to know about life in this slice of the Piedmont Region.
About Montgomery County
Montgomery County's location is ideal for residents and businesses seeking to live in a unique, beautiful location. This North Carolina county is a centrally located region at the heart of a vast transportation network. Residents live within a 1-1.5 hours' drive from Charlotte, Greensboro, and Raleigh.
Montgomery County is surrounded by:
Randolph County
Moore County
Richmond County
Stanly County
Davidson County
Much of Montgomery County is rural and wooded. Around 50,000 acres are preserved in the Uwharrie National Forest. The county has 156 different bodies of water across rivers, streams, and reservoirs. These include the popular fishing destinations of Badin Lake, Lake Tillery, and the Falls Reservoir. These reservoirs have a combined 230 miles of shoreline and over 10,000 acres of water surface area available for recreation.
Montgomery County is rich in agriculture and farms outside of the forests and waterways. Leading products include livestock, dairy, poultry, vegetables, tobacco, and cotton. Manufacturing is equally vital to the area's economy, as the earth is rich in mineral resources such as gold, clay, and copper.
The climate is moderate all year round, giving residents more opportunities to enjoy the outdoor abundance. The January temperatures range from 30-50F and average 4 inches of precipitation. In July, temperatures range from 69-89F. It is the wettest month, with an average of 5.5 inches of rainfall.
The cost of living index sets the US average at 100. Montgomery County's cost of living score is 76, which is more affordable than many places in the United States. The category with the lowest score was housing at 39.5, while the most expensive was health care at 119.
Montgomery County History
The first inhabitants of Montgomery County were the Keyauwee and Cheraw native peoples. They left behind numerous sites, as evidenced in the remaining mound structures.
Early European settlers were primarily of German and Scottish descent. Montgomery County was formed from parts of Anderson County in 1779 and was named after Brigadier General Richard Montgomery, a hero in the American Revolution. He was one of the original Brigadier Generals commissioned by the Continental Congress. He died leading an attack on Quebec.
The county's early days witnessed a dispute over the county seat's location. The Pee Dee River divided the county and complicated travel. Residents could not agree which side of the river county seat should be situated. Eventually, Montgomery County was divided, and the Pee Dee River acted as the boundary line. The county seat continued to move around until it was finally established in Troy.
Early in the 1800s, North Carolina experienced a gold rush after the mineral was discovered at the nearby Reed Mine. Montgomery County had 13 major gold deposits, making it a mining hub. Most mines closed by the 1900s, but you can still pan for gold in the area's rivers.
The damming of the rivers brought hydroelectricity into the region and created opportunities for recreation and sport. Preservation of the Uwharrie National Forest presents opportunities for hunting, hiking, ATVs, and more.
Cities and Areas in Montgomery County
The vast majority of Montgomery County's land surface is preserved forested lands. The Uwharrie National Forest comprises 50,000 acres through the heart of the county. The lakes and rivers help form the borders surrounding the county.
You will find five municipalities that service Montgomery County citizens in the remaining space.
Troy is the designated county seat and has been since 1852. It has a historic downtown Main Street with a thriving marketplace. Around 3,200 people call "the Gateway to the Uwharries" home.
Star is unique in that it is the true geographic center of North Carolina. It has excellent proximity to I-73 and I-74.
Mount Gilead is on the county's western side, minutes from Lake Tillery and the Uwharrie Forest. Its Main Street is a shopping destination, and it is close to some of the county's historic sites.
Candor is a center for peaches in the state. The North Carolina Peach Festival is held every year on the third Saturday in July. Candor is a charming small town on the county's eastern edge for the rest of the year.
Biscoe is adjacent to the Uwharrie National Forest and Interstate 73 and 74. It is the second-largest town with around 2,000 residents.
Montgomery County Job Market
The numbers from November 2021 reported a 3.1% unemployment rate for the county, just under the state rate of 3.4%. The local economy is primarily driven by manufacturing. It makes up about a third of available employment opportunities. Other top employing industries based on the number of employees are health care and retail trade occupations.
Montgomery County's leading employers based on their size are the Montgomery County Board of Education, Jordan Lumber and Supply, Nipcam Services Of North Carolina, Klaussner Furniture Industries, Grede Li, the Department of Public Safety, Montgomery County Government, Mcrae Industries, Moore Regional Hospital Montgomery, and Family First Home Care.
Montgomery County Real Estate Market
As a rural community, you'll see farm homesteads and land for sale. Find opportunities for small-town living in the five small towns around Montgomery County. Vacation homes are available along the lakefront, perfect for your weekends away or to set up your dream home.
As of November 2021, the median list price for Montgomery County residential real estate was $199,450. That was up almost 34% year-over-year. The median price per square foot was $101. It should also be noted that there were 15 active listings. Around 75% of the residential real estate is owner-occupied.
Montgomery County residents pay a property tax rate of 0.6150 per $100 of valuation. The county last assessed property values in 2020, and the next assessment is scheduled for 2028.
Montgomery County Population Growth
The 2020 US Census counted 25,751 residents living in Montgomery County, which was about 2,000 persons fewer than the 2010 count.
The average age of a Montgomery County resident was 44. Around 22% of residents are under 18 years of age, and around 21% are 65 years and older. Another 14% of the population is in the 55 to 64 age bracket.
Demographically, 76% of residents identified as white alone, followed by 19% identifying as African-American alone. Approximately 16% identify as Hispanic or Latino. Of residents aged 25 and older, around 10% have an associate's degree, 10% have a bachelor's degree, and 4% hold a graduate degree.
Montgomery County Education
Montgomery County Schools is the public education system servicing youth in grades Pre-K to 12. This is a rural school district servicing around 4,300 students. There are six elementary schools, two middle schools, two high schools, and one learning academy. For the elementary schools, one focuses on Pre-K to 2, one on grades three to five, and one on Pre-K to 5. One of the high schools is an early college high school.
Montgomery County has a private school called Wescare Christian Academy in Troy, which offers education for youth K-12.
Montgomery Community College is a two-year school that offers transfer programs, professional certificates, associate's degrees, and continuing education. Its campus is located in Troy, and it enrolls around 1,000 students in its curriculum programs.
Uniquely, it has the largest gunsmithing school in the United States. The college is also an Apprenticeship NC partner, and it has a Career Technical Education Center.
Montgomery County Health Care
FirstHealth Montgomery Memorial Hospital in Troy is available for the emergency, acute, and outpatient needs of Montgomery County and surrounding area residents. It typically reports high patient satisfaction scores.
Among its acute care services are 24-hour emergency, imaging, cardiopulmonary, physical therapy, and rehabilitation. The group runs outpatient facilities and medical laboratories.
Montgomery County Attractions
One of the crown jewels of Montgomery County is its waterways. Badin Lake, Lake Tillery, and Falls Reservoir attract people for vacation and a quiet, waterfront lifestyle.
Montgomery County offers ample opportunities to fish from the bank, fishing piers, or to put in a boat at one of its launches. Combined between the lakes, fishermen can cast the line for over 30 species of fish.
While these large reservoirs are perhaps the most well-known, there's an additional 156 bodies of water for exploration. Your options include the Yadkin and Pee Dee Rivers.
Uwharrie National Forest is another major destination for outdoor recreation. It often borders the lakes, adding to their peaceful and rustic feeling.
Inside the Uwharrie National Forest are hunt camps, primitive camping, and developed campgrounds. Numerous trails are available for various recreational activities. This forest is one of the most popular places for horseback riding in North Carolina, with two horse camps and 25 named trails.
The Wood Run Mountain Bike Trail system has over 60 miles of trails in and around the forest. Another 17 miles are dedicated as off-highway vehicle trails in the Badin Lake Recreation Area. More trails are in place for hiking and trail running.
The Uwharrie National Forest's miles of forest lands hold trophy deer and wild turkeys, making a destination for hunting and sportsmen.
The lakes and forests may be the star attraction, but Montgomery County has arts, culture, and history.
STARworks has been featured in Martha Stewart Living magazine and Our State magazine. As a center for arts in Montgomery County, it is committed to providing artistic, educational programs, and business ventures. Visit and be amazed by the glassblowers, metalworkers, and potters. STARworks hosts annual festivals such as Glass Fest and Fire Fest. On the second Thursday of each summer month, they host Hot Glass, Cold Beer events in the evenings.
Town Creek Indian Mound State Historic Site preserves a complex native society that flourished in the Pee Dee River Valley. The native peoples built earthen mounds and temple complexes. The site has interpretive exhibits and audiovisual programs that bring this period to life.
Russell Mine in the Uwharrie National Forest was once one of the county's largest gold mines. The county is working on interpretive exhibits, but you can still hike around the ruins. Entering the mine shaft is off-limits.
Montgomery County's abundant deposits of minerals and clay make it a popular place for developing clay products, including handcrafted pottery. Visit any of the studios in the Montgomery County area for one-of-a-kind creations.
Throughout the year, gather with the locals during the annual festivals and events. The most popular are the Indian Heritage Festival, Troy Fest, the Mount Gilead Christmas Parade, and the Star Christmas Parade.
PR Moore Produce is a popular roadside stand for area residents to stop. It started 40 years ago and sells local produce, flowers, gifts, and handcrafted goods.
Montgomery County residents have three golf courses in the region to practice their gameplay. Old North State Club is along the shores of Badin Lake and has full-service amenities, including tennis, fitness, swimming, and a marina.
Montgomery County Dining
Find some restaurant chains and fast-food suppliers in the region, such as Wendy's, Bojangles, and Subway. The small towns are also home to other common global cuisines like Chinese, Mexican, and Italian.
Many dining options here are small-town rustic venues and family-owned restaurants. This is a place where everyone will get to know your name and your favorite dishes. Some examples of local dining include Tina's Country Kitchen, Sherry's Family Restaurant, Tommy's Barbecue House, and Burger Shack.
Living in Montgomery County
Montgomery County residents enjoy the beautiful Uwharrie Mountains and numerous waterways. While enjoying the recreational amenities, residents live less than 90 minutes from three international airports and major urban areas. It's a world away from North Carolina's bustling metropolises. Enjoy a slower pace of life and nature's abundance in Montgomery County. Find a local real estate expert to help you find your homestead, vacation homes, or other perfect Montgomery County home.