Your Stonecrest, GA, Real Estate Questions Answered
Posted by Preston Guyton on Monday, August 8, 2022 at 10:51 PM
By Preston Guyton / August 8, 2022
Comment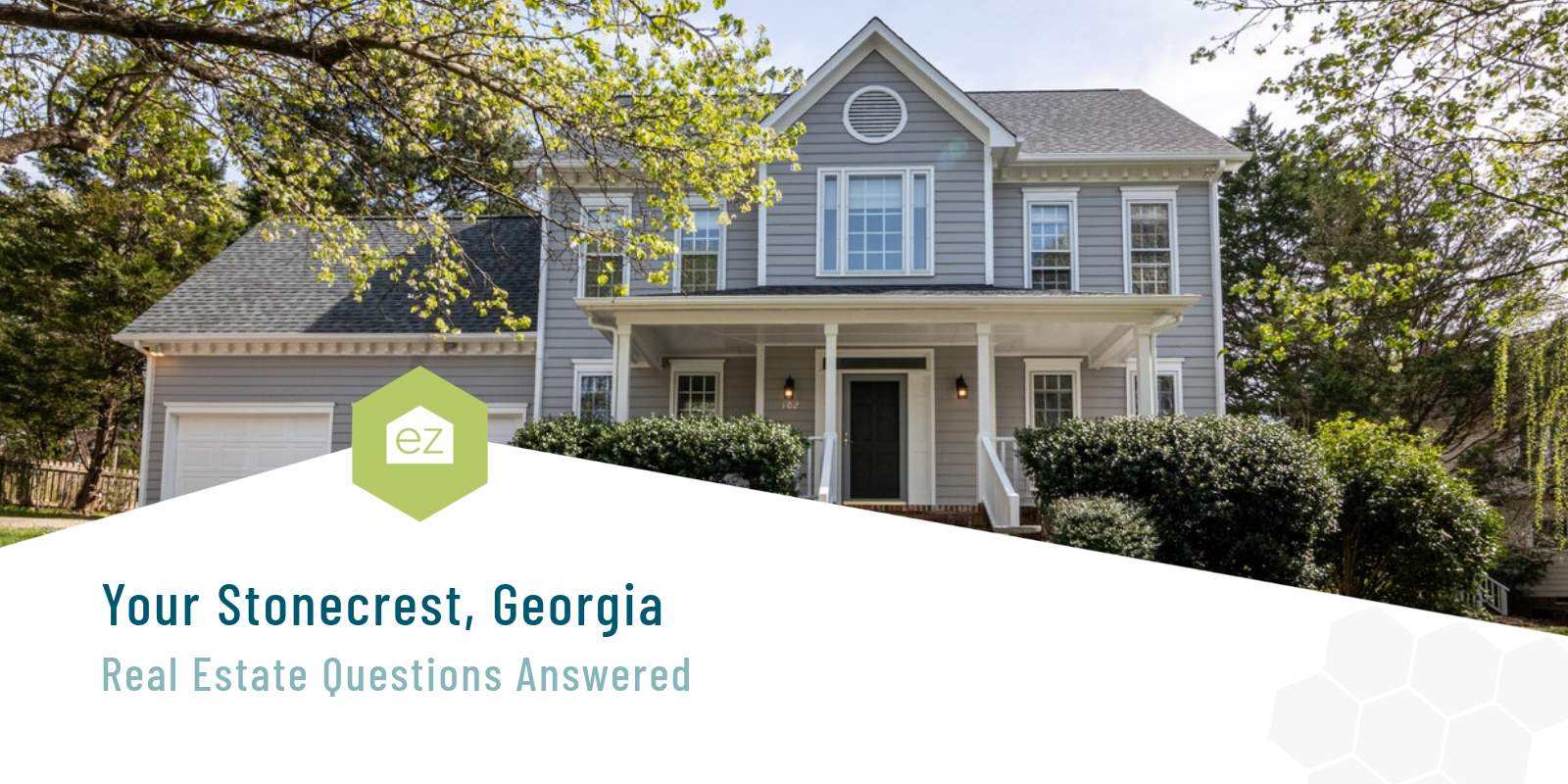 Your Stonecrest, GA, Real Estate Questions Answered
Stonecrest, GA, is a great place to live in the Atlanta metro. As one of Georgia's newest towns–established in 2016–it symbolizes possibilities. It has abundant shopping at The Mall at Stonecrest, a cutting-edge EIC model school, and two natural preserves and heritage areas. Residents find a balance between ample outdoor recreation and urban amenities.
Experts anticipate that the young city will become more popular as the Atlanta metro expands. Located in the southeastern corner of Dekalb County, one of the main attractions to living in Stonecrest is its proximity to major highways.
If you're considering moving to Stonecrest, here are some answers to frequently asked questions about its real estate market.
What is the average price of a home in Stonecrest, GA?
You'll find a range of housing options for you in Stonecrest. One of its advantages is its land and undeveloped lots. Homes tend to be on larger lots compared to houses of similar prices in the Atlanta metro.
The median price of a Stonecrest home was $282K in July 2022. This was trending up 41.7% year-over-year. There were 342 homes for sale. You could find an undeveloped half-acre lot for $16,000. The most expensive existing residential real estate was $839,000 for 5,560 sq ft on 1.9 acres with four bedrooms and four bathrooms.
Are there any condos or townhomes available in Stonecrest, GA?
Many condo and townhome options are available in Stonecrest if low-maintenance living appeals to you. You can find an affordable condo starting in the low $100,000s.
The most affordable listing was $75,900 for a 1,250 sq ft condo with two bedrooms, one bathroom, and needing repair. The most expensive listing was $365,000 for a townhome with 2,652 sq ft, three bedrooms, and 3.5-bathrooms.
Some places you can look for condos or townhomes are Shadow Rock Lakes, Baldwin Park, Terraces of Stonecrest, Wellington Manor, Fontaine, Farington Park, Stonecrest Heights, Marbut Commons, Lakeview At Stonecrest, and McKenna Square.
What is the property tax rate for Stonecrest, GA?
The Stonecrest property tax in 2022 was 1.257 in 2022. It began assessing property taxes in 2020.
Dekalb County property taxes charged 20.237 mils for Stonecrest residents in 2022. Residents paid more for the police department, special services, and the UNIC bond. Combined with school operations and city millage, residents paid 44.633 mils.
All property in Georgia is assessed at 40% of its full market rate. The counties determine the property values. Primary residences can qualify for a $2,000 homestead exemption.
What is the cost of living in Stonecrest, GA?
The estimated cost of living in Stonecrest is 7% lower than the national average and 1% lower than the Georgia average. Compared to living in Atlanta, it's overall 18% cheaper.
In particular, housing was 45% cheaper than the national average and 25% lower than the state average. Compared to Atlanta's housing costs, it's 57% more affordable. Residents did pay above average for transportation, utilities, and miscellaneous costs.
What county is Stonecrest, GA in?
Stonecrest is in Dekalb County, which has a population of 749,133. The county has a total area of 271 square miles.
The major cities in Dekalb County are Atlanta (the county seat), Brookhaven, Stone Mountain, Lithonia, Tucker, Doraville, and Chamblee.
Residents have a variety of shopping, arts, and cultural activities accessible.
DeKalb is a growing, diverse area only ten miles from Hartsfield-Jackson Atlanta International Airport and just east of downtown Atlanta. It's Georgia's third most populous county, but it boasts the greatest diversity. Our neighborhoods have a cosmopolitan feel reflected in the county's variety of international businesses and restaurants.
It is home to Stone Mountain Park, Georgia's largest natural attraction. Another popular stop is the Davidson-Arabia Mountain Nature Preserve, a 2,550-acre site in Lithonia. Dekalb also has several world-class colleges and universities, like Emory University, Oglethorpe University, Mercer University, Agnes Scott College, Georgia State University-Perimeter College, and Georgia Piedmont Technical College.
DeKalb is also home to Fernbank Museum of Natural History and its incredible dinosaur exhibit, the Michael C. Carlos Museum of Emory University with its Egyptian mummies, the one-of-a-kind David J. Sencer CDC Museum, and a 27,000-square foot Tudor Revival-style mansion now housing the Callanwolde Fine Arts Center.
Is Stonecrest, GA growing?
Stonecrest not exist in 2010, so there is no comparison data. The city did have over 59,000 residents in the 2020 census. It is estimated to be growing at 1.2% each year.
What neighborhoods are in Stonecrest, GA?
As a new city, Stonecrest is still growing and finding its identity. Some areas, such as Lithonia, identify with historic small towns and unincorporated areas.
More established neighborhoods are Chestnut Lake and Klondike. Specifically, the Klondike area is part of a National Heritage Area in Arabia Mountain with some of the region's oldest homes. Some date to the 1800s.
Eagles Ridge is a subdivision of 157 single-family residences a few miles from Stonecrest Mall and the South DeKalb Mall. The amenities include a swimming pool, tennis court, playground, and green spaces. There is an HOA.
Shadow Rock Lakes has a Lithonia address. Constructed in the 1990s and 2000s, these 185 single-family homes are in wooded, rolling hills. The community has a mandatory HOA that maintains the clubhouse, tennis courts, pool, and lake. Many homes have views of Stone Mountain Park.
Stonecrest is seeing lots of new construction. For newer communities, you can explore the Lakeview at Stonecrest, The Parks of Stonecrest, and The Enclave at Flat Rock.
Are there any waterfront properties found in Stonecrest, GA?
You can find some waterfront properties in Stonecrest. These will primarily be Lakeview or with creeks in the backyard. Look at Crooked Creek, Pole Bridge Creek, Stephenson Creek, and the South River for creekfront real estate. In July 2022, there were listings on Browns Mill Lake, Spring Lake, Forest Lake, and Kelly Lake.
How is golf in Stonecrest, GA?
Stonecrest does not have any golf courses inside of its boundaries. Two courses are within a reasonable driving distance. One is the Mystery Valley Golf Course, and the other is the Panola Mountain Golf Course.
Mystery Valley is located in Lithonia and was voted in the 1970s as one of America's top 50 courses by Golf Digest. It has hosted golf tournaments and sectional events over the last 35 years.
Panola Mountain is located in Ellenwood and provides two courses with the option to play nine holes or 18 holes.
Are there golf course communities in Stonecrest, GA?
You won't find golf course communities in Stonecrest.
What areas are near Stonecrest, GA?
Stonecrest is about 20 miles east of Atlanta. It's bordered by Lithonia to the north, Conyers to the east, and Redan to the south.
Some notable landmarks near Stonecrest include:
The Mall at Stonecrest: This 1.1 million square foot outdoor shopping mall features over 100 stores and restaurants.
Arabia Mountain: A granite outcropping that is one of the most unique geological formations in Georgia and part of the Arabia Mountain National Heritage Area.
Panola Mountain State Park: A 1,600-acre state park with hiking trails, picnicking, fishing, and canoeing/kayaking on two lakes.
The Stonecrest footprint includes 2,674 acres of parks, recreational centers, and walking trails. The trails have abundant natural scenery fantastic for year-round walking, hiking, and biking. The Atlanta Journal-Constitution recently named the Bike Path at Arabia Mountain National Heritage Area among the best of Atlanta's bike trails.
Naturally, Stonecrest is commutable for those working in Atlanta. Its suburbs of Decatur and Scottdale are easily accessible from I-20 and I-285. Panthersville and Candler-McAfee are two other metro areas Stonecrest residents can travel to before hitting downtown Atlanta.
What to know about living in Stonecrest, GA?
If you're looking for a city with suburban amenities and a diverse array of activities, Stonecrest is the place for you. With its convenient location to Atlanta and its affordable living, Stonecrest is an excellent choice for those looking to relocate to Georgia. And, with various neighborhoods to choose from, you're sure to find the perfect place to call home.
If you're looking at living in Stonecrest, contact a local real estate agent to find the right neighborhood for you.