Your Morganton, NC Real Estate Questions Answered
Posted by Preston Guyton on Saturday, June 18, 2022 at 6:11 AM
By Preston Guyton / June 18, 2022
Comment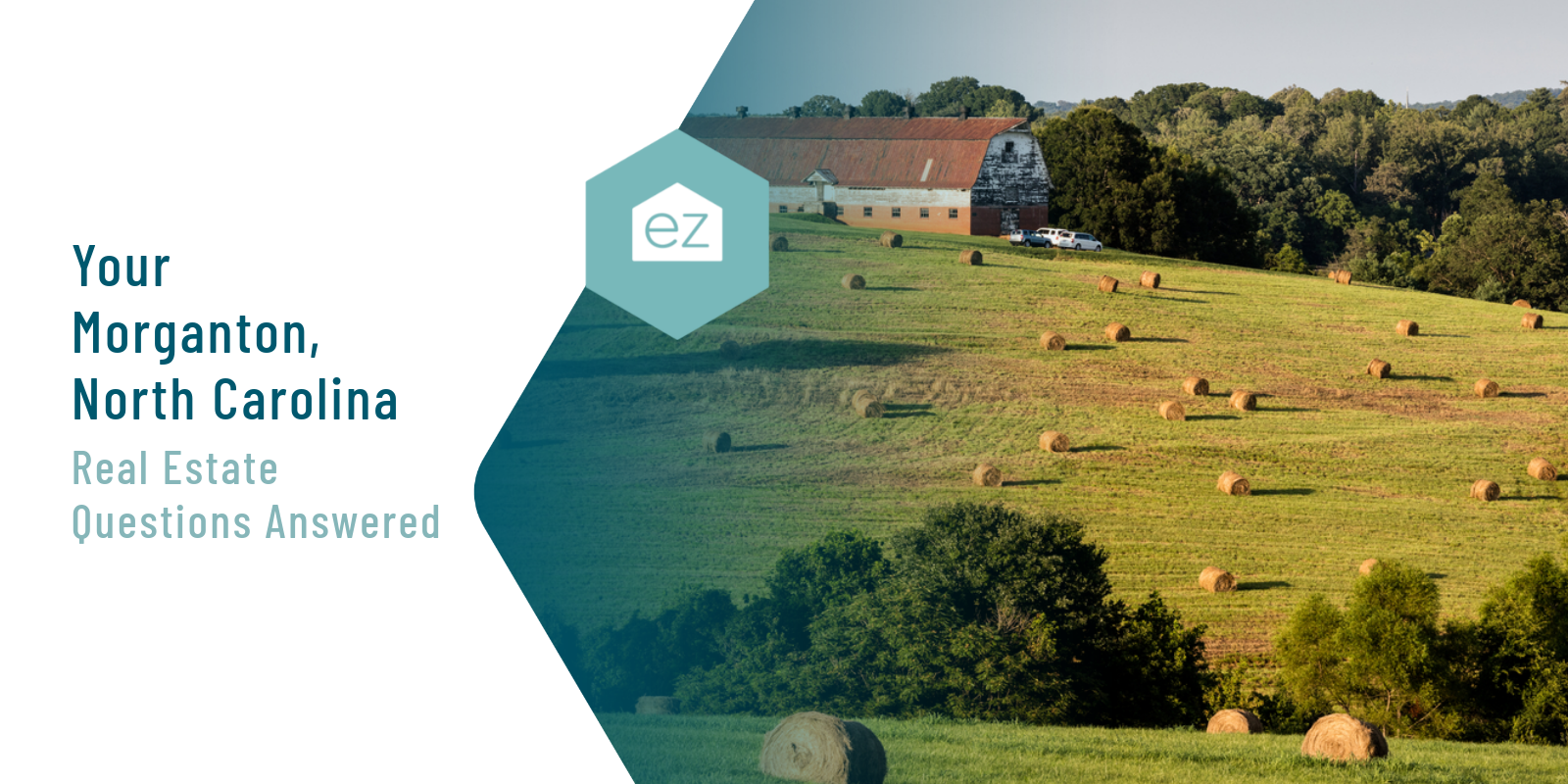 Your Morganton, NC Real Estate Questions Answered
Looking for the perfect place near the mountains to call home in North Carolina? Morganton, NC, might just be the ideal fit for you. This quaint town is located in the foothills of the Blue Ridge Mountains, offering stunning mountain views and plenty of opportunities for outdoor recreation. In addition to its natural beauty, "Mo-town," as locals call it, downtown has quaint shops, a farmer's market, and local restaurants, making it a great place to live for people who want the best of both worlds – a small-town feel with big-city amenities.
If you're thinking about moving to Morganton, you probably have a lot of questions about what to expect in terms of real estate prices, property taxes, and available neighborhoods. Luckily, we've got answers to all of your questions. Keep reading for everything you need to know about Morganton real estate.
What is the average price of a home in Morganton, NC?
The median home price in Morganton, NC was $250,000 in April 2022, with 377 homes for sale. However, prices can vary depending on the specific neighborhood you're looking for. For example, homes in the historic downtown area or near Lake James State Park tend to be more expensive than homes in the rural, outlying areas.
Home prices ranged from $6,000 for vacant forested lots to $2.75 million for waterfront with five bedrooms, 5.5-bathrooms, and over 5,000 sq ft of living space.
Are there any condos or townhomes available in Morganton, NC?
There are a few condos and townhome complexes in Morganton, but they are harder to find. Only one condo was on the market in May 2022, listed for $275,000 with two bedrooms, 2.5 bathrooms, and 1,500 sq ft.
Some places you can look for condos or townhomes include Victory Point, Silver Creek Plantation, and downtown.
What is the property tax rate for Morganton, NC?
The property tax rate in Morganton was $0.57 from 2021 to 2022. This means that for every $100 of taxable value on your property, you will owe $57.00 in property taxes. There was an additional downtown district tax of $0.14.
Burke County's property tax rate was $0.695. Residents also paid a $76 landfill user fee (or $38 with an age exemption).
What county is Morganton, NC, in?
Morganton is located in Burke County, which is situated in the western part of North Carolina. It is the county seat, but other towns include Valdese, Connelly Springs, Rutherford College, Glen Alpine, and Drexel. All are smaller towns situated near the Blue Ridge foothills.
Burke County is known for its beautiful scenery. Being this close to the mountains, recreational is predominantly outdoor activities like hiking, fishing, mountain biking, camping, etc. The tourism moniker is "Nature's Playground."
The county is also home to several historical sites, such as the Burke County Courthouse, which is listed on the National Register of Historic Places. In Valdese, the Waldensian Heritage Museum documents the early settlers that moved into the region from northern Italy in the 1800s. The Overmountain Victory National Historic Trail passes through the county.
Is Morganton, NC, growing?
Morganton's population has been steadily growing in recent years, and it's currently estimated to be around 17,500 people. The estimated growth rate is 0.3% per year. The town is just an hour away from Asheville, a popular destination for people who want to live in a progressive city with access to the North Carolina mountains.
Around 87,500 people live in Burke County, whose population declined slightly from 2010 to 2020.
What neighborhoods are in Morganton, NC?
Some of the most popular Morganton neighborhoods include:
Downtown Morganton is the historic town center, and its revitalization efforts won it a Main Street award in 2022. Living downtown, residents have access to the summer concert series, farmer's market, local shops, and dining venues. Historical buildings include the statuesque Burke County Courthouse. Homes in downtown Morganton tend to be more expensive than homes in other parts of town.
Lake James is a man-made lake that's located just outside of Morganton. The lake is a popular destination for swimming, fishing, and boating. Several neighborhoods are located around the lake. Homes in this area tend to be more expensive than homes in the area.
Are there any waterfront properties found in Morganton, NC?
Yes! Morganton is situated on the gorgeous Catawba River, and waterfront properties are available. These homes tend to be on the more expensive side, but they offer beautiful views and easy access to the river's amenities.
East Shores is a neighborhood on the northeast side of Lake James. The neighborhood offers lake views and mountain views, deeded boat slips for those without waterfront properties, a pool, and tennis courts.
Southpointe has 250 home sites, ranging from .5 to 2.8 acres. The community is covenant-restricted, with minimum square footage for development. Amenities include a community pool and clubhouse. Most interior lots come with boat slips and adjusted HOA fees.
Waters Edge has 46 lots in a gated community. It includes access to the Fonta Flora mountain bike trail and a community beach.
How is golf in Morganton, NC?
Morganton is home to the Mimosa Hills Golf & Country Club, a private club that offers 18 holes. Donald Ross designed the course in 1929. and it's been rated as one of the best courses in North Carolina.
Other nearby options include Silver Creek Golf Club in Glen Alpine, Marion Lake Club in Nebo, and Orchard Hills Golf Club near Cajah's Mountain.
What's the cost of living in Morganton, NC?
The cost of living in Morganton is relatively affordable, with a cost of living index of 88.6. The U.S. average is 100. Healthcare was the only indexed category with costs above the national average. All other expenses, including housing, fell below national averages.
Are there golf course communities in Morganton, NC?
There are a few homes around the Mimosa Hills Golf Club, but it's not a formal golf course community. There also aren't many homes with golf course views.
What areas are near Morganton, NC?
Glen Alpine is a historic small town located west of Morganton with around 1500 residents. The town is home to the Silver Creek Golf Club and is located near regional wineries and breweries.
Valdese is a friendly small town located east of Morganton on NC 70. The town has a historic downtown area with beautiful parks, a summer concert series, and annual festivals that draw thousands.
Marion is a historic town located just outside of Morganton. Residents are on the outskirts of the Pisgah National Forest. Downtown is home to a tailgate market, breweries, and a growing arts scene. Homes in Marion tend to be more affordable than homes in other parts of Burke County.
South Mountains State Park is a large state park south of Morganton. The park offers hiking, camping, fishing, and more. The attached game lands are for hunting and additional recreation.
Lake James is a large lake west of Morganton. The lake offers swimming, boating, fishing, and more. A large park has a swimming beach and camping.
Asheville is a large city located about an hour from Morganton. Asheville is a jumping-off point for playing in North Carolina's mountains.
Hickory is a large city located about 30 minutes from Morganton. Hickory is known for its furniture production heritage, so it's a great place to shop and find deals. Access Lake Hickory from the town for boating and water recreation.
Lenoir is a small city located about 20 minutes from Morganton. The city offers a variety of shops, restaurants, and businesses.
What to know about living in Morganton, NC
Morganton is situated in the foothills of the Blue Ridge Mountains, about an hour from Asheville. Outdoor recreation is in your backyard, with the South Mountains and the Blue Ridge. Morganton can be a great place for those who enjoy hiking, mountain biking, fly fishing, and other outdoor sports.
The city was founded in 1784 and named for Revolutionary War hero Daniel Morgan. Morganton is a historic city, but it's worked hard to revitalize and modernize. You'll find funky clothing stores, craft breweries, live music, and more downtown activities.
Morganton is a great place to live if you're looking for an affordable small city with a historic downtown area and easy access to outdoor recreation. If you're looking at living in Morganton, contact a local real estate agent to find the right neighborhood for you.