Your Elizabeth City, NC Real Estate Questions Answered
Posted by Preston Guyton on Monday, July 4, 2022 at 6:19 AM
By Preston Guyton / July 4, 2022
Comment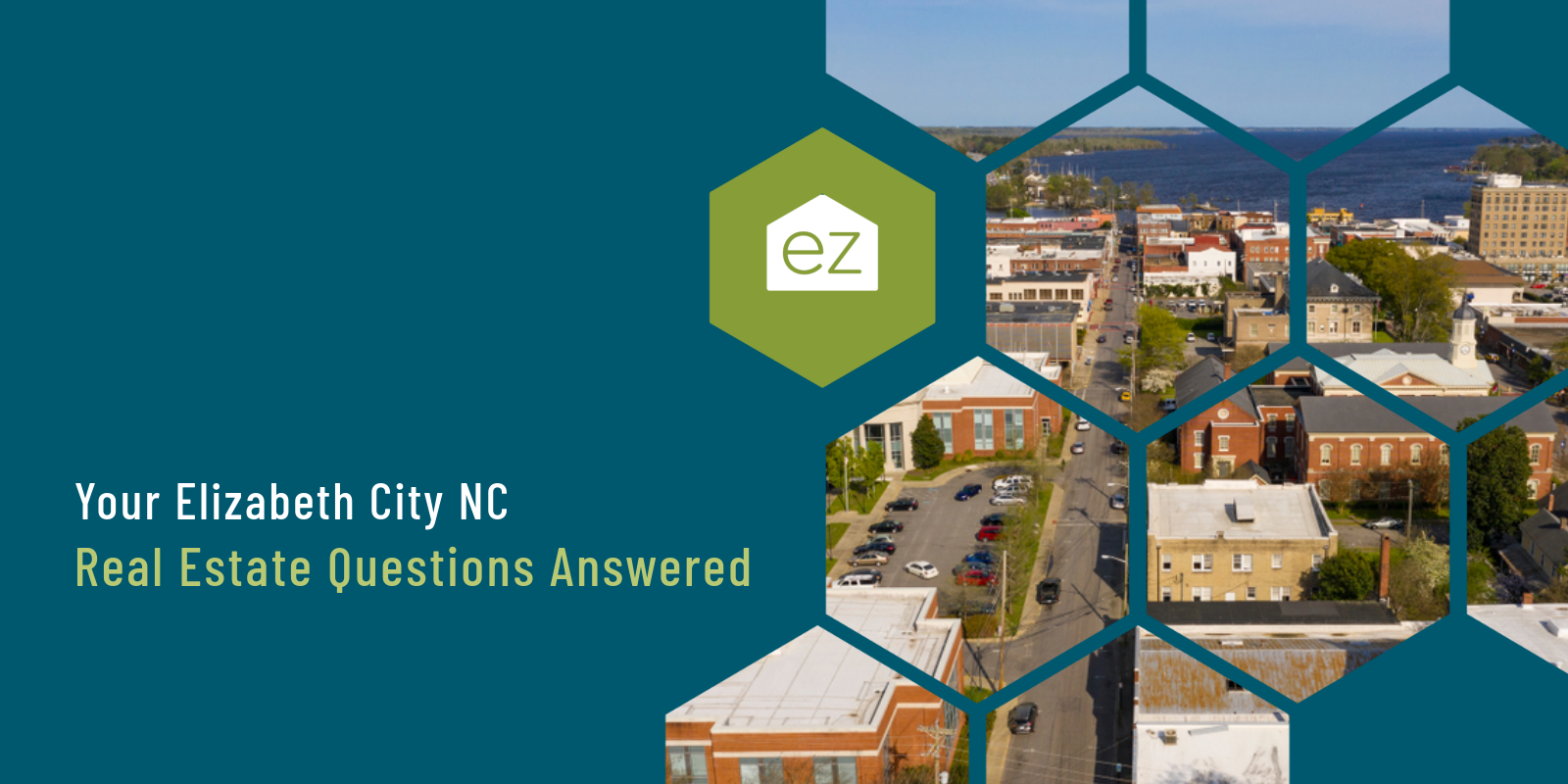 Your Elizabeth City, NC Real Estate Questions Answered
Elizabeth City is a charming coastal town located in northeastern North Carolina near Albemarle Sound. Nicknamed the "harbor of opportunity," the town has an expansive waterfront in and around the community, making it a great place if you want to live near water access or have views from your home. The Pasquotank River creates an oxbow near downtown before widening and reaching Albemarle Sound.
The local real estate market offers something for everyone, from waterfront properties to historic communities. Elizabeth City is definitely worth considering if you're looking for a place to call home! Here are some common answers to Elizabeth City's real estate questions.
What is the average price of a home in Elizabeth City, NC?
The median list price of a home in Elizabeth City was $275,000 in May 2022, making it an affordable place to live near the waterfront. The market had 310 homes available.
However, prices can range from around $5,000 for vacant lots to over $3.4 million, depending on the size and location of the property.
The most affordable listing with an existing home was $40,000 for a three-bedroom, two-bathroom mobile home needing repairs. The most expensive was $1.18 million for a four-bedroom, five-bathroom home on a 0.85-acre lot with waterfront to a creek.
Are there any condos or townhomes available in Elizabeth City, NC?
Yes, Elizabeth City offers both condos and townhomes for sale! Prices for these properties start in the low $100s and can go up to $450,000.
May 2022 had seven condos or townhomes available. The most affordable was $199,000, with two bedrooms, 1.5 bathrooms, and river views. The most expensive was $450,000 for three bedrooms and 2.5 bathrooms on the downtown Main Street with waterfront views.
Some of the most popular condo and townhome communities in Elizabeth City include downtown Elizabeth City, Elizabeth's Landing, Pelican Pointe, and Harbor Bay. These communities offer swimming pools, boat slips, and clubhouse access. Elizabeth's Landing is also a 55+ community.
What is the property tax rate for Elizabeth City, NC?
The Elizabeth City property tax rate was $0.655 in 2021-2022. Pasquotank County's property tax rate was $0.77. All property taxes are charged per $100 of assessed value. On average, Elizabeth City homeowners pay $1,425 in property taxes for every $100,000 of their home's assessed value.
What county is Elizabeth City, NC, in?
Elizabeth City is located in Pasquotank County and is the county seat.
Pasquotank County was established in 1668 and is named for the Pasquotank River, which runs through the county. Elizabeth City is its largest city as of the 2010 census. Other recognized areas in Pasquotank County are Nixonton, Winslow, Woodville, Weeksville, and Salem.
Pasquotank County is home to Elizabeth City State University, the Museum of the Albemarle, and the Elizabeth City Coast Guard Base. Elizabeth City is also known as the "Harbor of Opportunity" because of its proximity to the mouth of the Pasquotank River and Albemarle Sound. Outside the Sound awaits North Carolina's Outer Banks, with destinations like Kitty Hawk and Roanoke.
Is Elizabeth City, NC growing?
Elizabeth City had a population of 18,631 in the US 2020 Census, which was just 32 residents less than the 2010 Census. The same can be said for Pasquotank County, which lost just 100 residents from 2010 to 2020. Overall, its population base is both stable and ethnically diverse.
What neighborhoods are in Elizabeth City, NC?
Elizabeth City offers you a range of neighborhoods and styles to choose from. The hardest part is deciding where to live for those seeking waterfront living.
Downtown Elizabeth City is a popular choice for those looking for an urban setting. Find homes, townhomes, and condos on the Pasquotank River as it curls around an oxbow peninsula. Residents have the advantage of being close to the lively downtown area, restaurants, nightlife, shops, and parks.
Elizabeth's Landing is a 686-unit townhome development on 275 acres of a former farm. The original barn and farmhouse from the property's heyday and the Brady Recreation Area with piers, beaches, and picnic areas are among the community's features.
Pelican Pointe is a mixed-use development that includes 263 townhomes, single-family homes, and lots along the picturesque Pasquotank River. The community is just four miles from Elizabeth City's downtown and city limits.
Stockbridge is a newer home development located away from the waterfront. Developed by Ryan Homes, the community amenities include playgrounds, a clubhouse, a fitness center, and a walkable location.
You'll find antebellum homes and Victorian architecture in the downtown Historic Districts. It dates back to 1789 and has notable sites and homes sprinkled throughout the streets.
Are there any waterfront properties found in Elizabeth City, NC?
Elizabeth City is nicknamed the "Harbor of Opportunity" because it is located on the Pasquotank River, which leads to the Albemarle Sound. This gives Elizabeth City residents access to some of the best fishing, boating, and sailing in North Carolina.
There are plenty of Elizabeth City waterfront properties to choose from! As we've already mentioned, downtown Elizabeth City is an option. Condos and townhomes offer Main Street living and river views. Elizabeth's Landing and Pelican Point are other locations with waterfront living options.
The planned waterfront community of Tooley Harbor is located on a navigable canal and the Pasquotank River and contains 400 planned homes. The facility will have private boat ramps, a marina, canal & river access, and boardwalks. Inside Tooley Harbor will be the Mariner's Landing development with 54 single-family home sites.
How is golf in Elizabeth City, NC?
Elizabeth City is home to two golf courses:
The Pines at Elizabeth City is a semi-private 18-hole championship course designed by Tom Clark and being renovated in 2022. It offers 6,700 yards of play from championship tees. The course is a local favorite, and some feel it is reminiscent of Pinehurst No. 2.
At Knobbs Creek Park is a 9-hole course, a par-3 course with many traps and lakes. It has daily rates and memberships.
Are there golf course communities in Elizabeth City, NC?
The Pines at Elizabeth City has some golf course homes in the Fairway Estates community. A few other homes can be found with views of the course from its west side, off Clubhouse Rd, and the back end of Matthews Acres on Birdie Lane.
What areas are near Elizabeth City, NC?
Elizabeth City is located in Pasquotank County in the northeastern part of North Carolina, about 100 miles from Norfolk, Virginia, and about 50 miles from the Outer Banks.
Kitty Hawk, Nags Head, and Kill Devil Hills are all about an hour's drive from Elizabeth City.
Elizabeth City is 40 miles from Chesapeake, Virginia, and 50 miles from Hampton Roads, Virginia. Beyond that is the major coastal city of Norfolk. Residents can be there in around an hour, depending on their final destination and traffic.
Elizabeth City is also a short drive from several state parks, including Dismal Swamp State Park and Merchants Millpond State Park. Elizabeth City is also close to the Elizabeth River National Wildlife Refuge and the Great Dismal Swamp National Wildlife Refuge.
What to know about living in Elizabeth City, NC
Elizabeth City is a great place to live for those who want to experience small-town living with access to amenities like quality education, farm-to-table dining, and shopping. The humid subtropical climate means residents have hot, humid summers and cool winters. Luckily, the Pasquotank River is there for cooling off.
Elizabeth City is home to Elizabeth City State University, a Historically Black College or University (HBCU). It's ranked as the most affordable HBCU in the nation and offers from four-year to graduate degrees.
Elizabeth City is also home to Coast Guard Air Station Elizabeth City, the largest employer in the city. It is a regional command center for the Coast Guard.
If you're looking at living in Elizabeth City, contact a local real estate agent to find the right neighborhood for you.