The Pros and Cons of Retiring to Ohio
Posted by Preston Guyton on Thursday, March 30, 2023 at 2:10:31 PM
By Preston Guyton / March 30, 2023
Comment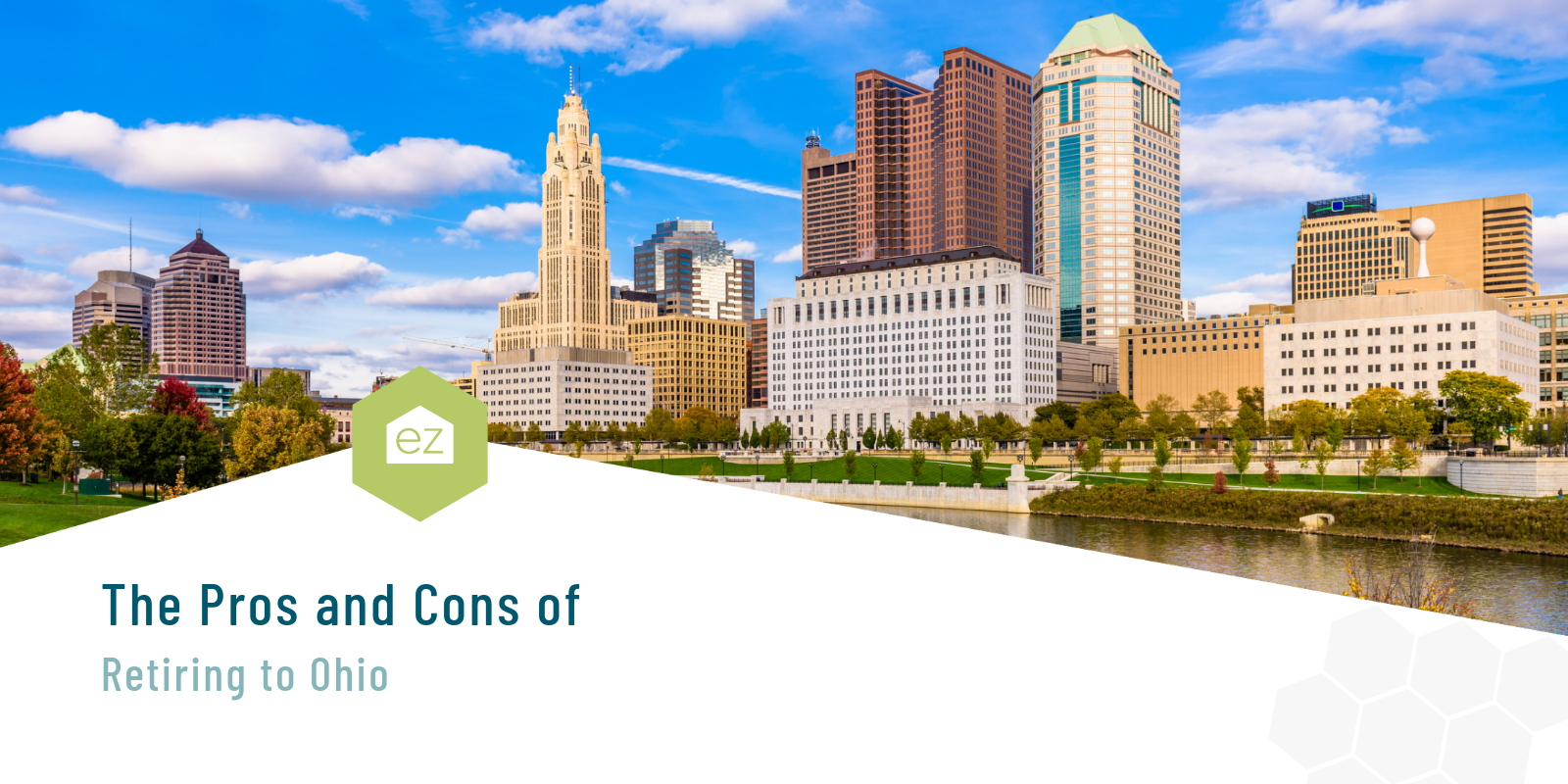 The Pros and Cons of Retiring to Ohio
Ohio is a great state to live and work, offering some of the nation's lowest living costs and plenty of recreation and entertainment. Active cities like Cleveland, Cincinnati, and Columbus deliver a wealth of cultural attractions, professional sports teams, museums, universities, and medical care. But what about Ohio as a place to retire?
While Ohio has its advantages, there are some potential drawbacks to consider when considering Ohio for retirement. Dive deeper into the pros and cons of retiring to Ohio.
Pros
Affordable cost of living
Ohio's cost of living is relatively low compared to many other states in the US, which can be particularly beneficial for retirees on a fixed income. Sperling's Best Places Index has Ohio coming in 17% cheaper than the national average. Housing is the best category for cost savings, as the median price ran about 38% less than what you'd pay nationwide in 2022. Residents also find savings in healthcare and transportation.
One study projects a single adult would need an annual income of $28,123 after taxes to afford their essential living expenses. Two adults would need $46,442.
Access to healthcare
You may not be thinking about healthcare yet, but you should. Luckily, Ohio is home to several top-ranked hospitals and medical centers, including the Cleveland Clinic and Ohio State University's Wexner Medical Center. Both provide retirees with high-quality healthcare services.
In fact, the Cleveland Clinic was ranked overall the fourth-best hospital in the nation in 2022 by US News & World Report. It was the best hospital in the country for cardiology and second-best for geriatrics care, plus it had national rankings in 13 other specialties!
Columbus' Ohio State University Wexner Center may be the second-best in the state, but it also achieved national rankings in nine specialties, including cancer and ENT.
Cleveland's other hospital system–University Hospitals Cleveland Medical Center– followed up as the third best in the state, with individual Cleveland Clinic centers as 4-6th. The point is, as you age in Ohio, you'll have access to multiple resources for the specialty and general medical care you need.
Affordable housing
Whether you're looking for an apartment, single-family home, duplex, or condo, you'll] Ohio's real estate overall is considered affordable. The median price of a detached house in 2022 was $213,000, well below the national median price of $354,649! Keep in mind prices can vary depending on what amenities and features you are after (e.g., waterfront living, luxury condo).
However, even in big cities like Cincinnati, the housing tends to be more affordable than similarly sized cities, or in income-to-house price, a sign of affordability. Here's what the major city median housing prices were like in March 2023:
Cleveland: $109,000 / 1,713 listings
Cincinnati: $229,900/ 1,637 listings
Columbus: $247,000 / 1,847 listings
Akron: $120,000 / 842 listings
Dayton: $127,700 / 1,025 listings
Toledo: $105,000 / 805 listings
Plenty of recreation
Whether you're into hiking, fishing, camping, and other outdoor activities, Ohio has it. In fact, there are so many places to get outdoors it's hard to list them all. A few popular recreational areas:
Near Cleveland is Cuyahoga Valley National Park, an expansive area of waterfalls, wooded areas, and plenty of wildlife. The Cuyahoga Valley Scenic Railroad runs through the national parks, so you can take a scenic train trip through nature while having a unique experience.
Hocking Hills State Park in southeastern Ohio offers hikers more than 30 miles of trails with stunning natural features like waterfalls and gorges.
Maumee Bay State Park near Lake Erie has stunning lakeside views, fishing, boating, birdwatching, and more.
Explore the wooded trails of Mohican State Park in northeastern Ohio. Visitors come to float its meandering river and ride the mountain bike trails.
The Biggest Week in American Birding brings thousands to Magee Marsh in northwestern Ohio for the annual spring warbler migration, but Buck Creek State Park and Killdeer Plains Wildlife Area are also popular places for birdwatching.
And if you like to fish, Ohio has more than 100 species of fish, including bass, walleye, catfish, and trout.
Four-season climate
Ohio experiences all four seasons, which can appeal to retirees who enjoy experiencing different weather conditions throughout the year. Summers are warm, with temperatures averaging in the high 80Fs. Winters can get cold, but they're usually mild compared to other states in the midwest. There's generally plenty of snowfall for winter sports activities like skiing and snowboarding.
Professional sports teams
You'll have multiple hometown favorites here if you love catching a game in person or on TV. Ohio's professional sports teams include the Cleveland Cavaliers (NBA), Cleveland Indians (MLB), and Columbus Blue Jackets (NHL).
Football fans can follow the Cleveland Browns (NFL) or Cincinnati Bengals (NFL). And don't miss the energetic Columbus Crew (MLS) games, where the bleachers taunt the away team the whole game.
Besides pro sports, Ohio has a strong collegiate sports culture. The Ohio State University Buckeyes are one of the most popular teams in the state, and fans from all over Ohio come to cheer them on at Ohio Stadium Horseshoe.
Cultural attractions
Ohio has a rich cultural heritage, as you'll discover in its museums, theaters, and performing arts venues. Cleveland's Rock and Roll Hall of Fame may be the most well-known outside the state, but that's not all that draws visitors.
The National Museum of the US Air Force near Dayton is the world's largest military aviation museum and home to more than 370 aerospace vehicles. It's ranked as one of the state's top attractions.
Did you know Ohio has its own Amish Country? The southeastern area has the second-largest population of Amish and Mennonite adherents. The city of Berlin offers walking tours so you can explore the heritage of this region firsthand.
In Columbus, you'll find the Wexner Center for the Arts, one of the country's leading contemporary art museums.
The Columbus Zoo and Aquarium has consistently earned its place amongst the premier zoos in America. And its sister zoo, The Wilds in Cumberland, takes you on a safari to get up close with herd animals like giraffes, rhinos, and takins. The Cincinnati Zoo is equally engaging for the whole family, and its facilities include access to the historic botanical gardens.
With an awe-inspiring 1.8 million artifacts, the Cincinnati Museum Center inside the historic Union Terminal offers visitors a variety of educational and historical experiences. Tour multiple galleries and exhibitions to get a comprehensive view of science, history, and culture like never before!
Experience the beauty of Stan Hywet Hall & Gardens, the nation's sixth-largest historic home, open to the public. Located in Akron, the Manor House's original furnishings and elegant details captivate visitors touring the five buildings across its 70-acre estate. , The elaborate gardens provide an alluring backdrop to the stunning 64,000 sq ft home.
Cons
You'll never be at a loss for something to do in Ohio. Between excellent healthcare, plenty of outdoor recreation, low cost of living, and professional sports teams, retirees have a lot of perks that make Ohio stand out. But it's not all parks and museums. Living in Ohio has its drawbacks.
Harsh winters
Although some retirees may enjoy experiencing all four seasons, Ohio winters can be particularly harsh, with cold temperatures, snow, and ice that make outdoor activities more difficult.
January is typically the coldest and snowiest month. The further north and closer to Lake Erie you go, the more snowfall and cold you should get ready for. Cleveland can see about 18 inches of snowfall in January, but Cincinnati averages just seven. It's also an average of four degrees warmer than Cleveland, with a high of 40F.
Politics and diversity
"Where Ohio goes, so does the nation," is the saying when it comes to major elections. Considered purple or a toss-up, Ohio is a politically divided state, with much of the population leaning towards conservative views. And in big election years, you can expect a lot of stumping from top candidates, lobbying, and campaign signs everywhere.
Some cities are more diverse than others, but it is not considered to be a progressive political climate.
Waterfront living
Living in Ohio means giving up living by the ocean. The only large body of water is Lake Erie, which does run over 300 miles along the northern border. Large reservoirs are scattered around the state, but many are surrounded by nature preserves or parks.
This makes living by water more challenging unless you live near Cleveland or Toledo. Retirees who enjoy spending time at the beach or waterfront may need to travel to nearby states to do so.
Public transportation
While Ohio has some public transportation options, such as buses and trains, they may not be as extensive or convenient as in other states, making getting around more difficult for retirees who do not want to drive. The state is largely rural areas and small towns, making it difficult to get around without a car.
Cities like Cleveland, Columbus, and Cincinnati have decent public transportation systems, but the schedules can be unreliable or insufficient for moving around town.
High state taxes
Ohio has relatively high state taxes compared to other states, which can impact retirees on a fixed income. The sales tax rate is 6.25%, and the income tax rate varies from 0.495%-4.997%, depending on your income level. Social Security may not be taxed, but any withdrawals from your retirement accounts are.
Property taxes are notably high. Ohio's just outside the top ten states for property tax burden, so while it won't be as taxing as New Jersey or New York, you can expect to pay more in this area.
The scenery can leave something to be desired
For those looking for a more aesthetically pleasing retirement, Ohio may disappoint. The state is primarily hilly along its borders, with some rivers and lakes thrown in, but not much stands out. The central part of the state is particularly flat. It makes for great farmland, but not so much in the way to look at it.
Natural beauty isn't the biggest draw of living here compared to other states.
The final verdict on retiring in Ohio
Consider Ohio if you're looking for a place to retire with a low cost of living, lots of recreational opportunities, and access to excellent healthcare services. With four-season weather, professional sports teams, and various cultural activities, you'll have something to do all year.
However, suppose you're looking for more diverse politics, a year-round warm climate, or waterfront living opportunities. In that case, this state may not be the best option. Also, the high property taxes and the lack of public transportation can be a drawback as your age is in place. Weigh the pros and cons before deciding if Ohio fits you.