Tennessee vs. Georgia: Which is the Better State?
Posted by Preston Guyton on Thursday, October 6, 2022 at 11:56 AM
By Preston Guyton / October 6, 2022
Comment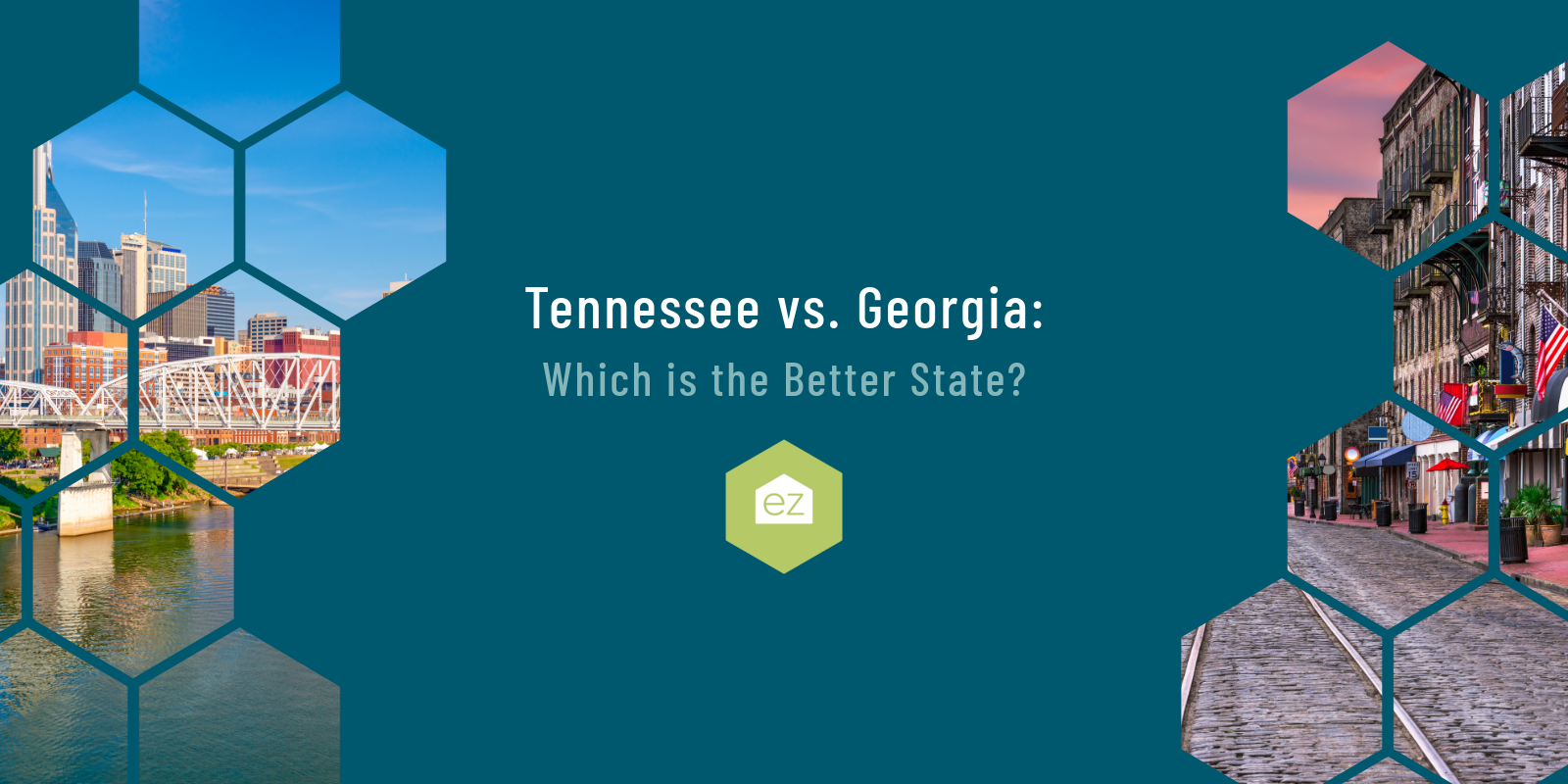 Tennessee vs. Georgia: Which State is Better?
When it comes to finding the perfect place to live in the southern United States, it can be tough to choose between Tennessee and Georgia. Both states offer a beautiful climate, friendly people, and plenty of outdoor recreation options. Pair it with an affordable cost of living and a growing job market, and how can you go wrong?
Still, you can't live in Georgia and Tennessee, so which one is the better choice? It really depends on what you're looking for. These neighbors share many similarities, right down to the mountains and southern culture. Each state does have differentiating characteristics that may lead you to prefer one over the other. Let's break them down.
Cost of living
If an affordable cost of living is a priority for you, both states come below Sperling's Best Places national indexed average of 100. So which one is better?
Tennessee has a slight affordability edge over Georgia, especially with its housing costs, utilities, and transportation being cheaper. However, healthcare was more expensive in Tennessee. The average expenditures in the various categories were also not far apart.
The population greatly greatly impacts the cost of living in an area; more people generally means higher demand for goods and services. Another factor that plays into the cost of living is location; of course, living in the Atlanta metro will be more expensive than living in Murfreesboro, Tennessee.
Don't let the cost of living be the sole deciding factor when selecting a state since each state offers advantages suited to specific areas.
| | | |
| --- | --- | --- |
| | Tennessee | Georgia |
| Population | 6.7 million | 10.7 million |
| Median Property Value | $305,613 | $306,113 |
| Median Household Income | $54,665 | $61,224 |
| Homeownership Rate | 67% | 64% |
| Overall | 89.9 | 93.4 |
| Grocery | 95.4 | 95.5 |
| Health | 100.4 | 95.5 |
| Housing | 79.4 | 80.7 |
| Utilities | 96.7 | 103.2 |
| Transportation | 90.2 | 105.1 |
| Miscellaneous | 84.7 | 94.8 |
Population growth
The effects of population growth are both good and bad. A booming economy results in more construction and development. At the same time, a higher population increases prices and may make life difficult for those already struggling. It's all a matter of perspective.
Both states have and are experiencing population growth. In particular, Georgia is one of the fastest-growing states in the country, while Tennessee's population is growing at a slower rate. Georgia ranked no. 8 in the nation, while Tennessee was no. 19 for population growth.
Most recently, Georgia increased by 1.1M residents between 2010 to 2020. In total, it had 10,711,908 people in the April 2020 Census. The state had:
18 and under: 23%
65 and older: 15%
51% identified as white alone,
33% identified as black or African American
10% identified as Latino
Georgia has a slightly younger population and more diversity among its residents. The Weldon Cooper Center for Public Service projects Georgia's population will grow another 20% from 2020 to 2040, adding over two million people.
Tennessee's growth may not be as dramatic, but one of its Nashville suburbs was one of the ten fastest growing cities in 2021. It added around 700,000 residents from 2010 to 2020. In total, it had 6.9M residents for an overall less densely populated state. The state had:
18 and under: 22%
65 and older: 17%
78% identified as white alone
17% identified as black or African American
6% identified as Latino
Tennessee has a slightly older population and less overall diversity than neighboring Georgia.
Boyd Center Population Projections say Tennessee could add nearly a million people over the next 20 years and have 7.87 million residents by 2040.
Education
The public school systems in Georgia and Tennessee are near-equal, ranked by US News and World Report at no. 30 and 31, respectively. However, Georgia's colleges and universities ranked higher than Tennessee's.
Here are some basic data to compare the two systems:
| | | |
| --- | --- | --- |
| | Tennessee | South Carolina** |
| No. of Students | 998,000 | 766,819 |
| No. of Schools | 1,700+ | 1,239 |
| No. of School Districts | 147 | 80 |
| Graduation Rate | 90% | 83% |
| No. of Teachers | 66,406 | 53,689 |
| Avg Teacher/Student Ratio | 15:1 | 15:1 |
| Amount Spent per student | $9,619 | $8,168 |
**Figures are from 2019.
Tennessee enrolls approximately 998,000 students and is divided into 147 districts with both significant urban and rural populations.
Both states have excelling colleges and universities for higher education opportunities. Some of the more popular ones in Georgia include the University of Georgia, Georgia Institute of Technology, Augusta University, University of North Georgia, Emory University, Georgia State University, Kennesaw State University, Mercer University, Morehouse College, and Oglethorpe University.
While evaluators may place Georgia's higher education over Tennessee, that doesn't mean the state is lacking in quality options. Vanderbilt University ranks among the nation's top schools. Students can also choose from the University of Tennessee, Middle Tennessee State University, East Tennessee State University, Belmont University, and Rhodes College. Notably, the state has a program providing free two-year community college or technical schools for its high school graduates.
Outdoor Recreation
Both states can provide adventure for those who love being in nature and outdoor activities. They share the Appalachian Mountains in the east and the lowlands and river valleys in the west.
Tennessee is home to several national parks, including the Great Smoky Mountains National Park, the most visited park in the United States. The state also has over 50 state parks and forests. There are over 800,000 acres of public lands for Tennesseans to explore.
As for activities, they are as diverse as the landscape. Go whitewater rafting, rock climbing, and fly fishing in the mountains. Get underground spelunking in some incredible caves. Spend the day boating or water skiing on one of the immense reservoir lakes or rivers. Hiking, bicycling, and camping are available at parks throughout the state. The Appalachian Trail runs along the eastern border with North Carolina.
Georgia is no slouch when it comes to national and state parks, with the Chattahoochee-Oconee National Forest covering 1.5 million acres. There are also over 60 state parks and recreational areas. There are over four million acres of public lands for Georgians to enjoy.
The High Country's Appalachian Mountains are the perfect setting for any outdoor excursion you might want to embark on. The Appalachian Trail, one of the most popular trails in the United States, begins in northeastern Georgia.
As you travel from Georgia toward the Atlantic Ocean, you'll find that the landscape changes to wetlands, grasslands, and forests. Cumberland Island is a barrier island in its southeastern corner where horses roam wild. Those who love nothing more than spending time outdoors hunting will be pleased with Georgia's rolling midland hills!
So, if you're weighing Georgia versus Tennessee as a place to live, think about the sort of outdoor activities you like to do.
City Living
The city is the place to be when you desire bright lights, excitement, and entertainment. Both states have options if you want to live in large urban areas.
Georgia's capital and largest city is Atlanta, with a population of over 500,000 people. The city is home to many major corporations, including Coca-Cola, CNN, Delta Air Lines, The Home Depot, and UPS. It's also a hub for higher education with over 50 colleges and universities. You can find plenty of things to do in Atlanta with its museums, theatres, restaurants, and professional sports teams.
Tennessee's largest city is Nashville, also known as Music City. The home of country music has numerous entertainment venues. It's also a hub for the healthcare and technology industries. Right on Nashville's heels is Memphis, located on the Mississippi River in the state's southwestern corner. The city has a population of over 650,000 people. Memphis is known as the home of blues music and has a rich history in rock 'n' roll, gospel, and soul.
So if you're interested in city living, Atlanta, Nashville, and Memphis offer a lot to see and do. All three cities have unique flavors, so it depends on what you're looking for in a city.
Climate
When it comes to climate, both states have an overarching humid climate, with variations depending on geographical location and topography.
Tennessee has four distinct seasons. The summers are hot and humid, while the winters can be cool to mild. The average temperature in Tennessee ranges from 35F in January to 86F in July.
The state is generally considered a humid subtropical climate. Still, temperatures are hotter in the south and west than in the mountainous east. The average annual temperature ranges from 62F in the southwest to 46F near the top of Mt. LeConte in the Great Smoky Mountains.
Overall precipitation varies, with the southern and western areas receiving more annual rainfall. Annual snowfall ranges from 4-6 inches in the southwest to over 10 inches in the mountains. In most of the state, because of relatively comfortable winter temperatures, snowfall generally doesn't last for more than a handful of days.
Georgia's climate ranks it as the fifth hottest state. Hot and humid summers give way to mild and cool winters. Average temperatures in Georgia range from 44F in January to 84F in July.
The climate in the southern and eastern regions is impacted by the Atlantic, while the Hill Country benefits from higher elevations and cooler temperatures. For much of the state, winters see little snowfall. The state as a whole typically sees 45-75 inches of rain and it has a risk for tropical weather and tornadoes.
Real Estate Taxes
Real estate taxes are relatively similar between the two states, but Tennessee has a lower overall property tax burden. It was no. 15 compared to Georgia's no. 26. This was because Georgia has higher overall property values.
Tennessee assesses property taxes at 25% of the home's market value. Counties set the property tax rates, and the local tax administration assesses and collects the taxes. Local cities may also charge a property tax. You'll want to look at the tax rates for the specific county and town you want to live in. The average effective property tax rate was 0.64% in 2021.
Georgia property taxes are calculated at 40% of the value of a home. Homeowners in Georgia may be eligible for a $2,000 homestead exemption. Each year, the local Board of County Commissioners determines tax rates. The average effective tax rate was 0.83% in 2021.
Taxes for Retirees
After years of working, many retirees relocate to a state with more favorable tax laws for seniors so their fixed income can go further.
Most states tax retirement income to some degree, including Social Security benefits. However, a few select states don't tax the most common types of retirement income: 401(k)s, IRAs, and pensions. Obviously, zero-taxation states are a significant perk for retirees.
Tennessee is one of those states because it has no income tax! The state also doesn't have an estate or inheritance tax. While the state does have one of the highest sales tax rates, prescription drugs are exempt from sales taxes. With a lower average property tax rate and a special "tax freeze" program for those 65 and older, retirees can financially benefit from living in Tennessee.
Bankrate placed Tennessee no. 8 in the nation for retirees. While it was no. 2 for affordability, it was no. 42 for well-being and no. 45 for crime. Georgia was its no. 1 overall pick.
A major reason people retire to Georgia is because of its lax tax regulations. If you receive Social Security benefits, you won't be taxed on them. Similarly, there's a $65,000 deduction for all types of retirement income for those 65 and older. So as long as your total annual income from all sources doesn't exceed $65,000, you're in the clear! Furthermore, doubling the homestead exemption is an option for seniors whose annual incomes don't surpass $10,000 annually.
Seniors aged 62 and up residing in Georgia may be eligible for a partial exemption on their property taxes, starting from the "base year." The base year is set when the senior first applies for the exemption. For example, if they apply in 2020, their base year is 2020. Once that occurs, homeowners are taxed at that home's value during the base year--even if it has appreciated since then. To qualify, though, household income must not exceed $30k annually.
Job Markets
The job market is strong in Georgia and Tennessee, and both states offer a variety of industries and job opportunities. However, Georgia's job market is overall stronger than Tennessee's.
The unemployment rate in Georgia was 2.8% in August 2022, slightly lower than the national average of 3.7%. Total job growth is expected to be 11.8% from 2018 to 2028, netting over 500,000 new jobs for the state's workforce. Transportation, manufacturing, information technology, education, and health care drive the state's economy. It also has a robust film-making sector. Major employers include Delta Airlines, Coca-Cola, Home Depot, and UPS.
Tennessee's job market growth and projections are inconsistent throughout the state. The August 2022 unemployment rate was 3.4%, also under the national average.
It benefited from the explosive job growth in the Nashville metro. The Wall Street Journal and Moody's Analytics found the city had the second-strongest job market in the nation in 2022. The area is becoming a tech hub, with the industry growing 51% from 2015-2020. Top statewide employers by size are FedEx, DolgenCorp, HCA Healthcare, Dollar General, and Community Health Systems.
| | | |
| --- | --- | --- |
| | Georgia | Tennessee |
| Current Employment | 5,134,566 | 3,399,200 |
| Unemployment | 2.8% | 3.4% |
| Average Wage | $29.09/hr | $24/hr |
| Median Household Income | $61,224 | $54,665 |
| 10 Year Job Growth | 11.8%* | |
Sets of figures are from August 2022. Hourly wage data is based on average hourly earnings of private employees from the FRED.
* From Workforce Trends from 2018 to 2028
Sports
Tennessee and Georgia have professional sports teams in the NFL, MLB, NBA, and NHL. However, Georgia has significantly more teams than Tennessee.
The Atlanta Braves (MLB) call Georgia home, as well as the Atlanta Falcons (NFL), the Atlanta Hawks (NBA), and the Atlanta United FC (MLS). The Braves are the only team out of these four that has won a championship in the 21st century, taking home the World Series title in 2021.
Tennessee is represented by the Nashville Predators (NHL), the Tennessee Titans (NFL), and the Memphis Grizzlies (NBA). The state has not had a Major League Baseball team since the Nashville Vols left in 1963.
While both states have a strong college football presence, Georgia's teams are typically more successful. The University of Georgia Bulldogs and the Georgia Tech Yellow Jackets compete in the NCAA Division I Football Bowl Subdivision. The Bulldogs have won three national championships. They've also produced two Heisman Trophy winners. The Yellow Jackets have won four national championships.
Culture
Tennessee and Georgia are in the Southern United States and have strong ties to southern culture. This includes hospitality, country music, and particular styles of food.
Tennessee is home to the Country Music Hall of Fame and Museum and the Grand Ole Opry. The state is also known for its barbecue, with Memphis-style being the most popular. Nashville gave us Hot Chicken, a new trending southern food.
Georgia is also home to country music stars like Alan Jackson and Sugarland. The state is known for its peaches, peanuts, and pecans. Atlanta is a major cultural center, with a variety of museums, live music venues, and theaters.
Choosing Between Living in Tennessee and Georgia
Overall, both states offer a lot to their residents. It really depends on what you're looking for in a state as to which one would be a better fit for you. If you're looking for affordability, Tennessee is a good option. Georgia is a better choice if you're looking for a strong job market. And if you're looking for a state with more professional sports teams, Georgia is the way to go.