Moving to Hilton Head - Your EZ Guide to Everything Hilton Head, SC
Posted by Preston Guyton on Thursday, May 6, 2021 at 4:02 PM
By Preston Guyton / May 6, 2021
Comment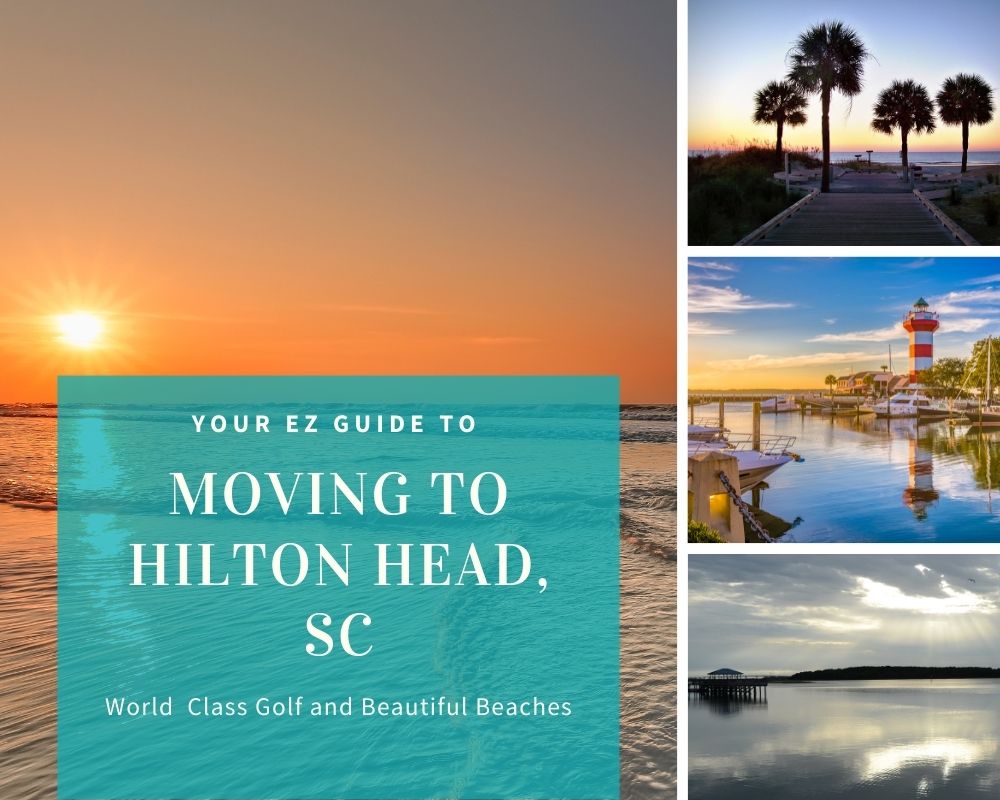 Moving To Hilton Head: Your Guide To Living in Hilton Head, SC
If you've ever been to Hilton Head Island, you know just how hard it is to leave the beaches, weather, and natural beauty behind. It might be so hard that you're now considering moving there. And that would be a great move — this island's residents often enjoy benefits and perks that make it worth the big move, no matter where you're coming from. So if you're serious about elevating your quality of life and moving away from noisy and bustling cities, here is your EZ Guide to Everything Hilton Head, SC!
Cost of Living and Population Growth
Hilton Head Island (commonly referred to as just Hilton Head) is a barrier island and lowcountry resort town located in Beaufort County. This small island highlights 12 miles of gorgeous beachfront properties, places of interest, and faces the Atlantic Ocean, making it highly popular with tourists and locals alike. As early as 2004, there were already an estimated 2.25 million visitors on this island, which in turn has earned the economy over $1.5 billion.
As of the 2010 Census, Hilton Head Island had a population of 37,099. However, during the peak season in summer, the population can explode up to 150,000. Furthermore, the island's population growth has also increased by 32% in the past decade alone. As of 2018, the island has a population of 39.8K with a combined median age of 57.3.
Unfortunately, the cost of living in Hilton Head is on the higher side, although it's not too hard to understand why this is the case. With the area in such high demand, it's a surprise that prices here aren't higher. Below is a table that shows a side-by-side comparison of the cost of living in Hilton Head against South Carolina and the national average:
| | | | |
| --- | --- | --- | --- |
| COST OF LIVING | Hilton Head | South Carolina | USA |
| Overall | 122.1% | 88.5% | 100% |
| Grocery | 106.9% | 95.8% | 100% |
| Health | 96.8% | 102.3% | 100% |
| Housing | 186.8% | 73.6% | 100% |
| Median Home Cost | $469,300 | $170,100 | $231,200 |
| Utilities | 99.1% | 103.9% | 100% |
| Transportation | 67.4% | 86.8% | 100% |
| Miscellaneous | 107.9% | 95.6% | 100% |
Hilton Head's cost of living is 122.1% compared to the national average.
Job Market
Despite the high cost of living in Hilton Head, the median household income of residents in 2018 was $73,972 — this was a 1.93% increase from the previous year's $72,569. Moreover, the economy of Hilton Head employs 17,000 people. Some of the largest industries in the town are Accommodation and Food Services, Retail Trade, and Health Care and Social Assistance. Here are some of the most important facets of the city's job market:
Most Common
Some of the city's most common jobs, according to the number of employees, are as follows:
Sales and Related Occupations
Management Occupations
Office and Administrative Support Occupations
Most Specialized
In comparison to other cities, Hilton Head Island has higher numbers of employees in the following industries:
Food Preparation and Serving Related Occupations
Arts and Design along with Entertainment, Sports, and Media Occupations
Legal Occupations
Highest Paid
To ensure that you're able to live comfortably in Hilton Head, get a job in these fields:
Legal Occupations with an annual income of $84,479
Management Occupations with an annual income of $83,404
Computer and Mathematical Occupations with an annual income of $77,821
Things To Do in Hilton Head
This sun-kissed paradise has plenty of things to do and places to see, making it the perfect place for adventurous individuals. Here are just a few of the gems waiting for you to discover.
Hilton Head Biking
One of the most common activities to do on this island is biking. With more than 60 miles of pathways on the island, every part of it can be accessed by bikes. As such, Hilton Head Island is one of the three recipients of a gold-level League of American Bicyclists award for bike-friendly communities located within the Atlantic Coast.
The Black Marlin
At the Black Marlin, guests will enjoy a full course meal starting with Sushi Nachos — their signature dish. You will then get your taste buds tickled with fresh seafood entrees, such as Sweet Heat Mahi Mahi and Grouper Daufuskie. Next, you can enjoy their famous shrimp burger, which Chef Curtis Stone has named "The Best Shrimp Burger Ever."
Red Fish
Specializing with a blend of steaks, seafood, fresh local vegetables, and fruits, Red Fish is committed to providing their guests with only the freshest ingredients and uses their grown produce from Bear Island Farms. Furthermore, Red Fish has a wide array of wines which were given the "Best of Award of Excellence" by Wine Spectator. Diners are free to choose from the restaurant's retail wine shop, which boasts over 1,000 bottles to choose from.
Poseidon
For a full dose of nightlife at the beach, look no further than Poseidon, one of the best rooftop bars around. You can expect to have a Sunset Happy Hour Celebration between 4:00 PM to 7:00 PM followed by exciting nightly events which include Coastal Country Night every Wednesday, Dueling Pianos every Thursday as well as live music, DJ Dance Parties, and theme parties over the weekend. You can also start your Sunday off right by coming in for "Bougie Brunch" which features a delicious brunch and mimosa pitchers.
Climate
Hilton Head Island provides locals and visitors with lovely temperatures and sub-tropical climates that allow for fun and daily visits to the beach. Compared to the U.S. average of 38 inches of rainfall per year, Hilton Head gets more rain, with 48 inches. Furthermore, this city doesn't get any snow at all; meanwhile, the country gets an average of 28 inches of snow every year.
On the other hand, Hilton Head enjoys 215 bright and sunny days compared to the national average of just 205 days. Here are a few weather highlights that you may find useful:
Summers in July can have a high of 91 degrees F.
Winters in January have a low of 39 degrees F.
The average amount of rainfall in Hilton Head is 48 inches per year.
Snow doesn't typically fall in this city.
The most pleasant months to visit Hilton Head are April, May, and October. However, the least comfortable months to visit are July and August.
Traffic
According to locals, there's no real heavy traffic in Hilton Head apart from one exception; the highway leading to the island can become packed on Saturdays due to visitors checking in. Other than this, however, traffic isn't bad here at all. Furthermore, depending on where you stay in the city, driving can be stop-and-go, especially since some areas are full of traffic lights, construction, and way too many vacationers. Because of these factors, the flow of traffic can be seriously slow going.
Locals have also experienced how there always seems to be a construction of some kind in various parts of the 278, which consistently adds more congestion. According to others, the island has been laid out well enough that not too much traffic occurs. Some even say that as long as you know where you're going, you should be able to travel relatively smoothly.
Public Transportation
For most residents in Hilton Head, driving to work will take an average time of 16.9 minutes, which supports the residents' claims that traffic isn't too bad just yet. However, this will change in the coming years as more and more people flock towards an oceanside lifestyle. Moreover, cars are a necessity if you plan to live in Hilton Head, as there are virtually no forms of public transportation here.
You should rent out a car if possible, but the Lowcountry Regional Transportation Authority does provide bus services (which are limited) to nearby counties of Jasper, Beaufort, Hampton, Colleton, and Allendale. The downside to this option is that every bus line will only run once per day, which is a big problem if your schedule doesn't match the one on the bus. Another option is to reserve in advance a van from the Transportation Authority that can do pick-ups and drop-offs.
Golf
Many people also come to Hilton Head to explore over 33 of the finest golf courses it has to offer. Both novice and experienced golfers are sure to appreciate the greens that Hilton Head Island golf courses have to offer.
Atlantic Dunes at the Sea Pines Resort
Atlantic Dunes is the most celebrated golf course in Hilton Head, which has recently undergone a complete reconstruction of the resort's classic Ocean Course — the first built in the city. To give this course a complete seaside feel, thousands and thousands of native plants have been installed around the area. Furthermore, the playing surface in Atlantic Dunes introduces a blend of innovative grasses that match the strains found in the resort's Heron Point and Harbour Town Golf Links designed by Pete Dye.
Harbour Town Golf Links at the Sea Pines Resort
This course is what started it all 40 years ago, putting Hilton Head on the map for all golfers to experience and get a challenge from. Today, Harbour Town Golf Links is still one of the most respected courses in the whole world. It's also home to the RBC Heritage, South Carolina's only PGA TOUR event. It demands players to focus on imagination, shot-making, and finesse instead of strength. Here, you can take the ultimate test of skill against various par threes, all of which are among the world's finest.
Water Sports
Because there is endless fun to be had on the shores of this sun-kissed city, there are plenty of water sports to take up for all ages.
Drifter Excursions
Located at Palmetto Bay Marina at the south end of Hilton Head, the Drifter & Boomerang provides guests with experienced crew members to take you on a tour through the stunning waters that surround this island. Furthermore, you can rent out a 60ft fishing boat, go out for dolphin watching, or go on a nature and educational cruise with the kids on any of their four boats. Your safety is also secured with their US Coast Guard Certified crew members, while every vessel comes with the latest in technology to ensure a rewarding trip.
Outside Hilton Head
Outside Hilton Head is your ticket to all your private and small group water sport needs. Offering services such as biking, fishing, paddleboarding, kayaking, and boating rentals, you'll be able to get around Hilton Head the best way possible. They also offer trips every day to different locations throughout the island, and all of their equipment is thoroughly sanitized before each party uses them.
Dog Friendly
Despite being an island surrounded by the ocean, many residents have taken their beloved pets with them to live the island life. As such, many businesses welcome pups into their establishments, so feel free to visit any of these places with your doggo.
Bistro 17
This modern, cozy, French-style restaurant offers fur parents and their fur babies an outdoor seating area where you can both enjoy great food. Their menu includes wild salmon, escargot, crab cakes, duck confit, steak fries, and more. Staff from Bistro 17 are even known to promptly offer pups a water bowl and a pitcher of ice-cold water to keep them cool, especially during hotter summer days.
Burkes Beach
This beach offers metered spaces that accept dogs from 10:00 AM and 5:00 PM from April to September. It's also within walking distance from the Chaplain Community Park, where your dog can roam freely in the Best Friends Dog Park.
Palmera Inn and Suites
For an extra $90 (for stays of one or two nights), the Palmera Inn and Suites accepts two dogs of any size. For those who wish to stay for three days or more, this charge becomes $130. The inn does, however, provide waste bags and treats for the duration of your stay, while there are also pet relief areas inside the property. Inside the rooms, guests are treated to a flat-screen TV, sofa bed, as well as free Wi-FI. Unfortunately, cats aren't permitted on the premises.
Attractions
Hilton Head isn't just about the beaches; it also offers plenty of other attractions where families and groups can see the other wonders of this island.
Pinckney Island National Wildlife Refuge
While the island doesn't have a zoo, it doesn't lack wildlife at all. At the Pinckney Island National Wildlife Refuge, you can catch a glimpse of the island's unique residents inside their natural habitat. Across 4,053 acres, this wildlife refuge is made up of Pinckney Island, Big and Little Harry Islands, Buzzard Island, Corn Island, and various small hammocks. On Pinckney Island, visitors will experience 14 miles of scenic biking and hiking trails that go through maritime forests, ponds, and salt marshes. You'll likely encounter various birds, turtles, deer, alligators, and other wildlife.
Harbour Town
Harbour Town is a district inside the gated Sea Pines Resort and is home to the candy-cane striped lighthouse you've probably seen in many of the island's postcards. Apart from this lighthouse, you will also see yachts down the marina as well as beautiful rental properties. Here, shopping and eateries are plentiful, so you can have a stroll around after lunch or dinner. Furthermore, you can also find live music under The Liberty Oak during summer.
Shopping
It's not hard to find everything you need at Hilton Head, since the shopping scene is just as great as city malls, if not better. From boutiques to consignment shops, this island has a gift for everyone to take home after a long and relaxing vacation.
Coastal Bliss
Owners Christina and Blake have gone through the effort of hand-picking every item in their store, looking for unique clothes for the everyday woman. This store offers a unique mix of bright colors, fashionable finds, playful gifts, and bold accessories. With the belief that boutique fashion should be accessible to everyone, everything in Coastal Bliss is guaranteed to be affordable and one-of-a-kind.
Tanger Outlets
Sitting just 2 miles west of the Hilton Head Island bridge, these shops will help you save in more than 90 of the top brand retailers. You can also enjoy their selection of restaurants such as the Olive Garden, Salty Dog Restaurant, Zoe's Kitchen, Panera Bread, Chipotle, and more.
Art and Culture
If you have an appreciation for art or are a lover of all things related to history, you're sure to become fascinated with the museums and art centers that Hilton Head has to offer.
The Sandbox Interactive Children's Museum
This one-of-a-kind interactive museum offers visitors the most extraordinary experience for kids and students of all ages. Furthermore, parents, grandparents, and caregivers are also welcome to enjoy the experience with their young ones. Infants and kids up to eight years of age will surely be mesmerized by the engaging activities as well as the play centers inside.
Arts Center of Coastal Carolina
Right in the heart of Hilton Head Island lies the award-winning regional Arts Center of Coastal Carolina. This renowned collection of visual and performing arts also showcases educational outreach programs and cultural festivals. It has a focus on all things that represent the movement and entertainment found in various forms of art. The center produces comedies, musicals, as well as dramas.
Sports and Sports Teams
While Hilton Head Island doesn't have any team that participates in major or minor leagues, the state of South Carolina has more than enough to choose from. Furthermore, both North and South Carolina have several major league pro teams to represent them in various sporting events and competitions. For example, the Carolina Panthers — a professional football team in the NFL — have training areas in South Carolina. Here are a few options when it comes to South Carolina teams.
Minor League
Myrtle Beach Pelicans
Augusta Green Jackets
Charleston RiverDogs
Columbia Fireflies
Greenville Drive
Greenville Swamp Rabbits
South Carolina Stingrays
Charleston Battery
South Carolina Warriors
Greenville Galaxy
Palmetto State Rizers
Education: Schools and Colleges
Despite being a beach community, where people are assumed to just enjoy the freedom that such a lifestyle comes with, Hilton Head Island takes education seriously. From pre-K to college, there are exceptional opportunities for students to reach for. There are both public and private school options to look into, and there are also many top-rated universities located within the Lowcountry.
Hilton Head Christian Academy
Founded in 1979, the Hilton Head Christian Academy aims to gain academic excellence by touching lives. The school is also dedicated to providing Christian families with the education to thoroughly prepare students for college. Their curriculum is delivered through a Christian environment that instills values into lives that please God.
Heritage Academy
At Heritage Academy, the staff is dedicated to giving progressive instructions to their students who all pursue their extra-curricular passions. The school also fosters motivation and responsibility for learning within its students. These values are further supported by teaching to give respect to others and to commit to having a mindset that allows them to be accountable for their actions.
Beaufort County School District
The Beaufort County School District leads the mission in ensuring educational excellence for all their students and learners, no matter where in the county. They're also committed to preparing each student with the right set of skills, knowledge, and personal responsibility to succeed in any industry and today's rapidly changing society.
Real Estate Market
The median property value of homes in Hilton Head Island was $469,300, which signified a 3.3% increase from the previous year's value of $454,300. Despite such huge figures, the homeownership in the town was 77.9%, which is significantly higher compared to the U.S. average of 63.9%. Compared to other cities and neighborhoods, the properties found in Hilton Head Island are much more expensive, with many of the households having a value between the $500,000 to $750,000 range.
Welcome to Hilton Head!
Hilton Head Island is the ultimate paradise for those who are looking for a peaceful life away from the city and closer to the coast. With a huge range of things to do and plenty of scenic locations, those who are new to its white-sand beaches will easily fall in love and will most likely find it extremely hard to leave. Furthermore, professionals and those looking forward to retirement will find that they will quickly blend in here. Education and fun things to do for your young ones are also readily available, so there's nothing that you won't find here. Don't just take our word for it; head over to Hilton Head now and see just how different life can be by the seaside.