Moving to Greenville - Your EZ Guide to Everything Greenville, SC
Posted by Preston Guyton on Saturday, May 1, 2021 at 4:56 AM
By Preston Guyton / May 1, 2021
Comment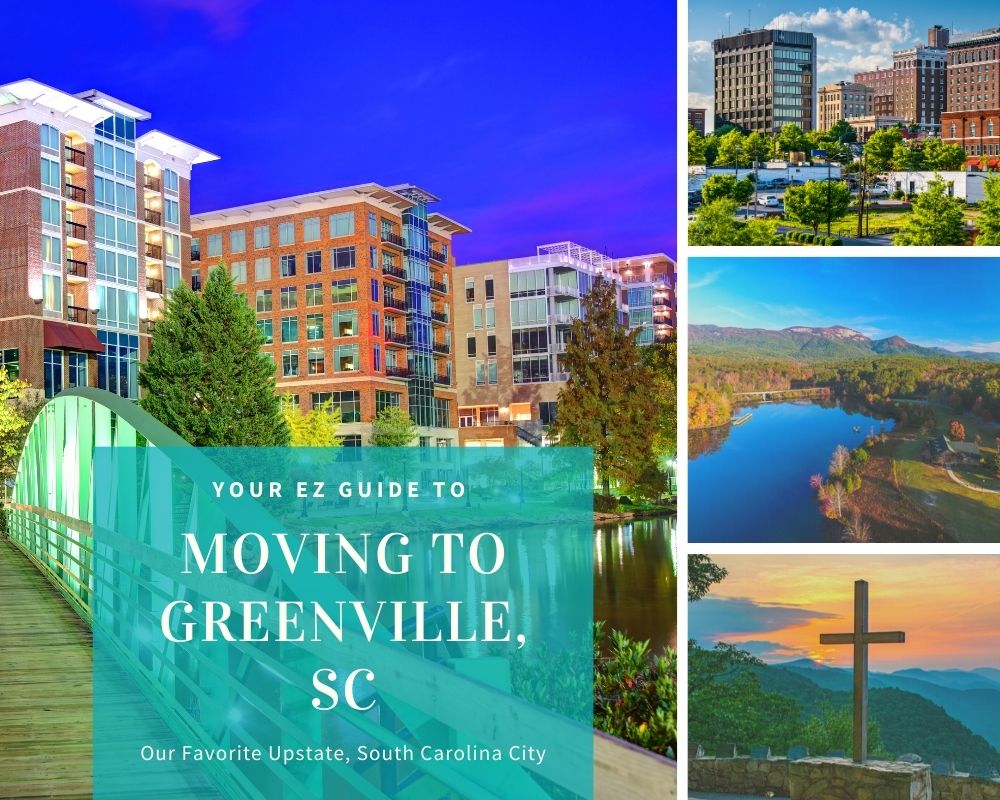 Moving To Greenville: Your Guide To Living in Greenville, SC
When people talk about Greenville in South Carolina, most people will refer to delicious drinks and food along with the busy art scene, its scenic parks, the generosity of the people, and their bike-friendly streets. Most of all, people know Greensville for the Southern hospitality we all hear so much about. So if you're thinking about making a move to South Carolina, put Greensville at the top of your list.
Cost of Living and Population Growth
The city of Greenville is a city in Greenville County, located in South Carolina. As of 2019, it has an estimated population of 70,635, making it the sixth-largest city in the country. Greenville is right in between Charlotte, North Carolina, and Atlanta, Georgia. Between 2015 and 2016, Greenville was the fourth fastest-growing city in the country, according to the U.S. Census. The city offers affordable living compared to many of its competitors, both in and out of state. Below is a table that shows a side-by-side comparison against South Carolina and the national average:
| | | | |
| --- | --- | --- | --- |
| COST OF LIVING | Greenville | South Carolina | USA |
| Overall | 89.8% | 88.5% | 100% |
| Grocery | 99.7% | 95.8% | 100% |
| Health | 101.4% | 102.3% | 100% |
| Housing | 81.1% | 73.6% | 100% |
| Median Home Cost | $187,500 | $170,100 | $231,200 |
| Utilities | 96.9% | 103.9% | 100% |
| Transportation | 76.2% | 86.8% | 100% |
| Miscellaneous | 102.3% | 95.6% | 100% |
Greenville's overall cost of living is 89.8% compared to the national average of 100%.
Job Market
Because the city of Greenville has roots in the textile industry, it is the focal point of manufacturing in the South. Some of their biggest contributors include Proterra, Michelin North America Inc., and GE. However, the Greenville Health System is the biggest employer in Greenville and the entire metro region.
Apart from having a booming manufacturing hub, Greenville is also becoming a mecca for entrepreneurs and small-business owners. The city also enjoys favorable tax rates, which include a tax rate of 6% and low corporate income tax. Furthermore, Greenville possesses a highly qualified workforce, giving businesses a better chance at succeeding. Some of the most common jobs in Greenville include:
Administrative and Support/ Waste Management and Remediation Services: With a total employment of 45,700 individuals, a janitor can earn anywhere between $21.99K to $33.49K annually.
Social Assistance and Health Care: There are a total of 41,300 people working in this industry, and a nursing aide can earn around $24.34K to $33.58K every year.
Technical, Scientific, and Professional Services: Around 23,600 employees work in this industry, with an accountant typically earning $55.07K to $92.91K each year.
Things To Do in Greenville
Because Greenville always has something new in-store, there's never a shortage of what you can do, see, and explore. Here are just a few of the best places to visit while living life in this city full of adventure.
The Gorge Zipline Canopy Tour
Your trip starts right at the edge of the Green River Gorge, where you'll plunge into pristine wilderness. This tour features 11 ziplines, a sky bridge, and two rappels to fuel your need for adrenaline. This gorge will often reward you with dramatic views and unique perspectives where you will drop vertically for 1,100 feet from top to bottom. You can then wrap up your experience with a breathtaking view of its protected forest which measures 10,000 acres.
At the Chef's Table Tour
This cultural dining experience will take you through five sensational destinations, each providing the opportunity to meet and dine with chefs and managers at their respective restaurants. From the award-winning chefs to the wide array of authentic foods, residents of Greenville will provide you with delectable treats only found throughout the country's big cities. Aside from the delicious food and great company, you'll also learn plenty about the city's rich culture, architecture, and history.
13 Stripes Brewery
At 13 Stripes, you'll find more than just beer. The people behind this brand are all about serving the community while using their legacy that has been passed on for decades. This independently-owned brewery is located just 8.8 miles from Downtown Greenville in the historic Taylors Mill. They offer a wide variety of beer and are open seven days a week.
Climate
On average, the city of Greenville receives 51 inches of rain per year, which is much more compared to the national average of 38 inches. Snow, however, is much more scarce here, with just three inches of snow per year compared to the country's average of 28 inches. On the other hand, residents can appreciate the fact that the city can soak up the sun for 220 days compared to the U.S. average of just 205 days per year. Some of the highlights for Greenville's weather and temperature include:
Summer highs are around 90 degrees F in July.
Winter lows are around 31 degrees F in January.
There is an average rainfall of 51 inches every year.
There's also an average of three inches of snow every year.
Traffic
Thankfully, Greenville's Police Department is dedicated to preserving the safety of all public roads for all motorists, pedestrians, and cyclists. They aim to achieve full compliance with every traffic regulation and law, all of which make the city a safer place to live. To reach this goal, the men and women of the Greenville Police department utilize education and enforcement to increase the public's understanding of safety and law when it comes to traffic.
Here are just a few laws currently in place to make Greenville's streets safer and greater:
School Bus Law
Move Over Law
Public Transportation
The GTA (Greenville Transit Authority) handles public transit in the city, contracting their operations under a tri-party agreement in 2008 with Greenville County. Since then, the service has been rebranded under the name Greenlink. It runs a bus system serving the whole Greenville area, including many areas in Greenville County.
The city also has an Amtrak station that connects Greenville to cities such as New York, Baltimore, Philadelphia, Washington, Charlotte, Raleigh, Birmingham, Atlanta, and New Orleans. Furthermore, Greenville has been included in the proposed Southeast High-Speed Rail Corridor currently in development. On the other hand, CSX Transportation, Carolina Piedmont Railroad, and the Norfolk Southern Railway provide freight railroad services.
Many airports serve the Greenville area, the largest of which is the GSP (Greenville-Spartanburg International Airport). It is the third busiest airport in the whole state and is home to many major airlines. SCTAC has also gone through huge modernization of its facilities and is the proposed area for the Super General Aviation Center.
Golf
Greenville is among the list of places to visit in South Carolina if you're a big golfer. With plenty of country clubs and courses to choose from, it is a golfer's paradise. Here are just a few places worth looking into for a game with family and friends.
Paris Mountain Country Club
This country club was built around the 30s, with J.P. Traynham — a leading golf designer of his time — taking credit for its creation. Until the 60s, he and his family worked hard to maintain and run the course, and in 2015, it was once again within the hands of the Traynham family. This beautiful mountain course is sure to provide you with the challenge and enjoyment you look for in your games.
The Preserve at Verdae
Located at 650 Verdae Blvd, The Preserve at Verdae is home to the PGA Tour's BMW Charity Classic. Furthermore, this par 72, 18 hole championship golf course can be found at the top of the list as one of the most beautiful courses found upstate. Rates vary depending on the day of the week, with weekdays charging $35+ for 9 holes and $55+ for 18 holes of pure excitement. Weekends cost extra, at around $45+ for 9 holes and $65+ for 18 holes.
Furman Golf Course
Known as one of the best courses you can find upstate, the Furman Golf Course is located at 400 North Hwy 25 Bypass, just behind the university's campus. This par 72 course was given a full renovation in 2008 to meet specifications given by USGA. As a result, the course is now qualified to be a PGA Family Course. Daily rates range from $19+ to $29+ depending on the day you play and the number of holes chosen.
Water Sports
There's never a shortage of water sports and activities to do in Greenville, with plenty of lakes, rivers, and waterways to be explored. Some of the choices here are local favorites while some are suitable for even the most adventurous. Here are a few places where you can get your dose of wet and wild action in Greenville.
Jocassee Outdoor Center
Serving Lake Keowee and Lake Jocassee, the Jocassee Outdoor Center has been the state's premier marine center and outfitter since 1979. This outdoor center has maintained the largest rental fleet of kayaks, ski boats, SUP's, and pontoons upstate. As Lake Jocassee's only marine center and outfitter, they also provide a general store along with all your needs from concierge boat storage, maintenance shops, and boat repair.
Wildwater
Located on 20 acres inside the Historic Long Creek Academy, Wildwater has been providing quality outdoor adventures since 1971. You can choose from whitewater rafting on the Chattooga River for a wild ride, or you may fly past old white oak trees on the Chattooga Ridge Zipline Tour. Either way, you're sure to have the time of your life, and you'll definitely need a rest after a day of exhilarating fun. Luckily, Wildwater also covers an assortment of cabins, homes, cottages, and treehouses that you can rent out while going out for adventures.
Green River Adventures
At Green River Adventures, you can experience all that the famous Green River Gorge has to offer. Their experienced guides are sure to take you on a trip of a lifetime that will take you through this scenic, yet wild river. Their list of fun activities include:
Swimming
Kayaking
Whitewater adventures
Waterfall rappelling
Standup paddle boarding
Zipline tours
And more!
Their team ensures that you will never have any experience as good as theirs before or after you leave their waters.
Dog Friendly
If you're a dog lover, then Greenville is going to be a good move for you. The city of Greenville offers plenty of places such as parks, pubs, and shops that accept canines of all sizes. Here are just a few to help you get started.
Swamp Rabbit Trail
This 22-mile walking and biking trail passes through downtown Greenville and into Reedy River Park. Because of the beautiful river that features gorgeous waterfalls, it has become popular with both dogs and their humans. Whether or not you live in Greenville already, the Swamp Rabbit Trail is a must-see with your pet.
The Unleashed Dog Bar
As Greenville's first 100% dog-friendly bar, it boasts an off-leash, fenced-in, covered dog park for your pets to enjoy as you sip on some beer and wine. While all dogs need to have a day pass or an annual membership before they can enter, fees are affordable. You can get a yearly membership for just $10 per dog, or you can purchase a day pass for $3 per dog. As for humans, you will need to be 21 years of age or older to enter.
Paw Paws USA
Paw Paws USA is your one-stop shop for everything your dog needs. If you're looking to make your pooch the belle of the ball, you can be sure that you'll find everything you need at Paw Paws USA. From harnesses, bespoke collars, and leashes, you can be sure that your furbaby will get spoiled here.
Attractions
If you're looking for unique attractions, Greenville has those too. Check out all these great places to get your daily dose of action, or something a bit more educational but still just as fun.
The Gorge Zipline Canopy Tour
As already mentioned above, the Gorge Zipline Canopy Tour takes place in the famous Green River Gorge where you can forget all your fears and jump headfirst into a rush of adrenaline. With a vertical drop of 1,100 feet, you'll see the majesty of the forest that surrounds this river. Luckily, the tours operate no matter the weather, but be sure to wear appropriate clothing for the conditions on the day of your tour.
Greenville Zoo
The Greenville Zoo offers 14 acres of a vast collection of wildlife from around the globe. Dedicated to providing the city's residents a peek into the wilderness, the zoo is open the entire year except for Thanksgiving, Christmas, and New Year's Day. Lions, red pandas, orangutans, and many other animals call this place their home, but the giraffes are a favorite of the locals. The zoo is also among the 10% of exhibitors in the country to have an AZA accreditation, which reflects just how dedicated they are to promoting and committing to animal welfare.
7th Inning Splash Waterpark
Summers in Greenville can be hot, and there's no better way than to spend your days plunging into a cool pool or twisting and turning around inside a funnel slide! Get the kids together and take them to the Greenville County waterpark to get away from the heat. This park has plenty of activities and slides for kids of all ages to enjoy. From its three-, and eight-foot water slides to its gigantic 36-feet funnel slides, you'll be forgetting about the scorching temperatures in no time.
Shopping
The city of Greenville also has plenty to offer in terms of shopping, with numerous malls and various markets to choose from. No matter what you're looking for, you can find it in one of Greenville's stores.
TD Saturday Market
If you're looking for fresh and local produce straight from Greenville's farmers, look no further than TD Saturday Market. Located on Mainstreet, this area comes to life with crowds as it transforms into a farmer's market. With over 75 vendors to choose from, you will find all kinds of seasonal goods, vegetables, meats, fruits, herbs, prints, and much more. Every vendor operates within 100 miles of the city, and artisans specializing in crafts are encouraged to work with local supplies.
Cottage Grove Vintage Market
At the Cottage Grove Vintage Market, you're sure to find a carefully curated collection of antiques and vintage pieces that will fit right in your home. You can find plant stands, pillows, and even furniture that will surely capture your guests' attention and create a conversation piece. You can even find furniture waxes, chalk-type paint, along other supplies to transform the old into something new.
The Cook's Station
Sitting in the city's Hampton Pinckney area, this locally owned shop offers something delicious for everyone. From their selection of gourmet foods, wines, gift baskets, and local products, there's nothing more perfect than taking home a taste of what Southern Carolina has to offer. The Cook's Station also sells gadgets, cookware, cutlery, appliances, and more.
Art and Culture
The art and culture scene in Greenville is nothing to joke about. The residents of Greenville take their art seriously, as evidenced by their thriving galleries and excellent theatres. Here are just a few that you shouldn't miss out on.
Centre Stage
The centre stage exists to serve local artists by providing them with a professional theatre where they can enrich, engage, and entertain the community. From dramas, musicals, concerts, and comedies, Centre Stage aims to capture their audience by cultivating local artistry. They also offer diverse programming, create an atmosphere that excites their watchers, and inspire collaboration through the community.
Art Crossing at RiverPlace
Created from parking garages converted into studios, Art Crossing at RiverPlace hopes to replace the ordinary by delivering something extraordinary. This collaboration between 20 various artists bands together to create magical pieces. Whether you're visiting Greenville or live there already, be sure to give them a visit to buy art, ask questions, or just mingle.
Artists Guild Gallery
Located at the heart of Greenville, the Artists Guild Gallery is a cooperative art gallery representing more than 20 of the city's award-winning artists. This 2,000 sq.ft. gallery presents pieces created from various forms of media including graphite, graphite, oil, watercolor, photography, and more. Doors open from Tuesdays to Saturdays from 10:00 AM to 5:00 PM and on Sundays from 1:00 PM to 5:00 PM.
Sports and Sports Teams
College sports are a big deal in South Carolina, with college football particularly the main focus. The same can be said for Greenville, whose residents love their share of sports action. Along with other university sports teams, the NCCAA (National Christian College Athletic Association) sports conference is headquartered in Greenville. Here are just a few of their Minor League sports teams:
Greenville Drive: Is an affiliate of the Boston Red Sox and played their first season at the Greenville Municipal Stadium.
Greenville Swamp Rabbits: This minor league hockey team began playing during the 2010–11 hockey season, and were known as the Greenville Road Warriors until 2015.
Greenville FC: This NPSL soccer team got its beginning in 2018 and played at Sirrine Stadium until their hiatus from the 2020 season.
Greenville Triumph SC: This USL League One soccer team got its start in 2019 and plays at the Legacy Early College Field.
Education: Schools and Colleges
Greenville is served by the largest public school system in South Carolina: Greenville County Schools. One of the earliest built elementary schools, the A.J. Whittenberg Elementary School is located in Greenville, where it offers an engineering curriculum school-wide — one of the first elementary schools to do so.
In addition, Greenville is host to several nationally recognized universities and colleges such as:
Center for Corporate Learning
Clemson University
Arthur M. Spiro Institute
Clemson University Biomedical Engineering Innovation Campus
Clemson University International Center
Clemson's Center for Visual Arts
Furthermore, Greenville is also home to Bob Jones University, a Christian liberal arts center located close to downtown Greenville. The University of South Carolina School of Medicine in Greenville represents a partnership between the PRISMA Health System and USC.
Real Estate Market
Currently, like many other markets across the country, Greenville, SC real estate market is very active and with just under 400 homes currently active for sale the chances of being in a multiple offer situation is very high. Prices range from as low as $100,000 to as much as $4,000,000 based on current homes listed in the Greenville real estate market. The median listing home price currently stands at $259,900, while the median listing home price per sq. ft. is $128. As such, it is still affordable to invest in a home in Greenville, but current home buying trends say that this won't last long:
Greenville is a prime relocation destination, and because working from home has become the norm, more people are moving away from metropolitan areas and into smaller cities such as Greenville.
People are on the hunt for second homes because they need to escape from the chaos of 2020, as well as the chaos in their current homes. This means that people are on the lookout for properties that will give them a weekend getaway.
Outdoor living is becoming more and more prominent, with people wanting to reconnect with nature. Buyers are looking for bigger yards for relaxation, and as a result, a porch or patio is highly essential.
Welcome to Greenville!
Based on the recent trends shown above, Greenville is already a suitable candidate for anyone wanting to look for their own oasis somewhere far away from the hustle and bustle of daily life. This relatively small, yet thriving community is a continuously developing area that offers a small-town feel with the advantages of having everything in one place. From outdoor adventures, exciting breweries, and the fantastic art and culture scene, Greenville has everything you're looking for. So if you're up for a change and have the need to reset your life somewhere quiet yet fun, then pack your bags and say hello to Greenville, SC.