Moving to Bluffton - Your EZ Guide to Everything Bluffton, SC
Posted by Preston Guyton on Monday, May 10, 2021 at 4:47 AM
By Preston Guyton / May 10, 2021
Comment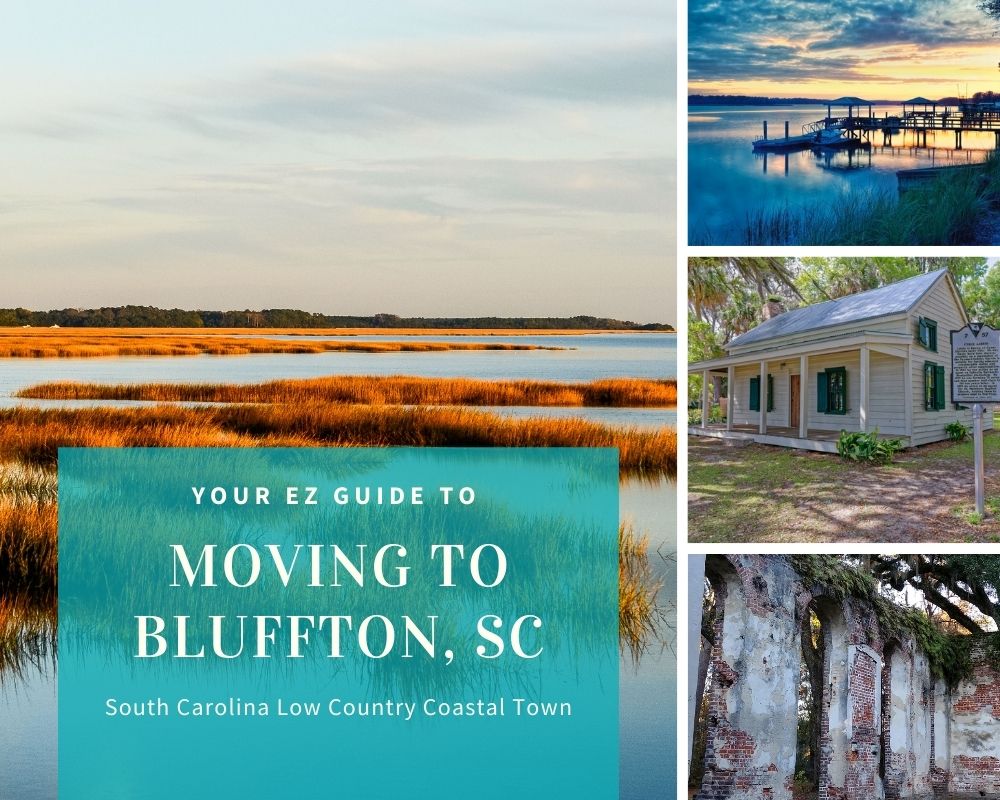 Moving To Bluffton: Your Guide To Living in Bluffton, SC
Bluffton is a historically preserved city founded in 1852 that seamlessly blends the comforts of living in a small town with an exciting range of activities and culture that will surely please you. Apart from these perks, this city's pristine beaches, historical significance, and the vibrant lifestyle it offers are also highly attractive. So if you're considering moving to "the last true coastal village in the South," there are a few things to consider that will require you to do research. However, we've taken the responsibility of doing the hard work for you and have come up with the ultimate guide for everything Bluffton, SC.
Cost of Living and Population Growth
In 2017, the population of Bluffton was 17,164 which grew to 18,835 by 2018, which held an increase of 9.74%. During this time, the city had a median age of 37 along with an average household income of around $74,695, making this city on the younger side and one of the higher earners in the state.
As of 2018, the median property value in the city was $266,200, while 78.6% of residents owned their homes. Just from these statistics alone, many people have recognized Bluffton for its relatively affordable commodities and housing. Below is a table that shows a side-by-side comparison of the cost of living in Bluffton against South Carolina and the national average:
| | | | |
| --- | --- | --- | --- |
| COST OF LIVING | Bluffton | South Carolina | USA |
| Overall | 104% | 88.5% | 100% |
| Grocery | 102.7% | 95.8% | 100% |
| Health | 96.8% | 102.3% | 100% |
| Housing | 122.1% | 73.6% | 100% |
| Median Home Cost | $282,200 | $170,100 | $231,200 |
| Utilities | 101.1% | 103.9% | 100% |
| Transportation | 79.2% | 86.8% | 100% |
| Miscellaneous | 106.2% | 95.6% | 100% |
Bluffton's cost of living is 104% compared to the national average.
Job Market
As mentioned above, Bluffton's residents have an average income of $74,695, with males earning 1.37 times higher compared to females who earn $43,921. Furthermore, the economy of Bluffton, South Carolina, employs a total of 9.41K people, which grew from 8.37K employees in 2017 — an increase of 12.5%. Its biggest industries lie in Accommodation and Food Services, Health Care and Social Assistance, as well as Retail Trade. Here are the key categories to keep an eye on if you plan to relocate to Bluffton for a job.
Most Common
According to the number of employees, these are the most common jobs held in the city:
Sales and Related Occupations
Management Occupations
Office and Administrative Support Occupations
Most Specialized
There are also jobs in Bluffton with an unusually high number of employees compared to other areas, these include jobs such as:
Law Enforcement Workers, which Include Supervisors
Community and Social Service Occupations
Construction and Extraction Occupations
Highest Paid
According to median earnings, the highest paid jobs in Bluffton, South Carolina are:
Legal Occupations with annual earnings of $101,083
Architecture and Engineering Occupations with annual earnings of $85,865
Computer, Engineering, and Science Occupations with annual earnings of $79,891
Things To Do in Bluffton
Despite being a smaller town compared to other areas of South Carolina, there is an abundance of things to do, so there's never a boring moment. From various outdoor areas to explore to great restaurants, bars, and breweries, this city has something to offer everyone.
New River Linear Trail
This extensive trail makes up an area of the East Coast Greenway, which when completed, will become a route to link Key West to the border of the United States and Canada. Furthermore, the New River Linear Trail leads to a southern endpoint from an unpaved section of the Greenway. It includes both historic areas and natural wetlands that lie close to the town of Bluffton. The trail is open for both hikers and cyclists, while dogs are also welcome.
Corner Perk Cafe
This local coffee shop is also a roaster and brunch restaurant that carries an award-winning reputation. For six years in a row, this café has been voted the best coffee shop in the Lowcountry and continues to deliver high-quality coffee to their customers daily. The Corner Perk celebrates the marriage of country and urban tastes, with both South Carolina and New York flair in both its interior and exterior designs. They offer a brunch menu with classic breakfast favorites such as French toast, omelets, as well as breakfast sandwiches.
Salt Marsh Brewing
If you're looking for somewhere great to spend the night in Bluffton, Salt Marsh Brewing provides excellent beers coupled with delicious food from their downstairs neighbor, Fat Pattie's restaurant. Both locations are nestled at the heart of the Old Town neighborhood, but Salt Marsh is relatively new to the community. Even so, there's no other place in the city to look for craft beers, wheat beer, red ale, and other seasonal beverages.
Southern Barrel Brewery
If by chance you fancy yourself to be a beer connoisseur, then Southern Barrel Brewery is a piece of heaven among the mundane, usual breweries for mere mortals. This craft brewery offers the best and most unique assortment of stouts, lagers, pale ales, ales, along with a raspberry-flavored mixture. Apart from their year-round options, this brewery also offers seasonal picks that harvest the fresh flavors for that particular time of the year. The brewery itself has a rustic feel to it which is emphasized through its use of reclaimed wood accents, such as those found in the tavern and the brewery itself.
Climate
Bluffton is classified as warm and temperate, getting an average of 48 inches of rain every year. In comparison, the national average is only 38 inches per year. Like in other areas of South Carolina, Bluffton doesn't get snow, while the rest of the U.S. gets 28 inches of snow on average. Moreover, Bluffton enjoys 217 days of sun every year, compared to the national average of 205 sunny days. Here are Bluffton's weather highlights:
Summers in July can get as hot as 91 degrees.
Winters in January can get as cold as 39 degrees.
The city has an average rainfall of 48 inches per year.
It doesn't snow in Bluffton, unlike other parts of South Carolina.
If you're planning a trip to Bluffton before committing to the idea of living here, the most pleasant months for a visit are April, May, and October, while the least comfortable months to visit are July and August.
Traffic
Bluffton's Traffic Unit consists of dedicated and proactive officers who have been highly trained to prevent traffic accidents. After receiving a grant of $205,000 from the South Carolina Department of Public Safety, the team was created in 2016, to reduce traffic-related fatalities, injuries, and collisions. This unit targets several areas of high volume such as:
SC Highway 170
U.S. Route 278
Buckwalter Parkway
Bluffton Parkway
SC Highway 46
The Bluffton Police Department uses a Radar Speed Monitoring Trailer which is deployed in neighborhood roads, high speed, and high traffic areas. This trailer can display a vehicle's speed, along with the time, date, location, and direction of travel, as well as the speed of the other vehicles passing the unit.
Public Transportation
Since Bluffton is a smaller town compared to other areas in South Carolina, forms of public transportation are scarce, so it's best to have your own vehicle with you while staying there. However, two airports serve Bluffton, which are the Savannah/Hilton Head International Airport and the Hilton Head Island Airport. The first of these airports offer flights through American Airlines, Allegiant, Delta Airlines, Silver Airways, United Airlines, JetBlue, and more.
Palmetto Breeze Transit is also available for connecting the various areas in the Lowcountry, providing a variety of public transportation. Should you need to take a trip to the coast, or are looking for a ride to and from work, you can travel in comfort on their buses, coaches, and trolleys. Most of these also offer free video or audio entertainment and even WiFi. Their services run from 4:30 AM to 8:00 PM from Monday to Sunday, and Palmetto Breeze even offers discounts such as 10% savings for both weekly and monthly tickets.
Golf
Bluffton has golf courses both in and out of town to offer players the flexibility to play in various areas with different scenery to offer. Here are just a few places that you can enjoy while playing golf.
Old South Golf Links
This Hilton Head area golf course allows golfers to play against the beautiful Lowcountry background. Old South Golf Links has been planted squarely in the gorgeous and natural marshlands of McKay's Creek — all from the brilliant mind of Clyde Johnston, a famous course architect. The course is surrounded by rolling hills, marshes, and arching treetops, while golfers can also expect wildlife encounters with storks, deer, and hawks among others.
Because it's a public course, this location is a great choice for visitors. But this isn't your run-of-the-mill golf course, and it features country club amenities such as a well-known restaurant. The Old South Golf Links has also been labeled by Golf Digest as one of the country's best new public courses when it first opened in 1992.
Hilton Head National Golf Club
There's no doubt that one of the most attractive features of the South Carolina Lowcountry is the top-notch golfing, and one of the stronger contributors to this area's reputation is the Hilton Head National Golf Club. In 2012, the course became such a big hit among fans that it won three back-to-back local awards. This course is the brainchild of golf architect Bobby Weed and golf legend Gary Player, who teamed up to create this design.
The 18 holes inside the Hilton Head National provide a challenge for the more seasoned players while casual golfers will find that this course is accessible. The Hilton Head National is open to the public and offers daily rates for golfers who are only visiting. Some of the amenities to look forward to are the Player's Pub restaurant and a pro shop.
Water Sports
If your idea of relaxation involves leaving the land to embrace the waters that Bluffton has to offer, then there are plenty of options for you to choose from. In this city, there are various water sports that you can enjoy; here are a few that you can try.
May River Excursions
A Lowcountry native, Captain Chris Shoemaker runs every trip, providing passengers with various boat charter options that leave from Bluffton's Old Town. His boats can hold a maximum of 12 guests at a time, where they can all go around the pristine waters of Daufuskie Island and Hilton Head Island. May River Excursions provide different kinds of tours — from fishing, crabbing, and shrimping trips, you'll be sure to find some dinner. Other activities such as dolphin excursions provide a more relaxing way to enjoy the waters of the region.
Stand and Paddle
Stand Up Paddle Board lessons are available in the Bluffton, Hilton Head, and Savannah areas. Offering various activities such as family and group paddle outings, SUP yoga & fitness, Sunset & Moonlight paddle tours, SUP racing, and more, this great company has plenty to offer its guests. You can enjoy both the fitness and fun that their paddleboarding excursions provide while experiencing wildlife and nature at its finest on the gorgeous May River. Furthermore, their signature "Paddle Fused Fitness" classes will give you and your friends a one-of-a-kind experience, so don't hesitate to give it a try.
Dog Friendly
Bluffton has plenty of places that you can explore with your pets, but this city is particularly welcoming of dogs. If you have canine pets that love the indoors and outdoors, you can be sure that Bluffton has plenty of places they can visit.
Stoney Crest Plantation Campground
The Stoney Crest Plantation Campground is a pet-friendly establishment with friendly and helpful staff. They offer clean shower and bathroom facilities along with many other amenities at reasonable prices. However, note that while dogs are allowed to stay at Stoney Crest Plantation Campground, they will need to be kept on a leash not longer than 6 feet whenever outside your vehicle. Furthermore, other restrictions may also apply, so be sure to ask staff for any pet-related questions.
Holiday Inn Express & Suites Bluffton
At the Holiday Inn Express Bluffton, both dogs and cats are welcome; however, pets will need to be placed in their crate if they need to be left unattended. Here, you can have one of two choices for your pets — take one pet of any size for a $75 additional fee per stay, or take two pets for an extra $100 per stay, regardless of their size. Keep in mind though, that only the ground floor rooms are pet friendly. Lastly, treats are readily available from the front desk, and there are two dog-walking areas complete with waste stations.
The Cottage
This quaint cafe offers visitors plenty of choices throughout their extensive menus that include breakfast, lunch, and dinner items. They even offer porch seating for dogs and their humans, where your beloved pets are offered their own menu that features the city's yummiest treats and meals for dogs. This arrangement is made even better with heating during the colder weather.
Attractions
If you're in the mood for something different, Bluffton also has several places of interest to visit. These areas are so different that they just become an instant attraction to both tourists and locals alike.
Old Town Bluffton
Referred to as "Old Town Bluffton," this charming, downtown area offers several cultural and historic highlights. Nestled next to the May River, this pedestrian-friendly area is host to many galleries, boutiques, and casual and fine dining restaurants. Some of the best places to visit here are:
The Heyward House Historic Center
The May River Theatre
The Church of the Cross
Apart from these, there are also other venues downtown that welcome visitors to appreciate and explore, allowing you to leave their porches and experience the outdoor spaces around them. Furthermore, there are plenty of vendors that schedule regular events to bring both locals and tourists together.
Rose Hill Mansion
This incredibly beautiful plantation holds such importance in not just the Lowcountry, but throughout the entire South. At first, Dr. John Kirk built the Rose Hill Mansion in the 1850s intending to use it for his family home, but it was abandoned in the middle of the Civil War. However, it has since been restored and listed under the National Register of Historic Places. The mansion features all its original furniture, a grand entry staircase, as well as artifacts and portraits owned by the original owners. Designed in Gothic style, the home is surrounded by sprawling gardens and is open for weddings, tours, and other events.
Shopping
Bluffton may be a small town, but you can't underestimate just how much it can offer. Rich in native fruits and vegetables, as well as other products, this great town can offer you some of the best products that South Carolina has to offer.
Bluffton SC Farmers Market
This weekly event takes place to bring the whole community together, linking the sellers to their customers, both visitors and residents alike. Established in 2008, this market offers dozens of downtown vendors and Bluffton growers. These traders will often bring products such as locally produced cheeses and chocolate, fruits and vegetables, as well as prepared foods and artisan baked goods. Moreover, this farmer's market will often host talents in the area — a common sight during the weekly event are musical performances.
The Complete Home
According to many residents, one of the best shops in the town is located on Calhoun Street, where you'll see The Complete Home. Just like other boutiques in the area, this little shop just shines with personality through its displays of home furnishings and local artwork, along with its gourmet snacks. All in all, it's a dream come true for any interior designer.
Art and Culture
If you think Bluffton is just an old town; you're wrong. What may be perceived as old is actually the town's natural history, along with the people's love for their heritage. If you're looking to discover more about this town and its culture and art, these are the places to visit.
Society of Bluffton Artists
Commonly referred to as SOBA, the Society of Bluffton Artists is a community non-profit organization that brings local talents together. The team aims to help artists enhance their skills as well as share their talents with others. Since its founding in 1994, SOBA has always been handled by artists, running demonstrations hosted by distinguished members of the art world. SOBA also owns two spaces, namely, the Center for Creative Arts along with a gallery in Old Town Bluffton.
Maye River Gallery
This intimate gallery provides space for some of the best works from the Lowcountry region. The Maye River Gallery sees itself as an art supplier for the home, body, and spirit, with a collection based on various forms of media. Here, you'll find beautiful artworks of the area's scenery, landscape paintings, ceramic and woven pieces, and even applied arts like those of glassworks and jewelry. This gallery is also a celebration of its artists, all of whom come from the Lowcountry of South Carolina, with many of them being recognized both in the region and the rest of the nation.
Sports and Sports Teams
Unfortunately, Bluffton doesn't have its own sports team to represent them directly in the major or minor leagues. However, South Carolina has plenty of teams to choose from; both North and South Carolina have several major league pro teams to represent them in various sporting events and competitions. But when it comes to sports that you can actively participate in, Bluffton certainly has numerous activities that can get the heart pumping.
If you have kids, one place that they can go to is the Boys & Girls Club of Bluffton. Founded in 1998, this club aims to provide support and programs for youth who want to develop the right skills, attitudes, values, and behaviors which will enable them to go further in life. To this day, the club has served more than 4,000 kids and teens in the past 20 years, with more than 600 children served annually. This club teaches our kids interpersonal skills to reduce stress, develop physical fitness, and promote a good attitude.
Education: Schools and Colleges
Under the Beaufort County School District, Bluffton can provide top-quality education for families and their children. Some of their local public schools include:
Bluffton High School
May River High School
H.E. McCracken Middle School
River Ridge Academy
Bluffton Middle School
Bluffton Elementary School
M.C. Riley Elementary School
Pritchardville Elementary School
Red Cedar Elementary School
Bluffton also has a few independent schools, such as:
Cross Schools (K-8)
May River Montessori (K-5)
Christian Heritage Montessori (K-5)
Saint Gregory the Great Catholic School (K-8)
Furthermore, the town also carries public institutions for higher education that you or your children can look into for a degree:
University of South Carolina Beaufort South Campus
Technical College of the Lowcountry.
It's also worth taking a note that the Hank Haney International Junior Golf Academy is also located in Bluffton.
Real Estate Market
In 2018, the median property value in Bluffton, South Carolina was $266,200 — 1.16 times higher compared to the U.S. average of $229,700. However, this was after the 9.05% increase from 2017's value of $244,100, which means that homes are getting harder and harder to come by. This wasn't always the case since the homeownership in town is 78.6%, and is much higher compared to the national average of just 63.9%.
Furthermore, many households in Bluffton are found in the $300,000 to the $400,000 range in value, so be sure to invest before prices get even higher. Because most people need to drive to get to work, there is usually a commute time of 25.4 minutes, which isn't the best, but it's also not the worst in the region. On that note, this means that while there aren't many people living here yet, the lack of public transportation may be a bit of a hassle for some residents.
Welcome to Bluffton!
With the lack of public transportation and the rising costs of housing aside, Bluffton can be the ideal place for you if you're looking to settle in a no-nonsense town that offers a classic all-American setting. Bluffton can perfectly blend the old and new, making it more than just a tourist town. While tourism helps Bluffton's economy, its charm, sense of community, and wholesomeness make this town stand out in ways that modern cities can no longer achieve. And with so many activities to choose from, your entire family is sure to find something that you can all enjoy. If owning a home in Bluffton, SC is something you have been wanting to do, make sure to secure your spot soon as more and more peole continue to move to Bluffton, SC.