Moving to Beaufort - Your EZ Guide to Everything Beaufort, SC
Posted by Preston Guyton on Saturday, May 8, 2021 at 6:28 AM
By Preston Guyton / May 8, 2021
Comment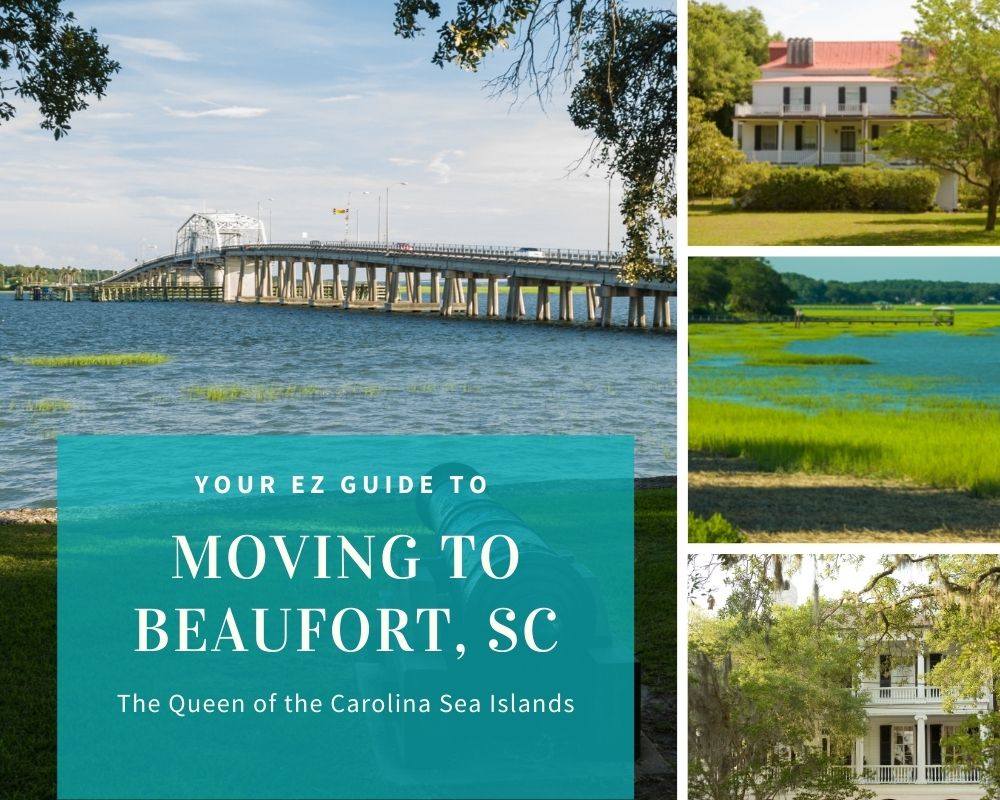 Moving To Beaufort: Your Guide To Living in Beaufort, SC
Beaufort has been labeled as the "Queen of the Sea Islands," and is known for its small-town charm, closely-knit community, and it's deep-rooted history. This picturesque city has been featured in Hollywood films such as Forrest Gump and The Great Santini, even in Outer Banks on Netflix. But the most interesting asset that Beaufort has to offer is that it has preserved the amazing history of the Gullah culture, which is unique to the lowcountry.
If this all sounds appealing to you, you're probably thinking about moving to this great area. We thought this would be the case, so we've researched for you — here's everything you need to know about Beaufort, South Carolina.
Cost of Living and Population Growth
Chartered in 1711, Beaufort is the second-oldest town in the whole state of South Carolina, just behind Charleston. In 2010, the city's population was 12,361; however, this increased to 13,300 people as of the 2018 Census. During this time, it had a median age of 34.9 through the combined age of all its residents, making it a relatively young town.
Between the years 2017 and 2018, the population declined from 13,413 to 13,336, which reflects a 0.574% decrease. However, the median household income grew, making it easier for its residents to gain a more affordable cost of living. Below is a table that shows a side-by-side comparison of the cost of living in Beaufort against South Carolina and the national average:
| | | | |
| --- | --- | --- | --- |
| COST OF LIVING | Beaufort | South Carolina | USA |
| Overall | 94.1% | 88.5% | 100% |
| Grocery | 100.1% | 95.8% | 100% |
| Health | 96.8% | 102.3% | 100% |
| Housing | 96.3% | 73.6% | 100% |
| Median Home Cost | $222,600 | $170,100 | $231,200 |
| Utilities | 108.2% | 103.9% | 100% |
| Transportation | 66% | 86.8% | 100% |
| Miscellaneous | 107.3% | 95.6% | 100% |
Beaufort's cost of living is 94.1% compared to the national average.
Job Market
Beaufort's residents have a median household income of $49,583, with males receiving an average income that's 1.37 times higher compared to females at just $43,921. The city employs around 5.43K people; however, this is a decrease of 6.06% from the previous year's 5.78K employees. The largest industries are Health Care and Social Assistance, Accommodation and Food Services, as well as Retail Trade. Here are the most important categories in Beaufort's Job Market:
Most Common
Some of the most common jobs held by Beaufort's residents are:
Management Occupations
Office and Administrative Support Occupations
Education Instruction and Library Occupations
Most Specialized
Beaufort in South Carolina has specific jobs with more than the usual amount of employees in the following fields compared to other areas:
Legal Occupations
Health Technologists and Technicians
Food Preparation and Serving Related Occupations
Highest Paid
Some of the highest paid jobs that the residents of Beaufort have, according to median earnings are:
Legal Occupations with annual earnings of $72,614
Computer & Mathematical Occupations with annual earnings of $64,609
Installation, Maintenance, and Repair Occupations with annual earnings of $55,938
Things To Do in Beaufort
Beaufort town has a lot to offer both locals and visitors in terms of things to do and places to see. Make sure that you're not missing out on the best that this city has to offer by giving these areas a visit.
Spanish Moss Trail
This well-known area is the Spanish Moss Trail, a ten-mile partially completed trail in northern Beaufort County. While Southern Carolina is known for many things, one of the most iconic representations of this historically rich area is Spanish moss. This grey-colored plant isn't actually a moss but is instead a hanging bromeliad. The Spanish Moss Trail is paved and can be traversed using a bike or through walking. It follows a path through marshes, water, and Spanish moss that leads to the former Port Royal Railroad.
Lowcountry Produce
If you're looking for the best food in town, try this charming little spot for some warm Southern cooking — you can choose from shrimp and grits or made-to-order donuts for breakfast. There's also a market attached to it full of homegrown and homemade treats. Some of their most popular items include their hot pepper jelly and buttermilk cheddar biscuits. However, if these aren't up your alley, they also have plenty of jams, jellies, and chutneys for you to try.
Hemingway's Bistro
Located in the basement of a Customs house, this local watering hole and dive bar was built in 1857 and faces the Beaufort River. You can enjoy both food and drinks here, like homemade lunches such as quiche, crab soup, Cubans, muffulettas, and more. The bar is also open until 2:00 AM, so you can party with friends to your heart's content.
Lost Local
The staff at Lost Local are committed to providing their guests with an experience to remember, and a nightlife like no other. Lost Local provides an escape from the mundane into a world of exciting foreign and local flavors. It highlights a menu filled with cuisines around the world using fresh and local ingredients. Like most of Beaufort's restaurants, they refuse to compromise on their food's quality, so you can expect to get perfection every night.
Climate
The climate in Beaufort is relatively warm and temperate, getting an average of 48 inches of rain every year, compared to the U.S. annual average of 38 inches. However, it doesn't snow in this town, so it doesn't contribute to the nation's average of 28 inches per year. On average, Beaufort experiences 216 sunny days every year, which is higher than the 205 days that the rest of the country receives on average. Here are some weather highlights for Beaufort:
The highest temperatures usually occur during summers in July with a record 91 degrees.
The lowest recorded temperature is 39 degrees and occurs during winters in January.
The average rainfall is 48 inches per year.
There is no snow in Beaufort.
It's worth noting that April, May, and October are the best months to visit Beaufort, while July and August are the worst times to visit the town.
Traffic
Because it's such a small town, the population here is still in check, and it never gets crowded. As a result, residents don't usually complain of any traffic, and so the Beaufort City Traffic Department can provide great directions for traffic safety. Furthermore, they provide valuable assistance that can further ensure the safety of drivers and pedestrians alike. Some of these include:
In-house maintenance of traffic control devices: The efficient operation of such devices allows for a quick response should malfunctions be detected as a result of accidents, thunderstorms, and other disruptions. Maintenance also ensures the continuous and safe operations of these devices.
Reporting problems: Road hazards such as downed trees, low-hanging or fallen limbs, along with debris can be reported to the Beaufort City Traffic Department.
Public Transportation
Because Beaufort is a smaller town, there aren't many forms of public transportation available, so it's best to use your own car or rent one to get around. The regional transportation authority Palmetto Breeze, does, however, provide local public transportation run by the Lowcountry Regional Transit Authority. You can look into options such as:
Greyhound: This is an inner-city bus terminal that connects Beaufort with other Greyhound bus networks.
Downtown Marina: Known as a nautical gateway, the Downtown Marina can connect you to the Intracoastal Waterway.
Beaufort County Airport: The airport is located just three miles from Lady's Island and provides aviation services.
Golf
Beaufort's beautiful and natural scenery allows it to become host to one of the most demanding courses in the name of the game. However, there are also other locations for golf near this golfer's paradise.
Secession Golf Club
While Pete Dye and his son P.B. were originally assigned for the design of this course, a dispute between them and the developer left Bruce Devlin as the man for the task. A PGA Tour veteran, he'd previously designed courses with Robert von Hagge but stuck with Dye's low-profile philosophy. As a result, greens were protected by low humps, while invariably leaving the fronts of greens open for running approach shots. Furthermore, the site is a peninsula in the marsh, allowing for several holes on various islands.
Cotton Dike on Dataw Island
As the first course built on Dataw Island, it was designed by Tom Fazio who made it so the golf course would run through marshes along with a series of dikes. This was done with the intention to create more land during the plantation days of this island. As a result, 18 holes were created — each requiring the player to create a strategy, which provides a variety of perplexing challenges and a new experience every time you come here for golf. Since opening in 1985, Cotton Dike has garnered a course rating of 72.9, laid out on 6,787 yards of Dataw Island.
Water Sports
If golf isn't your thing, perhaps you'd rather try the various water sports that this small town has to offer. However, just because it's not as big as other areas doesn't mean you'll have less of an adventure.
Beaufort Kayak Tours
At Beaufort Kayak Tours, you can sign up for a private paddle across the crystal-clear waters that the ocean has to offer. Alternatively, you can join an ecology tour that explores salt marshes during low tide to learn about the area's wildlife. The staff also offer dolphin ecology tours that further dig into the biology and ecology of their resident bottle-nose dolphins, while moving deeper into the waters of the Fripp Inlet. Other tours and activities include:
Ebenezer Creek
ACE Basin
Beaufort History
Hunting Island Sandbar
Higher Ground Kayak Tours
Individuals with a passion for nature will surely appreciate getting the opportunity to watch elusive dolphins from their kayaks. Higher Ground Kayak Tours can put you up close and personal with these intelligent creatures. Owner Tim Lovett has only one mission: to provide the town and its surrounding community with great customer service, quality products, and competitive pricing. Providing rental surfboards, kayaks, canoes, and SUPs, there are tons of activities that you can enjoy in the water.
Dog Friendly
You'd be surprised just how dog-friendly the town of Beaufort is — from local shops to restaurants and hotels, there's a place where your pup can accompany you in almost every street. Here are a few choices where your dog can happily dine and stay with you.
City Loft Hotel
For just an additional charge of $20 per pet for every night of your stay, you can bring in two pets of any size. While both cats and dogs are permitted to stay, only six of the Standard King rooms on the ground floor are allowed to host pets. It's also worth remembering that pets need to be well-behaved before leaving them unattended within the rooms. Furthermore, there's a grassy area in the property for pet relief.
Panini's on the Waterfront
This former bank building now serves brick-oven pizza along with other Italian classics, combining old-world charm with new-world flavors. Panini's on the Waterfront serves up delicious choices such as entree salads, hoagies, pasta, stone-baked pizza, homemade Italian desserts, and fresh local seafood. There's also a parkside patio where your canine family members are provided with their own doggie menu.
Attractions
If you're in the mood to see something different and worth your time, here are a few of Beaufort's most interesting attractions that are sure to take you to another place at another time.
Penn Center
This site became a part of history when it was first used in 1862 as an academic school for freed slaves. As one of the most remarkable cultural and historical institutions in existence, it is dedicated to the Gullah Geechee culture's preservation. Currently, it's used as a museum and the site (comprising 19 buildings altogether) is available for tours throughout the year. Moreover, it is also the host to old burial grounds, a nature trail, native flora and fauna, and Gantt Cottage where Martin Luther King Jr. once lived.
Hunting Island
This 5,000-acre barrier island is located 15 miles from Beaufort and has been named as one of America's Top Ten Beaches according to TripAdvisor. As such, it attracts more than one million visitors per year. Even with its huge reputation, miles and miles of its white sand beaches remain unspoiled and uncrowded. There are plenty of things to do here: hike through its maritime forest, fish by the pier in Fripp Inlet, visit the Nature Center with live animals, or go camping by the beach.
Shopping
From huge shopping centers to small and charming shops, Beaufort has something to offer for everyone. No matter what you're looking for, you can find something that you can give to your friends and family, or just as a treat for yourself in these great places to shop.
Beaufort Town Center
This shopping mall offers a wide range of services and shops — as a major grocery store, it can give you access to dozens of clothing stores, various salons, two pharmacies, and a beautiful florist. Furthermore, several financial institutions, attorneys, medical facilities, and technology-based companies call the Beaufort Town Center their home. The Beaufort Town Center has been the center of business and pleasure for more than 200 years, so you can be sure that you'll find it here, no matter what you're looking for.
Lulu Burgess
Since Lulu Burgess started in 2000, the owner, Nan Burgess Brown Sutton has been shopping for a living and has made it her mission to share her finds with her customers. She knows just where to find the perfect gifts no matter the occasion. If you're at a loss for inspiration, be sure to stop over and look through her collection of treasures. No matter why you need it — birthdays, anniversaries, weddings, or any other kind of event — you'll find something special here.
Art and Culture
The art and culture scene in Beaufort is one that's built on history and passion for its heritage. Have a look through these places to get a further appreciation of this area and the story it has to tell.
Beaufort Art Association Gallery
The Beaufort Art Association Gallery features more than 60 local and regional talents who have their work displayed inside this 2500 sq. ft. gallery space. Here, you'll find both framed and unframed originals, along with photography, reproductions, jewelry, pottery, cards, and more. You'll also see artists working on-site, while a new exhibit is introduced into the collection every six weeks.
Beaufort History Museum
With roots going back to July 20, 1939, the Beaufort History Museum was created to diffuse and increase knowledge through the protection of places and the preservation of historic, artistic, and scientific items. Since then, the museum was left open to the public, and in 2008, the city of Beaufort took responsibility for the collection. As a result, the Beaufort History Museum Inc. cares for this public museum.
Sports and Sports Teams
While Beaufort doesn't have its own team, South Carolina has plenty of teams to choose from. The Carolina Panthers are a professional football team in the NFL and have training areas in South Carolina, and games take place in Charlotte, NC. Below are a few options when it comes to South Carolina teams:
Minor League
Myrtle Beach Pelicans
Augusta Green Jackets
Charleston RiverDogs
Columbia Fireflies
Greenville Drive
Greenville Swamp Rabbits
South Carolina Stingrays
Charleston Battery
South Carolina Warriors
Greenville Galaxy
Palmetto State Rizers
Education: Schools and Colleges
Beaufort's education is extensive and thorough for such a small area, with plenty of schools and colleges to choose from, both inside the town itself and in areas of proximity. In 2019 alone, universities in Beaufort awarded their students 332 degrees, with all of the degrees coming from the Technical College of the Lowcountry. Some of the most commonly taken majors in this town include:
Liberal Arts and Sciences
Registered Nursing
Other Multidisciplinary Studies
Here are a few schools and colleges to consider if you're looking to enroll your children.
Schools
Beaufort Elementary School
Beaufort Middle School
Beaufort Christian School
Port Royal Elementary School
Beaufort-Jasper Academy for Career Excellence
Lowcountry Montessori
Higher Education
Three institutions qualify for higher education within the Beaufort area:
University of South Carolina Beaufort North Campus
Technical College of the Lowcountry Main Campus
Clemson
While the first two options operate within the city limits, the final option operates from a university extension office in the city for their agricultural and ecological programs.
Real Estate Market
As of 2018, the median property value in the town of Beaufort was $205,000, which is 0.892 times lower compared to the national average of $229,700. However, between the years 2017 and 2018, the median property value decreased by 2.71%, sliding from $210,700 to $205,000. The homeownership rate during this time sat at 54.4% — lower compared to the U.S. average of 63.9%.
Estimates foresee that this won't last long, since there is a lot of potential in Beaufort — one being its relatively low traffic rate, with residents enjoying an average commute time of just 14.3 minutes when driving to work. Such times are much lower compared to the average time of 25.3 minutes for the average U.S. worker, making it a highly appealing factor for most people. Finally, the largest share of households in Beaufort has a range of $125K to $150K in property value.
Welcome to Beaufort!
With the real estate market fresh for the taking, it won't be long before people realize what a great investment buying a home in Beaufort can be. Apart from the affordable housing and cost of living, this small town packs a punch in just about every important aspect that people should consider when looking for a new place to call home. While it doesn't have the big-city vibes, it provides the perfect environment for those who are looking for a laid-back, relaxing life by the beachside where you can enjoy things one day at a time. So what are you waiting for? Start packing and make your way towards this town where the past and future collide to make your life in the present as great as it can be.