Moving to Anderson - Your EZ Guide to Everything Anderson, SC
Posted by Preston Guyton on Tuesday, May 25, 2021 at 5:10 AM
By Preston Guyton / May 25, 2021
Comment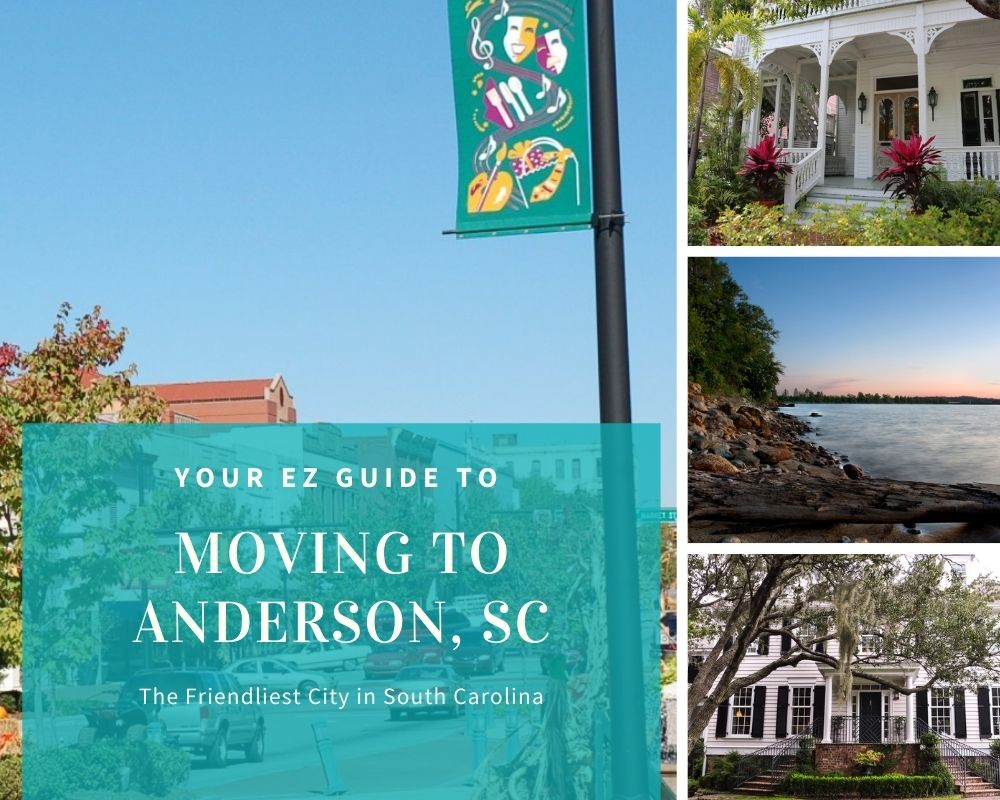 Moving to Anderson: Your Guide to Living in Anderson, SC
If you've come across this blog, chances are that you're considering making the move to Anderson in South Carolina. This sweet and charming city has a population of just over 27,000 and is home to a wide range of residents of all ages and an impressive diversity. It's proximity to big cities such as Greenville as well as natural attractions like Lake Hartwell also makes it a great destination.
Conveniently located near Route I-85, this small city can connect you to North Carolina and even to Atlanta, GA. All this sounds nice, right? Well, if you're convinced that Anderson is the place for you, we've put together the Ultimate Guide to Everything Anderson, South Carolina. Read on below to get all the details you'll need to know to live, work, and enjoy your time in this city.
Cost of Living and Population Growth
The city of Anderson is the county seat of Anderson County, South Carolina, which had a population of 26,686 during the 2010 census. This number grew to 27,011 in 2017 and then 27,129 in 2018, which reflects a 0.437% increase. The city has a median age of 37.3 along with a median household income of $31,897. Anderson is further included in the bigger Greenville-Spartanburg-Anderson statistical area, which has a total population of 1,475,235 as of 2019.
While it's the smallest primary of the three primary cities which make up the Upstate region, it's often called the "Friendliest City in South Carolina." It's also one of the more affordable places to live in the state, having a rating that's even lower than that of all the cities in South Carolina combined. To get a better sense of the cost of living in Anderson, here is a table that shows a side-by-side comparison between Anderson, South Carolina and the national average:
| | | | |
| --- | --- | --- | --- |
| COST OF LIVING | Anderson | South Carolina | USA |
| Overall | 84.7% | 88.5% | 100% |
| Grocery | 96.7% | 95.8% | 100% |
| Health | 113.1% | 102.3% | 100% |
| Housing | 64.2% | 73.6% | 100% |
| Median Home Cost | $148,400 | $170,100 | $231,200 |
| Utilities | 103% | 103.9% | 100% |
| Transportation | 73.7% | 86.8% | 100% |
| Miscellaneous | 98.1% | 95.6% | 100% |
Anderson's cost of living is 84.7% compared to the national average.
Job Market
As of 2018, the median household income in Anderson is $31,897, where males have an average income that's 1.37 times higher compared to those of females. The economy of Anderson city has a total number of 11.8K employees, where the largest industries are Manufacturing, Health Care and Social Assistance, and Retail Trade.
Furthermore, there's an annual income of $31,897 per household in the city, which represents a 2.32% decrease from its median income of $32,655 in 2017. Here are some of the most important categories to keep in mind if you're thinking about getting a job in this city.
Most Common
According to their number of employees, some of the most common jobs held by residents of Anderson are:
Production Occupations with 1,518 employees
Sales and Related Occupations with 1,484 employees
Office and Administrative Support Occupations with 1,047 employees
Most Specialized
Furthermore, compared to other areas in South Carolina, Anderson has an unusually high number of employees in the following areas of work:
Production Occupations
Healthcare Support Occupations
Community and Social Service Occupations
Highest Paid
Some of the highest paid jobs in Anderson, according to median earnings are:
Legal Occupations with an annual income of $91,818
Business and Financial Operations Occupations with an annual income of $76,343
Architecture and Engineering Occupations with an annual income of $71,504
Things To Do in Anderson
If you think that this city won't have much to offer because of its small size, then you better think again. Anderson is known for its parks, creeks, and other outdoor areas, along with great food and places to get the best beers for an adventurous nightlife.
Sadlers Creek State Park
This 395-acre State Park is nestled on a peninsula located in Lake Hartwell, offering guests the opportunity to take part in water sports, camping, bird watching, and picnics. Families are also welcome to take advantage of the lakeside pavilion and two picnic shelters which can be reserved for occasions and other events. Furthermore, Sadlers Creek Park has a total of 52 campsites which are all equipped with both electrical and water hook-ups.
Mama Penn's
Jimmy and Mildred Penn started this restaurant in 1970 inside a small building within the Pruitt Shopping Center. It was then bought out in 1973 by the Rudy Davis Family, but they decided to keep the name Mama Penn's. Since then, this restaurant has strived to provide excellent food and has served its loyal customers with "Real Southern Cooking." The Davis Family has continued to provide their guests only with the finest meats and vegetables in this restaurant that's known as "Anderson's Home of Real Southern Cooking."
Carolina Bauernhaus Ales
Locally brewed ales that have been inspired by local flavors and Belgian tradition are created and served at the Carolina Bauernhaus. It all started when three local homebrewers wanted to pay homage to South Carolina's rich farming history. They then had the idea to make ale out of their passion, and thus started a brewery on a farm just outside Anderson. Carolina Bauernhaus provides their patrons with a variety of ales to ensure that you're kept on your toes. The brewery and taproom also hosts daily open mic nights, tasting events, and live music.
Growler Haus
After opening in 2012, Growler Haus has given visitors a more personalized way to buy their favorite craft beers. Its goal is to provide guests with the best local brewers while giving them an environment where everyone can simply relax and enjoy the beers on offer. Every one of their three locations has a large selection of brews, where you can get samples provided by the staff. Growler Haus is also host to community brewing contests which they hope will encourage more local talent while providing a stage for homebrewers to shine.
Climate
People also appreciate living in Anderson because of the great climate it offers. On average, the city gets around 48 inches of rain per year, while the U.S. average is 38 inches. While it does get wet in the city, it doesn't snow anywhere as much, with only an average of two inches of snow every year compared to the county's average of 28 inches. Lastly, residents of Anderson enjoy a total of 221 sunny days, compared to the national average of just 205 sunny days every year. Here are a few weather highlights to look out for should you choose to make the move:
Summers in July can become as hot as 90 degrees in Anderson.
Winters in January can be as cold as 31 degrees.
There's an average rainfall of 48 inches every year.
There's an average snowfall of just two inches every year.
If you do plan a trip to Anderson city, be sure to visit sometime around May, October, and September to experience the great weather they offer. However, it's best to skip visiting during July and January, since they're the least comfortable months to go out.
Traffic
While it may be a relatively small city, Anderson is part of Anderson County, which faces a huge traffic problem. Because this area is continuously growing, thousands of commuters who travel out to neighboring cities during the weekdays and those who travel to Lake Hartwell on the weekends are experiencing a worsening delay on the roads.
Those who have spent years monitoring this county's roads will know that drivers are either having to make adjustments or that governmental efforts are needed to better handle the traffic. Because residential growth is happening so quickly, more and more drivers are on the road. Between 2010 and 2017, Anderson County's population increased by 6%, making the total close to 199,000. However, this number is closer to 204,000 today, which can only mean that traffic is an ever-present part of life in Anderson.
Public Transportation
Anderson offers four bus routes that run every hour, known as Red, Blue, Green, and Gold, all of which travel to most major areas around the city. Commuters are also provided service from CATS (Clemson Area Transit) through the 4U route. This city uses both an older-style trolley and newer, hybrid buses for travel.
Greyhound Lines also offer intercity buses which are located near downtown on West Whitner Street. The Southeast High-Speed Rail Corridor also includes a stop at Anderson, which marks the first time where a passenger rail reaches Anderson. Lastly, the Anderson County Regional Airport serves this city which has two runways and is only three miles away from Anderson.
Golf
If you're a golf lover, Anderson is certainly the city for you, where there are plenty of courses both in and outside of the city. Here are just some of the best courses to have a game during your visit.
Cobb's Glen Country Club
This 7,002-yard championship, 18-hole golf course is located in the city of Anderson and will get you excited to play right from the first tee. Cobb's Glen Country Club was designed by world-renowned architect, George Cobb in 1976. This pristine course offers four tee boxes on every hole — this allows you to choose the difficulty to go along with your skill level. While the plush fairways in this course aren't too tight, they're not too forgiving either. In 2012, the large and well-bunkered Tif-Eagle Bermuda was installed, making the course even more challenging.
Pine Lake Golf Club
Spanning across 150 acres along the banks of the 300-acre Broadway Lake, the Pine Lake Golf Club is located east of downtown Anderson. Designed by Russell Breeden in 1962, this par-70 course was carved out of the thick pine forests in the area and carefully weaves through the lake's natural landscape. As one of the longest operating courses in Anderson County, it's been a favorite among the locals for more than 50 years.
Players of all skill levels are accommodated here, where five different tee markers can provide a good challenge. Lastly, you'll find a clubhouse that features Raines on Broadway, a lakefront restaurant where you can dine in and out the dining areas which overlook the lake and 18th green.
Water Sports
If you're not into golf, you can always try water sports, which you'll love since Anderson has plenty of places where you can enjoy the various bodies of water that this city has to offer.
Lake Hartwell
Both visitors and locals know that this lake is one of the best places to fish in South Carolina. The park which surrounds Lake Hartwell provides visitors with a public access boat ramp and miles of hiking opportunities for those who want to explore every inch of this tranquil area. You'll also have fun walking around the park, and there are beautiful wooden cabins that can be rented any time throughout the year.
Apart from the cabins, there are also camping sites for tents and RVs available for rent. If you have kids traveling with you, the park has a picnic shelter and a playground where your children can play. Furthermore, you can bring pets here should you wish to bring the whole family along.
Sadlers Creek State Park
This park sits on 395 acres of land that leads into Lake Hartwell, a reservoir of the Savannah River. At Sadlers Creek State Park, you can camp at one of the 37 lakefront campground sites available here, where you can observe wildlife and participate in various kinds of water sports. It provides the perfect location for any kind of gathering, whether you have a family reunion or any other occasion.
There are also two picnic shelters for rent and a lakeside pavilion that you can use here. Fishers are always happy to be here, where they can expect fish such as bream, bass, trout, crappie, and catfish to bite.
Dog Friendly
If you're looking for a dog-friendly city, you'll find it in Anderson. With various establishments designed with your pup in mind, you can be sure that your dog will have a good time at any one of these places.
Country Inn & Suites Anderson
For just an additional fee of $25 per pet per stay, the Country Inn & Suites Anderson will welcome two pets of any size. If you own both a cat and dog, you'll be happy to know that they will both be accepted here, but you'll need to place them inside their crates if you leave the room. Treats and waste bags are readily available by the front desk, and there's also a grassy area within the premises for your pet to use.
Uptown Lounge & Restaurant
Inside this family-friendly and dog-friendly pub and restaurant, dogs are welcome by the seasonally open outdoor patio. You'll be able to enjoy wine, beer, and cocktails from their full bar, while menu items include mozzarella cheese sticks, jalapeno popper dip with tortilla chips, Philly cheesesteak sandwiches, hamburger steaks, and more. You'll also enjoy live music, trivia, and specials from Monday to Saturday from 11:00 AM until 2:00 AM, and is also open on Sunday from noon until 2:00 AM.
Attractions
If you're looking for something unique and truly exciting, Anderson also has plenty of places that you can visit for an adventure that you won't see anywhere else.
CocoBon Chocolatier
Offering their visitors old-fashioned and traditional chocolates and confections, the CocoBon Chocolatier is the perfect place to get handmade treats. Each recipe is owned by the shop and uses locally grown ingredients that keep their traditions alive. This shop also has a beautiful, vintage-style design, which is also seen on their staff's uniform. You'll be able to take home handmade caramel popcorn, bonbons, cotton candy, and various truffles for you to enjoy any time.
Denver Downs Farm
Since 1869, the Garrison family has owned and operated Denver Downs and has been listed among the National Register of Historic Places. This 400-acre farm has grown from its dairy roots into the agritourist location that it is today. It also showcases the heritage of this family farm and shows tourists how agriculture is still an integral part of our daily lives. Its Farmers Market is also open during summer and invites local farmers to share their produce with all those who come through their doors.
Shopping
For both the ordinary and extraordinary, you'll find everything you need in Anderson's retail centers, malls, and locally-owned specialty shops.
Anderson Mall
If you're looking for basics, make your way to Anderson Mall, where you'll experience an indoor shopping center full of popular retailers such as:
Victoria's Secret
Dillard's
JCPenney
Belk
Bath and Body Works
Aéropostale
American Eagle Outfitters
And more!
Anderson Mall is a modern mall that features cell phone charging stations, complimentary Wi-Fi services, a food court, a nursing mother's lounge, kiddie rides, and the amazing DogSpot. This climate-controlled, and technology-enabled dog house allows you to leave your dog to have fun while you go about your shopping spree.
Retail Shops
If you're looking to add new staples or something fresh and unique to your wardrobe, you'll be able to find them and more from Anderson's collection of various retails shops. Here are just some of the places that you can visit:
Plum Suede
Belle Beauty
Girls Go There
Blake & Brady
Apart from these snazzy shops, you can also head over to Ladies on Main, an upscale consignment boutique where you'll see great finds. Men will also have a great time shopping around at Cahaly's Custom Clothing, a premier shop where you can order tailor-made shirts and suits.
Art and Culture
You'll also find plenty of art and culture in Anderson, which can be found along with their many art centers and museums.
Anderson County Museum
Offering a distinct look over the history of the people of Anderson County along with the state of South Carolina, the Anderson County Museum hosts more than 20,000 artifacts. Apart from these artifacts, this museum also has a Research and Reading room that contains 1,600 volumes and 2,000 historical photos which are all open to the public. "Keep the Home Fires Burning" is the exhibit currently displayed and showcases those who have fought in American conflicts.
Anderson Arts Center
The Anderson Arts Center has been designed to foster the appreciation for art among those who live in South Carolina. Established in 1972, this center is an essential part of the educational, economic, and cultural life of the city's community. It also has a history of excellence when it comes to providing everyone in the community with the best events and programs to promote the visual arts.
Sports and Sports Teams
Anderson boasts its 64-acre Anderson Sports Center where both youth and adult players can enjoy its eight pickleball courts, seven softball/baseball fields, six tennis courts, three soccer fields, and a disc golf course. It also offers miles of paved walking paths, a nature trail, and picnic areas. During weekends, this sports center is full of sanctioned baseball and softball tournaments, along with other athletic events. When it's not reserved for tournaments and other events, the Sports Center is available to the public for free. Here are just some of the sports available:
Soccer
Baseball
Softball
Football
Volleyball
Tennis
Kickball
Education: Schools and Colleges
You'll be happy to know that Anderson has a great school system. Just in 2019 alone, universities in Anderson awarded a total of 895 degrees. Some of the largest universities in Anderson, according to the number of degrees, are Anderson University and Forrest Junior College. Furthermore, the median tuition costs for a four-year college in Anderson are $26,130. Meanwhile, the most commonly taken major by students (according to the number of students) in Anderson are:
Registered Nursing
General Business Administration and Management
Music Teacher Education
Here are just a few choices for education for your children should you choose to move to Anderson:
Elementary Schools
North Pointe Elementary School
Varennes Academy of Communications and Technology
Whitehall Elementary, A Global Communication School
Middle Schools
Southwood Academy of the Arts
Robert Anderson Middle School
Glenview Middle School
High Schools
Westside High School
T. L. Hanna High School
Anderson Five Career Campus
Real Estate Market
Because everything is so affordable in Anderson, more and more people are planning to or are already making the move to claim their piece of prime property. You'll be interested to know that the median property value in Anderson was $130,200 as of 2018 — this is a 5.68% increase from the previous year's value of $123,200. Furthermore, this amount is 0.567 times lower compared to the national average of $229,700.
The homeownership rate in Anderson is 47.2% which is lower than the national average of 63.9%, so it's best to get in now before the market gets too saturated. At the same time, residents of Anderson still enjoy an average commute time of 17.9 minutes, but this won't be the case for very long since Anderson County is a thriving area that increases in population every day. Lastly, many people will surely find it encouraging to buy a property in Anderson as the median list price comes in just under $200,000.
Welcome to Anderson!
From what you've read and seen, you should now know that there are plenty of reasons why you need to make the move to Anderson today. From its beautiful outdoor areas and affordable prices on all their commodities to the wonderful places to visit and enjoy, there's virtually nothing that people won't like in this city. However, know that you're not the only one thinking about moving to this great city, so be sure to move quickly to the best homes and schools that this hidden gem has to offer. What are you waiting for? Get those bags packed and start driving towards your new home in Anderson.