Moving to Alpharetta - Your EZ Guide to Everything Alpharetta, GA
Posted by Preston Guyton on Friday, June 11, 2021 at 1:14 PM
By Preston Guyton / June 11, 2021
Comment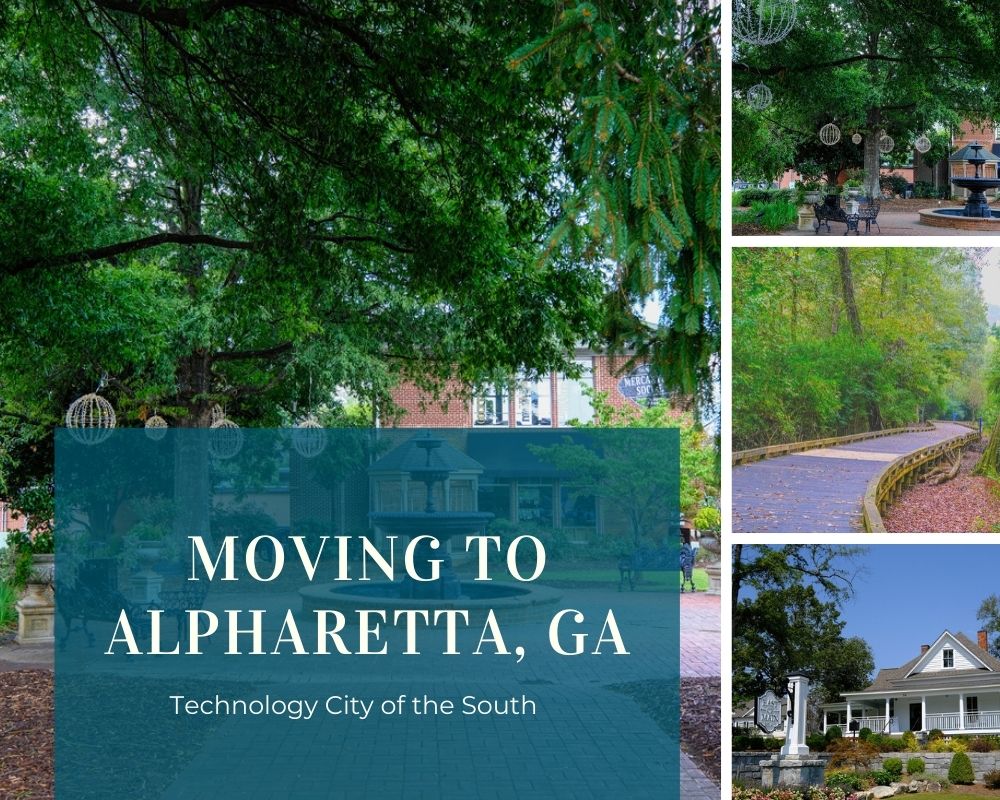 Moving to Alpharetta - Your Guide to Living in Alpharetta, GA
Over the years, many people have relocated to the south, with many choosing Georgia as their new home. You've probably thought of doing the same, and for good reason — one of this state's cities, Alpharetta, is conveniently located between the great North Georgia Mountains and the vibrant city of Atlanta.
Because of its proximity to major attractions as well as plenty of things to do within the city itself, there are many reasons why this area needs to be your new home. Fortunately, we've compiled essential pieces of information that you need to know all in one place. In this EZ guide to everything Alpharetta, you'll get an insider's peek into the great life that this city can offer you.
Cost of Living and Population Growth
The city of Alpharetta had a population of 64.7K people as of 2018 along with a median age of 38.8, making it a relatively young city). This figure also reflects a 1.16% increase from the previous year's population of 63,929. Alpharetta, GA is located in Fulton County and has a cost of living that's higher compared to the rest of Georgia.
Even so, the city is still a relatively affordable place to live in. Healthcare and transportation both cost less than the national average, while other commodities are only a little bit over the U.S. average. To show you what we mean, here's a table that compares the cost of living between Alpharetta, Georgia, and the rest of the country.
| | | | |
| --- | --- | --- | --- |
| Cost of Living | Alpharetta | Georgia | USA |
| Overall | 124.8 | 93.4 | 100 |
| Grocery | 103.3 | 95.5 | 100 |
| Health | 91.8 | 95.5 | 100 |
| Housing | 168.5 | 80.7 | 100 |
| Median Home Cost | $389,500 | $186,500 | $231,200 |
| Utilities | 100.8 | 103.2 | 100 |
| Transportation | 120.7 | 105.1 | 100 |
| Misc. | 100.8 | 94.8 | 100 |
Alpharetta has a total cost of living of 124.8, which is much higher than Georgia's total of 93.4 and higher compared to the rest of the country at 100.
Job Market
Alpharetta, GA had a median household income of $105,908 as of 2018, where males have a higher income compared to females by 1.36 times. The city also employs a total of 32.8K people, with the largest industries being Professional, Scientific, and Technical Services, Manufacturing, and Retail Trade. If you're interested in working here, some of the most essential sectors to take up a job are in the following:
Most Common
Management Occupations with a total of 6,646 employees
Sales and Related Occupations with a total of 4,459 employees
Computer & Mathematical Occupations with a total of 4,069 employees
Most Specialized
Computer and Mathematical Occupations
Management Occupations
Business & Financial Operations Occupations
Highest Paid
Management Occupations with annual earnings of $107,023
Architecture and Engineering Occupations with annual earnings of $102,056
Legal Occupations with annual earnings of $101,063
Things To Do in Alpharetta
There are various things to do in Alpharetta, so you'll never be bored and stuck at home. Here are just a few places to explore.
Big Creek Greenway
This linear park is around 7.4 miles long and runs the length of Big Creek. It has a wide paved path and is available for use throughout the year, making it a popular spot for everyone wanting to walk for fresh air. Circling the wetlands between Mansell Road and Haynes Bridge Road is a spur, and it's a great place to see animals in their natural habitat.
Food Experiences
Inside the city of Alpharetta, you'll find over 200 dining places to choose from. This city is known to be the premier dining destination in the Southeast, where you'll see an abundance of cutting-edge and global chefs. No matter what kind of food you love, this city offers a selection of savory Italian options, fresh seafood, or delicious burgers and fries.
Jekyll Brewing
While Jekyll Brewing is still relatively young, it has gained a huge amount of fans in 10 years. You'll find its taproom on Marconi Drive which has 26 taps under the watchful eye of Josh Rachel, an award-winning brewmaster who also serves as part-owner. This brewery uses a 100-barrel system, which creates beers with a wide range of styles and will provide drinkers with something to tickle their taste buds.
Ameris Bank Amphitheatre
Music lovers will love partying and nonstop entertainment inside this 12,000-seat venue, making it the perfect place for anyone who wants to see the latest musical guests, performances, and shows. The 2021 event schedule is already set, so get ready to party in style and make room on your calendar for a great night out with friends.
Climate
The weather in Alpharetta is hotter than it is cold, so it is best suited for anyone wanting a change of pace from snowy areas. The city has an average of 53 inches of rain per year on average, which is much more compared to the U.S. average of 38 inches. However, it doesn't snow much in this city, getting only two inches of snow — a stark difference from the 28 inches that the rest of the country receives. Furthermore, there are a total of 218 sunny days in Alpharetta, which isn't too far from the 205 days of the U.S. average. Here are just a few weather highlights in the city of Alpharetta to keep in mind:
Summers in July can reach high temperatures around 88 degrees.
Winters in January can be as low as 30 degrees.
The city gets an average of 53 inches of rain a year.
The city gets an average of two inches of snow a year.
The best time to visit the city of Alpharetta is between May, September, and October. However, it's best to avoid visiting during December and January, which are the least comfortable months for exploration.
Traffic
According to the residents of Alpharetta, traffic hasn't become unbearable just yet, but it can be bad during rush hour in the northern suburbs. Unfortunately, many also say that the roads aren't quite capable of handling the developments which have taken place over the past few years. Furthermore, traffic is generally heavy during the middle of the day along with specific times in the morning, afternoon, and evening rush hours. One workaround that some residents have found successful to lessen the traffic is by working remotely, which helps to remove cars from the road.
Public Transportation
One of the most popular forms of public transportation around Alpharetta is cycling, which has encouraged the city to plan the creation of the Alpha Loop. This multi-use path will connect the residents of Alpharetta to parks, activity centers, as well as jobs through a network of trails. Furthermore, the Big Creek Greenway is a multi-use trail that runs from Mansell Road to Windward Parkway.
While Alpharetta isn't directly served by MARTA trains, it is served by numerous bus routes. Unfortunately, there are only plans to connect the city to the rest of the area through heavy rail, but there is no confirmation yet. As for airports, the closest one to Alpharetta is the Hartsfield-Jackson Atlanta International Airport which sits 31.3 miles from the city.
Golf
Despite being a smaller city, Alpharetta has golf courses to choose from, making it a great option for golf lovers. Here's a great option where you can get your game on.
Creekside Golf Course
This carefully carved course by the creekside winds along the wetlands of Big Creek, where you'll see elevated greens and mounted fairways which can only be described as having the feel of Low Country. The Creekside Golf Course has recently undergone renovations which include beautiful water features on holes 8, 11, 14, 15, and 16, complete bunker restoration, multiple new teeing areas which can benefit players of every skill level, new cart path areas, and beautification throughout the course. As a result, this course has become even more popular, with both tourists and locals naming it their preferred golf course around the city.
Water Sports
Because Alpharetta is more on the warm side, residents love to spend time by the water, either by relaxing or by taking part in great water adventures. If you're looking for a place to cool off, be sure to visit these gorgeous bodies of water.
Lake Lanier
This local hot spot for Georgians is nestled just 20 miles from Johns Creek. Lake Lanier is a man-made lake constructed in the 1950s to serve as a water supply, flood protection, for recreational activities, as well as wildlife and fish management. As a popular destination, it attracts more than 7.5 million visitors per year and is highly sought after by locals during summer. It not only offers some of the best fishing in the state but also across the whole country. You'll also see canoeing, boating, and kayaking activities here, but it's best to practice caution here since there have been accidents in the past.
Chattahoochee River
If you're willing to travel farther away from the city, the Chattahoochee River offers visitors various water activities to take part in. Here, you can experience fishing for bass, catfish, brown, and rainbow trout, along with other species of fish. Other popular activities include kayaking, rafting, tubing, or canoeing through the river. This is another popular spot during summer since the river provides a cool and refreshing retreat from the city's heat.
Dog Friendly
Known for its dog-friendly establishments, Alpharetta has much to offer dog lovers. If you're looking to spend some quality time with your pooch, here are a few must-see places for you and your pup to try.
Sonesta ES Suites
Located at North Point Mall, the Sonesta ES Suites accepts two pets of up to 50 lbs for an additional fee of $100 per stay. While both cats and dogs are accepted, they can't be left behind in a room unattended, so make sure to place them inside their crate. The property also offers waste stations and pet relief areas to ensure that your pets have a comfortable stay. This hotel provides spacious rooms with fully equipped kitchens, along with free Wi-Fi.
Smokejack
Smokejack is located right in the heart of historic Alpharetta and is situated inside a 180-year old building. This restaurant offers Southern cuisine with a delicious menu that includes tuna tacos, smoked wings, Brunswick stew, chicken or pulled pork sandwiches, beef brisket, baby back ribs, and more! They also have outdoor seating where dogs are welcome to sit and enjoy a meal with their owners.
Attractions
Alpharetta offers many unique destinations that you won't find elsewhere. Apart from the great outdoors and amazing nightlife this city has to offer, the city has other places to see imbued in history.
Downtown Alpharetta Historic District
Walking down the historical district of the city, you'll see plenty of buildings that date back as far as the 1850s. Other buildings here were built around the first decade of the twentieth century, with the next building phase taking place between the 1900s and 1910s. As a result, many homes here have a combination of simpler brick-built structures, sheltered wrap-around verandas, and southern-style clapboard houses. A few examples of these admirable buildings include the Greek Revival Skeleton-Teasley House from 1856, and the Dodd Hotel from 1870.
World of Coca-Cola
This 81,000 square meter exhibition space is used to detail the history of Coca-Cola: the world's most popular branded drink. Just a mere 40-minute drive from Alpharetta, the World of Coca-Cola is located at 55 Martin Luther King Jr Drive in Atlanta. Inside, you'll find exhibits such as the secret formula of Coca-Cola, where visitors can taste 60 different flavors of the beverage from all around the world. There's also a fully functional bottling line which produces 8-ounce bottles of Coca-Cola.
Shopping
Shopping galore abounds in Alpharetta, where the city's Farmers Market offers an excellent morning excursion every Saturday. As a six-time recipient of the Best of North Atlanta award, this market gets its produce fresh from the farm, where you can purchase a wide selection of vegetables, fruits, meats, herbs, flowers, and more. For even more fun during the holidays, don't miss out on the Alpharetta Christmas Market which delivers a special shopping experience.
Art and Culture
If you're a huge fan of arts and culture, this city will also meet your expectations. Because it's such a historical city, Alpharetta is full of museums that carry many of the city's treasures.
Alpharetta and Old Milton County History Museum
There's nowhere else you should go if you're looking for an in-depth look into the history of this city. The Alpharetta and Old Milton County History Museum is located inside City Hall and details the history of the area even before the city existed — when the land was still the territory of Cherokee native Americans. There are also exhibits that show memorabilia donated by the people of the city, along with photographs that show the city's development until it became the city it is today.
Alpharetta Arts Center
The Alpharetta Arts Center has a bright and welcoming color scheme that contrasts the city's historic red bricks and is perhaps the most contemporary building in the city. With a floor plan of almost 1,000 square meters, every part of this structure is dedicated to modern art. Most of the exhibits on rotation come from local artists, but that doesn't mean it's not worth your time. This arts center also holds a theater space along with rooms for lectures, classes, and workshops.
Sports and Sports Teams
The city of Alpharetta also has a Recreation, Parks, and Cultural Services Department that provides youth and adult athletic opportunities. It offers challenging leisure experiences, and a variety of sports to stimulate the mind, encourage social interaction, and improve physical fitness. The various sports they offer include:
Basketball (teen basketball and adult basketball)
Youth soccer
Adult softball
Youth baseball
Girls softball
Youth football
Cheerleading
Education
If you are considering moving to Alpharetta, then you'll be happy to know that the city has great schools. Fulton County Schools serves this city, where there's a total of 133 local pre-school and elementary schools, 16 middle schools, and nine high schools in the city. Some of these schools include:
Elementary schools

Alpharetta Elementary School

Middle schools (Grades 6-8)

Autrey Mill Middle School in Johns Creek

High schools (Grades 9-12)

Alpharetta High School serves most of Alpharetta
When it comes to higher education, Alpharetta awarded a total of 180 degrees in 2019, where every degree came from Paul Mitchell the School-Esani. Some of the most popular majors taken in this program are:
General Cosmetology
Aesthetician and Skin Care Specialist
Cosmetology, Barber, and Nail Instructor
Real Estate
Alpharetta, GA had a median property value of $392,200 as of 2018 — this is 1.71 times bigger compared to the national average of $229,700 but is actually an increase from its previous value of $364,900 from 2017. This signals a 7.48% increase, but even so, the homeownership rate in this city is 65.2% — bigger than the 63.9% national average. These figures are certainly mind-boggling because it seems that people aren't deterred from buying property here, despite being more expensive when it comes to housing compared to the rest of the country.
This indicates that Alpharetta is a hot spot for prime properties and more people are seeking it out every year. While the majority of homes in Alpharetta sell between $300-$750K, you will still find homes below $300,000, and there are still a few homes left valued at less than $100,000. So don't miss out on the chance to get your own piece of paradise while you still can.
Welcome to Alpharetta!
The city of Alpharetta is one of Georgia's top cities which offer both indoor and outdoor attractions that entice visitors year after year. Because it has so much to offer, most who only intended to visit the area end up living there permanently. No, the higher prices don't scare people away, and they instead help to build a community of families and individuals who enjoy the finer things in life, fun adventures, great education, exciting events, and more. So stop making plans and head over to Alpharetta now before all the prime spots get taken.