6 Top Performing School Districts in Colorado
Posted by Preston Guyton on Thursday, March 23, 2023 at 9:47:44 PM
By Preston Guyton / March 23, 2023
Comment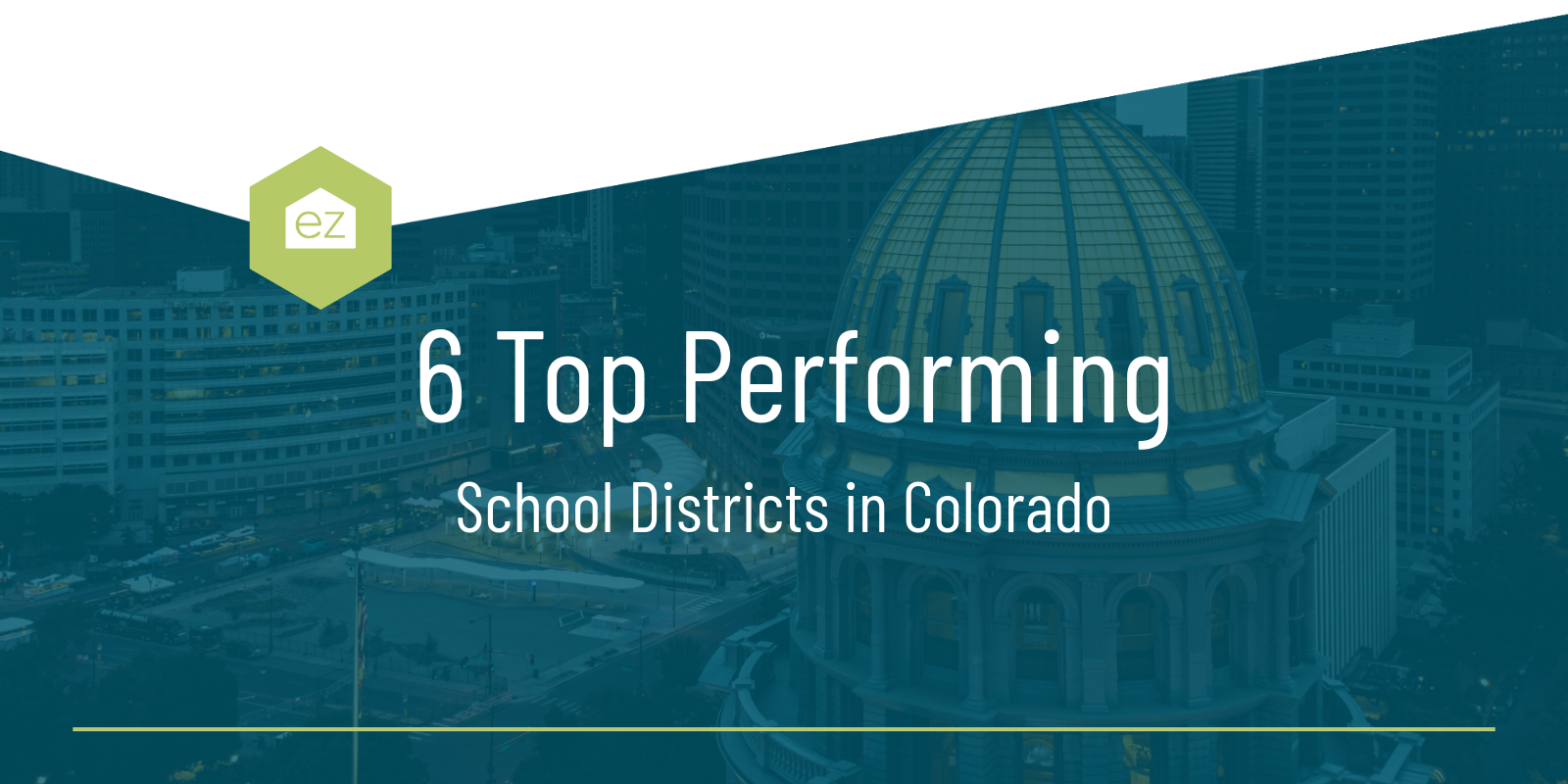 6 Top Performing School Districts in Colorado
Colorado is already an attractive place to live, with so much variety between its urban centers, mountain towns, and rural areas. But what about its schools? Are they equally as robust?
If you're a parent, determining which school district has the best opportunities for your children is one of the first things on your list. Whether you want access to strong performing arts programs or sports teams that excel in and out of competition, this list will help guide you toward your ideal neighborhood! We've researched the state and independent media sites to gather data about the top school districts in this state to help make your decision easier.
About Colorado's Educational System
Colorado Department of Education (CDE) oversees 178 school districts. The 885,000 students attend one of the 1,927 public schools in the system. The breakdown was:
1116 elementary schools
289 middle schools
522 high schools
In the state, only 45 of its districts authorized charter schools, and about 264 of these educated about 125,000 students. The state also had 38 online schools and 97 classified "innovation" schools.
The CDE spent an average of $9,596 per student in 2022-2023 and carried a 17:1 student-to-teacher ratio. The 2021-2022 graduation rate was 82.3%.
You may see letter codes associated with the district names. These are as follows:
Re, RE, R – Reorganized
RD – Reorganized/Deconsolidated
C – Consolidated
J, Jt, (J) – Joint, crosses county lines
RJ, REJ, Jt-R – Reorganized Joint
If a school district does not have one of these letters, it simply means that it was never reorganized or consolidated with other districts at any point during its history.
The school districts can be associated with a county, a region, a city, or part of a city. School districts may cross county borders in rural areas, but the packed Denver metro has several in-city districts.
These districts can be classified as rural, small, rural, or urban. Around 107 of Colorado's 170 districts meet the definition of a small rural district, with around 89 serving fewer than 500 students. Another 46 meet the definition of rural. The rest are all suburban and urban districts.
Compared to other states in the nation, Colorado is performing quite well. It ranks fifth for its education in US News and World Report's assessment, with preK-12 at no. 7 overall. Meanwhile, WalletHub placed Colorado 24th, while 24/7 Wall St. placed it 17th.
We looked at multiple factors to find the consistently top-performing school districts. All the districts listed below achieved "Accredited with Distinction" from 2019-2022 in the CDE state evaluation and performance metrics, showing a solid history of performance and an ability to meet pandemic challenges. Some districts' record of excellence goes further back.
Aspen 1
Imagine a school district in a charming ski town where over 1,700 students enjoy top-notch education. Welcome to the Aspen School District, home to five eco-friendly, LEED gold-certified schools catering to preschoolers to grade 12.
With over 80% of students acing math and reading tests and a 92% graduation rate, it's no wonder the district shines! Aspen No. 1 operated four schools with incredibly unique programs, like backpacking clubs, climbing, SCUBA, skiing, and fine arts. Their aerospace program lets students dive into aircraft design, fabrication, and repair. The high school has 96% of students enrolled in an International Baccalaureate pathway. It supports its rigor with STEM courses and a hands-on exploratory ed program.
The school system has one of the highest per-student spending rates (around $16,000 per student) and a low 13:1 student-to-teacher ratio.
Aspen is a world-famous mountain town in the heart of the Colorado Rockies. The town is renowned for its luxurious resorts, high-end shopping, and world-class dining and entertainment. Aspen Ski Resort offers some of the best skiing and snowboarding in the world, with four separate ski areas and over 5,500 acres of skiable terrain. In the summer, the town's outdoor activities keep drawing visitors for hiking, mountain biking, fly fishing, and golfing. Visitors can also take in the breathtaking natural beauty of the Maroon Bells, a pair of 14,000-foot peaks among North America's most photographed mountains. In addition to its outdoor attractions, Aspen is known for its arts and culture scene, with art galleries, museums, and cultural events throughout the year.
Academy 20
Academy 20 is in the scenic northern Colorado Springs. Despite being a large district of 26,000 students across 40 schools, every location is tailored to support its unique community in a site/school-based system.
Students can select from academic programs like AVID, concurrent enrollment (CTE), language courses, AP, and IB. Facilities include the School in the Woods and the Center for Modern Learning. Or, they can unleash their creativity and athleticism through the broad arts and sports offerings. Choices include the Knowledge Bowl, MET Opera, and the Science Olympiad. Kindergarteners have access to free, full-day programs.
The district has been "accredited with distinction" for ten years running, making it one of the most consistent top-performing districts in the state. The Classical Academy High School ranked no. 26 and Pine Creek no. 48 in the state on US News and World Report's rankings in 2022.
Colorado Springs sits at the eastern foot of the Rocky Mountains. With its stunning natural beauty and rich history, the state's second-largest city draws visitors to popular attractions like the Garden of the Gods, a 1,300-acre park filled with towering sandstone rock formations that provide breathtaking views. The city is also home to the United States Olympic & Paralympic Training Center.
Lewis-Palmer 38
Discover the Lewis-Palmer School District in El Paso County, serving families in the picturesque Tri-Lakes communities and surrounding area! With a well-earned "accredited with distinction" badge, this district has around 6,500 students across five elementary schools, a middle school, and two high schools. There's even a unique charter school for preschoolers up to 10th graders, adding versatility to the school mix.
With a 19:1 student-to-teacher ratio, Lewis-Palmer has garnered state and national accolades, shining bright for its enrichment opportunities and renowned music, art, and athletic programs. The music program has been a multi-year award winner for music education. Academically, it's been on the AP Honor Roll four times.
The Colorado Tri-Lakes takes its name from the three lakes within its borders: Monument Lake, Palmer Lake, and Lake Woodmoor. Located north of Colorado Springs and adjacent to the US Air Force Academy, the area is known for its natural beauty, with stunning views of Pikes Peak and the Rocky Mountains in the distance. The towns of Monument, Palmer Lake, and Woodmoor fall under the district. In these towns, residents have the right mix of attractions and essentials, all close to home. The region hosts several festivals and events in the summer, including the annual Fourth of July parade and fireworks display.
Expeditionary BOCES
Discover the Rocky Mountain Expeditionary BOCES. One of the most unique schools/districts is a collaboration of five cities (Aurora, Cherry Creek, Denver, Douglas, and Littleton) striving to reimagine education as they oversee a single school: Rocky Mountain School of Expeditionary Learning (RMSEL).
Here, students dive into the dynamic world of expeditionary learning, where traditional classrooms transform into exhilarating "learning expeditions," exploring subjects in a whole new way. The idea is to nurture intellect and character as students take a cutting-edge journey into learning. The philosophy fosters a vibrant and transformative school culture.
RMSEL teaches grades K-12. High school students participate in weekly science labs and conduct projects every semester. Grades 9-10 take part in two-week off-campus mini-challenge camps, while the Senior Learning Experience in grade 12 is an intensive, month-long program. It enrolls 400 students, and entry is through application and lottery.
Expeditionary BOCES is in the eastern suburbs of Denver and draws residents from several communities, as listed above.
Telluride R-1
Niche.com's second-best school district in Colorado is a rural district with just around 885 students. Nonetheless, Telluride R-1 really emphasizes quality, which shows in its 95% graduation rate and 67% reading proficiency rate. It has a 10:1 student-teacher ratio.
Students attend school in a beautiful setting surrounded by mountains, but that scenery doesn't detract from its academic rigor. Telluride High School was ranked in the top 2% of high schools in the state based on its performance standards, which include state testing, SAT, and attendance. AP classes are part of the curriculum, with 17 subjects available. The school also has a unique partnership with this community. Local business owners partner with a mentorship coordinator to provide "real life" classes with internships in areas like architecture, auto mechanics, interior design, and veterinary medicine. Telluride High School ranked no. 22 in the state from US News and World and cracked the top 750 schools nationwide.
The district is equally robust with extracurricular activities. Where else can you take skiing as a PE class? The school has two ski teams and club hockey. There is also a mock trial team, climbing club, Girls Who Code, and many other options.
Telluride is a charming mountain town in the San Juan Mountains of southwestern Colorado. Telluride is famous as a world-class ski resort and draws outdoor enthusiasts and history buffs alike. In the winter, Telluride Ski Resort offers over 2,000 acres of skiable terrain, while in the summer, residents enjoy hiking, mountain biking, fly fishing, and other outdoor activities.
The town's Victorian-era architecture adds to its unique character. Visitors stroll along the charming main street shops that feel more like the Alps than the western US.
The town also hosts several famous festivals, including the Telluride Film Festival and the Telluride Bluegrass Festival.
Steamboat Springs RE-2
Colorado has many gorgeous places to live and learn, and Steamboat Springs is another one of them. With over 2,500 students in the district, this rural region has received accolades for its teacher quality.
Steamboat Springs operates seven schools: one elementary school, three K-8 schools, and two high schools. One is an expeditionary learning charter school emphasizing outdoor education, where students are hands-on and explore their interests. The traditional Steamboat Springs High ranked no. 58 in the state. Yampa Valley High School is an alternative school with a 7:1 student-teacher ratio and an emphasis on experiential education. Students take mandatory hikes every Friday as part of their physical education. High school students at both campuses can earn college credit through Colorado Mountain College or take AP classes.
Steamboat Springs is a picturesque mountain town in northwestern Colorado. The town is surrounded by stunning natural beauty, including the Yampa River and the rugged mountains of the Routt National Forest.
Known for its world-renowned ski resort, Steamboat Springs is a popular destination for winter sports enthusiasts. However, the town has many activities and attractions beyond skiing, including hiking, mountain biking, hot springs, and fishing. In the summer, enjoy outdoor concerts, rodeos, and farmers' markets.
Colorado Top Schools
By no means are these the only top performers in Colorado. Other school districts highly regarded on independent sites include Boulder Valley, Cheyenne Mountain, and Littleton. The CDE has awarded them top marks but not as exceptionally or consistently as the districts above.
Nor are they the only places to find great education. Some of the state's best schools are in districts that may not receive the overall "Achieving with Distinction" rating. Take D'Evelyn Junior/Senior High in Denver's Jefferson County School District, ranked no. 1 in the state and no. 85 in the nation. It had a high AP participation rate and a 98% graduation rate. Meanwhile, over in Fort Collins, Liberty Common Charter School had a 100% graduation rate. The Denver School of the Arts, DSST: Stapleton, and Stargate Charter rounded out the state's top five high schools.
But, if you're prioritizing quality education in your home search, this list can jumpstart your research on the best schools in Colorado.