8 Best Places to Live In Colorado Springs
Posted by Preston Guyton on Friday, January 27, 2023 at 12:28:23 PM
By Preston Guyton / January 27, 2023
Comment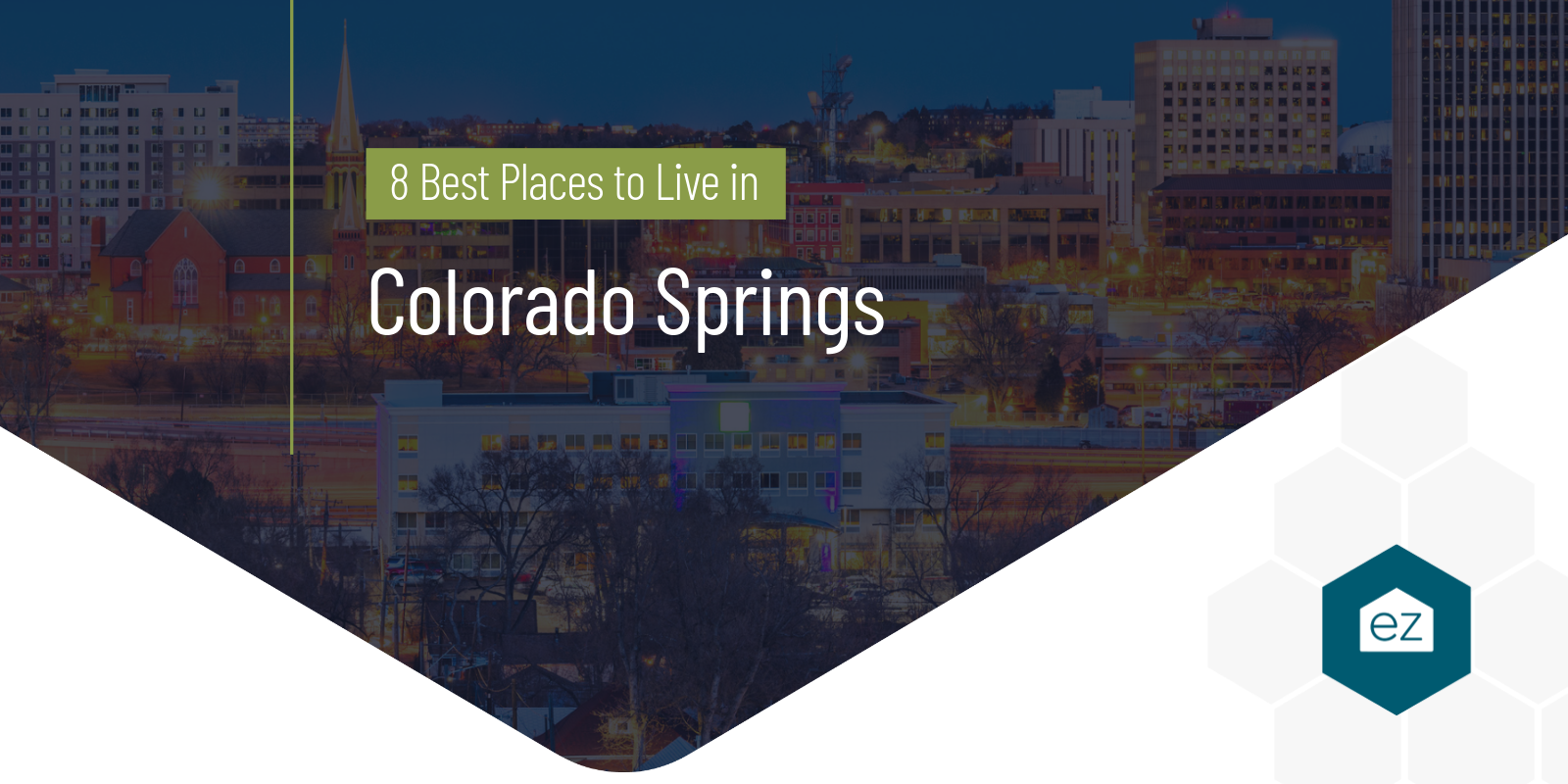 8 Best Places to Live In Colorado Springs
What makes a place great to live? That answer will vary from person to person, but certain traits do make some locations more desirable to others. Generally, it's a high quality of life supported by diverse activities, access to education, health care, essential services, and excellent affordability.
Enter Colorado Springs, ranked the second-best place to live in 2022-2023 by US News and World Report. Set against the dramatic Pikes Peak, Colorado Springs is a recreationally active metropolitan area. Few places blend the outdoors and modern lifestyles, as well as this city in the Front Range mountains.
If you're considering moving here, learn about the lifestyle to see why it's one of the best places to live. We'll then profile the best neighborhoods to live in Colorado Springs to jumpstart your home search.
Why live in Colorado Springs?
Located in the Front Range 70 miles south of Denver, locals like to say Colorado Springs gets 300 days of sunshine each year. Even if that's not necessarily true, the dry climate does make it easier to get outside, as the summer humidity isn't a killer. While snowfall in the city isn't overwhelming, you can see some winter snow, although most are on the peaks outside of town.
The city's active lifestyle makes it even easier to make Colorado Springs your home. Get outside hiking in nearby parks and trails at the famous Pikes Peak or Garden of the Gods. There's a US Olympic and Paralympic Training Center here taking advantage of the city's mile-high altitude for training. Find mountain biking trails and downhill skiing accessible when you want them.
The economy is booming. Military and defense are strong drivers, as the city is home to the US Air Force Academy, US Space Force, US Fort Carson, and Cheyenne Mountain, home to the Aerospace Defense Command. Besides military-related work, three colleges and universities strengthen education employment opportunities. Information technology and tourism are also top employers.
When choosing a neighborhood in Colorado Springs, you don't have to compromise on quality. It's a large city, so you can live at higher elevations or in more plains-style areas. Downtown is about 1,300ft lower in elevation than Black Forest. You can find the kind of lifestyle you need, as each of the featured top communities offers vastly different experiences.
Best Place to Live in Colorado Springs
Briargate
Briargate is a growing community of planned neighborhoods and a popular choice thanks to its family-friendly focus and well-ranked schools. Located in northeast Colorado Springs, development began in the 1970s. Thanks to I-25, residents can be downtown in 15-20 minutes.
Chapel Hills Mall is a local shopping destination with over 100 big-name retailers and some dining options. Another option is the outdoor shopping mall at the Promenade Shops, which has an upscale strip mall feeling.
John Venezia Park is popular for your local recreation options because it has sports fields, tennis courts, and a waterpark for the kids. The Briargate YMCA has a fitness center and other indoor recreation options.
The school district in El Paso County around Briargate is known for having high test scores and academic progress. Its high schools and other schools have won awards for academic distinction.
Briargate breaks down into sub-communities like Wolf Ranch and Pine Creek. Most homes in the area have two to three-car garages and three to five bedrooms. Typical square footage ranges from 2,300 to 4,000 ft.². The community had a median list price of $485,000 and 31 homes for sale in January 2023.
Pleasant Valley
Pleasant Valley lies minutes from the Garden of the Gods in west Colorado Springs. One of its primary advantages is its proximity to this attraction and the popular Red Rock Canyon.
Inside the neighborhood, Westmoor Park provides families with spacious recreational fields and playgrounds. Imagine playing tennis against the backdrop of Pikes Peak views. The local Valley Swim Club offers lessons in open swimming at its private facilities. Colorado Springs School District 11 is the local zoned district.
The community does have a neighborhood association that runs events like an Easter Egg Hunt and Valley Yard Sale.
Homes in Pleasant Valley were typically built between the 1950s and the 1970s. With around four bedrooms and two bathrooms, the square footage ranges from 1000 to 2500 ft.². Pleasant Valley had 14 listings in January 2023 for a median price of $470,000.
Old Colorado City
Old Colorado City is historic, as you'd imagine from its name. It was the capital for the territory of Colorado and, therefore, a key early settlement. The downtown district has historic brick buildings that today house over 100 independent stores, restaurants, and art galleries.
Living here, many parts of the city are highly walkable to the local restaurants, the farmer's market, and other annual events. At night, you can hear live music spilling onto the pubs from the streets, giving Old Colorado City a lively feel.
While it's a prime tourist spot, there are residential neighborhoods in the old city. The charming historic buildings add to the character. The 23 homes for sale had a median list price of $414,000 in January 2023.
Broadmoor
The modern Broadmoor neighborhood is highly sought after for its quiet streets and wooded lots that stretch out into rolling hills. The lifestyle here in southwest Colorado Springs is upscale, with a luxury turn-of-the-century resort, fine dining, and world-class golf courses.
Local attractions include the Cheyenne Mountain Zoo, where you can feed the giraffes and watch the big cats. Try the Broadmoor Seven Falls or the North Cheyenne Canyon Park to stretch your legs outdoors. The championship golf courses, such as the one at the Broadmoor Resort, draw more visitors into the community.
Broadmoor is near Fort Carson at the foot of Cheyenne Mountain, so don't be surprised to see military personnel or vehicles in the area.
Broadmoor covers a large area, with larger estates and homes centered around the Broadmoor Resort. But it extends south to other communities like Broadmoor Bluffs and Broadmoor Oaks, bordered by the mountains and Highway 115. There were 40 homes for sale at a median $725,000 in January 2023.
Rockrimmon
Shifting to northwest Colorado Springs, Rockrimmon has all the conveniences of city living with easy access to highways thanks to I-25. Downtown is just eight miles away when you want to head into town.
Besides convenience, one of the distinguishing features of living in Rockrimmon is the dramatic, unique bluffs and cliffs of its open space and Pulpit Rock Park. The winding roads make the area feel separate from Colorado Springs, although you're just really minutes from downtown. Locals are close to Ute Valley Park, where the thousands of acres provide for a great getaway inside the city for mountain biking or walking the pup.
Besides the many parklands and spacious lots, families are attracted to the area for its top-rated schools in Academy School District 20.
If you're an equestrian, you'll be pleased to know that some areas are zoned for horses. Some lots are over an acre if you want a small patch of land to call your own.
Typical homes range between 1000 to 4500 ft.². Most were built anytime from the 1950s up until today. January 2023 had 18 listings at a median of $443,000.
Northgate
Northgate boasts incredible views of Pikes Peak and the Front Range Mountains from its residential areas. Thanks to its location on the northern edge of Colorado Springs, locals have a shorter commute to Denver, several top golf courses, and the Pike National Forest.
The name comes because Northgate borders the United States Air Force Academy and stands at its north gate entrance. The Academy is across from the neighborhood on the other side of I-25. Don't be surprised by military aircraft frequently coming and going.
Local still have an enriching modern lifestyle with shopping at Northgate Plaza and Chapel Hill Mall. You can play championship golf at The Club at Flying Horse. Take classes at Pikes Peak Community College. The community is zoned for the Academy school district number 20, with one unique option being the K-12 Discovery Canyon School, the only IB campus in the northern hemisphere.
Northgate had one home for sale listed at $585,000 in January 2023.
Black Forest
The unincorporated Black Forest area provides upscale living on lots ranging from one to five acres. The name comes from the abundant Ponderosa Pine forests spread through the area. The rolling hills and rural nature make it feel secluded, but it's just a 20-minute drive to downtown Colorado Springs.
There are plenty of wooded outdoor spaces for exploring nature. One is The Pineries Open Space, over 1,000 acres with an 8.6-mile loop trail. Locals come here for mountain biking, trail running, and hiking. Black Forest Regional Park has horseback and mountain biking trails open year-round. More regional parks provide great views of Pikes Peak and recreational fields. Several school districts service the Black Forest area.
For real estate, the Black Forest area had 131 homes for sale at a meeting list price of $998,000 in January 2023. Residents can have horses and other animals on their lot. Many homes use wells and septic systems because it's unincorporated and high up the mountainside.
Peregrine
Another northwest community, Peregrine is home to some of the best parks in the city and offers spectacular views of Pikes Peak and downtown Colorado Springs. Situated between the mountains and Air Force Academy, it's a quiet suburban area.
If you enjoy exploring the rock formations at the Garden of the Gods, they are practically in your backyard when you live in this community. The park draws locals and tourists alike because of the beautiful views that make for a great day of hiking. However, if the park is feeling too crowded, why not try Blodgett Peak Open Space, a nearby mountainous area of 167 acres bordering Pikes National Forest.
The Woodmen Valley Park at the community center has a playground for the kids, volleyball pitches, and trails for walking. It and Marshal Sprague Park also feature some unique rock formations. Another perk to living in Peregrine is that it's in Academic District 20, a top-rated district.
Peregrine is a covenant-protected development of 1,000 homes with an HOA. Many homes in the neighborhood are around 4,000 sq ft and were typically built in the 1990s. January 2023 had one home for sale at a list price of $815,000.
Living in Colorado Springs
There's no better way to experience all that Colorado Springs has to offer than living here. Its incredible scenery, active lifestyle, and history make it a fantastic place. Take time to explore all that each community has to offer.