Your Stallings, NC Real Estate Questions Answered
Posted by Preston Guyton on Thursday, August 4, 2022 at 4:24 PM
By Preston Guyton / August 4, 2022
Comment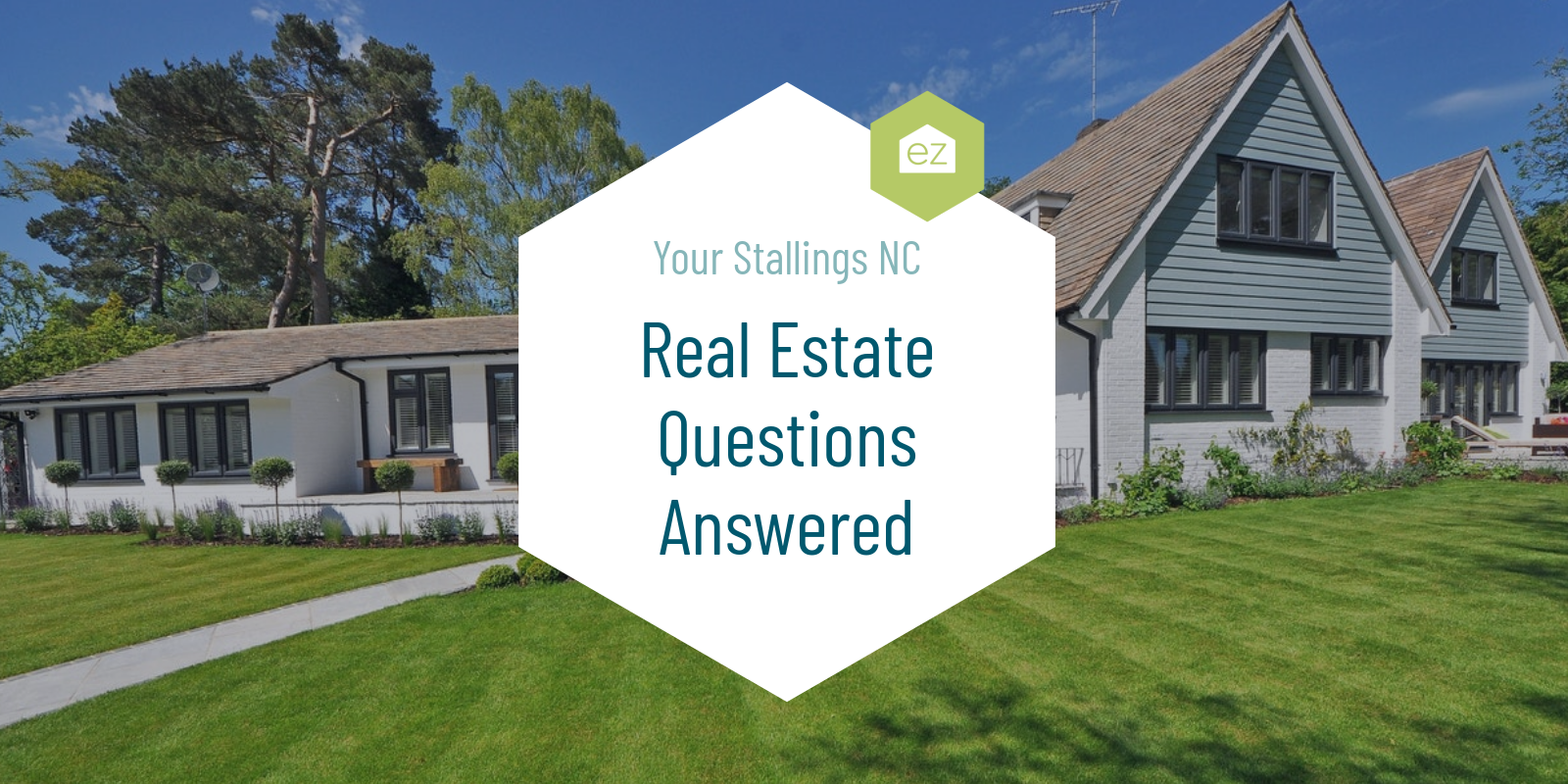 Your Stallings, NC Real Estate Questions Answered
Are you curious about the Stallings, NC, real estate market? This suburb near Charlotte provides the right mix of location, excellent schools, parks and recreation, and lifestyle amenities. It's one of the growing areas in the metro region, with established and new construction communities available.
Whether you're thinking of buying a home in Stallings or are curious about what the average home price is, keep reading for answers to your Stallings real estate questions!
What is the average home price in Stallings, NC?
The cost of living in Stallings, NC, is relatively affordable. In February 2022, the average home price was $445,000, with 20 homes on the market. The median price per square foot was $185. Keep in mind that this figure will change depending on the current market conditions.
The most affordable listing in March 2022 was a three-bedroom, two-bathroom home with 1,100 sq ft for $225,000. The most expensive listing was a three-bedroom, two-bathroom log cabin home with almost 2,000 ft on a 1.67-acre lot.
Are there any condos or townhomes available in Stallings, NC?
Yes, a few condo and townhome units are available in Stallings. In March 2022, three condos or townhomes were listed. Prices for these homes ranged from $235,000 to $299,000. Another 55 options were on the market in the 20 miles around Stallings.
What is the cost of living in Stallings, NC?
An overall cost of living index of 105 indicates that Stallings is more expensive than the national average, although not by much. The national average is indexed at 100. Housing was the most expensive category with a score of 113, and utilities were below the national average.
What is the property tax rate for Stallings, NC?
Residents of Stallings are taxed both by the city and county. For the 2021 tax year, the city property tax rate was decreased from 21.5 cents to 18.6 cents per $100 of assessed property value. This means that you will pay $0.186 in annual property taxes for every $100 in assessed property value.
A Stormwater fee is levied on all developed property. The present charge for residential property is $46.
Union County collects the town's property tax, even if your home is on the Mecklenburg side of the border. The Union County property tax rate was 0.588 for 2021-2022. The county will next evaluate properties in 2025.
What county is Stallings, NC in?
Stallings is located in Union County, home to a population of over 200,000 people. Have a preference for open spaces and a rural lifestyle? Union County's claim to fame is its rural way of life.
This county was established on rich natural resources with vast areas devoid of urban development. Nearly 46 percent of the area has farm status. This implies that large sections of land are unaffected by urban expansion.
In 2019, Union County was the state's number one wheat and soybean producer and third in grain crops overall. Many horse barns and pastureland can be seen throughout the area. Fun tidbit: it has the most horses of any county in North Carolina.
Even with a rural lifestyle, residents live within access to hospitals, schools, shopping malls, and other businesses nearby Charlotte, especially living on the county border in Stallings.
Is Stallings, NC growing?
The population of Stallings has been steadily growing over the past few years and is currently at around 16,112 people. Further growth is limited by the city's size and lack of land expansion opportunities. Stallings is sandwiched between other cities. That said, it is estimated to be expanding by 1.5% each year.
What neighborhoods are in Stallings, NC?
Several different neighborhoods are located in Stallings, including Saddlebrook Farms, Brentwood Farms, Windward Pointe, and more. Fairhaven and Callonwood had the most available listings in March 2022. Southstone and The Courtyards on Lawyers Road are two newer developments. Ryan Homes will soon be developing Stone Creek Townhomes.
Are there any waterfront properties found in Stallings, NC?
There are no waterfront properties located in Stallings. You can find some creekside homes in Matthews and Indian Trail.
How is golf in Stallings, NC?
The golfing scene in Stallings is excellent with many different courses to choose from–as long as you look outside the city limits. Three courses are available right outside the northern border, providing easy access to practice your game.
The Divide Golf Club is the only course inside Stallings. It has a popular course layout with a design by John Cassell II. It is named his divide because it straddles Union and Mecklenburg Counties. It has been planted with diamonds voice of grass to resist the extreme summer heat.
Emerald Lake Golf Club is the only golf course community available inside Stallings. The golf course is a public course, but it is one of the Charlotte region's premier courses. The facilities include a social club. New construction homes were available with golf course views.
Old Sycamore Golf Plantation is outside Stallings with a Mint Hill address. It is a private course that was recognized in Charlotte's Best Magazine as the "Best Eastside Course." Tom Jackson designed the fairways.
Charlotte National Golf Club is a public 18 hole course with five sets of tees to meet every player's needs. It regularly hosts tournaments and clinics.
What areas are near Stallings, NC?
Some of the areas located near Stallings include:
Charlotte, the state's largest city, and its countless amenities are accessible to Stallings residents. Here you have numerous corporations, entertainment amenities, dining, and shopping. Whenever you want to attend a professional sports game, a live concert, or a big festival, it's waiting for you in Charlotte.
Monroe, a small town located in Union County, offers residents a slower-paced lifestyle and access to conveniences.
Lake Wylie, a man-made reservoir on the Catawba River, is approximately 22 miles long and has over 800 miles of shoreline. Stallings residents are about a 30-minute drive, depending on which park or boat launch you access.
Indian Trail, Waxhaw, Matthews, and Weddington are all neighboring towns with unique personalities attracting home buyers who want the best of both worlds – small-town living with big city access.
What to know about living in Stallings, NC
Stallings, in many ways, feels like an extension of the other Charlotte suburbs around it: Indian Trail, Matthews, and Hemby Bridge. It's a highly suburban community, but the nearby shops and restaurants provide for your daily needs.
Overall, Stallings is a great place to live with an average cost of living and plenty of things to do. New residents have many different neighborhoods to choose from, and the Stallings real estate market is booming.
If you're thinking of moving to Stallings, NC, then be sure to check out our blog for more information on the Stallings housing market!