Your Concord, NC Real Estate Questions Answered
Posted by Preston Guyton on Saturday, January 22, 2022 at 6:10 AM
By Preston Guyton / January 22, 2022
Comment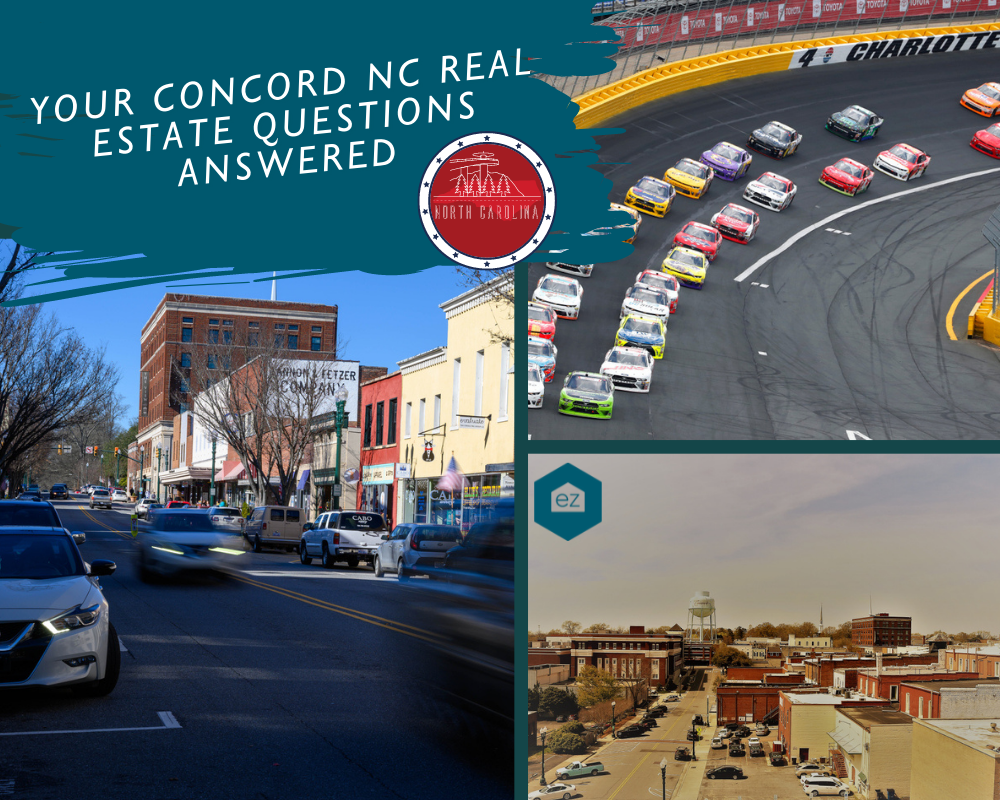 Your Concord, NC Real Estate Questions Answered
Are you interested in living near Charlotte but not necessarily inside the city? Concord, North Carolina, gives you access to all of Charlotte's amenities and then some. Concord balances great dining, retail, and entertainment with recreation amenities. Residents like the family-friendly atmosphere and harmonious living.
The real estate market provides housing to suit different lifestyle needs, from adult communities to downtown condominiums. Use our frequently asked questions about Concord real estate to inform your home search.
What is the average price of a home in Concord, NC?
The median list price for Concord real estate in January 2022 stood at $399,000. The market had 395 listings with an average price per square foot of $184.40. Homes were on the market for an average of 61 days.
The lowest-priced available home at that time was $74,900. The 1,421 sq ft home had 3-bedrooms, 2-bathrooms, and needed repairs. The highest-priced listing was $2.4M for a 5,139 sq ft home on 60 acres with a lakefront. The home had 4-bedrooms and 3.5-bathrooms.
Are there any condos or townhomes available in Concord, NC?
Yes, the Concord real estate market had 19 available condo and townhome properties in January 2022. At the top end was a $449,900, 2,226 sq ft townhome in Christenbury Village with 3-bedrooms, 2.5-bathrooms. The market's lowest-priced listing was an 819 sq ft unit in Locke Mill Plaza for $107,500.
What is the property tax rate for Concord, NC?
Concord is inside Cabarrus County, which levied a property tax of 0.72 mils per $100 assessed value in 2021. The city charged 0.48 mils for a combined 1.2 mils. There may be a fire district tax depending on the specific property address. The Concord Rural Fire District charges 0.14 mils.
What county is Concord, NC in?
Concord is part of Cabarrus County, just to the northeast of Charlotte. It is part of the Charlotte Metropolitan Statistical Area. Nicknamed "Where Racing Lives," the Charlotte Motor Speedway and zMax Dragway are two major attractions. Both are in Concord.
Cabarrus County residents benefit from an affordable cost of living. According to the cost of living index, Cabarrus County has an overall 93.5 cost of living, cheaper than the 100 indexed US average. Residents have an affordable lifestyle and enjoy being close to a major city.
Concord lies in the southern part of Cabarrus County. It's the 10th largest city in the state and the second-largest city in the Charlotte metro.
Is Concord, NC growing?
Concord reported 105,240 residents in the 2020 US Census, an increase of 25% since 2010. The city is projected to add 2.18% more residents each year.
Cabarrus County is anticipated to grow by 18% from 2020 to 2030. No doubt part of that increase will be residents moving to Concord.
What neighborhoods are in Concord, NC?
Concord recognizes 52 neighborhood associations and has many more subdivisions and developments inside its city limits. Here is a sampling of areas in the city.
If you are looking for a historic home with a lot of character, Concord has three registered historic districts. Known as North Union, South Union, and Edgewood, these districts have a lush tree canopy, sidewalks, and a variety of architectural styles. Find everything from a craftsman bungalow to a Queen Anne-style estate.
The Carriage Downs community is a few miles from the Concord Mills Mall area. The homes here are all-brick, and residents have access to a clubhouse, tennis courts, and a pool.
Moss Creek is a mixed-use community with single-family homes and townhomes. It's just outside the Charlotte city limits, but inside the Concord. Community amenities include a clubhouse, playground, pool, tennis courts, and walking trails.
Allison Woods and Christenbury Hall are two subdivisions with executive homes. They are near Highland Creek.
Gable Oaks is a neighborhood with tennis courts, volleyball courts, playgrounds, and pools. It is a deed-restricted development neighborhood.
Are there any waterfront properties found in Concord, NC?
Concord isn't known for having any significant waterfront properties. Some streams and creeks run through the city, so finding a listing against one of these features on occasion is possible.
How is golf in Concord, NC?
Residents have two golf courses inside the city limits and even more within a short drive in Kannapolis and Charlotte.
The Rocky River Golf Club at Concord is a premier golf facility designed by Dan Maples. It follows the natural contours of the land and is bordered by the Rocky River. There are four sets of tees to suit a range of skill levels. The most memorable tee shot is on hole no. 3, featuring a large boulder the course builders were unable t move.
Cabarrus Country Club is a private course designed by George Cobb, who created the Augusta National Golf Club. It is USGA rated 73.9. The country club runs a men's and ladies' golf association, and there is a PGA Junior golf program.
Outside Concord, other nearby golf clubs are the Skybrook Golf Club, Highland Creek, and the Tradition Golf Club.
Are there golf course communities in Concord, NC?
You can find some golf course living around the Cabarrus Country Golf Club and the Ashford Green subdivision. These properties include single-family homes and townhomes. Most of the homes here were built in the 1990s and are mostly brick.
Just outside the city limits is the gated Highland Creek community. Golf course properties are available, and residents have additional amenities like children's playgrounds, a clubhouse, swimming pools, and a sports center. Residents have a Charlotte address but are minutes away from Concord.
What areas are near Concord, NC?
The most significant area of note near Concord is Charlotte. Residents are about a 20-30 minute drive to Uptown Charlotte.
Concord is also home to the Charlotte Motor Speedway, a major attraction for the Charlotte metropolitan area. The Speedway Christmas is one of the top holiday attractions during the holiday season. The racecourse and stands light up with over a million lights, and you actually drive on the race track.
Concord sits between Charlotte and the city of Kannapolis. The city is home to the North Carolina Research Campus, an innovative facility with talent from the state's leading universities tackling all avenues of research.
What to know about living in Concord, NC
Concord is a growing city because it has a lot to offer. Residents live next door to Charlotte but with less traffic and urban development. Enjoy great restaurants, parks, and the arts and culture scene. The cost of living is less than in uptown Charlotte. Families access great public and private schools, while young professionals access leading companies.
If you're looking at living in Concord, get connected to an expert real estate agent who can help you find the right place to live.