What to Know About Living in Murfreesboro, TN
Posted by Preston Guyton on Thursday, November 10, 2022 at 7:44:01 PM
By Preston Guyton / November 10, 2022
Comment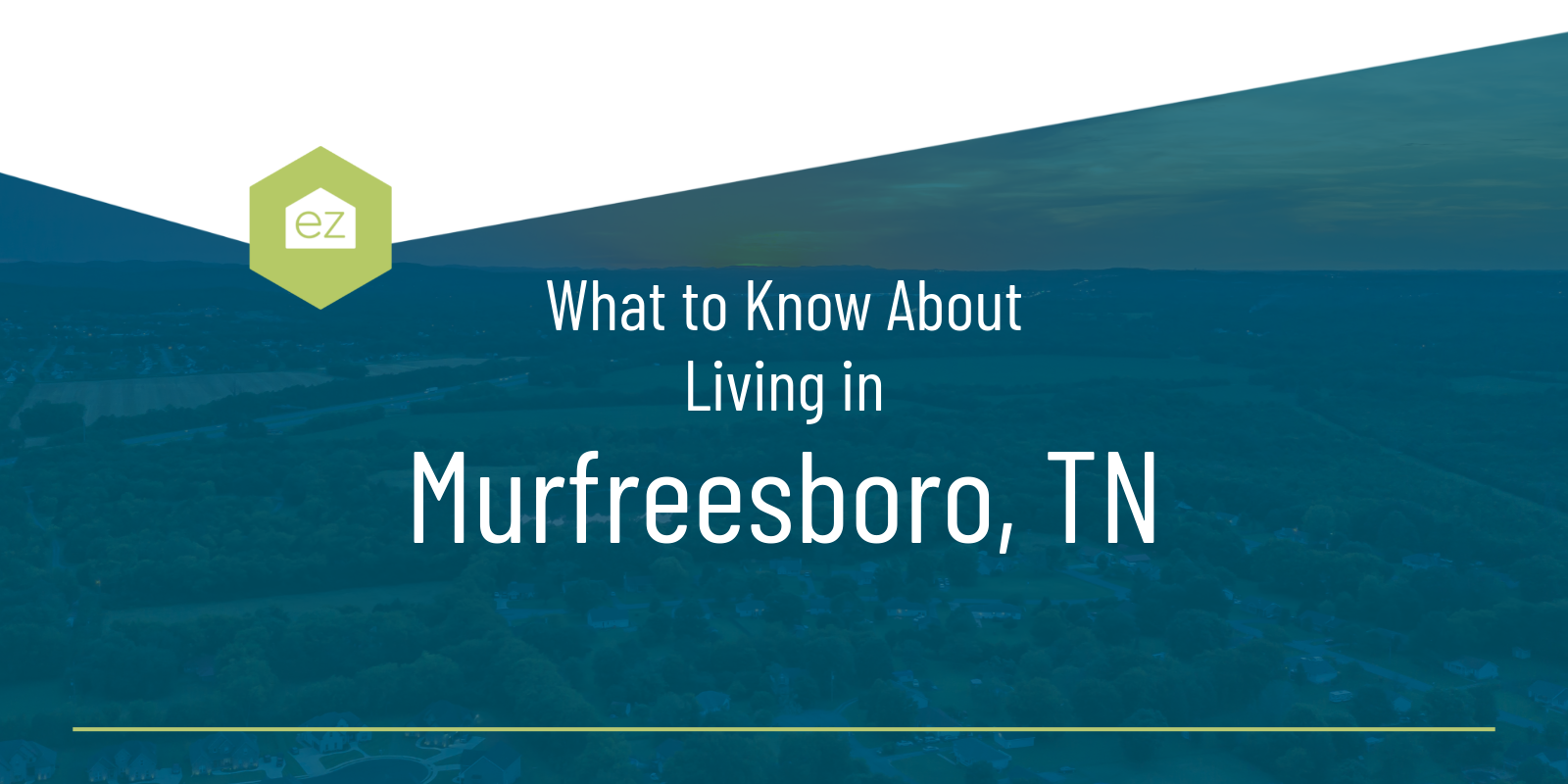 What to Know About Living in Murfreesboro, TN
Tennessee has been attracting a lot of attention, and the Nashville metro's made the news as one of the fastest-growing areas in the United States. Located just outside the state capital, Murfreesboro is one of those suburbs, with a population that has increased by nearly 35% since 2010.
Why Murfreesboro? The 200-year-old town is home to Middle Tennessee State University, the largest undergraduate university in the state. Residents the energy of a college town, combined with warm weather, many parks and recreation opportunities, and a vibrant downtown area with shops, restaurants, and nightlife. When they want more, Music City awaits just 41 minutes via I-24.
If you're considering making Murfreesboro, TN, your home, you likely have many questions about the town and its real estate market. Our guide breaks down what you should know as you prepare to live in Murfreesboro.
What is the average price of a home in Murfreesboro, TN?
One of the advantages of living in Murfreesboro is its diversity of available real estate. You can find master-planned new construction communities, historic homes, and affordable condominiums.
As of November 2022, the median home price in Murfreesboro was $469,000, an increase of nearly 24% from the previous year. The market had 977 listings, and the median list price per square foot was $217.
Those looking for more affordable Murfreesboro homes for sale can find options in the city's older neighborhoods south of downtown and in newer developments on the outskirts of town. Murfreesboro apartments and condos for rent are available if you're not ready to buy.
What is Murfreesboro's job market like?
Murfreesboro's job market is strong and growing, partly thanks to its proximity to Nashville. The city's unemployment rate was just 2.4% as of 2019, lower than the national average. Murfreesboro's top industries include government, education, healthcare, and manufacturing.
Middle Tennessee State University is a top employer, but so is the National Healthcare Corporation. Its headquarters are here, but it runs facilities across 11 states. State Farm is another top employer, as is nearby Nissan, Inc, which has a manufacturing plant in Smyrna.
What are Murfreesboro's schools like?
Murfreesboro is served by the Murfreesboro City Schools and the Rutherford County School District.
Murfreesboro City Schools exclusively focuses on grades PK-6. It runs 13 elementary schools that include specialized academies for arts, sciences, and other focuses.
Rutherford County School District overall includes elementary schools, middle schools, high schools, and alternative schools. Private education is also available.
Is Murfreesboro safe?
Murfreesboro is generally a safe city with a violent crime rate lower than the national average. The city's property crime rate is also lower than the national average.
What are Murfreesboro's best neighborhoods?
Some of Murfreesboro's most popular neighborhoods include Downtown Murfreesboro, Oaklands Historic District, Blackman, and North Murfreesboro. Each offers unique charms and amenities, from historic homes to new construction to convenient access to shopping and dining.
Downtown Murfreesboro is the city's center, home to Murfreesboro City Hall, the Rutherford County Courthouse, and many shops, restaurants, and bars. The historic Oaklands Mansion, which hosted Confederate and Union soldiers turning the Civil War, is downtown at the corner of Oaklands Park.
Blackman is one of Murfreesboro's newer neighborhoods, located northwest of the city center off the I-840 and I-24 interchange. The location makes for an easy commute to areas around the region. Blackman has a suburban feel, with schools, big-name retailers like Walmart and Kroger, and larger lots for single-family homes.
North Murfreesboro is a large, suburban neighborhood located north of downtown. North Murfreesboro is home to Middle Tennessee State University and the Stones River National Battlefield. Recreational areas are available, like the Siegal Soccer Complex and McKnight Park. The Greenway Trail is a great place to walk or bike.
If you're looking for an affordable, charming community in Murfreesboro, look no further than Scotland Acres. This neighborhood north of Middle Tennessee State features mid-size single-family homes. It was developed between 1958 and 1966, making it one of the older neighborhoods in Murfreesboro.
Huntington is a quiet subdivision that consists of many single-family homes. It resides close to Tennessee State Route 96 and Memorial Boulevard and is within walking distance from various schools in the area. Huntington residents love this location due to its convenience to shops, eateries, and cafes nearby on Memorial Boulevard. Some prime examples are Cook Out, McAlister's Deli, and Whitt's Barbecue. Most shopping needs will quickly be met at Northfield Court Shopping Center, just around the corner from Huntington.
Berkshire subdivision is perfect for you if you're looking for a resort atmosphere close to all the amenities without compromising on luxury or comfort. This neighborhood has something for everyone: two pools, a playground, a pavilion, and multiple sports courts. Not to mention that the streets are lined with sidewalks making it easy and safe to get around, whether by foot or car.
Those looking for an expansive, luxurious property in Murfreesboro will want to check out Breckenridge. This neighborhood features single-family homes on larger-than-average properties. The typical home in Breckenridge cost over $500,000 in 2022 and has a spacious open layout.
Are there any condos or townhomes available in Murfreesboro, TN?
Yes, Murfreesboro has plentiful condos and townhomes available for sale or rent. In November 2022, it had 108 available properties ranging from $210,000 to $579,900 for 3,215 sq ft.
What is the property tax rate for Murfreesboro, TN?
The Rutherford County Property Assessor levied and administered all property tax assessments. Residential properties are taxed at 25% of their assessed value as determined on January 1.
The City of Murfreesboro property tax rate was $0.925 per $100 assessed value in 2022. The average effective property tax rate in Rutherford County is 1.68%.
You must pay your property taxes from October 1 through December 31 each year. Interest on late payments will accrue from January 1 at a rate of 1.5% per month or any portion thereof.
When is the best time to buy a Murfreesboro, TN, home?
The Murfreesboro real estate market is strong, with prices rising and homes selling quickly. The best time to buy a Murfreesboro home depends on your circumstances and preferences. If you're looking for the best selection of homes, you'll probably want to start your search in the spring or summer months. For the best deals, look for Murfreesboro homes for sale in the fall or winter.
What is the cost of living in Murfreesboro, TN?
The Murfreesboro cost of living is on par with the national average based on the Sperling Best Places Index as of 2022. At 100.3, it is above the Tennessee state index of 89.9.
The cost of housing in Murfreesboro is above the national average, but the cost of transportation, healthcare, and utilities are lower than the national average. Most categories are very close to national expenditures.
What county is Murfreesboro, TN, in?
Murfreesboro is located in Rutherford County, also home to Smyrna, La Vergne, and Eagleville.
The county is known for its affordable housing, low cost of living, and good schools. Rutherford County is also home to many major businesses and industries, including Nissan North America, Amazon.com, and State Farm Insurance.
Is Murfreesboro, TN growing?
Murfreesboro is one of the fastest-growing cities in Tennessee. The population has grown by over 20% since 2010, and the city projects continued growth. Murfreesboro's growth is driven by several factors, including its affordable housing, good schools, and close proximity to Nashville.
How is golf in Murfreesboro, TN?
Murfreesboro has many golf courses, including Oaklands Golf Club, Stones River Country Club, and Blackman Country Club. Murfreesboro is also home to the Middle Tennessee Amateur Golf Association. Murfreesboro's golf courses offer a variety of challenges for players of all skill levels.
The eighteen holes at Indian Hills Golf Course are some of the best-kept in the city. In addition to its pristine condition, the course has a pro shop, driving range, putting green, clubhouse, and The Grill eatery. You can live in its golf course community in single-family homes, usually comprised of four bedrooms and two-plus bathrooms.
Old Fort Park Golf Course is a public course perfect for those who want to improve their short game. The course features eighteen holes, a driving range, and a pro shop. You can also enjoy the beautiful scenery of Murfreesboro while you play.
What areas are near Murfreesboro, TN?
Murfreesboro is located in central Tennessee, about 30 miles from Nashville. Nicknamed Music City, Nashville is home to many music venues, museums, and historical sites like the Grand Ole Opray and Country Music Hall of Fame.
Murfreesboro is part of the Nashville suburbs, including Smyrna, La Vergne, Eagleville, and Shelbyville.
What are Murfreesboro's top attractions?
As a mid-size city, Murfreesboro meets your daily needs and has some attractions to draw in visitors. Top attractions include the Discovery Center at Murfree Spring, Cannonsburgh Village, the Stones River Greenway, and Oaklands Historic House Museum.
Discovery Center at Murfree Spring is an interactive museum perfect for kids. The museum has hands-on exhibits, a planetarium, and a butterfly garden.
Cannonsburgh Village is an excellent reproduction of a pioneer village from the early 1830s, where you have an interactive experience to better understand what life was like for those settlers.
What to know about living in Murfreesboro, TN
The Main Street Jazzfest is a music-oriented event hosted by the university's School of Music and the Main Street Association. It's a big draw for visitors to the city.
Every July, dancers and music lovers from all over the country flock to Uncle Dave Macon Days - an annual event hosting national competitions for folk country music and dance.
Locals in Murfreesboro can take advantage of the over 40 miles of picturesque walking and hiking trails throughout the city and Rutherford County. These well-maintained paths enable residents to focus on staying active by biking the Greenway system, enjoying golf at Old Fort Park, or Barfield Crescent walking trails.
Murfreesboro's Main Street is full of charming boutique shops and eclectic eateries. This historic area of the city offers locals and visitors a great variety of restaurants and galleries to browse
Murfreesboro's weather is typical of Middle Tennessee - hot and humid summers and mild winters. The average temperature is in the low 70s, but throughout the year ranges from the high 50 Fs to the mid-90 Fs.
Live in Murfreesboro, TN
Murfreesboro is a great place to live for families and young professionals alike. The city offers affordable housing, good schools, and proximity to Nashville. Murfreesboro's golf courses, parks, and historical sites offer plenty of ways to explore the area and enjoy your time. Murfreesboro is the place for you if you're looking for a mid-size city with everything you need. Learn more about living in Tennessee.