Top 20 Must Attend Summer Events in Charleston, SC
Posted by Ashley Daniels on Monday, June 7, 2021 at 10:51 AM
By Ashley Daniels / June 7, 2021
Comment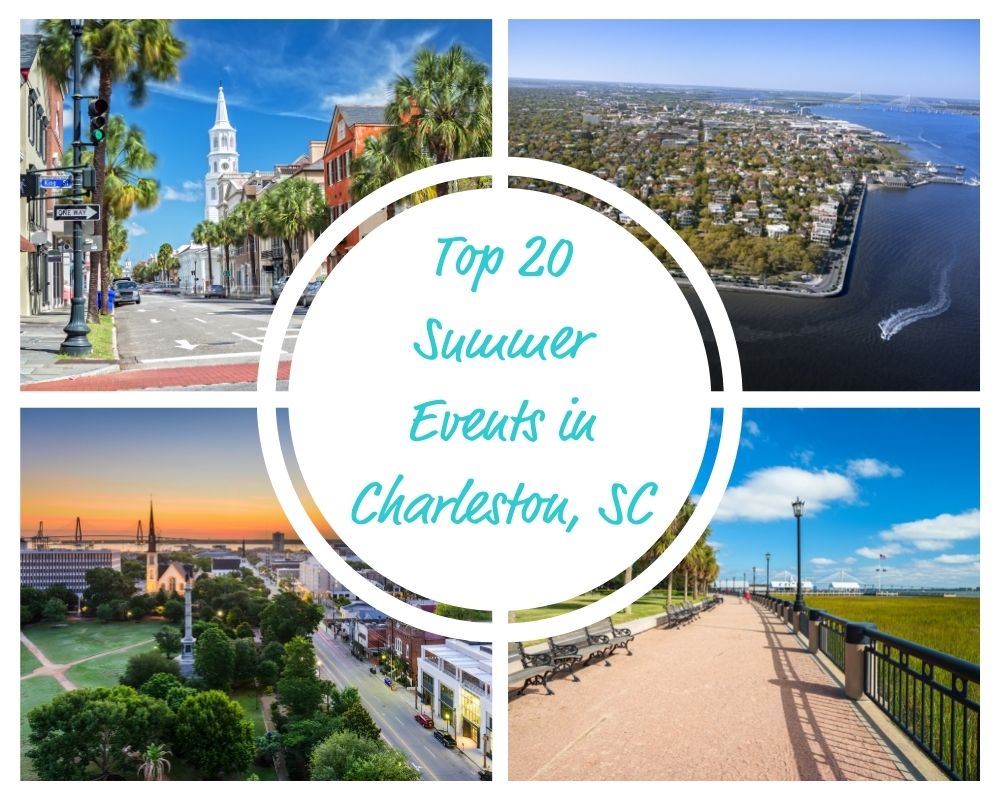 Charleston is a heavenly place to be surrounded in year-round. (It is called the Holy City, after all.) But there's something special about the summertime in the city and all of her outlying islands. From water activities to outdoor festivals to concerts and more, there's always something to do in Charleston and we've gathered the top 20 can't miss summer events you'll want to check out.
Through Summer, 5-7:45 p.m. Sunset at Fort Sumter
There's nothing like a Lowcountry sunset and this gives you a unique view from the water aboard tour boats that travel from Liberty Square to Fort Sumter every Friday through the summer. Along the way, enjoy a true Southern dinner of house-smoked pulled barbecue, backyard chicken and all the fixins'. A cash bar stocked with beer, wine and cocktails is also available. Call 843-722-BOAT for reservations.
Through September 12, Charleston RiverDogs Baseball Home Games
Take yourself out to the ballgame at one of the day or night home baseball games featuring Charleston's all-star minor league team. The RiverDogs are in the class A South Atlantic League as an affiliate of the New York Yankees. They wrap up the season playing the Myrtle Beach Pelicans. Be sure to buy your tickets in advance because the ballpark is operating at limited spectator capacity. For more info and tickets, visit https://www.milb.com/charleston.
June 5, 11:30 a.m. CBR Summer Brew Bolt: Park Circle Edition
Holy City Brewing's bi-annual tradition is back at Park Circle! The 5-mile run will include pit stops along the route at Holy City Brewing, Commonhouse Ale Works, Coast Brewing (tentative), and Ship's Wheel Cidery before heading back to Holy City. (This event is open to all skill levels of running and drinking.) Holy City Brewing is located at 1021 Aragon Ave.
June 7, 8, 9 and 13, 4-5:30 a.m. Dolphin Encounters
Join a tour along the inlets, creeks and marshes in the search for Kiawah's inshore dolphin pod. Tours depart from Mingo Point; schedules are subject to change, depending on the tides. For details and reservations, call 843-768-6001.
June 13, 1-6:30 p.m. NOIR's Champagne Garden Day Party 2021
This outdoor garden day party is Charleston's social event of the year, celebrating the end of spring and the start of summer! Expect the event to be full of fashion, music, light hors d'oeuvres and bubbly beverages. And be prepared to wear your best cocktail attire. Held at Founders Hall on 1500 Old Towne Road, the event will indoors and outdoors to allow for social distancing.
June 16, July 14 and Aug. 14, 5:30 p.m. Summer Sweat Series
Mex 1 Coastal Cantina, Sullivan's Island, and The Barre Code – Barre Class are teaming up to offer a Barre pop-up workout series this summer at Station 22 on the island. Each $15 50-minute class on each date features a different focus: June's class is a barre class, July's is a bootcamp, and August's is a BarRestore theme, which combines barre with a 20-minute extended stretch and meditation. Bring your own mat. The class fee includes your first Mex 1 Margarita or Hydrator at Mex 1 after. A portion of the summer sweat series will benefit Warrior Surf Foundation, a non-profit whose mission is to improve the lives of veterans through Adaptive Surf Therapy.
June 17, 6-8 p.m. Salute the Solstice Yoga Fest
Join instructor Caroline Nash for solar-inspired yoga in the meadow of James Island County Park. The event is intended to both celebrate the long, summer days ahead and inspire you to breathe in the moment and slow down your mind and spirit. Music will be performed by Music Vibrations. Rain date is June 24. The park is located at 871 Riverland Drive. Register online at https://ccprc.com/3575/Summer-Solstice-Yoga-Fest.
July 2, 5:30 p.m. Stars and Guitars – Reunited
Country music stars will return to the stage at this popular 4th of July tradition. Hosted by 103.5 WEZL, the concert will feature headliner Dustin Lynch, plus Travis Denning, Tenille Arts and Taylor Castro. Bring your lawn chairs and blankets! Location: Boone Hall Plantation & Gardens, Mount Pleasant.
July 3, 4-10 p.m. Seabrook Island Club Independence Day Celebration
This community's annual Independence Day celebration will peak at 9 p.m., when the fireworks show will be seen and heard from the club's driving range. The rain date will be July 5.
July 4, 6-10 p.m. Patriots Point Fireworks Blast 2021
There's no better place to be on the Fourth than the USS Yorktown, one of the most historic warships in the United States docked at Patriots Point. Take in the views of the fireworks from the shore; parking is $20 per vehicle. The museum will close at 5 p.m. on July 4, with live music starting at 6 p.m. More than 10 local food trucks will sell food and beverages. Guests are encouraged to arrive early and bring folding chairs and picnic blankets.
July 4, 7-11 p.m. 4th of July Celebration
If you want a bird's eye view of Charleston's Independence Day fireworks, reserve a seat from The Watch Rooftop bar above The Restoration Hotel. The chef that night will serve a Lowcountry barbecue buffet, featuring fried chicken, pulled pork with all the fixins', deviled eggs, street corn, and scratch-made carrot cake. Tickets are $75; location is: 75 Wentworth St.
July 4, 8-11 p.m. The Carolina Girl 4th of July Firework Cruise
The Carolina Girl Yacht is one of the prime spots to witness Charleston Harbor's 4th of July fireworks show. This sunset cruise will depart from St. John's Yacht Harbor; guests (adults only) are welcome to bring their own beverages and snacks. The three-level yacht will host a DJ and music backdrop over the three-hour cruise. Tickets are $100. For reservations, call 843-818-2495.
July 9, 7 p.m.-2 a.m. Neon Summer Heat Fashion Show
The Purple Buffalo in North Charleston will host this unique fashion show into the wee hours of the morning, complete with vendors, drinks and live music.
July 10, 8 a.m. Dog Days of Summer 5K
If you think you can beat the heat, register to compete in the hottest 5K in Charleston. The second annual Dog Days of Summer, hosted by The Citadel, will start at The Citadel's rubberized track and continue through Hampton Park. Dogs and strollers are welcome at this event. Location: 171 Moultrie St.
July 10, 6-9:30 p.m. Johns Island Concert Series
The new concert series at Johns Island County Park is the perfect complement to summer nights. Bring your chairs or blanket and sit back to enjoy Motown music by The Legacy on this date.
July 11-August 15, 6:30-8 p.m. Pints With Priests
For the second year, Holy City Brewing hosts this theology reading group on Sunday nights on the patio. This summer, they'll be working through James K. A. Smith's book "How (Not) to Be Secular: Reading Charles Taylor." The brewery is located on 1021 Aragon Ave. in North Charleston.
July 16, 7-10 p.m. Barenaked Ladies
This concert was canceled in 2020, but will return to rock the stage at the North Charleston Coliseum & Performing Arts Center. The Canadian band originally formed in 1988 and reached mainstream success with hits like "If I Had $1,000,000," "Brian Wilson," "The Old Apartment," "One Week," "It's All Been Done," and "Pinch Me."
July 17, 5-11 p.m. Charleston Caribbean Jerk Festival 2021
Riverfront Park will be the setting for this 7th annual, family-friendly festival that celebrates the best in Caribbean food, culture and music. The top chefs in the Southeast will compete to take home the title of Top Jerk Chef 2021. Location: 1061 Everglades Ave.
July 24, 7:15 a.m.-noon. Youth Triathlon- July 24, 2021
The third annual Youth Triathlon at James Island County Park is the first course in the area to offer an open-water lake swim in the multi-sport event that continues through the paths and roads inside the park for the run and bike legs of the course.
July 26-30. Harry Potter Camp
Welcome, Muggles to this wizarding world here in Charleston! Kids will make their own wand, attend classes in potions, charms, and alchemy, and go on a horcrux scavenger hunt. Activities are versatile for different age groups. Location: Children's Museum of the Lowcountry. 25 Ann St.