Moving to North Augusta - Your EZ Guide to Everything North Augusta, SC
Posted by Preston Guyton on Sunday, May 30, 2021 at 5:57 AM
By Preston Guyton / May 30, 2021
Comment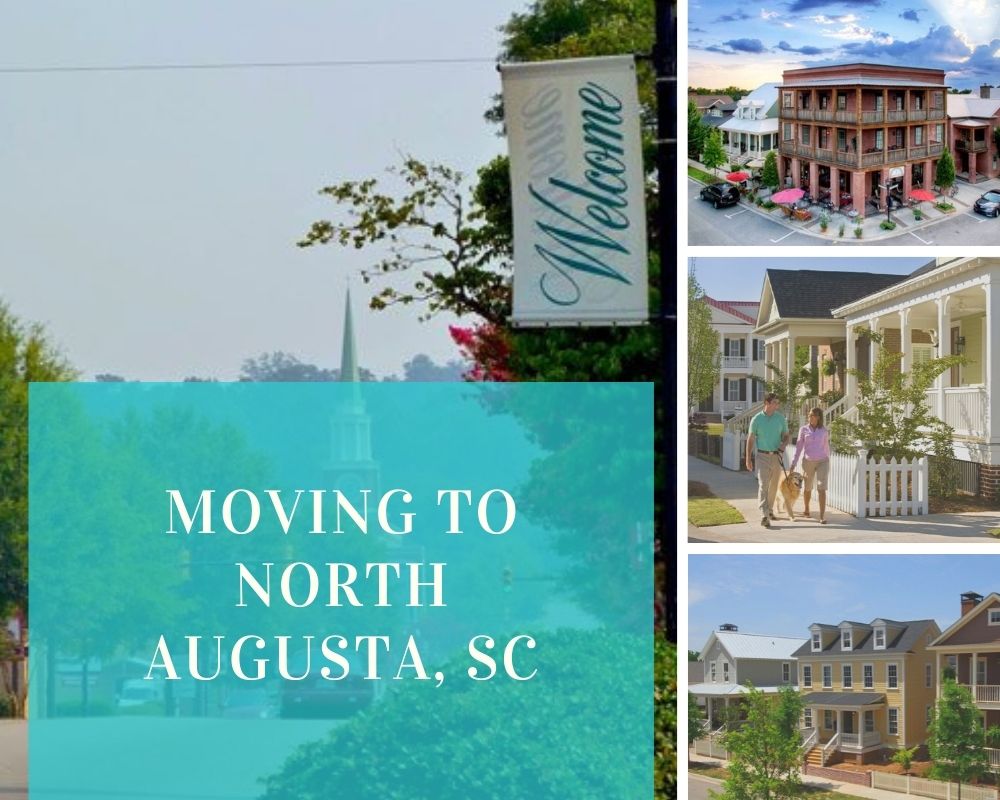 Moving to North Augusta: Your Guide to Living in North Augusta, SC
Have you taken an interest in moving to North Augusta in South Carolina lately? Well, with its low crime rate, great schools, and excellent recreational and outdoor facilities, there's a lot of reasons why one might be pulled into the city's charm. Furthermore, it offers riverfront living, friendly neighborhoods, and affordable housing, which makes it an even more tempting choice for those looking to get away from the big cities. But you shouldn't just take our word for it — here, we've done all the research on the most essential details and have created the ultimate guide to everything you need to know about North Augusta.
Cost of Living and Population Growth
The city of North Augusta is located between the Aiken and Edgefield counties in South Carolina. North Augusta is also part of the Central Savannah River Area (CSRA) and is included in the Augusta, Georgia metropolitan area. As of the 2010 Census, the city's population was 21,348. However, this number rose to 22,268 by 2017 and again had a 1.5% increase by 2018, making the total population 22,603.
This city prides itself on providing big city amenities while maintaining the charms of a small town. Out of 192 places, North Augusta was ranked number 38 in the best areas to live in the state, and it is also an affordable place to live in. To get a better sense of the cost of living in North Augusta, here is a table that shows a side-by-side comparison between North Augusta, South Carolina and the national average:
| | | | |
| --- | --- | --- | --- |
| COST OF LIVING | North Augusta | South Carolina | USA |
| Overall | 87.6% | 88.5% | 100% |
| Grocery | 95.7% | 95.8% | 100% |
| Health | 108.8% | 102.3% | 100% |
| Housing | 68.9% | 73.6% | 100% |
| Median Home Cost | $159,400 | $170,100 | $231,200 |
| Utilities | 106.2% | 103.9% | 100% |
| Transportation | 84.3% | 86.8% | 100% |
| Miscellaneous | 96.3% | 95.6% | 100% |
North Augusta's cost of living is 87.6% compared to the national average.
Job Market
North Augusta has a healthy job market, with households getting an average income of around $56,811. Compared to 2017 where the median income was $51,863, 2018 experienced an annual growth of 9.54%. Males will typically have a higher average income compared to females, just like the rest of South Carolina. Some of the largest industries in the city are Health Care and Social Assistance, Retail Trade, and Manufacturing. Here are a few job categories to look out for should you make the move to North Augusta.
Most Common
According to the number of employees, these are the most common jobs in the city:
Office and Administrative Support Occupations with 1,584 employees
Sales and Related Occupations with 1,222 employees
Management Occupations with 1,137 employees
Most Specialized
Compared to other cities in South Carolina, North Augusta has an unusually high number of residents working in the following fields:
Architecture and Engineering Occupations
Health Technologists and Technicians
Community and Social Service Occupations
Highest Paid
When it comes to median earnings, some of the highest paid jobs in the city include:
Architecture and Engineering Occupations with an annual earning of $102,083
Fire Fighting and Prevention, along with Other Protective Service Workers Including Supervisors with an annual earning of $86,813
Computer, Engineering, and Science Occupations with an annual earning of $74,079
Things To Do in North Augusta
While it may be a smaller city compared to others, North Augusta still has a lot to offer in terms of things to do and places to see. Here are just some of the best places to see during your first time in this city.
Brick Pond Park
If you're in no mood for stress and are looking for a place to relax and unwind, Brick Pond Park offers an escape from a busy lifestyle. Its naturally scenic views are made for get-togethers and outings with family and friends. Its 40 acres of restored wetlands are surrounded by lush greenery, numerous trails, and thriving wildlife, making it a paradise for nature lovers. Don't forget to bring your camera so you can capture memories and the beautiful flora and fauna found here.
DiVino Ristorante Italiano
Exploring the outdoors can get tiring and leave you hungry, so why not grab some lunch at this fine dining restaurant where you can taste authentic Italian meals? DiVino Ristorante Italiano ensures that you're served with the tastiest and most divine Italian classics created by a real Italian chef from Florence. With over 40 years of experience in Italian cuisine, DiVino will surely leave you wanting more, which is why it's one of the most popular places to eat in the city.
Riverwatch Brewery
From an old warehouse, an incredible amount of work has been put to work to transform this place into what it is today: a small, yet successful production brewery. The team of Brey and Anne Sloan worked day and night to come up with Riverwatch Brewery, where you can taste three core brews, along with experimental and limited-release brews. Be sure to give this taproom a visit if you're looking for a brewing adventure for the tongue.
Savannah River Brewery Co.
This huge brewhouse occupies more than 16,000 square feet and brews all your favorite beers in 30 barrel batches while fermenting in 60 barrel fermenters. You can expect to see plenty of different flavors here, such as:
Beacons
Garden City Kölsch
Flight of Brynhildr Belgian Dubbel
Wolf Dog Witbier
SMaSH Attack V3
Phinizy Swamp Thing
Dynamite Brown Ale
And more!
Their set up of eight fermenters can deliver a capacity of 450 barrels in just one cycle, which equates to 14,000 gallons or around 150,000 cans of beer. That's approximately 1.8 million cans every year! With more than enough beer to go around, be sure not to miss out on the city's premier brewery.
Climate
It can get a bit wet in North Augusta but it is still one of the best places to visit year-round. On average, North Augusta gets 48 inches of rain every year, which is more than the 38 inches experienced by the rest of the country. However, the city only gets an average of one inch of snow per year, which is much lower than the national average of 28 inches. Furthermore, North Augusta enjoys 217 sunny days compared to the 205 sunny days that the U.S. gets per year. Here are a few key statistics to keep in mind if you're considering making the move:
Summers in July can get as hot as 93 degrees.
Winters in January can become as cold as 35 degrees.
There's an average of 48 inches of rain every year.
There's an average of one inch of snow every year .
When you do come for a visit, make sure you do so around April, May, or October to get the best weather for all your exploring and sightseeing. However, avoid coming here during July and August to avoid the least comfortable months.
Traffic
Because North Augusta is situated between South Carolina and Georgia, it gets traffic from both of these states. Luckily, even with so many people coming and going to and from the city, the traffic isn't the worst in the state, and residents are still able to move along fairly smoothly. The average commute time in North Augusta is 22.1 minutes. However, this may change depending on factors such as accidents, road work, or nearby construction. It's also worth noting that traffic may move along slower for people starting on the Georgia side of the state line.
Public Transportation
North Augusta, while a smaller city compared to others close to it, has plenty of transportation options for its residents. One of the most common is the Best Friend Express, which offers stops throughout the city. Its main transit line is the Blue Line, which takes passengers through the city and also goes through Augusta and Aiken. These buses operate from Monday to Saturday beginning at 5:00 AM and terminating at 7:30 PM.
Dial-A-Ride (also known as ADA Paratransit services) is also available through Best Friend Express. These rides cost $3.00, but an application is needed before requesting a ride. Every vehicle used for these services is ADA compliant, and all come with a wheelchair lift. Riders may also flag down the bus anywhere on the route, rather than just at the designated stops.
The Augusta Regional Airport also serves North Augusta and covers 1,411 acres. It has one asphalt and one concrete runway and is located six miles south of Augusta, in Richmond County. It provides both passenger flights and commercial aircraft, where it had a total of 28,543 aircraft operations in the year ending June 30, 2017.
Golf
North Augusta also has a surprising number of beautiful golf courses in and near the city despite its smaller size. Here are some courses that you should visit if you fancy a round during your visit.
Mount Vintage Golf Club
This semi-private club offers players of all levels the opportunity to play on a 27-hole championship golf course. Because of its beauty, Mount Vintage Golf Club is often compared to that of the Augusta National Golf Club by media outlets such as Golf Magazine. As a result of the attention to detail and exacting standards placed upon this course, it provides a superior golfing experience than all other courses located here.
You'll also find great amenities here, such as the tavern-like The Vintage Grille, its well-stocked Golf Shop, the state-of-the-art practice facility, as well as cozy locker rooms. You can also be sure that the highest standards are maintained here, thanks to Greens Superintendent Ben Amerson and Assistant Superintendent Chris Hargrove.
River Golf Club
The River Golf Club winds along the Savannah River, combining a fantastic layout with a wonderful setting to deliver a true paradise for golfers. Since its opening in 1998, this golf club has established itself as one of the best designs ever seen on a golf course. Located across from downtown Augusta, this semi-private facility was named one of the top five new courses by Golf Digest. Designed by Jim Fazio, an internationally acclaimed golf course architect, the River Golf Club provides golfers with a unique setting that uses Miniverde ultra dwarf Bermuda greens, numerous lakes, and wetlands, as well as dramatic bunkers.
Water Sports
If you plan to visit during summer, you'll be happy to know that there are plenty of adventures to be had in the wild waters of North Augusta. Be sure to pack your sunblock though; you wouldn't want your fun spoiled by sunburn!
Langley Pond Park
Located in Aiken County, this nationally recognized park and venue is known for its great events and fantastic facilities. Before the 1996 Olympics, Langley Pond Park had hosted more than 50 local, regional, and national level rowing events which quickly put it on the map for those who enjoy a day in the water. Some of the available facilities here include a 2000 meter rowing course, a boat ramp with a new boat dock, a swim area, a large picnic shelter, a playground, sandy beaches, and more.
Aiken State Park
Sitting along the South Edisto River, Aiken State Park is a dream come true for any outdoor lover. The black waters of the river are one of the most notable attractions here, making it popular for fishing and canoeing. This park also boasts a 1.7-mile kayak and canoe trail that makes its way down from the South Fork of the Edisto River, where you can catch bass, catfish, and bream. Apart from its natural beauty, this park is also rich in history — an African American detachment of the Civilian Conservation Corps built the park during the Great Depression.
Dog Friendly
For those who prefer to travel and have adventures with their dogs, North Augusta also has plenty of places where your pup can enjoy his or her lunch along with parks that can keep them entertained for hours.
Manuel's Bread Cafe
This cafe serves a delicious array of upscale American cuisine set in a warm and welcoming French bistro where your dogs can sit and eat alongside you at their spacious outdoor tables. Just a few of the food items you'll find here include crab-stuffed avocado, grilled tuna salad, shrimp po'boys, rack of lamb, bone-in ribeye, chicken piccata, and more. At Manuel's Bread Cafe, you can also get a glass of house wine to complement every meal. Be sure to visit the cafe between Monday to Thursday from 11:00 AM to 10:00 PM, Friday and Saturday from 9:00 AM to 10:00 PM, and Sunday from 11:30 AM to 10:00 PM.
North Augusta Greeneway Park
The North Augusta Greeneway Park is a rail trail that's supported by the Rails-to-Trails Conservancy. This non-profit organization works to create a nationwide network using connecting corridors and old rail lines. While it was previously an unused railroad corridor, this trail now serves as a fun area for dogs of all kinds and sizes.
Attractions
There are also plenty of other attractions for you to enjoy during your visit to North Augusta. Some of these include beautiful and unique outdoor areas that you won't find anywhere else.
Living History Park
This park is a popular venue for various events and picnics since it showcases various aspects of living in the 18th-century. It was once an abandoned waterworks 25 years ago, but the 7.5-acre park was transformed into what it is today to provide the community with a living museum that takes us back to 1716. Here, you'll learn more about the Revolutionary War period and have numerous exhibits containing artifacts along with other pieces of history that will guarantee an unforgettable experience.
Augusta Riverwalk
Downtown Augusta is a beautiful place known for its golf and Southern hospitality, and this riverwalk is also part of this tradition. Running along the Savannah River, you'll be able to stroll through two museums, along with a few gardens. If you want to catch the weekly Augusta Market, be sure to visit anytime during spring, fall, or summer where it's open every Saturday. Here you'll find local craftsmen and artists who sell a selection of products such as roasted coffee and baked goods. You'll also see several gorgeous mansions opposite the Savannah River from here, which are just a wonderful sight.
Shopping
If you think that North Augusta is too small for you to enjoy shopping as you do in the big city, this couldn't be farther from the truth. The city is teeming with shops, and also has a few malls and even a plaza where you can shop all you want.
North Augusta Plaza
The North Augusta Plaza offers 27 various shops and stores where you can get the latest trends and unique finds. There's also a Publix outlet located here, where you can shop for all your needs. Some of the other retail stores you'll find here include:
Aaron's
Burke's
CBD Central
GNC
H&R Block
Mattress Firm
Palm Beach Tan Superstore
Rack Room Shoes
Sabi Japanese Restaurant
The Joint North Augusta
Wingstop
Riverfront Antique Mall
In this 103,000 square-foot mall, you might just lose yourself in memories of the past. There are more than 175 vendors here, where you can buy something new and something old every week. If you have all day to shop, you might just spend it all looking through the various collections here; from vintage fishing lures, to jewelry and primitive items, there's no telling what you'll uncover and end up taking home! If you get tired from being on your feet all day, there's a wonderful cafe where you can rest and grab a bite to eat. Just a few of the items you can find here include:
Furniture
Kitchenware
Books
Vintage clothing
Glassware
And more
Art and Culture
North Augusta takes pride in its art and culture, where you'll find museums and a center dedicated to its history and heritage.
Arts & Heritage Center
At the Arts & Heritage Center, you'll find galleries that contain two great exhibit spaces, known as the Main and Balcony Galleries. The AHCNA (Arts and Heritage Center of North Augusta) is a partner of the South Carolina National Heritage Corridor, and as such, it has assumed ownership of Blackville's former Discovery Center's regional history exhibits. These technological and educational exhibits introduce the visitor to regional destinations as well as their character and history.
Augusta Museum of History
This museum collects, interprets, and preserves history related to Augusta's past and that of the Central Savannah River region for present and future generations to see. Since 1937, the Augusta Museum of History has been the city's oldest historical agency dedicated to the presentation of both local and regional history. This agency also serves as a steward towards the community's diverse and rich past. Furthermore, the museum holds the largest historical collection in the CSRA, providing amateur and professional historians a resource center for everything to know about this city and its origins.
Sports and Sports Teams
North Augusta is also full of various sports for both youth and adults to play. There are also various places where athletic programs are provided for those who wish to participate.
Augusta's Athletic Programs
The city's Department of Parks, Recreation & Tourism offers residents organized programs in various sports such as:
Football
Baseball
Softball
Basketball
Volleyball
Soccer
Cheerleading
Be sure to visit their website to find out more.
Riverview Park Activities Center
This hub for North Augusta's parks and recreation facilities was first built in 1994 and was expanded in 2018 to become the 20,000 square foot facility that it is today. It features six high school basketball courts, where two can be combined to form one regulation-size college court. The Riverview Park Activities Center is also used to host many community and athletic events. Apart from basketball, it can also be rented for other events, such as the Catty Shack Cat Show, Augusta Kennel Club Dog Show, art exhibits, and more.
Education: Schools and Colleges
The Aiken County Public School District is the state's sixth-largest school district and serves many of the students in North Augusta. Students that live here are served by two high schools, two middle schools, and four elementary schools. Every one of these schools is recognized by the South Carolina Department of Education and the Southern Association of Colleges and Schools. Moreover, North Augusta High School is a National Math and Science Initiative (NMSI) Advanced Placement Academy, and also offers the prestigious Capstone Diploma — it's one of the few schools in South Carolina to do so.
Real Estate Market
As of 2018, North Augusta had a median property value of $157,800, which is roughly 0.687 times lower compared to the national average of $229,700. It was even lower back in 2017 when this amount was $150,600 which shows a 4.78% increase. Because of these low prices, the city has a homeownership rate of 64.8%, which is higher than that of the 63.9% country average.
Another contributing factor to the city's thriving real estate market is that it isn't too cramped just yet. North Augusta has an average commute time of 22.1 minutes — not too bad yet, but with more and more people coming in and staying for good, this may not be the case for very long. Lastly, potential buyers won't have a problem with investing in this area once they find out that most households in the city have an annual income between $75K to $100K.
Welcome to North Augusta!
North Augusta provides visitors and locals the best of both worlds: an enchanting nature-filled paradise and a bustling city where you can work and play. No matter what you're looking for, you can be sure that North Augusta has it, and it will be just what you're looking for. From shopping centers to interesting attractions and rich history, there's always something new for you and your family to experience in North Augusta. If these aren't enough to make you consider this great city, just think of how much you'll save on costs since it's one of the cheaper areas to live in anywhere in the country. Don't think twice; now is the time to claim your space before they're all taken.