Living in Pueblo, CO – Your EZ Home Search Guide
Posted by Preston Guyton on Friday, May 26, 2023 at 12:22:10 AM
By Preston Guyton / May 26, 2023
Comment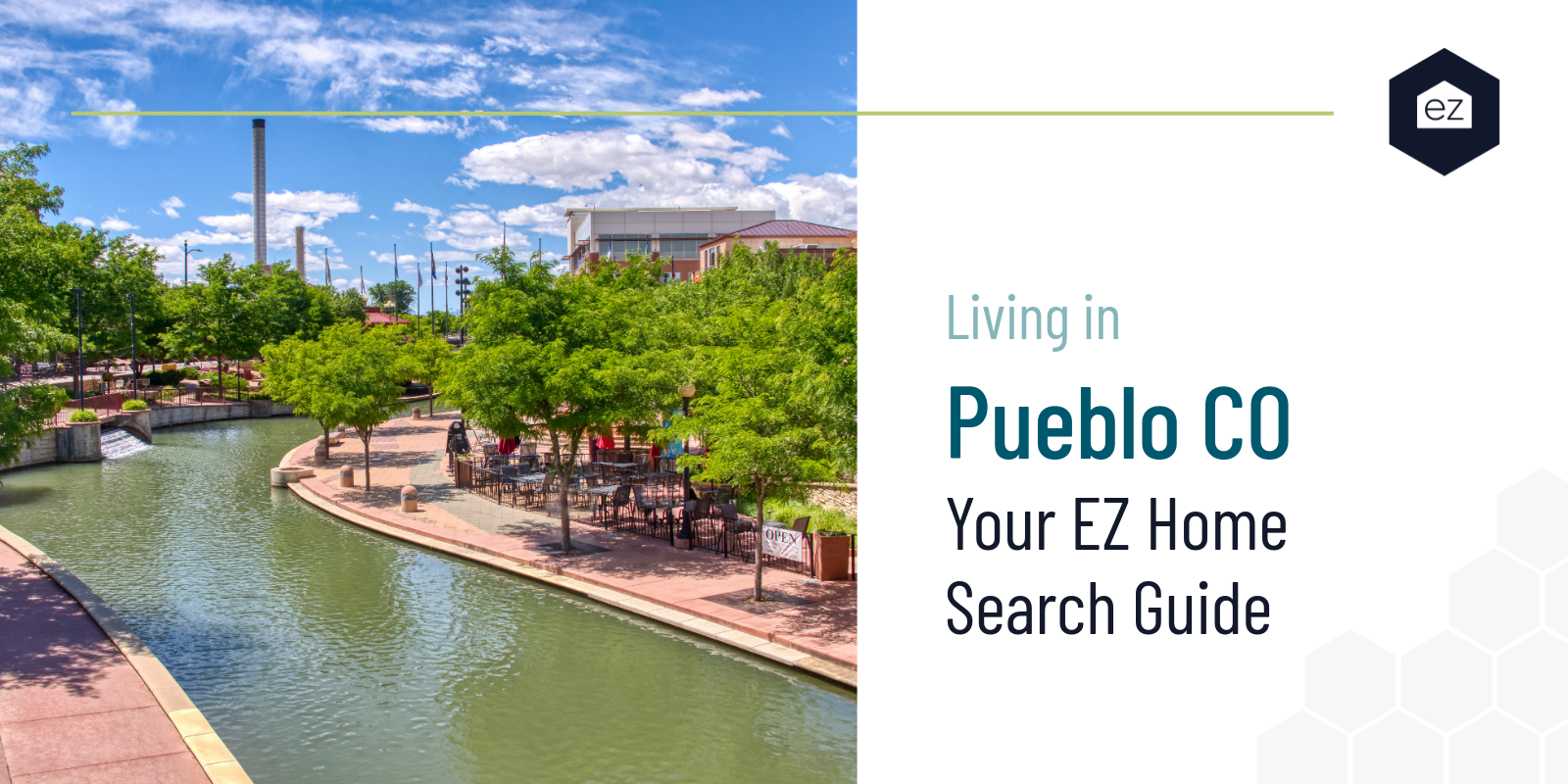 Living in Pueblo, CO – Your EZ Home Search Guide
Tucked at the base of the majestic Rocky Mountains, Pueblo, CO, is a playground for adventure seekers and culture enthusiasts. Residents have quite a selection of things to do. Explore the city's arts scene, kick back at a local street festival, or savor its culinary delights. Or, head outdoors to the lake or nature preserve.
Pueblo will never fail to surprise and delight as a place to call home! So if the West is calling, and you're looking for the right Colorado city to buy a home, learn more about Pueblo's perks.
Where is Pueblo, CO?
Life in Colorado is abundant with recreational amenities. The diverse landscape means you can explore the mountains, the rolling hills, or the flat plains and the activities unique to their particular landscape.
If you want to enjoy all the mountains and flatland living offers, then Pueblo is a top choice. In town, the Fountain Creek and Arkansas River confluence provides a waterfront respite on warm days. The Rocky Mountains await to your west, where you can jump on ski slopes in the winter and mountain bike in the summer. The arid landscape of the Colorado plains waits to the east, cut with old frontier towns and wide, open spaces. Less than an hour's car ride north awaits Colorado Springs, home to an Olympic Training Center and the US Air Force Academy.
Pueblo is not quite as centrally located as Colorado Springs, but close enough. I-25 runs North-South, providing an easy way to reach Pikes Peak, Denver, and Albuquerque.
What is Pueblo's background?
Here's a little secret for you: Pueblo is not just famous for its breathtaking landscapes and friendly locals; it's also known as the "Steel City." With a rich industrial history, Pueblo became a major steel-producing center, contributing to the growth and development of the region.
It all began with discovering essential ore veins in the surrounding Colorado hills. The separate towns of East Pueblo, South Pueblo, Central Pueblo, and Bessemer sprung up to house the mine workers and process the wealth from the ground.
To protect the resources, Fort Pueblo was established where the Arkansas River and Fountain Creek met. It served as a trading post for the region.
The steel industry may not be as prevalent as before, but it is still important to Pueblo's identity. Equally vital is how the city has become associated with agriculture. The surrounding lands are rich for growing produce and supporting livestock. Pueblo championed the Colorado State Fair, which today has a 102-acre campus and is used throughout the year for events.
Pueblo is also known as the "Hometown of Heroes" because four Medal of Honor recipients hail from the metro.
Is Pueblo growing?
Over 111,000 residents call Pueblo home. Its population did grow between the 2010 and 2020 Census, although if you look at it year-over-year, growth looks relatively stable.
The City of Pueblo projected that by 2030, it would have around 200,000 residents in the greater region. The city limits would account for 124,000 of that number. Looking at the present data, the city is on track with the population growth projections.
What is Pueblo's cost of living?
The cost can be a deterrent for those who dream of a Colorado lifestyle. Sure, the state isn't as expensive as California or New York, but Colorado does have a reputation for being pretty pricey.
But here's the good news of looking at Pueblo. Not only do you get prime access to Colorado's outdoor spaces, but you can have it with a price tag that doesn't stretch your limits. Sperling's Best Places Index shows the cost of living here was 11% cheaper than the national average and 31% cheaper than the Colorado average.
Why do you have such significant cost savings? A big part of this is housing, around 14% less than the national average. In a state where the housing index was at 167.5 (almost 68% above the national average), Pueblo scored 85.6. The index had nearly every category under national spending averages except utilities and miscellaneous costs. Most of these were also under the Colorado averages, except for healthcare and utilities.
This shows that by smartly choosing where you live in Colorado, you can afford to live out west and still have access to its amenities.
What is Pueblo's real estate market like?
Real estate is one of your big purchases, so naturally, you want to know the housing market in a city like Pueblo. Can you find a home that matches the features you're looking for? Is it genuinely affordable?
In May 2023, Pueblo had 790 homes for sale at a median list price of $294,900. This figure was up 7.2% year-over-year, putting the median price per square foot at $169.
To give you an idea of the pricing spread, the most affordable listing was $11,000 for a vacant lot, while the top of the market was $7.9 million for a 12,290-square-foot home on just under an acre. This gated community home combined six lots to have five bedrooms, ten bathrooms, and a custom kitchen featured in Colorado Homes Fall 2012 issue.
What are some top Pueblo neighborhoods to live in?
Modern Pueblo has over 25 recognized neighborhoods for you to find your dream home. What started as four separate cities is a combined area with historic real estate and master-planned developments with the latest in-demand amenities. As you start your home search, here are a few to check out:
Belmont
Belmont could be a great neighborhood to check out if you're moving to Pueblo for the university. Developed in the 1950s and 1960s, the homes here have a mid-century charm with ranch styling. Some even have a finished basement or are built with a tri-level style.
Living in Belmont is all about convenience. Not only do you border Colorado State University, but the large shopping district at Belmont Shopping Centre carries local and national name brands. Drew Dix Park is almost nine acres with sports facilities and a playground for the kids. And one cool highlight is the Rosemount Museum, a 37-room mansion featured on A&E and HGTV.
Bessemer
Historic Bessemer has long been associated with the Colorado Fuel and Iron (CF&I) steel mill and is considered a working-class neighborhood. The housing here includes:
Historic homes built by the Minnequa Town Company to house its workers
Alley homes catering to the working population
Mixed-use homes with apartments over stores
Bessemer may be highly residential and industrial, but it also has a reputation for being an excellent place to eat. You decide which joint serves the best Mexican-inspired cuisine.
The southern part overlooks Lake Minnequa, and the neighborhood is next to I-25 for commuting convenience.
Modern Bessemer had 56 homes for sale at a median of $200,000, which was up 14%. Bessemer's star has been on the up as the neighborhood is undergoing a Neighborhood Heritage Enhancement Program.
Mesa Junction
Want to ditch the car and live a pedestrian lifestyle? Mesa Junction is probably your best option, as this is what is called Pueblo's Downtown. This area mixes the commercial district with residential living. Here, you can walk over the bridges to the Historic Arkansas Riverwalk of Pueblo, also known as HARP.
Pueblo Community College is next door across Lincoln St. At the same time, four pocket parks provide places to enjoy the nice Colorado days. The Arkansas River runs along the northeast side of Mesa Junction.
This neighborhood had 15 homes for sale in May 2023 with a median list price of $265,000.
Northside
If you want to be near downtown but not in downtown, try the historic Northside. With I-25 and the Highway 50 junction on the eastern border, you can easily commute around town and beyond Colorado destinations.
Residents have convenient access to Mineral Palace Park, home to the Pueblo Art Guild Gallery, pickleball courts, a playground, and a small lake. A few blocks north is the Pueblo Country Club and Tennis Center. The neighborhood includes Parkview Medical Center, one of the city's hospitals.
The homes here have Victorian and Craftsman style charm. Pueblo's second oldest home is part of the Northside community.
Pueblo West
As it suggests, just west of Pueblo awaits the family-friendly Pueblo West development. It is popular primarily because it is so close to Lake Pueblo and all its outdoor activities. On clear days, you may see Pikes Peak!
Residents not only live in one of the safer communities in Pueblo County, but there are beautiful mountain views, dark skies for stargazing, and horse trails. Inside the development, residents have a nearly four-acre fishing pond and 18 miles of trails. The Desert Hawk Golf Course has 18 holes, a dining facility, and a pro shop. Outside Pueblo West, Highway 50 is lined with your essential stores, like a Walmart and a Safeway.
In May 2023, Pueblo West had 504 homes for sale at a median list price of $422,300. Prices here were relatively stable year-over-year.
St. Charles Mesa
South of town, look to the area called Saint Charles Mesa, also informally known as "The County." This region extends to the small towns of Avondale and Boone and is close to the Pueblo airport.
Those who live in The County prize how their homes are on larger lots. You have ample space between neighbors and rolling hills. It feels very rural and country, as you can look up at night and see the stars thanks to dark skies. The background view may show the mountains, depending on where you are on the mesa.
The homes are mixed between older farmhouse-style properties and newer, custom homes. Lots can be as large as three acres, and one-acre lots are common.
What is there to do in Pueblo?
One thing you can't miss living in Pueblo is the city's rich cultural heritage and love of the arts. Pueblo loves to celebrate culture and community, which is probably one of the reasons why it's the home of the Colorado State Fair. It takes a lot of pride in putting on this annual event and showcasing what Colorado has to offer.
But another festival is the Sangre de Cristo Arts Centre, which highlights the local art traditions through performing arts, galleries, and a children's museum.
Lake Pueblo State Park is the closest large natural area where residents kick back and enjoy the Colorado outdoors. It's been called a fishing hot spot in the state, as its hundreds of acres of water are wide enough for sailing, tubing, water skiing, and motorboating. But the surrounding parkland is just as interesting. It covers 10,000 acres and has stunning views of the Green Horn and Wet Mountains. Around the landscape are hiking and biking trails.
The Pueblo Riverwalk is a 32-acre epicenter for eating, drinking, and entertainment. The downtown district runs along the Arkansas River. From here, you can rent a duck paddle boat or take a guided history cruise. Admire the 60 public art pieces, with bronze sculptures and statues highlighting Pueblo's history.
But try the Whitewater Park downtown if you want to truly get an adrenaline rush. The half-mile course has eight water drops and long pools to learn and test your kayaking skills.
More relaxed thrills are at City Park, which has classic amusement rides like a carousel and a small train. The carousel dates back to 1911. Kids will also like the Pueblo Zoo, which features 400 animals from around the world.
Are there golf courses in Pueblo?
For those who like to relax on the fairways, Pueblo has some classic Colorado courses to try out. The Elmwood Golf Course is a public 18-hole course built in the early 1900s with beautiful views and majestic elms lining the fairways. It plays par-70 and 6,624 yards from the back tees. It also has a nine-hole executive course for a short round of golf.
In north Pueblo, the Golf Digest-rated four-star Walking Stick Golf Course is a public championship course designed by John Cochran. It plays par-72 from 7,147 at the back tees. It highlights the nearby mountain views and challenges you with water hazards.
For those that enjoy the Country Club experience, Pueblo Country Club along the Arkansas River is the private, member-only course option. Opened in 1903, it's playable year-round and has robust amenities like a tennis center, swimming pools, and dining facilities.
What should I know about living in Pueblo?
The weather is a serious perk to living in Colorado. As it is outside of the mountains, the temperatures will not get as cold, but you'll still get abundant sunshine and few rainy days. This means you can get outside and enjoy Lake Pueblo State Park year-round.
Pueblo has a campus for Colorado State University, which provides opportunities for higher education in the region. It is also supported by the Pueblo Community College, which has two-year degrees and technical training programs.
Another Pueblo claim to fame is its particular green chili varietal. The Pueblo chile is said to be between a jalapeno and cayenne pepper. It thrives on hot days and cool nights and exclusively grows in this region. The annual Pueblo Chile Fest celebrates the vegetable.
If you ask locals what they feel about living in Pueblo, you'll probably hear terms like friendly, welcoming, and tight-knit. Even though over 100,000 people are living in Pueblo, those small-town traditions of being kind to your neighbors and supporting those in need have sustained Pueblo and made it such a wonderful place to live.
So if Pueblo sounds right, why not liaison with a local real estate agent who can tell you more about its charms and many neighborhoods? It might just be the best decision you'll ever make.