What to Know About Living in Abington, PA
Posted by Preston Guyton on Friday, March 17, 2023 at 12:35:08 PM
By Preston Guyton / March 17, 2023
Comment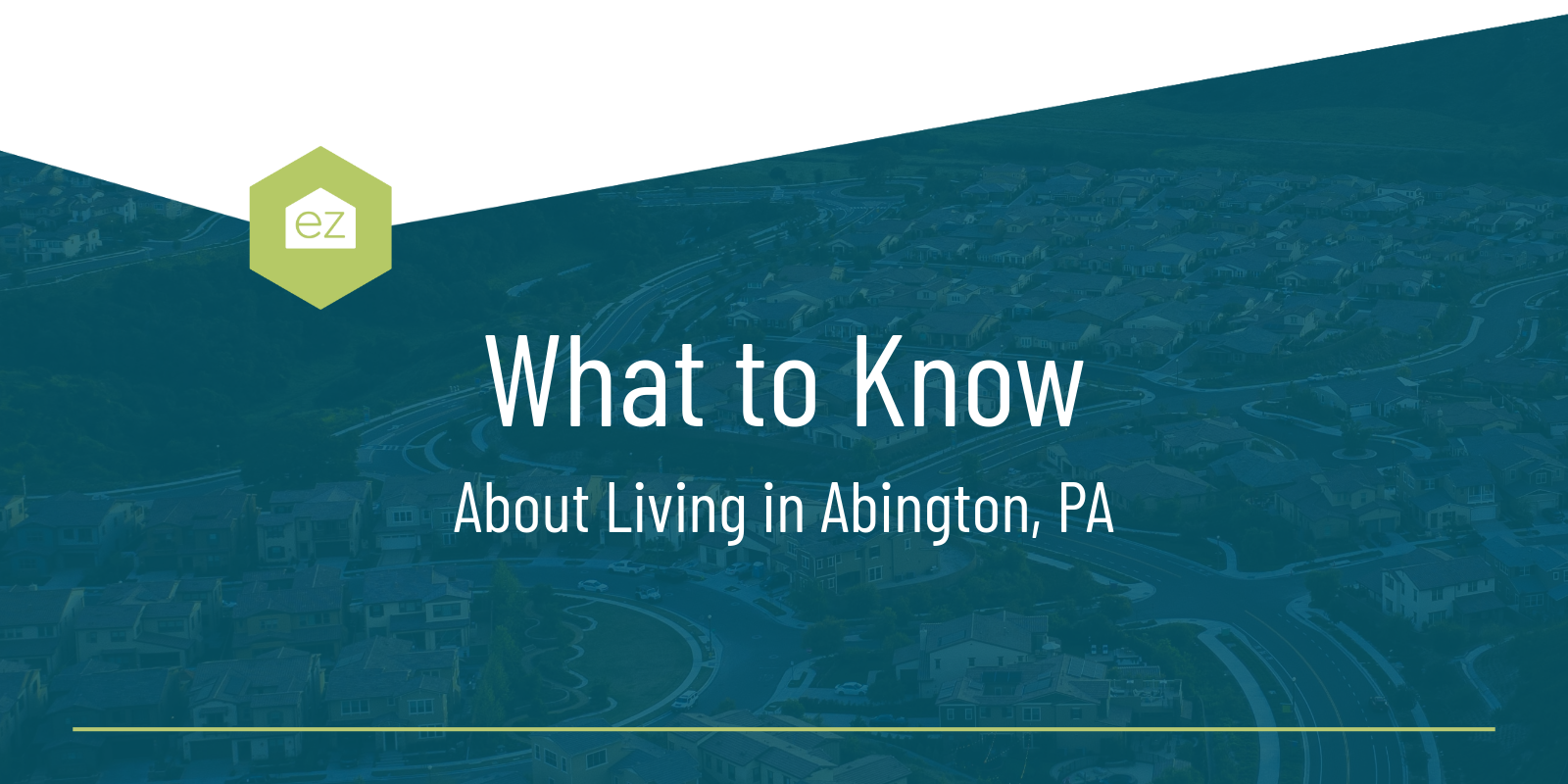 What to Know About Living in Abington, PA
So, Abington, PA, recently caught your eye? It's not surprising! The township is incredibly proud of the lifestyle it promotes and its convenient location in the Philadelphia metro. Money Magazine added it to its top 25 places to live in the US for 2022 and 2023, which signals it has much to offer for affordability and quality of life.
Learn about living in Abington, PA, including its cost of living, real estate market, and attractions. If you're looking for a suburban lifestyle near the Philadelphia metro, Abington Township could be just the right place.
Where is Abington, PA?
Abington Township is part of Montgomery County, almost due north of Philadelphia by about 12 miles. It's part of the Philadelphia metro in what's called "the First Ring," a dense cluster of small towns and townships around downtown Philadelphia dated before 1970.
A township is a geographic subdivision of a country. So, inside Abington Township is the City of Abington and unincorporated communities like Glendale and Willow Grove.
Abington itself is about halfway between Boston and Plymouth. It was incorporated in 1712.
I-276 is a few miles north of the township borders, and Highways PA 611 and PA 309 make it easy to get around to other townships in the metro. Transportation is assisted by six train stations and three regional rail lines.
Is Abington, PA, growing?
Even though the township was established a little over six decades ago, evidence shows people have lived there since long before the colonial era. The village and surrounding areas were some of the earliest communities founded by European colonists in the pre-Revolutionary period.
Today, Abington's growth is restricted by the highly developed communities surrounding it. It borders several other townships, so adding housing would rely on infill. But since Abington's been around since the late 1700s, it's well-developed.
The 2022 estimated population was 58,471, which was 33 persons less than the 2020 Census. The 2010 Census estimated 55,310 persons. That 55,000 number has been relatively steady since the 1990s.
What is the cost of living in Abington, PA?
Using Sperling's Best Places Index as an indicator of the cost of living, we see that Abington is more expensive than the national and Pennsylvania average. Overall expenditures run 26% more than the PA rate, much of that concerns housing. The limited space for development means the real estate market tends to be more competitive, making housing 52% more expensive than what you'd spend elsewhere in the nation.
Plus, the city is part of a large metropolitan area. All expenses across Philadelphia tend to run more, and Abington is no exception. Every category runs above average, with miscellaneous costs 31% over and utilities 7% over.
What is the real estate market like in Abington, PA?
Based on data from the Tri-County Suburban Realtors, Abington's real estate market from March 2022 through February 2023 mirrors the national trends. Closed sales slowly dropped as new listings declined, but median sale prices rose.
Median sale prices rose from $250,000 in January 2019 to $361,000 in January 2023. As of March 2023, there are some signs price growth is slowing or stabilizing, but it's still too early to make that conjecture with certainty.
Active listings were low throughout 2022. As of March 2023, Abington had 105 homes for sale at a median list price of $387,000. The most affordable was $70,000 for a 2,500 sqft lot. The most expensive single-family home was $1.5 million for a 7,326 sqft home on a 1.38-acre lot.
Are there townhomes or condos?
Condo and townhome living is one way to live near Abington's best amenities. The local market has a range of options, from luxury villas to affordable condos. March 2023 had 17 of these properties on the market. The most expensive was $914,900 for a 4,013 sq ft townhome in a 55+ community with a two-car garage. The most affordable was $114,900 for a 646 sq ft studio apartment.
Some places you can look for condos or townhomes include, but are not limited to:
Elkins Park
Noble
The Fairway in Rydal East
Downtown Abington
Roslyn
Tall Trees Carriage, Huntingdon Valley
What are some of the best neighborhoods in Abington?
As you can see in the linked map, multiple communities and districts make up the official Township of Abington. The township is divided into several unincorporated areas, like Noble and Roy Chester, and the incorporated City of Abington.
Keswick Commons is an urban living community in the Glenside area. Development began around the Keswick Theater, founded in 1929. The neighborhood and residences have a distinct Tudor-style design. With family-friendly events like its annual Fall Festival and 4th of July Parade, it feels like a small town.
Residential Elkins Park feels suburban with its many single-family homes. The average home age is 1955, but some houses date back to the 1900s, while some were built as recently as the 1980s. That means you have eclectic styles from Gilded Age mansions once home to elite businessmen to urban townhomes. Elkins Park has four station stops on the regional rail lines.
Rydal is another highly residential area with several sub-neighborhoods. The established community was built from the 1930s through the 1950s, but some developments are as new as the late 2000s. Residents not only have a stop on the rail line, but proximity to shopping at Trader Joe's or Whole Foods Market. Plus, there's a highly-rated school in the community.
Meadowbrook is another one of the community's major neighborhoods and is prized for its high-performing Meadowbrook Independent School. It has a unique park with a bird sanctuary and a 28-acre farm donated to become a park. The community has several prominent healthcare providers, including the Holy Redeemer Hospital and Medical Group. It shares a civic association with Rydal.
Other major districts in the township are Willow Grove, Roslyn, Crestmont, Glenside, and North Hills.
Is there waterfront real estate?
Abington doesn't have any major waterways inside town limits. You'll need to look elsewhere in the Philadelphia metro for waterfront living.
Are there golf course communities?
Find a luxurious golf course living in Jenkintown Manor surrounding the Abington Golf and Fitness Club. The single-family homes are on more spacious lots that go up to a quarter acre. Homes were developed from 1906 to 1968 in different architectural styles and sizes. The course has just nine holes, but the club features a heated indoor pool, group fitness classes, and youth programming.
If you are lucky, you may live in one of the few stately homes along Country Club Drive in Huntingdon Valley. The Huntingdon Valley Golf Country Club is a private club with 27 holes of golf. The amenities include tennis, swim, and social clubs.
How is golf in Abington, PA?
Abington has four golf courses inside city limits, and two of those are public. Players have four more private and public fairways in the immediate surrounding townships.
Besides the Abington Golf and Fitness course and Huntingdon Valley mentioned above, North Hills Country Oreland features a beautiful 18-hole course designed by renowned architect William S. Flynn. Lulu Country Club's championship course was designed by Donald Ross. Both courses have a country club tradition dating back over a century.
What are some things to do in Abington, PA?
Living in Pennsylvania, and especially the Philadelphia metro, has no shortage of entertainment and attractions. Abington is no exception.
The Keswick Theatre is a historic venue with over 1,000 seats for hosting concerts, comedy shows, and other events throughout the year.
Find three floors of stores at Willow Grove Mall, a shopping, dining, and entertainment destination in the Willow Grove community. Browse over 120+ million stores, including name brands like Nordstrom and Macy's.
Abington Arts Center is the centerpiece of arts and culture in the township. From the annual Art & Music Festival to the classes offered to persons of all ages, the Center is a hive of activity. The Center is in the iconic Alverthorpe Manor, a 52-room Art Deco mansion designed in the 1930s.
Beautiful Alverthorpe Park features a mini golf course, walking trails around a large pond, and picnic areas. Proof of Abington Township residency is required to enter. However, anyone can visit the Briar Bush Nature Center. It has 12 acres with walkable trails around a large pond, a bird observatory, and a nature playscape for the kids. Even larger is Lorimer Park, with 230 acres along the river. Use its facilities for biking, cross-country skiing, and horseback riding.
What is near Abington, PA?
Downtown Philadelphia awaits you 12 miles to the South. As one of the largest cities in the United States, and one of its most historic, Philadelphia is home to numerous cultural attractions, including Independence Hall, the Liberty Bell, the Philadelphia Museum of Art, and the Philadelphia Zoo.
Valley Forge National Historical Park is about 20 miles west of Abington. Besides being a popular destination for history buffs, outdoor enthusiasts visit the park for its hiking trails.
Shoppers will appreciate the King of Prussia Mall, 15 miles northwest of Abington. The shopping center is the largest on the East Coast, so visitors have boundless choices for shopping and dining.
Why should I live in Abington, PA?
Abington's location in the Philadelphia metro makes it well-connected to the northern and central parts of the city. The township earned its "best place to live" accolades because it has an award-winning infrastructure, from its police department to its school system. Plus, there are 25 public parks scattered around the community, so there's likely a green space near where you want to live. The park system includes two public pools, a Nature Center, and a skate park.
Should Abington sound appealing to you, a local real estate agent can help you explore the different parts of the township to find the right neighborhood to call home. Take a look at if Pennsylvania is a good state to buy your next home.