Is Louisiana a Good State To Buy a Home?
Posted by Preston Guyton on Friday, February 3, 2023 at 12:36:36 PM
By Preston Guyton / February 3, 2023
Comment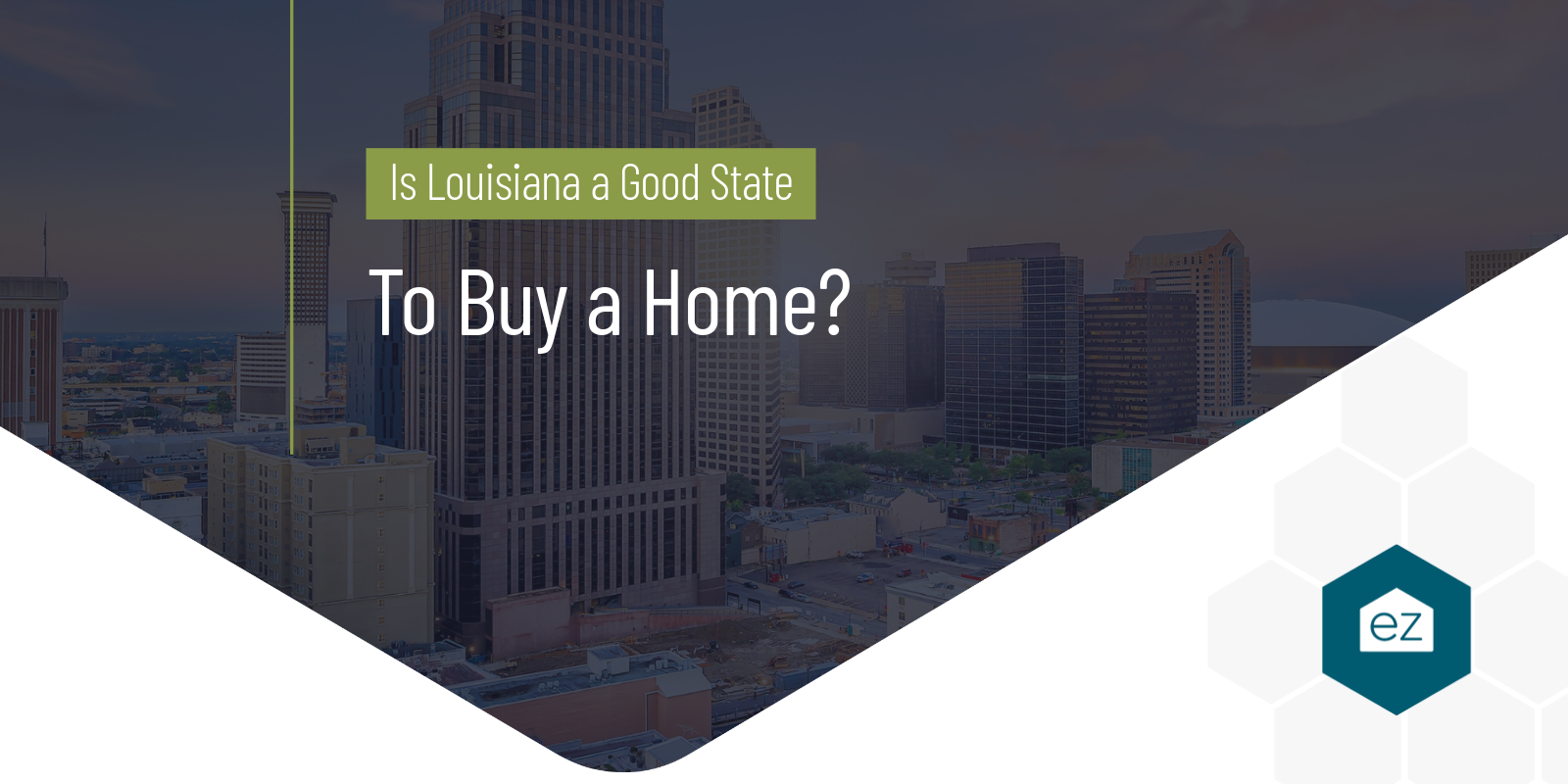 Is Louisiana a Good State To Buy a Home?
The spirited melting pot culture, southern cuisine, and coastal bayous are all part of Louisiana's charm. While people associate the state with swamps, wetlands, and Cajun culture, there's more to living here. Louisiana has many positives that make it an attractive option for homeowners searching for an affordable home. Still, it's not the right state for everyone.
Let's explore the pros and cons of living in Louisiana, like the cost of living, tax situation, and real estate market. Learn about some popular places to live to start directing your home search. Hopefully, this information can help you decide if Louisiana is the right state to buy a home for you.
What are the positives to living in Louisiana?
Louisiana has much to offer potential residents. The state's unique culture stems from its history of trading hands between the various colonies, plus the influence of the indigenous peoples and the enslaved people brought to the Americas through its ports. The most obvious impact is the cuisine, which blends the various traditions with Louisiana's access to fresh seafood. This is where we get po'boys, jambalaya, and gumbo.
Mardi Gras is the state's most famous cultural celebration. New Orleans' version is not the only festival marking Shrove Tuesday, but it is the most famous in the United States, with its flamboyant street parade and party. Locals experience this, or their town's version, of Mardi Gras each year.
Besides being the "Pelican State," Louisiana's other nickname is "Sportsman's Paradise." The wealth of fishing and hunting opportunities attracts enthusiasts from around the nation. From bird-watching along its bayous, rivers, and lakes, to hunting the wetlands and forests, there are multiple ways to get outdoors in Louisiana.
Maybe adventure sports are your thing. Besides chasing wildlife, the hot, tropical climate means golfers can play all year round. Take part in mountain biking, popular in the state's central and northern areas.
The warmth can be good if you prefer getting outdoors or being on the water. And Louisiana has plenty of water, from the Mississippi River down to the coast. Find ample places to launch your boat. Explore the backcountry on canoe and kayak trails or hit the lakes or coast for water skiing and fishing.
Louisiana's economy has relied on the energy industry, but the state is diversifying with good job prospects across various sectors and industries. Healthcare and tourism are growing sectors. The economic development council is working to attract more advanced manufacturing and technology jobs. Agribusiness has a strong foothold in the state, with food processing, forest, cotton, sugar cane, and timber being significant resources.
And if you want to stretch your dollar further, Louisiana is a great place to do it. We'll touch on the cost of living more below, but daily expenditures across the board are lower than the national averages.
What are the drawbacks to living in Louisiana?
While there are many positives to moving to Louisiana, it's not all beignets and air boating.
That same warm weather that attracts some residents might be a deterrent for others. In exchange for being warm or mild in the winter, expect even hotter summers. Get ready for temperatures in the 90Fs with high humidity.
And the state is prone to extreme weather events like major hurricanes and tornadoes. From 2010-2020 the state had impacts from 11 storms, and the effects of Hurricane Katrina in 2005 can still be seen in New Orleans. Residents who live in vulnerable areas need to have emergency plans in place and heed warnings from local authorities when given. Even if you don't live near the coast, tropical storms can bring rain inland, causing severe flooding.
That same warm, muggy climate with ample wetlands combines to make a breeding ground for bugs. If you live in Louisiana, get ready for swarms of mosquitoes, black flies, cockroaches, and the like. You'll also share the territory with alligators, snakes, and mice.
While New Orleans and Baton Rouge have diversified opportunities for employment, this isn't the case across the state. Poverty levels remain high throughout some parts of the state, with about 20% of Louisianans living below the federal poverty line in 2021. This can limit job prospects and create additional challenges for those looking for employment opportunities.
Louisiana also faces challenges in providing quality education. It ranked an overall no. 48 in US News and World Report's 2022 assessment.
What is the cost of living in Louisiana?
Louisiana has a lower cost of living than many other states across the US. According to the Sperling Best Places Index, Louisiana's overall cost of living is 10% below the national average. Housing costs are particularly low compared to other states, with an average home price of around $189,200 – significantly lower than the national median home value of $291,700.
Groceries and utilities costs are also lower than in most other states due to the abundance of natural resources available in the area, but healthcare and transportation were higher.
Your cost of living will vary greatly across the state. Obviously, living in New Orleans will be more than living in a small town like Monroe. The trade-off is better employment opportunities. To give you a sense of how the cost of living varies across the state, here's a look at its larger cities.
| | | | | |
| --- | --- | --- | --- | --- |
| | New Orleans | Baton Rouge | Shreveport | Louisiana |
| Housing | 87.3 | 68 | 40.3 | 64.9 |
| Groceries | 99.2 | 95.3 | 91 | 92.7 |
| Transportation | 132.5 | 11.4 | 89.3 | 108.2 |
| Overall | 101.6 | 91.7 | 76.6 | 89.9 |
All figures are from Sperling's Best Places Index, which places the national average at 100.
Is Louisiana tax-friendly?
Louisiana does charge an individual income tax, but it's relatively low compared to other states that levy this tax. The tax rate varies based on the individual's income, but it can range from 1.85-4.25%. This lower rate can benefit those looking to move from a high-tax state.
The state does have a higher sales tax rate than many other states. The state levy is just 4.45%, but localities can add up to 7%! The average combined rate was 9.55% in 2022, according to Kiplinger. Groceries and prescription drugs are exempt from the state sales tax, but local taxes may apply.
Retirees will be pleased to know income from the federal government, social security, military retirement, and some designated state and local government plans are exempt from taxes. There's no inheritance or estate tax.
Property taxes for personal real estate are taxed at 15% of the fair market value. Property values are reassessed every four years, with 2024 being the next revaluation cycle. The parish sets the values and millage rates, so you'll want to check with the area you're interested in moving. The most expensive property taxes based on the rate paid per $1,000 in 2022 were in Orleans Parish, St. Tammany Parish, and Caddo Parish.
How much money do you need to live in Louisiana?
The cost of living in Louisiana is significantly lower than in most other states, which means residents don't necessarily need a high income to live comfortably. A living hourly wage for a family of four with one working adult was $36.96. That family would need an after-tax income of $61,546 to cover the essentials like food, utilities, housing, and medical care. That amount doesn't include child care.
According to the Bureau of Economic Analysis, on average renters spend $850 on housing, which was under the $1,023 median rent at that time. Average healthcare costs for a single adult totaled $4,266 a year, while a family of four averaged $14,214. Food averaged $3,119 for a single adult, and a four-person family averaged $9,006 in 2020. Transportation can be expensive, as most employed persons need to drive to work. If you need child care, a four-year-old child averaged $5,543.
These housing figures could be lower in more rural parts of the state, but transportation costs may be higher in exchange.
What is Louisiana's real estate market like?
Louisiana's real estate market has remained stable, with its relative affordability being the bright spot.
The median home value in the state in 2022 was $243,000. That's far under the national Q3 2022 average of $398,500. It's an attractive option for those moving from more expensive states.
Other data had the statewide median list price in October 2022 as $283,450. While these figures show appreciating home values, the gains have been slower than in other states. For example, the October year-over-year price growth was just 5.37%. Q2 2022 had 10.77% year-over-year price growth, with Louisiana only ahead of North Dakota and the District of Columbia. Experts believe the lower employment opportunities have stifled housing price growth.
From 2021 to 2022, home prices increased by 7.8% while the number of listings increased by 43.4%, rebounding from their 2021 low. The month's supply of inventory statewide reached 3.2 months. However, pending and closed sales were down. This could represent an opportunity for buyers and real estate investors in 2023.
Another advantage is the housing options available range across the state, from urban living in master-planned communities to rural retreats. In short, there's something to appeal to everyone.
The New Orleans area market had the highest median sales prices and pricing growth in 2022. Divided into congressional districts, District 1 had a median price of $280,000. It included New Orleans proper, Grand Isle, Sidell, and Covington. District 6, the area around Baton Rouge and lands between Lafayette and New Orleans, was the second-highest at $257,610. The most affordable real estate at a median $193,538 was found in District 5, which covers eastern Louisiana from north of Baton Rouge up to the border with Arkansas.
What are some key places to live?
Even Louisiana's big cities are small in comparison to other metros. You can have a small-town vibe while living in the state capital or the Big Easy. And if you want to get away from it all, Louisiana has ample land for that, too.
In New Orleans, the most famous city in the state, you can find a thriving arts and culture scene, abundant nightlife, countless jazz bars, and a famous culinary scene. The city is active and outdoorsy, with bike trails, access to Lake Pontacharian, and numerous canals.
Nearby Baton Rouge offers a mix of small-town charm and big-city convenience. The home of LSU feels lively, especially on game days.
Lafayette has a rich history and culture, with its French roots and Cajun culture still apparent today. Ranked by US News and World Report as the second-best place to live in Louisiana, it has a suburban feel, but the Atchafalaya Basin at its doorstep provides an abundance of outdoor activities.
Shreveport in northwestern Louisiana sits along the Mississippi River. The riverboat casinos are part of the town's look, but as a place to live, it has affordable housing, thrill-seeking amusement, and access to the Sportsman's Paradise.
Other places that often come up as great places to live include Houma, Lake Charles, Monroe, and Alexandria. Each of these smaller towns and cities offers something different to potential residents, so if small-town living attracts you, check them out.
Living in Louisiana
Louisiana has a lot to recommend for those looking to live somewhere affordable and full of opportunity. Whether you're interested in the bustling energy of New Orleans or the quaintness of rural areas like Caddo Lake, find warm, welcoming communities across the state. The low cost of living and tax-friendly environment add to Louisiana's advantages for buying your next home. Explore moving to Louisiana and talk to a local real estate agent that can help you narrow down the right community for your next home.