EZ's Ultimate Guide to Lake Hartwell, SC
Posted by Preston Guyton on Wednesday, July 21, 2021 at 7:27 AM
By Preston Guyton / July 21, 2021
Comment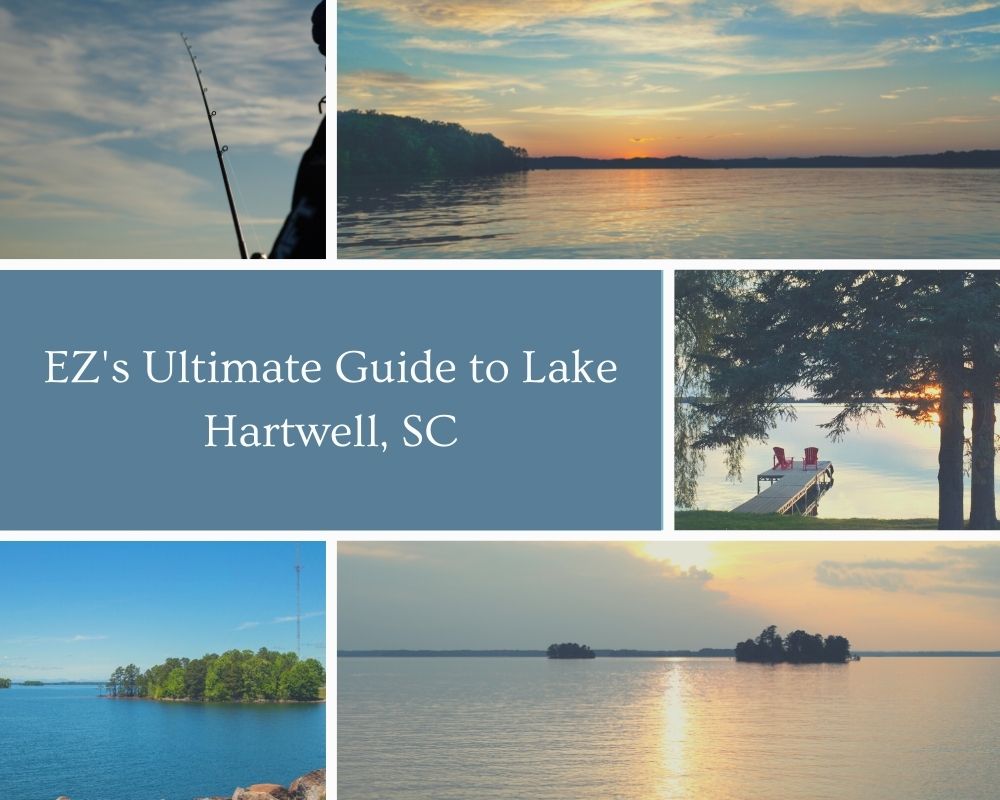 Ultimate Guide to Lake Hartwell, South Carolina
Have you been dreaming about your perfect South Carolina lakefront home? A piece of scenic, tranquil real estate that's a far cry from the bustling cities? When it comes to deciding on a location, American's are spoilt for choice. Living in a country of vast beauty and endless choice is a blessing, but it can also be a burden.
When making the jump and deciding where to invest your money, it can be hard to weigh up the pros and cons. Luckily, Lake Hartwell in South Carolina naturally exemplifies a long list of 'pros', making that decision a whole lot easier.
Lake Hartwell boasts picturesque, pristine surroundings that appeal to the inner real estate geek inside us all. Lakefront properties have always been popular, but even more so when the location represents a relaxed, slower pace of life in a peaceful setting. Purchasing a home on Lake Hartwell can be a rewarding lifestyle adjustment and a long-term investment. With so many activities right on your doorstep, your lakeside living dream could become a reality.
Lake Hartwell
The dam construction that created Lake Hartwell began as a project to control the flooding of towns along the Savannah River in 1955. Taking nearly 8 years and $90 million to complete, Lake Hartwell opened to the public for recreation in 1968 and is now one of the finest lakes in the Southeast United States.
This beautiful lake is surrounded by 23,000 acres of land, much of which is owned and managed by the U.S Army Corp of Engineers. The lake water body is approximately 56,000 acres with a maximum depth of 185 feet, making it one of the most popular recreational, man-made lakes in America. With a shoreline stretching 962 miles, this entertaining area is around 76,450 acres with five state parks and can be easily accessed from the I-85.
Bordering Georgia and South Carolina, Lake Hartwell is only a 1.5 hour drive from two major airports and a short road trip from two state universities. The charming location is also surrounded by six small towns and hosts a year-round, mild climate with hot summers. June to September would be the best time to visit, but Lake Hartwell can be enjoyed by visitors and potential homeowners all year round.
Things to do in Lake Hartwell
Luckily there is something for everyone when it comes to activities on or near Lake Hartwell, SC. Due to it's immense landscape, the lake offers bountiful events that cater to all types of adventure seeker 365 days a year.
Because of Lake Hartwell's size, it is extremely popular with water activities such as river rafting, sailing, waterboarding, water skiing, and swimming. There are 45 public boat ramps and over 10,000 private water docks, which allow for plenty of access to the lake, so you never have to worry about restricted admission.
Along with boat rentals and relaxing lake fun, Lake Hartwell plays host to some of the best fishing in the south.
Fishing: fishing is so good on Lake Hartwell that the Bassmaster Classic has been held there 3 times in the last 10 years. Even though it's one of the most popular lakes for competitive bass fishing, the lake is also home to several fish species, including five types of bass, several species of catfish, trout, crappie, walleye, bluegill, sunfish and many, many more.
Boat hire: whatever your choice of water vehicle, the lake has a plethora of boat hire opportunities and rentals. From wake boats, pontoon boats to jet skis, or even paddleboarding yoga, this exciting lake is just waiting for memories to be made.
Sports: for sports enthusiasts, there is never a dull moment when it comes to choosing a sport activity. From golf or tennis, the area has plenty of sporting opportunities to keep you busy and healthy. The peaceful and scenic land offers remarkable trails for hiking, biking, and walking and a chance to really connect with the natural surroundings.
If you prefer staying on dry land and getting lost in nature, the lake and surrounding areas are home to nine campgrounds with over 500 campsites.
Every type of camping enthusiast will find a site that suits their needs for camping on Lake Hartwell. The State Park is one of a few in the state to offer unique, single-room camper cabins which offer guests without camping gear the opportunity to experience the feel of camping.
If camping isn't your thing, many hotels, cabins or holiday rentals will cater to any budget or holiday style. There are also motels and RV sites that are entwined with waterfront dining and entertainment. Purchasing a home in Lake Hartwell can also be a great rental property for additional income as there are always patrons browsing homes to rent whilst vacationing at the lake.
Aside from reconnecting with nature, there are also several historical attractions that make visiting Lake Hartwell a stimulating and informative trip. Some of these attractions include:
Ghost island/cemetery island: Ghost Island is a small island that holds a historical cemetery belonging to the Harris family. When the lake was created, the surviving family insisted upon not moving the graves of their loved ones. The island remains a popular place to beach or camp for lake visitors who wish to pay their respect or feed their curiosity.
Lost city under the lake: the town of Andersonville was once a bustling textile and trading community but was plagued with frequent flooding from the Savannah River. The city was abandoned, and ruins of the town still remain underwater today. Connecting with the local history brings Lake Hartwell to life in a modern way. Those curious about life on the land before can gain an insight by researching and learning about what stood before the lake's existence.
Wildlife: bird watching is very popular around the lake, with over 250 species of birds. The surrounding areas are also home to 40 different mammals, making the lake an exciting place for animal and nature lovers. For those who have deep memories of Lake placid need not fear; there are no alligators reported living in Lake Hartwell!
Broyles Party island: this part of the lake is only accessible by boat and has become a popular location for social activity and the prime spot to meet new people. Spending the day on your boat of choice, you can explore the gorgeous coastline soaking up the rays. A glass of wine with friends or family is the perfect way to spend an afternoon or evening by the lake after a day of exploring.
Hartwell Lake resides on the state line between Georgia and South Carolina, and there are several charming small towns and cities in each state that are close by. On the South Carolina side, examples of these charming places are:
Anderson is one of the larger cities near the lakes, and whether you're the mood to spend a day working a goat dairy farm or sampling local food and drink, there is plenty to keep you entertained in Anderson.
Clemson is a small city bursting with fun, local hotspots where you can enjoy some quintessential southern charm. With lots of southern food and hospitality to enjoy, this is a go-to destination when visiting Lake Hartwell.
And on the Georgia side:
Hartwell: After a long day enjoying time on the lake, Hartwell is the place to be for some post-water sports dining. The area is infiltrated with fantastic restaurants with cuisine ranging from Mediterranean to NY style pizza.
Lavonia: is a place where you can enjoy local wine tasting, browsing for antiques and taking part in an art class. This cultural location is a must-see for any visitor to the area.
Homes in Lake Hartwell
Naturally, a lake this plentiful brings a demand for real estate, and with many professionals and outdoor adventurers turning away from big cities, Lake Hartwell is becoming more and more popular for homeowners. With potential buyers (both young and old) dreaming of city escapes, the last 18 months have propelled the idea of relaxed or remote living. More people have taken the time to think about the benefits of owning a summer property, second home, or completely moving away from busy, cosmopolitan locations for a better quality of life.
Unsurprisingly, prices for these scenic, lakefront homes at the high end of the real estate spectrum can reach up to $2.5 million. Whilst this is not the cheapest, there is a multitude of properties that cater to a vast array of budgets. A three-bedroom, two-bathroom lake house will cost around $725,000, whilst a luxurious five-bedroom, four-bathroom lake house will set you back around $1.7 million.
If these figures do not fall within your budget or expectations, there are a number of mobile homes or camping rentals that are perfect for those who wish to invest in a vacation home.
For those who have retirement plans or have become used to remote working due to the pandemic, there is real estate potential for all walks of life. Having the opportunity to purchase a home within walking distance of the lake's park or one of the boat ramps is a fantastic benefit for those wishing to move.
If you're in the market for a home tucked away in a quiet neighborhood or a stunning lakefront property that offers incredible views, look no further than Lake Hartwell. With breathtaking views, Lake Hartwell's shores are packed with real estate developments, ranging from high-end residential developments to individual lots. Your new home may come with a price tag if it's the lakefront home of your dreams, but your purchase will allow for the ultimate summer retreat or permanent home in complete serenity.