17 Things you Must Know Before Moving to South Carolina
Posted by Preston Guyton on Thursday, June 3, 2021 at 5:20 AM
By Preston Guyton / June 3, 2021
Comment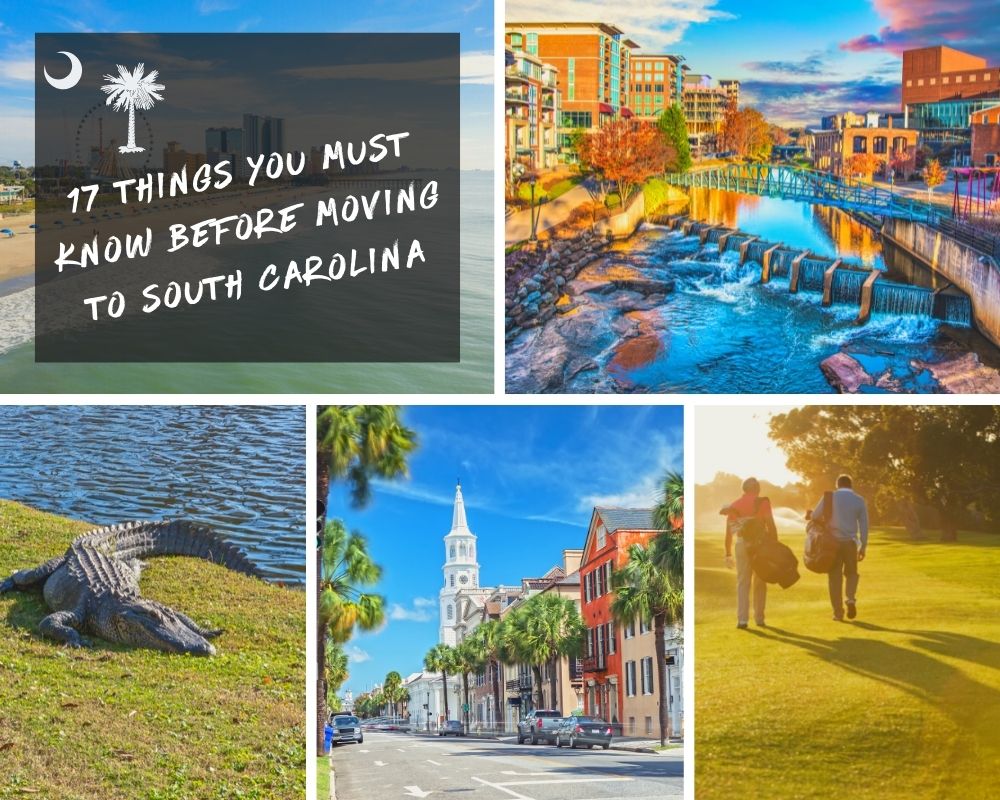 17 Things To Know Before Moving to South Carolina
South Carolina is well known for its gorgeous coastlines, majestic mountains and lakes, and low country settings, each providing ample opportunity for adventure. However, the Palmetto State has also has a rich history, diverse culture, a slower pace of living, and many opportunities and attractions available for residents and visitors alike.
It doesn't matter whether you have a family, are just starting your professional life, or are looking for a place to retire, South Carolina can help you create the life you deserve. To get you started, here are the top 17 things you need to know before moving to South Carolina.
1. South Carolina Has Great Weather
If you're coming from an area with freezing winter temperatures, moving to South Carolina will bring a welcome change. But while the winters are mild, especially towards the coast, summers in the South may come as a bit of a shock. Unlike areas up north, summers here are hot and humid, along with thunderstorms in the afternoon, and you may even experience tornadoes.
During your stay, you can expect to encounter humid subtropical climates, where the average high is around 75 degrees Fahrenheit, and the annual average low is around 52 degrees, according to US Climate Data. July and August are the hottest months, which see average temperatures between 91 and 93 degrees. The coldest months have an average of around 58 to 60 degrees.
2. The Job Market Is Flourishing
If you're considering making the move to South Carolina for a better job, then you're on the right track. With the state's employment rate coming in at just 2.6%, it has a lower rating compared to the rest of the country, which sits at 3.6%. There are many jobs available in the tourism, automotive, and aerospace industries, so you won't find it hard to land a job in these sectors.
You can also find work in other prosperous industries such as agriculture, manufacturing, transportation, and call centers. At the same time, healthcare is also another thriving sector, which is in high demand throughout the state. Some of the top employers in South Carolina include Samsung, the University of South Carolina, Nucor, Bosch, Hilton, and Marriot.
3. Homes Are Affordable Here
Many people who move to South Carolina are pleased to know that the average home price here is $166,000 — this figure is close to being 15% lower than the rest of the country. However, take into account that this will depend on the location. For example, homes in Charleston will start around $300,000 or more. For the most part, though, houses are affordable, and over 70% of residents are homeowners in this state.
If you plan to rent before buying the home of your dreams, a one-bedroom apartment will be priced at around $1,300. But keep in mind that prices will reach their peak around May and August, so if you do want to buy a house, ensure that you do so between September and April. Get assistance from a real estate agent to get the right house for the right price.
4. South Carolina Has the Most Pristine Beaches
Myrtle Beach sits right at the heart of the Grand Strand, with beaches that stretch for 60 miles with white sand and various attractions. Here, you'll find shopping outlets, oceanfront hotels, countless restaurants, golf courses, and plenty of tourist attractions. However, tourists aren't the only ones flocking to Myrtle Beach. It's also a popular destination for retirees looking for a more affordable option compared to more expensive places like Florida. Some other popular beaches found in South Carolina include Pawleys Island, North Myrtle Beach, Hilton Head, Folly Beach, and Kiawah Island.
If you're not a fan of saltwater, there are plenty of other areas and bodies of water that you can enjoy in South Carolina — there are many creeks, swimming holes, and lakes here too! In these places, you'll have fun kayaking through the marshes and creeks, go jet skiing by the lake, or just go for a swim at any of the swimming holes across the state. Some of the best places to check out include Lake Jocassee, Shem Creek, or Clark Sound.
5. South Carolina Is a Golfer's Paradise
If you play golf regularly, you'll love this state. South Carolina is the host to some of the finest golf courses in the country, so you'll be able to enjoy casual play and tournaments. You'll also find that Charleston contains some of the best Golden Age golf courses, with the second oldest golf course residing in Aiken at the Palmetto Golf Club. With close to 100 golf courses over a 60 mile coastline strecth, Myrtle Beach, SC is often called the "Golf Capital of the World".
With hundreds of gorgeous golf courses to choose from throughout South Carolina, tourists flock here for the chance to play at some of the most well-known courses. Because of this, a lot of South Carolina's income comes from golf. So even those who don't play golf can still benefit from the money the sport brings into the state.
6. South Carolina vs. Clemson Is the Most Epic Rivalry
The rivalry between the South Carolina Gamecocks and the Clemson Tigers started a long time ago, and it's not just about college football. Its roots go back to the 1880s when tensions were rising due to post-Civil War reconstruction. Today, though, it's all about football, and everyone in the state has a side. Dedicated fans also look forward to the tailgate. The tailgate is attended by thousands of fans every year and can be just as fun and exciting as the game.
7. The Birthplace of Sweet Tea
South Carolina is nationally recognized as the birthplace of sweet tea. As such, tea in this state is known to be "sweet" and anything unsweetened isn't part of their afternoon tea. However, no one knows how to make sweet tea better than Summerville.
On another note, Summerville is also the birthplace of Southern hospitality. The city of Summerville is the reason why we so often hear lines such as "yes, sir" and "bless your heart," along with tasty cups of sweet tea.
8. Best Places To Live in South Carolina
Right now, there's a huge competition over who will win the top spot for city rankings in South Carolina. While people new to the state may think that Charleston is the capital city, it's not. It is, however, one of the fastest-growing cities, which makes it a great place to live. Columbia, on the other hand, is also moving closer to the top spot as it continues to grow with each year. There are some other places within contention as the best area to live in the state; check them out below.
Greenville
As its name suggests, Greenville offers plenty of green spaces where you can hike over the weekend or camp during the holidays. Furthermore, it has much to offer those who wish to find an escape from their busy lifestyle. Because of this, it ranks among some of the nicest places to live in South Carolina.
It's also known as the home of South Carolina culture and has one of the most prominent museums in the state. There are also plenty of coffee shops and restaurants in the downtown area, which provide great places to relax while getting a feel for the city. Greenville has a lot of opportunities to offer, so naturally, many people consider moving here.
Five Forks
According to recent research, Five Forks is one of the best places to reside anywhere in the state. The city is open and welcoming, which has contributed to its vast population, and it is also easy for newcomers to fit in. Its weather is mild, and its environment is clean, away from pollution and noise of big cities.
It's also known as a great area for those who have just started a family. Raising your children here is easier, especially since this city has a better education system compared to most of South Carolina. Lastly, there are various things that children can do after school, with many activities available to help them excel outside of academics.
Spartanburg
Spartanburg is known as a great place for young professionals looking to establish themselves. This city has numerous employment opportunities inside big international companies like BMW, Adidas, Michelin, and more. Education levels in Spartanburg are also high, and on the weekends, you can enjoy riding bikes around the city, which is one of the primary forms of exercise for those living in the city.
Aiken
Home to one of University of South Carolina campuses, this city has a young look and feel that everyone can enjoy. With Augusta, Georgia, it is one of the two largest cities of the Central Savannah River Area. Aiken's education system is also growing rapidly, giving it a spot among the best schools in the state. There's also a low crime rate here, which makes it an ideal area for families with children.
Outside of the state, Aiken is known for its horse racing events. As a result, the Thoroughbred Racing Hall of Fame and museum make up a huge portion of this city's identity. So if you're a big horse racing fan, this city is the perfect place to live.
Columbia
As the capital of South Carolina, Columbia is the perfect place for both young professionals and families as it offers plenty of employment opportunities, as well as an excellent education system. You'll also be able to feel the vibrant city life and the energetic spirit of the youth thanks to The University of South Carolina.
The downtown area allows visitors to experience the locals' hospitality, where the streets are filled with restaurants and bars. Because there are plenty of fun activities to enjoy during the weekend, Columbia also makes for the perfect place to stay with the family. You'll enjoy many of the great tourist attractions here, including huge zoos and the biggest entertainment arena.
Hilton Head
Hilton Head Island with its 12 miles of beaches is recognized as one of the best family beaches in America. Hilton Head, like many other areas along coastal South Carolina has seen an enormous amount of growth through the years with many people attracted to the laid back lifestyle, pristine beaches, and world class golf. Conserving the natural habitats is also very important to residents, between the island and mainland, the Pinckney Island National Wildlife Refuge salt marsh hosts deer, alligators and birds.
Hilton Head Island is the most southern beach in South Carolina, Savannah, GA, and Beaufort, SC are both just a 45 minute car ride from Hilton Head. One of the most iconic and most photographed structures in Hilton Head is the Harbour Town Lighthouse. The Harbour Town Golf Links hosts the RBC Heritage, this PGA Tour tournament has been played annually since 1969 and is currently plaed the week after The Masters.

Hilton Head Island will continue to see growth as it attracts tourists and an influx of new residents year after year.
Charleston
If you're looking for Southern Hospitality, then Charleston is the place to be. Both locals and those new to the city will find that this city is full of warm and welcoming citizens. Furthermore, the culture here is unparalleled, with great food that defines their culture along with great events every year. Lastly, reasonable walk from the city will take you to the sandy white beaches that attract more and more people to the area.
Myrtle Beach
As mentioned above, Myrtle Beach is one of the more prominent destinations for tourists in South Carolina. It has become known as the prime vacation spot for both residents and visitors, making it a popular area for those looking for an affordable alternative to Florida. There are plenty of things to enjoy in Myrtle Beach, with plenty of bars and restaurants along the streets.
9. The Barbecue Is Top Notch
If you love barbecue, you need to make your way to South Carolina, pronto. Because the folks here have their own recipe for barbecue sauce, it's naturally among some of the best-tasting in the world. You'll even find a South Carolina barbecue trail that contains more than 200 restaurants for you to compare all the various barbecue offerings.
But you can't enjoy barbecue without barbecue sauce, which is another reason why South Carolina has the best food. People here are known to have a plethora of various kinds of BBQ sauces, with the most famous being their mustard-based BBQ sauces. There's no better way to enjoy your BBQ than having it smothered in delicious BBQ sauce.
10. You Might See a Gator or Two
Instead of the usual "Don't feed the birds" signs, South Carolina has its own version, which reads, "Don't feed the gators." This doesn't mean that we should avoid throwing crumbs at gators, but rather, it reminds us that we shouldn't wander around where they roam — unless we want to be their lunch! Thanks to the state's warm temperatures and rich wetlands, it has become an ideal place for alligators to live, so be sure to take care when exploring new areas.
11. South Carolina Is Rich in Public Areas
The state of South Carolina has some of the most impressive collections of National Monuments, National Parks, National Historic Sites, and other protected lands. However, the Palmetto State is not just protected by the federal government. The parks around South Carolina make up an area of 80,000 acres of protected lands, which start from the Blue Ridge Mountains and go all the way to the coast. Some of this land is designated for the protection of the state's wilderness, while other areas are designated for recreation, cultural, or historic interest.
12. Food Here Is Delicious
"Southern food is gross," said no one ever. The cuisine of the south is usually defined through the food traditions of various regions such as Appalachian, Tidewater, Lowcountry, Creole, Cajun, and Floribbean cultures. There are plenty of places where you can get a taste of southern food, with each having its own specialties. However, there are many staples that you must try if you're planning to stay in South Carolina for good, such as fried chicken and waffles, shrimp and grits, homemade sticky buns, duck confit hash, chicken bog/perlot, and potato hash with melted cheese.
13. South Carolina Is Home to the Citadel
One of the six Senior Military Colleges in the country, the Citadel is located in Charleston, South Carolina. Established in 1842, the Citadel offers 18 academic departments divided between five schools offering a total of 23 majors and 38 minors.
Their military program consists of cadets pursuing a bachelor's degree while living within campus. Their non-military programs include 26 graduate degrees and 12 undergraduate degrees, along with online programs for seven graduate degrees, three undergraduate degrees, and three certificate programs.
14. South Carolina Has Beautiful Gardens
They're not only beautiful, but they are also some of the most stunning in the world. One such example located in Charleston, SC is the Magnolia Plantation, which serves as the home to some of the state's most quintessential Southern gardens. Just over an hour north of Charleston and just south of Myrtle Beach you will find Brookgreen Gardens with a botanical garden that is over 9,000 acres. If you're in upstate South Carolina, you can make your way to the South Carolina Botanical Gardens, where you can see a beautiful collection of flowers. It's located on Clemson University's campus and offers pathways, nature trails, streams, ponds, and woodlands apart from flowers.
15. The Taxes Are Reasonable
Moving to South Carolina comes with plenty of benefits, with taxes being one of them. The state of South Carolina doesn't tax Social Security benefits while also having some of the lowest property taxes anywhere in the country. Seniors also enjoy a generous retirement income deduction when it comes to state income taxes. Furthermore, South Carolina doesn't charge estate or inheritance taxes, along with other perks for seniors who qualify.
16. One of the Highest Tree Canopies
At the Congaree National Park, you'll see the country's biggest and last forest of old-growth bottomland hardwood. This national park is the home of some of the tallest trees on all of the East Coast and also houses one of the highest temperate deciduous forest canopies left in nature. Furthermore, this 26,546-acre park has many unique and gorgeous flora and fauna that can't be missed!
17. South Carolinians Celebrate With a Bang
No one can deny that South Carolina is the place to be on the Fourth of July. Apart from the great fireworks displays in their parks and beaches, everyone also has their own private fireworks show. Because fireworks are legal in South Carolina, everyone will either go big or go home during their firework shows. There's no need to worry, though — people learn to shoot their fireworks at the age of 3 in this state, so they're all pros, and everything is perfectly safe here.
There's so much in store for anyone wanting to move to the Palmetto State — from culture and history to food and nature — there's something that will interest everyone. If you're looking for a low-key Southern lifestyle, while having the advantages of excellent education, a thriving career, and various places to explore during your free time, then South Carolina is the place for you. Of course, it's not enough to learn about an area. You should also consider how the changes will affect your budget to ensure that you'll be able to enjoy everything that this state has to offer.