EZ Home Search Guide to Living in Stanly County, NC
Posted by Preston Guyton on Tuesday, January 11, 2022 at 5:47 AM
By Preston Guyton / January 11, 2022
Comment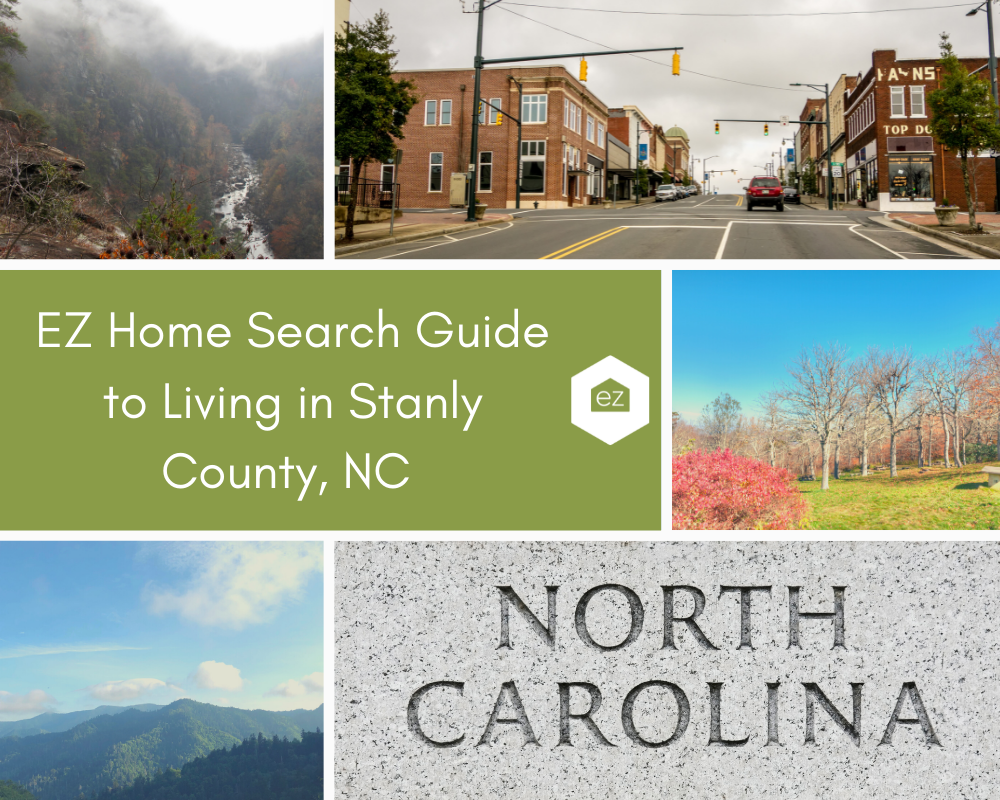 EZ Home Search Guide to Living in Stanly County, NC
Are you searching for wide, open spaces? Or maybe you want to live in a tight-knit community? Discover Stanly County, North Carolina. Located in the Charlotte region, here is a place built on connections to neighbors, a rural lifestyle, and a feeling of freedom. It's a more rural area, but it still delivers on amenities like high-quality education and a strong economy.
Explore our living in Stanly County overview to see why it is a great place to live in North Carolina.
About Stanly County
Located in North Carolina's Piedmont region, Stanly County is a rural county abundant in farmland. The most striking geographic features are its waterways. Lake Tillery spans 5,000 acres and has over 104 miles of shorelines, and Badin Lake has 115 miles of shoreline and just over 5,000 acres of water.
The Rocky River forms the boundary between Stanly and neighboring Cabarrus, Union, and Anson Counties. It terminates at the Yadkin-Pee Dee confluence in Stanly County. The Rocky River might be the largest undammed river in the state, with the Blueway of the Carolina Thread Trail running 49 miles.
Stanly County shares more borders with Montgomery, Richmond, and Rowan Counties. The Yadkin and Pee Dee Rivers run along the eastern border.
Residents live just to the northeast of Charlotte, with county seat Albemarle 42 miles away. It's close enough to head into the state's largest city for a day trip but live without daily urban congestion.
Stanly has a relatively temperate climate when it comes to the annual weather. In January, the average temperatures are 51F for the high and 30F for the low. July is the warmest month, with an average 89F high and a 68F low. October and November are typically the driest months of the year.
Living here won't break the bank. The cost of living index places the national average at 100. Stanly County falls below this with an overall score of 81.2. The most expensive category was health care, which had a score of 100.5, while the most affordable index was housing at 60.7.
Stanly County History
Archeological evidence has not yet revealed any permanent Native people settlements but does show the land was used for hunting and gathering by Badin, Morrow Mountain, and Pee Dee peoples.
Early European settlers had German and Scots-Irish heritage. They participated in the Revolutionary War, although no significant action occurred here.
Formed in 1841, Stanly County was named after the colorful politician John Stanly who served in the North Carolina government and the US House of Representatives. He is renowned for winning a legalized duel against the North Carolina governor, which the succeeding governor pardoned him for. He never set foot in Stanly County.
Gold was discovered in Stanly County near Reed Gold Mine in 1825, leading to a Carolina gold rush and bringing thousands of prospectors into the state. New London's Cotton Patch Mine was a significant provider. At one point, the state was producing $1M in gold each year.
In addition to gold mining, Stanly County's agricultural land produced bountiful results. Wheat, cotton, corn, and livestock were important products.
Stanly County did not see significant Civil War action, but it did provide six companies under the Confederate banner.
Stanly County Cities and Areas
Albemarle in the Uwharrie Lakes region is the designated county seat. The community is a collection of neighborhoods and businesses. Residents live within an hour's drive from Charlotte and two hours from Raleigh.
Badin sits on the shores of Badin Lake. The historic town was built in the early 1900s as an Aluminum Co. town for its employees. It has the charm of a French Provincial Village, as it was purposely designed after the founder's homeland.
The city of Locust is a "crossroads" community as travelers often pass through on their way to surrounding counties. It is still between Charlotte, Albemarle, Concord, and Monroe.
Village of Misenheimer formed around a train depot where vacationers and health seekers would disembark to visit the Misenheimer Springs. Today the small town is home to a small four-year private liberal arts college.
New London is known as a quiet residential town in the northern area. The gold mines once attracted enough people to make it larger than Albemarle.
Norwood is in the southeastern corner near Lake Tillery and the forks of the Pee Dee and Rocky Rivers. Norwood provides access to the one hundred miles of Lake Tillery shoreline, making it a jumping-off point for watersports.
Oakboro is known for its community spirit and pride. It is a small town of around 1,800 people and serves the small communities around it with retail and businesses.
Other small towns in Stanly County include Red Cross, Richfield, and Stanfield. These small towns are situated at local intersections where travelers have or still pass through.
Stanly County Job Market
A wide range of businesses fuel the local economy. Represented industries include aerospace, food processing, metalworking, energy, manufacturing, textiles, and automotive products.
Based on the number of employees, Stanly County's top employers are Stanly County Schools, Atrium Health, Walmart Associates, Five Grand, Stanly County, Food Lion, Clayton Mobile Homes, Stanly Community College, Michelin Tire Center, and the Department of Public Safety. The area is also home to several notable manufacturers such as Preformed Line Products, Universal Forest Products, and Bullington Construction.
Data on the unemployment rates from October 2021 place the county at 3.4%. The average commute time for 2015-2019 was 27 minutes.
Stanly County Real Estate Market
In Stanly County, set up your farm homestead, enjoy small town living, or find paradise living on the lakefront.
Based on October 2021 data, Stanly County increased the number of new listings year-over-year (YOY) and year-to-date (YTD). Median sales prices were $250,000, a 21% jump YOY. Most homes were on the market 18 days until sale and 58 days until close. The months' supply of inventory was less than one month, a 47% YOY drop.
Historically, Stanly's median sales prices have been under the entire Charlotte Region's average. Prices were slowly but steadily rising from 2014-2019 when the market experienced significant price growth. Prices leveled off for most of 2020 but began climbing again later in the year. The sharpest increases have been since mid-2021.
Stanly County property taxes are $0.6100 per $100 of valuation. Property values were last evaluated in 2021 and are scheduled for 2025 reassessment.
Stanly County Population Growth
The 2020 Census reported 62,504 residents in Stanly County, a 3% increase over the 2010 count. North Carolina estimates that between 2020 and 2030, Stanly County will add 4.7% new residents, or about 3,000 people.
The median resident age in 2019 was 42. Around 22% of residents were under 18, while 19% were over 65. Most residents lived in a rural area, with only 32% in an urban area.
Approximately 81% of residents identified as white alone, 11% as Black or African-American, and 4% as Hispanic or Latino.
Of the residents 25 and older, 17% had earned a bachelor's degree or higher. Around 85% of the same-aged persons had a high school degree or higher. The median household income as of 2019 was $52,623. About 75% of residents owned and occupied their homes.
Stanly County Education
Stanly County Schools had around 9,000 youth enrolled in K-12 education. The public school district runs 21 schools. In sum, there are 11 elementary schools, four middle schools, and six high schools. Options include the Stanly Early College, which provides a jumpstart on college and career pathways.
The Graystone Day School is a nationally recognized charter school for grades 6-12. The high school has ranked no. 1 among the state's high schools in the past. US News and World Report has recognized it as one of the best high schools in the nation. The school is on the Pfeiffer University campus in Misenheimer.
Three private education schools are available. Park Ridge Christian School, Christ the King Christian Academy, and Carolina Christian School are top-ranked schools.
Stanly Community College enrolls over 5,000 students for two-year degrees, professional certificates, and diploma programs. Students can enroll in over 50 possible pathways, from welding technology to nursing to advertising and communications.
Pfeiffer University is a small, four-year liberal arts school affiliated with the United Methodist Church. Over 2,000 students are enrolled in the 40-plus academic programs available. Athletes play in NCAA Division III. The flagship location is in Misenheimer, but the university runs a satellite campus in Charlotte and Albemarle. The Albemarle location houses two graduate degree programs in health care.
Stanly County Health Care
Atrium Health Stanly Regional Medical Center runs accessible, affordable state-of-the-art medical care for residents. Medical services include urgent care centers, rehabilitation facilities, home health, primary care physicians, and specialists. The main hospital is located in Albemarle. It has 109 beds, is a charter member of the Levine Cancer Institute, and has advanced diabetes and stroke treatments certifications.
The Stanly County Health Department provides a sliding scale for basic health care coverage. It operates an adult health clinic, dental clinic, women, infant, and children's unit, and family planning services.
Stanly County Things to Do
Nature is beautiful in Stanly County. Lake Tillery provides miles of shoreline and hundreds of acres of water. Spend a day fishing, boating, or hiking the shorelines. Badin Lake is another option for water recreation, with 115 miles of shoreline. The man-made lakes are connected by the Pee Dee River.
The Falls Reservoir is a narrow lake created between the Narrows Dam and the Falls Dam. It's only around two miles in length and fairly narrow, but it is more rustic and rural.
Morrow Mountain State Park is a place for adventure. Visitors can hike, paddle, horseback ride, or swim near one of the highest points in Stanly County. The Uwharrie Mountains are the oldest mountain range in North America. Amenities include public boat launches, camping, fishing, swimming, 16 miles of bridle trails, and 15 miles of hiking trails.
Hiking and biking are available at eight different parks located in Stanly County. These include, but are not limited to, the Roger Snyder Greenway, Don Montgomery Memorial Park, and Chuck Morehead Memorial Park. Road biking routes cross Stanly County, allowing you to form various loops that take in views of the Piedmont hills.
If you enjoy golf, Stanly County has five golf clubs: Tillery Tradition, Old North State, Piney Point, Red Bridge, and Pinehurst.
Oakboro's Monthly Cruise-In is one of the largest in the state. It happens on the fourth Friday of each month with cars arriving at 3 pm. Here you'll find classic Mustangs, Camaros, and other vintage cars. The Cruise-In includes food vendors, door prizes, and live music.
Stanly County Local Attractions
Reed Gold Mine was the site of the first documented gold discovered in the United States. The state-led the nation in gold mining until California took over in the mid-1800s. The ensuing North Carolina gold rush brought thousands into the state seeking their fortune. Today you can visit and experience the history of the gold mine.
Badin Lake is an attraction for history buffs. A World War II B-25 bomber and its crew lie somewhere at the bottom of its 200-feet. Plus, there's kayaking, fishing, and boating on the lake.
The Badin Road Drive-In Theater is one of the last drive-in theaters remaining in the state. The shows begin at sundown and often have double features with intermissions and games.
The Carolina Treetop challenge is a self-guided adventure course that runs through the trees. The rope course is suspended up to 60ft above the ground with military-style obstacles and ziplines.
The Fork Farm and Juneberry Ridge is a world-class equestrian and sportsman facility. It is surrounded by bike riding, fishing, and hiking in southern Stanly County. The farm hosts the annual Fork Horse Trials and Outdoor Heritage days. Juneberry Ridge is a sustainable farm with the renewable energy model used by clay shooting enthusiasts and those needing a venue for meetings and conferences. There are over 400 acres with trails, hiking, cycling, and mountain biking.
You will find community museums in Oakboro, Norwood, New London, Badin, and Albemarle as you explore Stanly County. The Stanly County Museum documents the area's rich heritage and makes the community unique.
Stanly County Dining
Stanly County dining gives you options from casual dining to North Carolina BBQ to seafood. Taste international flavors and American classics like sandwiches, burgers, and pizza. Your dining options are spread around from Albemarle to Locust to Norwood. Some of the top-rated restaurants are:
Five Points Public House, serving traditional American Pub food
Off the Square, casual yet upscale, farm-to-table dining
Second Street Sundries, a casual new American joint
Jay's Seafood Restaurant, a local favorite fish camp place
Rosebriar, a lunch and dessert place
You might be surprised to learn there is a wine-growing tradition in this part of the Piedmont. The local vendors grow everything from muscadine to riesling. Four vineyards are open to the public:
Rocky River Vineyards
Dennis Vineyards
Uwharrie Vineyards
Stony Mountain Vineyards
Stanly County Shopping
In the main town of Albemarle, you will find shopping malls with your essential lifestyle amenities. If you're looking for unique shopping, Stanly County has that, too. Explore the downtown areas of the different small towns to find antiques and local boutique stores. Downtown Albemarle has consignment stores, fashion, and unique gifts.
The Stanly County Arts Council operates from Albemarle. You can also visit the Roger Martin Gallery to see his unique take on wildlife sculpture or the picturesque portraits of Roger Thomas Art Studio.
Living in Stanly County
Stanly County is a pleasant place to live with an affordable cost of living and an excellent education system. You have the best of two worlds, with a small-town vibe and wide-open spaces. The outdoor amenities include over 10,000 acres of freshwater lakes, a mountain range, vineyards, golfing, and hiking trails. You are a world away from the hustle and bustle of big city living, yet you are still close to those amenities when you desire to travel into Charlotte or Raleigh.