EZ Home Search Guide to Living in Forsyth County, NC
Posted by Preston Guyton on Monday, January 17, 2022 at 7:38 PM
By Preston Guyton / January 17, 2022
Comment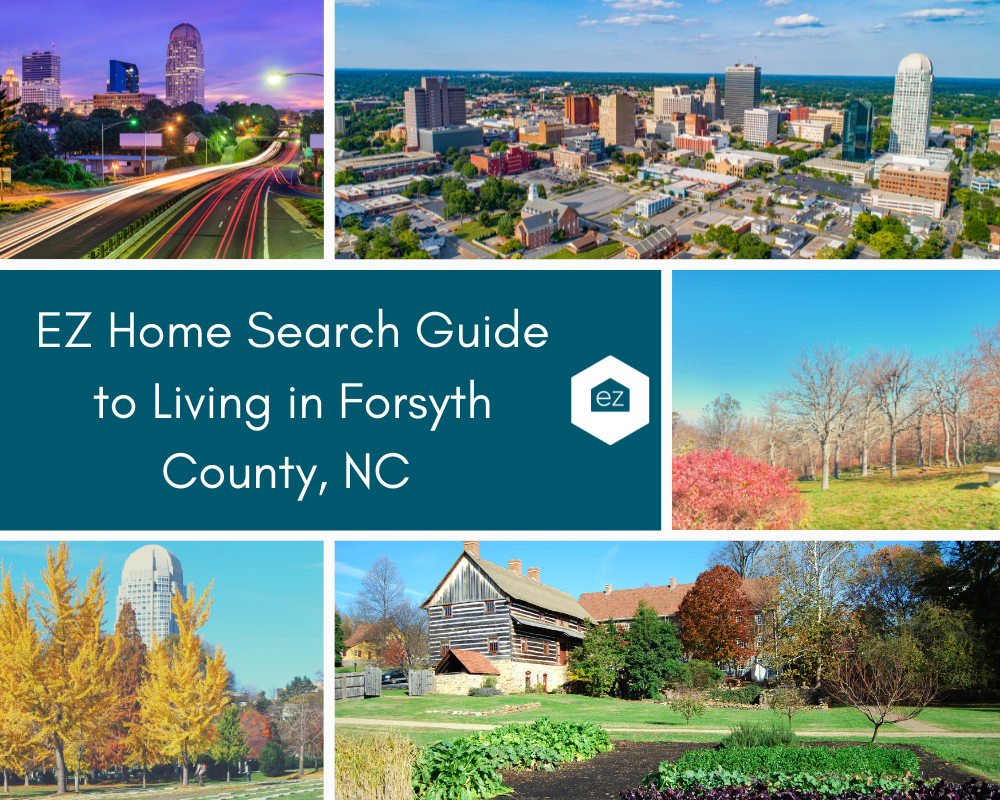 EZ Home Search Guide to Living in Forsyth County, NC
Welcome to dynamic Forsyth County in central North Carolina. It has many advantages. This part of the Piedmont Triad is halfway between New York and Florida and is well-served by an excellent transportation network, world-class education, and a thriving economy. The lifestyle is bolstered by a rich arts scene, ample dining and nightlife, and numerous parks.
Learn more about living in Forsyth County and what it offers for you to create an enriching North Carolina home.
About Forsyth County
Forsyth is part of North Carolina's Piedmont region and the state's fourth most populated county. The dominating town is Winston-Salem, a hub for education, commerce, arts, and culture.
Here you live closer to the North Carolina mountains than other areas in the Piedmont Region. It is a land of rolling hills, creeks, and streams running between. The combination of geography and climate makes Forsyth ideal for wine-growing.
The Yadkin River forms the county's western border. The other surrounding counties include Stokes, Rockingham, Guilford, Davidson, Davy, Yadkin, and Surrey.
Three interstates make getting around Forsyth County convenient. Connector I-285 runs south from Winston-Salem and drops into I-85 near Lexington. Both I-40 and I-74 run through the county, connecting Forsyth residents to destinations like Greensboro, High Point, and Asheville.
Residents get to enjoy all four seasons without icy winters and bone-dry summers. The county averages 216 sunny days a year. The annual average temperatures range from 49F to 70F. January average temperatures range from 32 F to 46F. July averages from 69F to 90 F. The spring months are the wettest of the year.
The Forsyth County cost of living is indexed at an overall 86.3. The North Carolina index was 90.6, while the US average is always 100. This means living here is typically less expensive than the state and national averages. Compared to national averages, health care was the highest index category while housing was the lowest.
Forsyth County History
The area that would become Forsyth was colonized by Europeans starting in the 1750s. It began as a Moravian settlement called Wachovia after an Austrian count who was an early protector of the Moravian Church. The Moravian influence is still evident in the settlements of Bethabara and Bethania.
Salem started in 1766 as a central town in the Wachovia region. It quickly became a religious center and a hub for trade. The Moravians also established nearby Friedland and Hope.
Forsyth County was carved from Stokes County in 1849. It was named after Brevet Lieutenant Colonel Benjamin Forsythe, who was killed during the War of 1812. He was a native of Stokes County.
The county seat was established in 1851 as Winston instead of Salem. Later in 1879, the county authorized the combination of Winston and Salem, making one town to serve as the county seat.
Forsyth County Cities And Areas
Winston-Salem is the dominating town in Forsyth County. The city takes up most of the region with its neighborhoods and surrounding suburbs.
Winston-Salem has a unique culture rooted in its Old Salem town roots. The city's urban amenities include 30 bars and breweries, a walkable downtown, numerous restaurants, community events, and sporting activities. Several historic districts are throughout the town.
Historic Bethania was established as one of the first settlements in Wachovia. It was intended to be a self-sufficient farming community. Today it's one of the last European-style agricultural villages left in North Carolina. Many of the Moravian-influenced buildings have been preserved.
Clemmons Village is to the east of Winston-Salem. The town was founded in 1802 and sits along I-40, contributing to its growth. Popular Tanglewood Park draws visitors throughout the year, especially for the holiday lights display.
Kernersville is a historic town in the heart of the Triad, with numerous landscaped parks and community activities. The botanical gardens are a popular attraction.
Lewisville was founded along the Great Wagon Road that ran from Pennsylvania to South Carolina. It became a mill town, built around the Roller Mill, which operated until 1984. Today it is a fast-growing community of almost 13,000 residents. The Town Square has been a focal point for the community.
Other towns and communities in Forsyth County include Rural Hall, Tobaccoville, and Walkertown.
Forsyth County Job Market
Forsyth County's economy has strong ties to textile manufacturing and tobacco production. You'll see this in the numerous old brick factories and warehouses that have been reinvented into co-working spaces, apartments, and breweries. Modern Forsyth County has a diverse economy. Forsyth County's unemployment rate in November 2021 was 3.4%.
Inside Winston-Salem is the Innovation Quarter, a district focused on pharmaceutical, biomedical, and biotechnology research and development. Over 90 companies work here in partnership with the Wake Forest School of Medicine and other providers.
Other major companies have built enterprises inside Forsyth County to take advantage of its low-cost, available land and talented workforce.
Based on the number of employees, the top employers are Wake Forest University Baptist Health, Novant Health Care, Winston-Salem/Forsyth County Schools, BB&T/Truist Financial, Wells Fargo, Reynolds American, and Hanesbrands, City of Winston-Salem, Wake Forest University, and Forsyth County Government.
Other notable brands with a major influence in the local job market include Collins Aerospace Interiors, Herbalife, AT&T, Inmar, Hayward Industries, Deere-Hitachi, Cook Medical, Best Logistics Group, and American Airlines.
The average commute time to work was 22 minutes.
Forsyth County Real Estate Market
A range of housing options is available to Forsyth County residents. You can live in an urban downtown environment, a city suburb, or find land to create your homestead. Around 92% of county residents lived in an urban area, and 62% owned their homes.
Data from November 2021 reported the median listing price was $292,530 for 401 active listings. The median price per square foot was $145. Homes were on the market a median of 43 days before the sale. The total number of listings was down for both month-over-month and year-over-year. New listings were up year-over-year but still not enough to meet housing demand.
Based on Niche.com, Clemmons and Lewisville are two of the top places to live in Forsyth County. Winston-Salem came in as number three.
Real estate property taxes in Forsyth County were assessed at 0.6778 mils per $100 of property value in 2021. Housing values were evaluated in 2021 and will be reassessed in 2025.
Forsyth County Population
The 2020 US Census counted 382,590 residents in Forsyth County. The county added almost 32,000 new residents since the April 2010 census. The median resident age was 38.
Winston-Salem was the most populated city, followed by Kernersville and Clemmons. Winston-Salem was the state's fifth most populated municipality in 2018.
Approximately 16% of the residents were 65 years and older. Another 22% were under the age of 18. Demographically, 56% identified as white alone, while 28% identified as African American. Another 13% of residents identified as Hispanic or Latino.
Of residents aged 25 and older, 34% had obtained a bachelor's degree or higher. The median household income in 2019 was $51,569.
The county projects that by 2030 it will have 418,257 residents. It anticipates a growth rate of 0.9% per year, roughly 3,350 people.
Forsyth County Education
Forsyth County offers a quality education system from preschool through graduate studies.
The public school system is the Winston-Salem/Forsyth County School System. It was formed from the merger of the Winston-Salem and the Forsyth County districts. It is the fourth-largest public school system in North Carolina and the 81st largest in the nation.
Over 53,000 students attend Pre-K through grade 12. The district operates 41 elementary schools, 15 middle schools, and 18 high schools. There are an additional seven specialty schools for 81 schools. The school system uses on school choice, giving families the ability to choose between magnet and choice schools.
Families have 30 private schools available in Forsyth County. The top-ranked private schools included Forsyth Country Day School, Summit School, Salem Academy, and Winston Salem Christian School. Around 67% of the private schools were religiously affiliated.
There are ample higher education opportunities in Forsyth County. Here is a breakdown of the colleges and universities located here:
Forsyth Tech Community College enrolls around 11,000 credit students and another 24,000 in corporate and continuing education. It offers vocational, skilled training, two-year degrees, and college transfer. It's one of the largest schools in the North Carolina community college system.
Carolina University is a faith-based four-year school with computer science, nursing, information systems, education, biology, and business programs. Advanced degrees are available in education and health sciences.
Salem College has roots going to 1772. This women's college ranks as the 13th Best Small College in the United States. It offers four-year and graduate degrees in science and arts programs. Athletics play in NCAA Division III.
The UNC School of the Arts was ranked as the second Best Small College in North Carolina and is a leading arts conservatory. It was America's first public arts conservatory and provides a unique training experience for performing, visual, and moving arts.
Wake Forest University is a private university ranked the no. 2 college in North Carolina. It has a highly regarded medical, law, business, and divinity school. It enrolls around 8,000 students in 45 major programs of study. US News & World Report ranked it as one of the top 30 universities in the nation in 2021. Athletics play in NCAA Division I.
Winston-Salem State University is a Historically Black College and University (HBCU). It offers 37 BA programs and nine graduate programs, including two Ph.D. studies. It was ranked in the top 10 HBCUs in the country, no. 1 in the state, and has a nationally top-ranked nursing program. It's ranked no. 1 for jobs in North Carolina after graduation.
Forsyth County Health Care
Forsyth County residents benefit from some of the state and country's best health care systems. You have a range of quality health care options available to you.
Atrium Health Wake Forest Baptist
This began as a medical school in 1902. It is a nationally recognized academic medical center with an integrated healthcare system. Wake Forest Baptist is a center for pioneering research. The institution offers a wide range of specialties in medical care and often runs cutting-edge clinical trials.
The Baptist Medical Center is an 885-bed hospital that includes the Brenner Children's Hospital plus five more community hospitals. The facilities include the region's only Level 1 adult and pediatric trauma center and the only burn center in Western North Carolina. It performs the most kidney transplants in the state. Around 300 physicians are recognized on the Best Doctors In America list.
Novant Health
Novant Health is an integrated clinic of physicians, outpatient facilities, and hospitals. Of note:
The Forsyth Medical Center is based in Winston-Salem. From here, it offers emergency services, surgery, rehabilitation, and behavioral health. Its centers of excellence include the Women's Health and Wellness Center, Heart & Vascular Institute, the Davis Cancer Center, a Stroke And Neurosciences Center.
The Kernersville Medical Center offers emergency services, surgery, diagnostic testing, and inpatient care. Its areas of specialization include diabetes, heart and vascular care, neurology, rehabilitation, stroke and mini-stroke, and women's health.
Kernersville VA Clinic provides health care for US Veterans. Its services include cardiology, endocrinology, infectious disease, laboratories, mental health, nephrology, neurology, primary care, pulmonary, and surgery.
Cone Health MedCenter is a not-for-profit medical facility operating in Forsyth County. It is part of an integrated network of health care that includes a behavioral health outpatient hospital, urgent care, diagnostic imaging, lab work, and primary care physicians.
Forsyth County also operates a Department of Public Health with low-cost general medical services and immunizations.
Forsyth County Things To Do
Forsyth County may be an urbanized county, but plenty of outdoor recreation is available. Winston-Salem alone has around 3,500 parks and 25 miles of greenways. These incorporate paved and unpaved trails. Popular places are the Quarry at Grant Park, Tanglewood Park, and the Downtown Strollway.
At Hanging Rock State Park, enjoy swimming in the lake or canoe rentals on the Dan River, rock climbing, mountain biking, and camping. Tanglewood Park offers horseback riding, swimming, hiking, and a renowned holiday lights display. Pilot Mountain State Park is known for its iconic peak and is a beacon for hikers, rock climbers, and nature lovers.
Next to downtown Winston-Salem lies Salem Lake. A seven-mile trail provides scenic views of the 365-acre reservoir. Get out on the water with small boats and kayaks. In the county's northeast corner, parts of Belews Lake offer more boating and fishing opportunities. Another option for water recreation is the Yadkin River along the western border.
Even more outdoor activities are found throughout Forsyth County. There are adventure parks with zip lines and climbing obstacles, skate parks, and water parks. Residents have over ten golf clubs, two botanical gardens, bike-sharing, and so many more ways to enjoy a day outside.
Arts and culture are thriving here. In Winston-Salem, explore the Downtown Arts District (DADA). The district has a mixture of art studios, galleries, shops, and businesses. The DADA runs a gallery hop every first Friday of the month throughout the year.
In addition, Forsyth County is home to the UNC Performing Arts Conservatory, one of the leading institutions for the arts in the United States. The Winston-Salem Symphony also regularly holds performances at R.J. Reynolds Memorial Auditorium. The same facility hosts touring music acts.
The Riverrun International Film Festival has run for around 25 years. The spring event screens diverse independent films. The festival is recognized as an Academy Award qualifying festival in animated shorts and documentary shorts.
Industry Hill is a historic section of town that began as furniture factories and tobacco warehouses. Today it's being renovated into a hub for creatives, entrepreneurs, entertainers. Here you'll find many of the city's craft brewers, live music venues, markets, and artisans.
Forsyth County hosts a range of community festivals and events. Winston-Salem Pride takes place in June and is a week-long celebration of unity and equal rights.
The Juneteenth Festival is at Bailey Park in downtown Winston-Salem and celebrates African-American traditions. The National Black Theater Festival runs in August and takes place at over 130 venues in the city.
In the late summer, the Winston-Salem Open attracts rising tennis stars to the Wake Forest University Tennis Complex. The Bookmarks Festival of Books and Authors is the largest writing Festival in the Carolinas.
Gears and Guitars is a giant party in downtown Winston-Salem. It's hosted in the Innovation Quarter as an outdoor concert with the Winston-Salem Cycling Classic.
Finally, the Carolina Classic Fair, formerly known as the Dixie Classic Fair, is the second-largest fair in North Carolina. Over 300,000 people usually visit the ten-day fair each year. Look to attend near the end of September into October. It has all the carnival classics you enjoy, like midway rides and musical entertainment.
Forsyth County Local Attractions
The Old Salem Museum and Gardens is a historic site and museum that explores the influences of Indigenous, Moravian, African American, and other peoples that shaped the area's history. Established in 1950 to preserve and restore the Old Salem Town and Gardens, it is a collection of buildings and facilities. It has two National Historic Landmark buildings and has been designated as a National Historic Landmark District.
Winston-Salem Dash is the Minor League Baseball team that plays at Truist Stadium. The team is a High-A team and is affiliated with the Chicago White Sox. The Dash are the oldest operating team in the Carolina circuit.
Korner's Folly is an interesting place to explore. This home is known as the "Strangest Home in America" and was built in 1888 by Jule Gilmer Körner. It has a winding maze of doorways and staircases throughout 22 rooms in a three-story, seven-level marvel.
Kaleideum North is an interactive children's museum with a planetarium, environmental park, and hands-on exhibits.
The Horne Creek Living Historical Farm is an outdoor museum in Pinnacle. It interprets the rural cultural heritage of this agricultural North Carolina region.
The Paul J. Ciener Botanical Garden in Kernersville has 15 separate gardens. Its Kitchen Garden is based upon traditional Moravian planting methods. The gardens have a spring bulb display with over 25,000 tulips.
The Reynolds Gardens of Wake Forest University is a popular attraction. They were the brainchild of tobacco baron R.J. Reynold's wife, who wanted her gardens to be a gift to the community. The gardens are also part of the North Carolina Birding Trail.
Forsyth County Dining
If you enjoyed a thriving food scene, Forsyth County is the place to be. Inside Winston-Salem are over 75 restaurants inspired by local and global cuisine. Southern American Cuisine inspires the restaurant venues, but they also reflect the diversity of the people who live here. There are also 30 bars and breweries and the Yadkin Valley Wine Country.
Inside Forsyth County, explore the Moravian Culinary Trail, where you can get a dose of history and Moravian roots on a plate. These virtual trails hit on tried-and-true recipes, from Moravian chicken pie to the slightly buttery Moravian sugar cake.
Yadkin Valley was North Carolina's first approved American Viticultural Area (AVA). The entire designation covers parts of Yadkin, Forsyth, Davidson, Davy, Wilkes, and Surry Counties. The Swan Creek region also has its own recognized AVA inside the Yadkin Valley.
Here, the wineries grow native breeds of muscadine and scuppernong beside adapted European varietals. The local Blue Ridge Vineyards is an artisanal, limited-production winery. Another 70 wineries are within a drive of Winston-Salem.
Forsyth County Shopping
There are plenty of opportunities for retail therapy in Forsyth County. Forsyth County has plentiful art galleries, artisan Food Shops, antique stores, and clothing boutiques. You'll find everything from handcrafted chocolates to fresh-crafted ice cream from a local farm to small-town t-shirt shops printing inside jokes.
Antiques and upscale consignment shops are concentrated in the historic West End of Winston-Salem. If you're looking for specific shopping areas, you'll find name brands at the Hanes Mall, Thruway Shopping Center, and Reynolds Village. Downtown Arts District, known as DADA, is also a great place to stop for local and handmade creations.
Your choice of farmer's markets abound. The Cobblestone Farmers Market has a variety of vendors with fresh produce from the farms around the Winston-Salem area. The Kernersville Farmers Market runs on Wednesdays and Saturdays with locally grown and handmade products. The Fairgrounds Farmers Market has run every Saturday for the last forty years. Clemmons Famer's Market also runs on Saturdays when in season from May-October.
Living in Forsyth County
Residents of Forsyth County can make any possible lifestyle thanks to the wide variety of amenities. Not only is world-class education in your backyard, but the county's heritage has informed its architectural character, dining options, and festivals. The county has a network of parks and recreation available. In sum, Forsyth County truly has a little something for everyone.