Buying a Condo or Condotel - What is the Difference?
Posted by Preston Guyton on Friday, April 23, 2021 at 4:57 AM
By Preston Guyton / April 23, 2021
Comment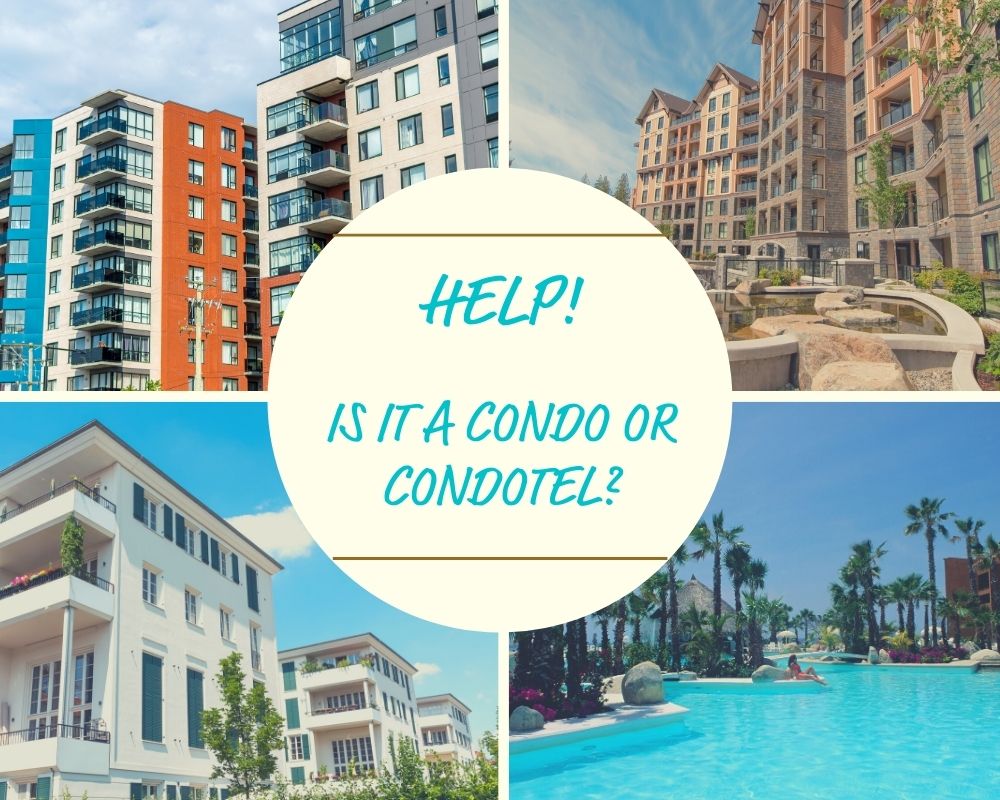 In today's world of fusions and mash-ups, the real-estate industry has presented its own combination of condos and hotels which became known as a condo-hotel — or condotel for short. While it may seem like a silly word, you'll often hear it, especially if you're looking to invest in a condo that comes with resort-like amenities and location.
You may start to ask yourself: what is the difference between a condotel and a condo? This is a question that presents various answers since a condotel will vary in definition depending on your realtor, insurance company, bank, or lender. While high-rise condos have become popular due to the high quality of living they offer, the condotel has set another level to this experience.
Condotel
A condotel is a building that's legally operating as a condominium but also functions as a hotel. It offers short-term rentals for occupants, and it also maintains a front desk. Condotels are typically high-rise buildings which are developed and operated as a luxury hotel and are usually found in major resorts and cities.
Such hotels have condominium units that will allow you to own a full-service vacation home. When you're not using the unit as your home, you can leverage the management and marketing done by your condotel to rent it out to interested parties, much like any kind of hotel room. Like with most condos, those who own a unit will need to pay HOAs or homeowners' association fees.
This fee and the services that come along with it can vary significantly. Some of the factors that may change from one hotel to another are its physical location, operation level, and its star rating. For instance, a property that's located near the ocean will experience coastal weather on a daily basis, which will increase the need for regular maintenance on the building's exterior. Similarly, a hotel that's located in a ski resort will also endure winter storms which will need regular snow removal services.
Condo

A condominium, better known as a condo, is a kind of living space that's similar to an apartment but can be sold independently. As such, it is regarded as real estate. Condos are typically divided into several units which are each owned separately and will come with common areas and amenities that are jointly owned. Condominiums are a kind of CID (common-interest development) and are usually constructed like an ordinary apartment building.
However, "detached condominiums" have been increasing in numbers, introducing condos that look like single-family homes. The only difference is that gardens, streets, building exteriors, and recreational facilities (such as pools, tennis courts, bowling alleys) are jointly owned and maintained by the community association. The HOA consists of unit owners and manages the condo through a board of directors who are elected by the membership.
Condominiums can fall under both civil and common law legal systems since it's purely a creation of statute. Along with other responsibilities, the HOA determines how much each unit owner needs to pay for the maintenance of common areas. In other words, the HOA decides how much each owner owes and has the legal power to collect such payments.
What Are Warrantable and Non-Warrantable Condos?
Most homebuyers utilize a "conforming" mortgage financing, which means that their loan was purchased using one of two government-sponsored institutions — either Fannie Mae or Freddie Mac. This also means that their loan meets these two group's minimum standards. These two organizations use the term "warrantable" to describe properties and condominium projects for which they will allow a mortgage.
As such, properties and condo projects that don't meet the warrantability standards set forth by Fannie Mae and Freddie Mac are referred to as non-warrantable. Furthermore, condos that are non-warrantable will be harder to finance. Here are a few rules and typical conditions for condo warrantability.
Fannie Mae Condo Warrantability
1. A single entity can't own more than the recommended number of units within a project:
Only 2 units for projects with 5 to 20 units
Only 20% of units for projects with more than 21 units
2. The project only consists of two to four units, in which case the project review is waived and there will no longer be a restriction on how many units you can own. However, it's still best to check with your lender for confirmation.
3. The unit is detached, which means it shares no walls with other units but is legally classified as a condominium.
4. If it is an investment property, at least 50% of the units need to be second homes or owner-occupied.
5. There are no occupancy requirements for owner-occupied transactions.
6. Less than 15% of the units are in arrears for 60 days or more with association dues.
7. The HOA isn't named in any kind of lawsuit.
8. Any commercial space needs to account for 35% or less of the building's total square footage.
Freddie Mac Condo Warrantability
There aren't many differences between the Freddie Mac and Fannie Mae guidelines apart from one exception. As stated, Fannie Mae will waive a project review for condos with only two to four units, which take out any restrictions on how many units you can own. However, Freddie Mac will only allow a single entity to own one unit in a project with only two to four units. In summary, the single entity ownership limits for Freddie Mac are as follows:
A single entity may own one unit in a two to four-unit project
A single entity may own two units in a 5 to 20 unit project
A single entity may own up to 25% of the units in a project with 21 or more units.
What Are Non-Warrantable Projects?
Some non-warrantable projects include condotels, fractional ownership properties, timeshares, condos inside a permanent care/assistance residence, multi-unit condos (where the unit itself is two units), as well as other projects that require the owner to join an organization, like golf clubs. Other developments and manufactured housing projects that aren't legally considered to be real estate will also be excluded from warrantability. Examples of these are motorhomes and houseboat projects.
Furthermore, a condo or project in monetary litigation will most likely be disqualified from financing by Fannie Mae and Freddie Mac. It's also best practice to ask your lender or real estate agent about your target building's warrantability before buying it. A warrantable condo will usually give you lower mortgage rates compared to a non-warrantable condo, and will also provide a lower risk for your bank.
Condotel Financing Options?
Unfortunately, the restrictive lending world in today's financing market has created more challenges for buyers who are looking to obtain a mortgage on their dream property. While financing does exist, the options change regularly. What makes things even harder is that Fannie Mae and Freddie Mac don't approve condotels because they're deemed as non-warrantable, which further limits your options.
As mentioned, the definition of condotel will vary widely from a lender's perspective; some will have an approved list of resorts, buildings, or properties where they can help with condo financing. However, one lender giving you their approval doesn't mean you'll get the same approval from a different lender. To close the gap in the market for financing, many lending institutions and banks — typically smaller, local banks — exist in markets where condotels are prevalent and have created terms and programs specifically for such properties.
Portfolio Mortgages
These kinds of loans are difficult to find financing for since not many banks and lenders will underwrite loans for non-warrantable condos and condotels. Loans that don't meet the rules provided by Fannie Mae and Freddie Mac are considered to be portfolio loans (also known as non-qualified mortgages).
However, if you find yourself able to secure this option, the bank will "keep it in-house" or portfolio the loan. This means they won't sell the loan to someone else or a different entity. Moreover, the down payment options, rates, and the length of the loan itself will widely vary from one bank to another. In general, though, 20% to 25% of the down payment is required, along with terms between 15 to 25 years.
Home-Equity Lines Of Credit
Some lenders will encourage you to look at this option; it requires you to take out a home-equity line of credit from your primary residence, so you can fund a part or all of your second home purchase. Because interest rates are so low, it's actually worth your consideration. However, keep in mind that many home-equity lines of credit will be a point or two higher compared to the prime rate, so you might end up paying a much higher interest rate.
Furthermore, unlike a mortgage interest which can be deductible up to a million dollars of debt on the combined first and second homes, there is a $100,000 home equity cap. Another thing to avoid is starting a home-equity loan just for the sake of taking out a mortgage for later use. There's a little-known IRS rule which states that you only have 90 days from the date of purchase to secure your mortgage against a residence. Once that 90-day limit passes, you will no longer be able to deduct the mortgage interest.
Where To Go To Find Approved Condo Buildings?
The Federal Housing Administration (FHA) is a program of the U.S Department of Housing and Urban Development (HUD). Often, FHA loans are quite attractive to first-time homebuyers because they offer lenient debt-to-income and credit score requirements, along with low down payments compared to conventional mortgages. If you're looking for a fast way to see FHA-approved condos in your area, head over to HUD's condominium search tool. While the database is quite straightforward, here are a few tips to using it:
Start your search by entering a ZIP code to limit your list of condos to those in your desired area; if you simply click send without providing details in the fields inside, you will only get results for the whole country.
You can broaden your search by filtering each state. If you enter a condo name (the name of the development), city, or county, you'll also be prompted to choose a state.
After you've selected the appropriate fields, hit the "send" button to see FHA condos. If you're not happy with the results, try a new search by clicking the back button on your browser.
To see a list of only FHA-approved condos, go to the "status" drop-down menu and set it to "approved." In this way, you'll be able to see developments that are eligible for a condo loan from the FHA. If you see "expired," this means that their approval ran out since properties need to reapply every three years. "Withdrawn" may indicate that the FHA withdrew its approval (which isn't a good sign), or that there is a duplicate record.
The Department of Veterans Affairs (VA) is another source that you can use to find approved condo buildings, as well as a guaranteed loan. Both the FHA and the VA are loan types that are known for their flexible lending guidelines and are also available in all 50 states. The VA also maintains lists of approved projects, but if the unit you want isn't a development in its lists, there's no need to despair.
Thankfully, both the FHA and the VA have made it easier for co-op associations and condos to become approved. Furthermore, neither the VA nor the FHA charges its borrowers extra to finance a co-op or condo. You may get a loan for a condo with the same VA or FHA mortgage rate as you would for a single-family home.
What Makes a Condo Project Ineligible?
A condo project can be deemed ineligible if the HOA receives more than 10% of its budgeted income from non-incidental business arrangements. This may be related to the operation of services or amenities available to the unit owners and/or their active ownership. These include (but aren't limited to) the following businesses:
Restaurants
Beverage-related services
Spa services
Health clubs
Furthermore, non-incidental income from the sources mentioned is allowed, provided that the income doesn't reach more than 15% of the project's budgeted income:
This includes income created from the use of services or recreational facilities owned by the HOA leased to another project or for the exclusive use of unit owners following a shared amenities agreement.
Income from units leased in the project obtained by the HOA from a foreclosure.
Depending on the lender/mortgage company/bank, they will have a different perspective on what they do and don't approve. Moreover, it doesn't always have to be a condotel to be ineligible, and some companies will approve while others won't approve specific condo buildings. For a complete guide on ineligible projects visit this link.
Myrtle Beach Oceanfront Condos For Sale