5 Best Places to Live in Philadelphia
Posted by Preston Guyton on Thursday, January 19, 2023 at 11:32:13 PM
By Preston Guyton / January 19, 2023
Comment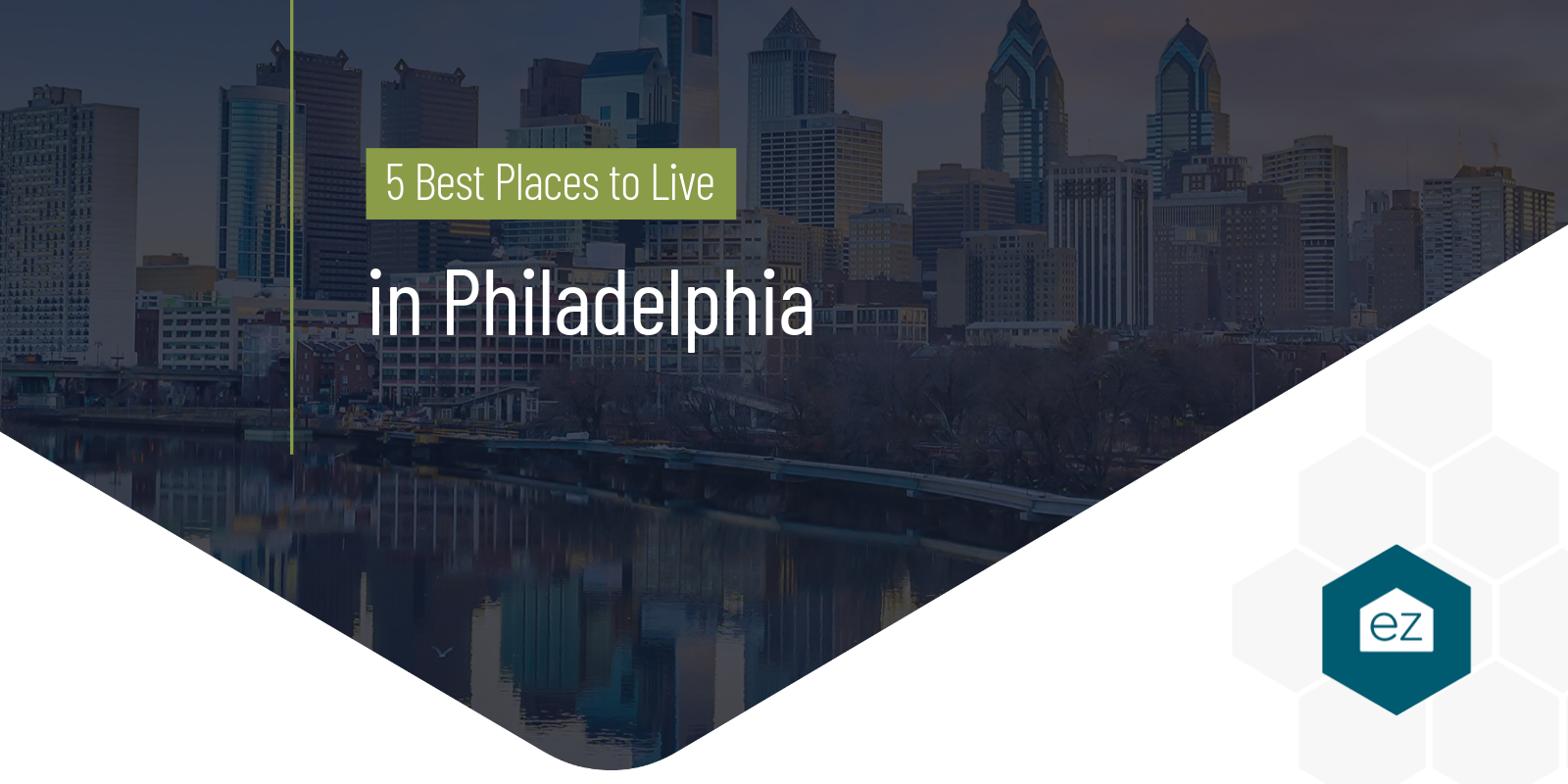 5 Best Places to Live in Philadelphia
Storied Philadelphia is not just the City of Brother Love but a city of endless possibilities. In addition to its rich history and prime location, Philadelphia residents gain a low cost of living with big city amenities. But when it comes to choosing the best place to live in Philly, it can be hard to know where to start.
First, learn a little about why people decide to live in Philadelphia. Then, to help make your decision easier, we've rounded up some of the best neighborhoods in Philadelphia.
Why Live in Philadelphia?
Even if you were not born and raised in Philadelphia, chances are you've heard of this American city. As one of the earliest cities in colonial America, Philadelphia has long played an essential role in the country's history. Today it stands at the crossroads of other major cities on the Atlantic seaboard. Bordering New Jersey, about an hour from New York City, and close to Wilmington and Baltimore, it's easy to get to some of the most desirable destinations in the Northeast by car, train, or plane.
Philadelphia is a must-stop if you're a history buff, particularly regarding the founding of America or the American Revolution. The City of Brotherly Love contains the Declaration of Independence, the Liberty Bell, the Franklin Library, and served as the capital before Washington, DC, was built.
Philadelphia is much more affordable than similar cities of its size, especially when you compare it to nearby New York and Boston. There's a reason why people are leaving these metros to come to Philadelphia and start their businesses. You still have everything you'd expect from living in a big city, like close-knit neighborhoods, entertainment, dining, and a nightlife scene. But your dollar stretches further so you can find places to live within your budget.
Getting around is relatively easy, with a robust public transportation network and neighborhoods that emphasize walkability. It's in the top ten cities for bikability, with dedicated bike lanes and expanding greenway trails.
Another perk is the extensive urban park system that strengthens that city's green spaces. Fairmount Park is probably the best known, with over 4,000 acres in the city. A master plan calls to add even more greenways and trails to link up the neighborhoods and these urban parks.
Philadelphia has over 25 neighborhoods, from the dense urban row houses near downtown to a more suburban feel with single-family homes. So which is best for you? We've assembled a sampling of Philly's top neighborhoods.
Philly's Top Neighborhoods
Chestnut Hill
Welcome to the Garden District and Chestnut Hill, a well-established neighborhood known for its tree-lined streets and old Victorian houses. This family-friendly region has made it on Forbes' list of best urban enclaves in the country. Live in a city without feeling like you're in a city, thanks to the abundant greenery and public parks.
It's a highly walkable place to live, scoring 91 out of 100 on walkability. The community has a "green" emphasis and not just on nature. It's purposefully trying to keep its footprint small and think local, which is why you'll find so many local and independent shops, grocers, and restaurants. Many sell Philadelphia-made goods, right down to locally baked bread.
Chestnut Hill boasts some of Philly's best schools and parks, making it a great place to raise children. Morris Arboretum and its outdoor exhibition, the Tree Adventure, are popular attractions. So are the Woodmere Art Museum and the 1,800-acre Wissahickon Park.
The real estate here features many historic homes and interesting architecture. You'll find new townhomes that are LEED platinum-certified, historic single-family homes in a Victorian style, and rental apartments. January 2023 had 34 homes for sale at a median list price of $789,000.
Rittenhouse Square
Rittenhouse Square is one of Philly's most iconic neighborhoods and part of Center City, the larger downtown district. Running from Market and South streets to the Schuylkill River, you'll find many out-of-town visitors roaming the area and a fair share of locals who like the vibe. Here you can enjoy all the city offers while still feeling like you're in a small community.
Around the lush green square are upscale restaurants, cafes, and locally owned shops. At night, the liveliness continues with cocktail and wine bars, art galleries, and theaters. Walkability is high, as locals live near the Market Street office district and University City.
As a residential area, Rittenhouse Square has a reputation for being one of the most affluent and exclusive places to live. Real estate options include high-rise residences with luxury apartments and condos. West of Broad St are historic, stately single-family homes. January 2023 had 193 homes for sale at a median list price of $633,000, but prices went up to $25 million.
Society Hill
Another Center City neighborhood, Society Hill is a highly desirable, charming, and historic district. The quaint cobblestone streets, brick sidewalks, 19th-century buildings, and upmarket restaurants speak to the area's long history in Philadelphia. This area is perfect for those who love to immerse themselves in the city's history.
Society Hill wasn't always a desirable place to live, but Philadelphia locals saw the treasure they had in the historic buildings and character. Instead of ushering in new development, it successfully saved and revitalized the district in what is renowned as one of the earliest urban renewal projects.
Today, the community is primarily residential, with commercial activity mostly on its edges. For instance, some of the city's best dining is centered along South Street.
The quiet neighborhood has Three Bear Park at its center, a local pocket park where families play. A weekly flea market is held at Headhouse Square. Penn's Landing along the waterfront has shopping and entertainment options. More of Philly's top attractions, like Washington Square and Independence Hall, await nearby. It's all walkable, as Society Hill has a walkability score of 98 out of 100.
Most residential real estate is restored row homes, but studios, lofts, and high-rise condos are on the fringes. January 2023 had 47 homes for sale at a median price of $630,000.
Fishtown
Don't be fooled by the unappealing name. Fishtown is a hip, up-and-coming neighborhood quickly becoming one of Philadelphia's trendiest places to live. Historically a working-class neighborhood and center of the shad-fishing industry, the young professional crowd is drawn here for the influx of music venues, art studios, and energetic nightlife scene.
Locals can walk to one of America's best sandwich shops, Philly Style Bagels, or hit up the flagship La Colombe café, a Philly staple. Two breweries are jamming, one with a beer garden, while the art studios on Frankford Avenue have an art walk on the first Friday of the month. Johnny Brenda's and The Fillmore are the go-to destinations for live music and feature up-and-coming acts.
Fishtown's real estate belies its modest origins with narrow streets and row homes. The community also is one of the city's safest places to live, with a lower crime rate. January 2023 had 193 homes for sale at a median list price of $429,500.
Northern Liberties
East of the Delaware River, check out Northern Liberties, a re-emerging top neighborhood with a distinctly youthful vibe even as it has plenty of historic buildings. It's north of Center City and beside I-95.
This community relishes blending the old and new. Ride the old-school trolleys down to Fishtown or West Philly. Book a lane at North Bowl, a retro bowling alley, for some classic weekend fun. Liberty Lands Park has a community and butterfly garden on its two-acre green space. The shops tend to be quirky local boutiques, antique warehouses, and international restaurants.
The area's affordability has drawn an artistic and creative crowd for decades. When you have to go to work, find many innovative new companies and startups with headquarters in the Northern Liberties area. The mix of work and play options makes Northern Liberties an attractive place to live.
January 2023 had 102 homes for sale at a median list price of $487,000, but it went up to $15.5 million.
Living in Philadelphia
No matter where you decide to live in Philadelphia, you'll surely find something to your liking. From a storied past to unique local boutiques, Philly has the right mix of culture and modern charm! So start exploring Philadelphia and find the perfect place for you today. You can also learn more about living in Pennsylvania.