7 Best Places to Live in Denver
Posted by Preston Guyton on Thursday, January 19, 2023 at 11:43:36 PM
By Preston Guyton / January 19, 2023
Comment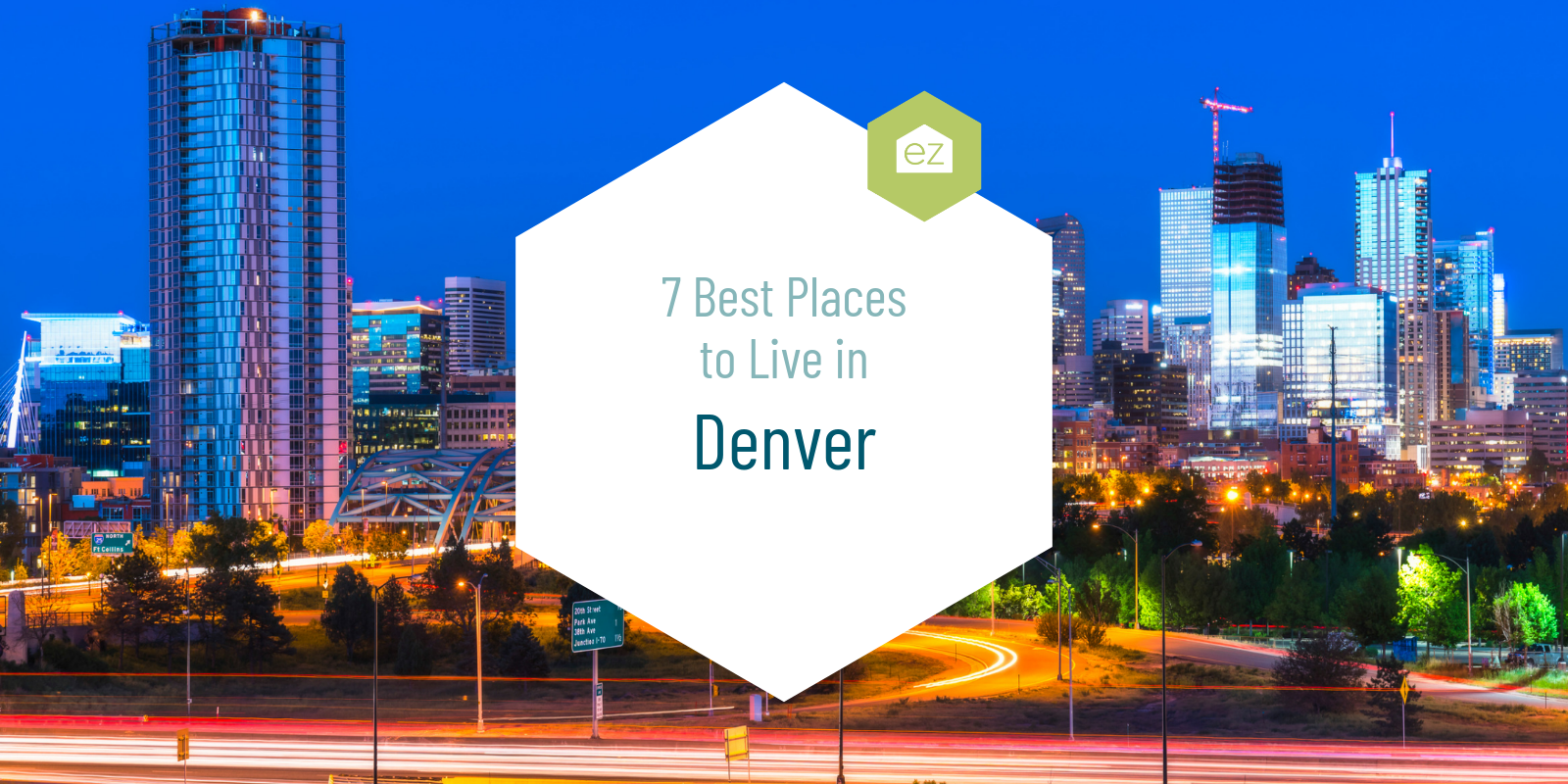 7 Best Places to Live in Denver
It's no surprise so many people are flocking to the stunning beauty of Denver, with its 300 days of sunshine per year and easy access to the mountains for outdoor adventures. Add the collection of cultural attractions and a thriving economy, and Denver has just the right mix of checkmarks for many seeking to live in a place with an active lifestyle.
Denver and its metro are quite expansive, so we've picked a list of the best places to live in Denver to jumpstart your home search. The Mile High City's many neighborhoods enable all kinds of lifestyles. Find a hip downtown loft or a quiet suburban neighborhood. We're featuring both plus hot spots with other advantages in our top list.
Why Live in Denver?
From 2011-2018, Metro Denver saw an influx of almost 100,000 new residents! While the numbers moving into town are slowing (just 14,731 new residents in 2021), Denver remains a popular place to move to.
Living in Denver is well worth the cost for those who can afford it. For one, the views are spectacular, and we're not talking about the downtown skyline. You get 140 miles of breathtaking mountain vistas in the metro area.
But why just look when you can visit the 200 peaks you can see nearby? Denver's residents head to the mountains to escape for a day of skiing, snowmobiling, hiking, mountain biking, camping, and more.
Thanks to a dry climate, Denver receives an estimated 300 days of sunshine yearly. Even though the summers are hot, they lack humidity, making them more comfortable and easier to enjoy an active lifestyle.
The great outdoors awaits from Denver's back door, but sometimes you want to kick back with delicious dishes, bright lights, or loud music. Denver's got you covered for in-town fun, too. The 22-plus music venues, 85 art galleries, 148+ craft breweries, live theater, and an ever-changing food scene are just a few reasons to live in Denver.
Denver's drawing people in for these amenities, but also because the economy is growing and providing more opportunities to cover a life-work-play lifestyle. Thriving industries in tech, aerospace, and agriculture deliver well-compensated employment, though hiring can be competitive. Other top markets include cannabis and casual concepts, like fast food chains Noodles & Company and Qdoba.
So, where can you live in Mile High to take in the best of the best? Here are a few top places to live in Denver.
Best Neighborhoods To Live In Denver:
Five Points
Five Points might be your jam if you want to live in a place that hums with activity. This historic neighborhood is a melting pot of everything. Once known as the "Harlem of the West," the restaurants, shops, live music venues, and coffeehouses make this destination a thriving community to live in. It's a highly walkable neighborhood helped out by its grid pattern.
Art abounds in the urban street murals and the many art galleries around the district. Attractions in Five Points include the Black American West Museum, which highlights the stories of African Americans in the western US, the numerous craft beer breweries, and the Five Points Jazz Festival. Shop locally each Saturday in the summer at Mo'Betta Greens Marketplace, or take a Welton Street walking tour of the neighborhood to get a sense of its history. It's also home to some beautiful parks.
Five Points is directly northeast of downtown and near Coors Field, home of the Colorado Rockies MLB team. It was an early Denver suburb, so you'll find some historic real estate. In January 2023, the 40 homes for sale had a median list price of $600,000.
Capitol Hill
Capitol Hill is renowned for its affordability and accessibility within city limits. Look around and see why over 16,000 residents call this area home: a convenient location in central Denver, plus cultural attractions. Its pinnacle feature is the gold-domed state Capitol building, and Colfax Avenue, the longest street in America, runs through it.
Main attractions include the capitol building and the surrounding museums, like the Denver Art Museum and the historic houses on Millionaire's Row. But it's not all government in Capitol Hill, or "Cap Hill," as the locals know it. Civic Center Park breaks up the concrete with ample green space and beautifully manicured flower beds. The park hosts many festivals and events during the year.
Cap Hill has a trendy vibe with the bars, restaurants, and small shops along Colfax Avenue. That constant influx of visitors browses the used books and vinyl record shops on their way to the Capitol Market.
Many of the real estate offerings are apartments. Single-family homes are giving away to new construction condos and multi-family buildings. In January 2023, the 43 homes for sale had a median list price of $391,300.
Golden Triangle
Located beside Cap Hill, the Golden Triangle Creative District is popular with its picturesque streets bordered by lush trees and classic architecture. You won't be bored living here; there are plenty of cultural attractions like the US Mint. Visit the Denver Art Museum and Kirkland Museum of Fine & Decorative Art without paying for parking.
The walkability makes it easy to access the restaurants, coffeehouses, and specialty stores that serve the locals and tourist visitors. The Latin Cuba Cafe and Bar is one of the district's more popular and unique options.
The skyline in Golden Triangle is an eye-catching mix of modern and classic buildings. Together they create a unique urban oasis that offers something special to behold in every direction! Many of the options here are condo or apartments.
River North Arts District (RiNo)
RiNo is the perfect destination for culture enthusiasts, full of art galleries and music venues. This beloved area "where art is made" has adopted its moniker full-on with rhino-themed art and logos across the walls, coffee shops, and brewpubs sprinkled between the art studios and galleries.
RiNo has no shortage of lively restaurants and bars, making it one of Denver's trendiest areas! Former warehouses have been converted into upscale spots for live jazz, food halls, and shopping markets. Street art adds an extra layer of vibrancy that draws in large crowds. Not only is RiNo an art incubator, but it's a stop on the Denver Beer Trail with no fewer than five breweries, wineries, and cideries.
Add in excellent walkability–dedicated two-way bike lanes and eTuks–it's no wonder why everyone wants to be in this indie heaven! Finding residential real estate is more of a challenge, with many buildings taken over by the district's attractions. Still, you can find lofts, urban condos, and homes here.
The Highlands
If you're looking for an exciting neighborhood where you can experience the past and modern life, this trendy area is it. The Victorian-era buildings mix with parks to give the community a historic feel. Inside the buildings are hip boutique stores, wine shops, antique stores, and art galleries.
Residents can kick back at Sloan's Lake Park, which is large enough for paddle boarding while admiring the mountain views. Just move over in July for the annual Colorado Dragon Boat Festival.
Families take their kids to the Children's Museum of Denver at Marisco on Tuesdays for the Free play afternoon. First Fridays bring visitors to the Tennyson Street Cultural District for art walks.
The Highlands has three distinct sub-neighborhoods: Highlands Square, Tennyson Street, and Lower Highland (LoHi). Each has something they are known for. For instance, Tennyson Street is a destination for live music and antique art, while LoHi stands out for how it mixes its architecture with the old and new.
Cherry Creek
Cherry Creek is one of Denver's most affluent neighborhoods, boasting numerous upscale restaurants, designer boutiques, and high-end shops. The streets are lined with cherry blossoms in the spring, giving the area its name.
The Cherry Creek Shopping Center is a large outdoor mall with over 160 chain stores, restaurants, and a movie theater. The Cherry Creek North outdoor retail mall spans 16 blocks with an endless array of home furnishings, art, fashion, and more. The summer Sidewalk Sale is a shopper's dream.
Besides shopping, locals can jump on the Cherry Creek Bike path, which spans 22 miles and connects to downtown. Another attraction is the Denver Botanic Gardens, a green space that hosts concerts and events throughout the year.
The Cherry Creek Arts Festival brings international and local artists together for three days in one of the city's top summer activities.
The housing includes luxury townhomes, condominiums, and single-family homes. Your choices come in varied architectural styles, with some homes dating to the World War II post-building boom. In January 2023, the 23 homes for sale had a median list price of $1.4M.
Lower Downtown (LoDo)
Denver's oldest neighborhood, LoDo contains some of the city's top dining and entertainment attractions. Rated by Money Magazine as one of the best places to live, its amenities include live music, sports bars, legendary steakhouses, and craft cocktail locations.
Bursting with nightlife, award-winning restaurants, and iconic Denver landmarks such as Union Station, Wynkoop Brewing Company, and Larimer Square, this 23-block area is a thriving destination for locals and visitors.
The Union Station area has a new life as the hub of transportation. Not only can you catch a train or bus, but it has been converted into a live-work-play hub with shops, restaurants, bars, and hotel. The Wynkoop Street area is the home to live music venues. Empower Field, also known as Mile High Stadium, is within walking distance.
LoDo also has the Denver Center of Performing Arts, one of the world's most influential performing arts complexes and the country's second-largest entertainment complex under one roof. Four companies call the Complex home, and it's used by touring acts. The surrounding area can be congested before a big performance, but locals can get in and out easily.
Historic brick and iron-decorated buildings sit beside mixed-use industrial-style spaces. In January 2023, the 112 homes for sale downtown had a median list price of $597,500.
Moving to Denver
Bursting with culture, live music, and entertainment, Denver is a great place to live and work! Whether it's the energy and liveliness of Lower Downtown, the Colorado mountain feel of The Highlands, or the historical charm of Five Points, Denver offers plenty of options for potential residents. So why not come experience all that Denver has to offer? Let a local real estate agent show you around its many neighborhoods or explore more about living in Colorado.