Best 9 Neighborhoods to Live in Chesapeake VA
Posted by Preston Guyton on Saturday, September 24, 2022 at 1:03 AM
By Preston Guyton / September 24, 2022
Comment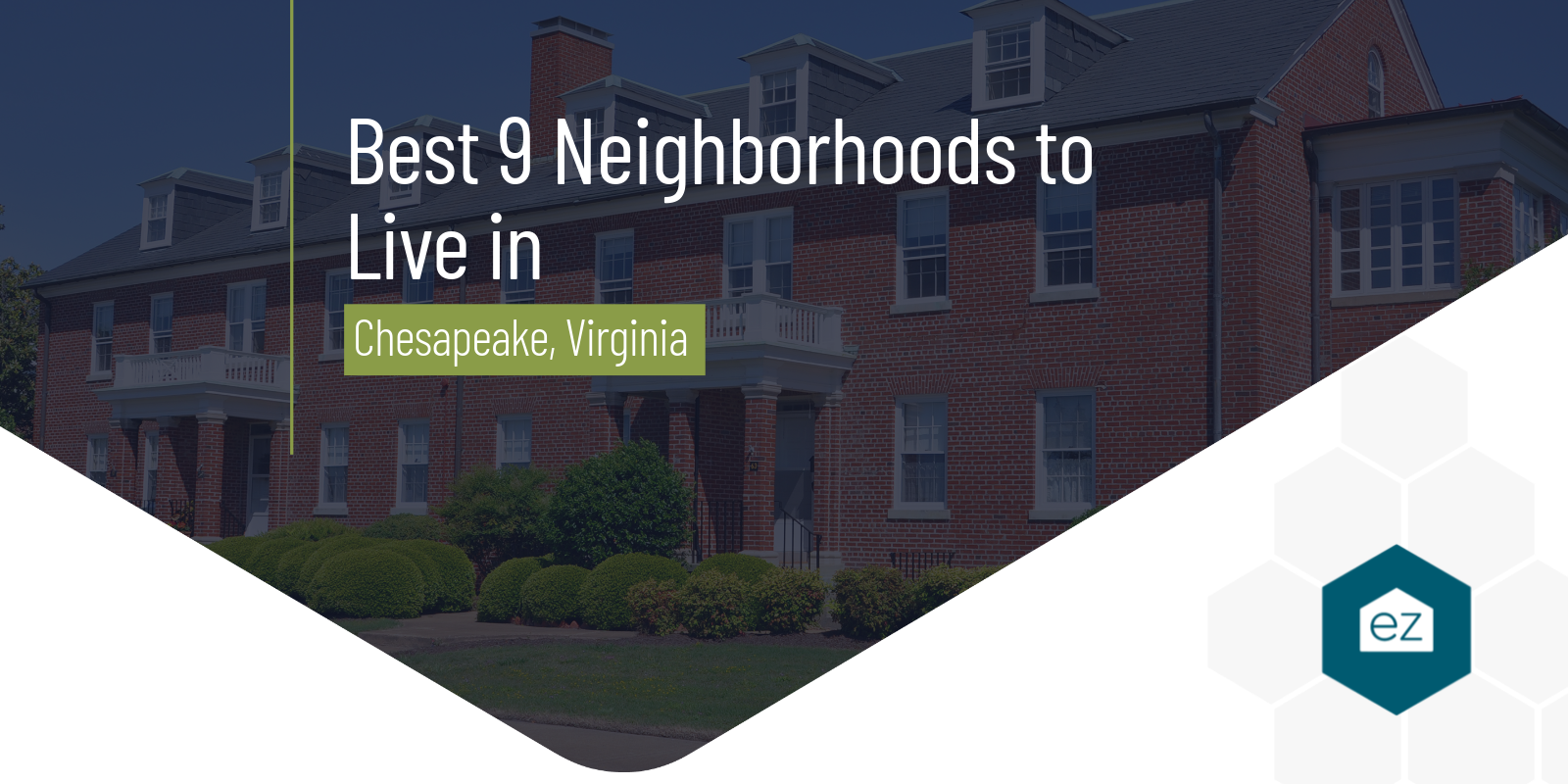 Best 9 Neighborhoods to Live in Chesapeake Virginia
Some people live in Chesapeake, VA, for the history, some for the family-friendly atmosphere, and others for the business opportunities. Regardless of your reasons, Chesapeake is a great place to live, particularly for families, great schools, and diversity.
One of the best things about Chesapeake is its location. The city is considered a suburb of Norfolk and is about a half hour from the beaches at Virginia Beach. The Intracoastal waterway runs through the town, and it has miles of protected wetlands and forests. Its access to other places and ease of getting around make Chesapeake a prime suburb city in southern Virginia.
Not only is Chesapeake conveniently located, but it's a family-friendly city. Multiple publications have ranked it as one of the best places to live for families because of its school system and cost of living.
The local economy is equally strong, thanks partly to its proximity to Norfolk and the military bases stationed here. Many large businesses, such as Dollar Tree, Canon, Capital One, General Dynamics, QVC, and Sentara Healthcare, have headquarters and large offices in Chesapeake. The school board is the top major employer by the number of employees.
If you're thinking about making a move to Chesapeake, Virginia, you'll be happy to know that there are plenty of great neighborhoods to choose from. Each area has a distinct feel, with neighborhoods in South Chesapeake being more country while those like South Norfolk are highly developed. Here's a look at some of the best places to live in Chesapeake, VA:
Great Bridge
With many well-rated public schools, several local parks, and suburban shopping areas all close by, it's no wonder this neighborhood is one of the most popular in Chesapeake. This neighborhood is conveniently located minutes south of I-64 and from Chesapeake's downtown, including City Hall.
The area's name comes from the historic Revolutionary War-era battle that happened in the area. Today, there is also a distinct five-lane swing bridge that spans the Atlantic Intracoastal waterway.
Bells Mill Park is a large recreation area at the intersection of Bells Mill Creek and the Elizabeth River. The Tidewater Community College campus is in the northwestern corner of Great Bridge.
Around 17,000 live in one of the residential areas of Great Bridge. Most houses are single-family (medium to large) or townhomes and primarily owner-occupied. A typical Great Bridge home was built between 1970 and 1999, but you can find older and newer homes. A lot of development did happen in the 1980s and 1990s.
With the northern border along the Elizabeth River, and numerous canals and inlets, you can find waterfront homes in Great Bridge.
There were 60 homes for sale in September 2022, ranging from $199,900 to $1.7M. Prices were up 9% year-over-year.
Hickory
Hickory is considered a "hideaway" community off the Chesapeake Expressway. It's a great option for those who want to be outside the city center and adjacent to the North Carolina border. The local schools, particularly Hickory High School, are also top-rated and in demand with local families.
The nearby Edinburgh Shopping Center services residents' daily needs.
This neighborhood is made up of mostly single-family homes built on larger lots. Spacious backyards are part of the features that draw people here. Most of the residences are owner-occupied. Hickory homes range from bungalows and ranch to large custom homes. Some new construction communities are nearby.
Greenbrier
Greenbrier is an affordable option for those looking to live near the commercial center of Chesapeake. It's one of the most populous neighborhoods with over 34,000 residents. Greenbriar Mall is here, as is the popular Chesapeake City Park. Thanks to I-64 running by the mall, and the I-464 interchange just to the west, residents are minutes from destinations in Norfolk, Virginia Beach, and Suffolk.
Greenbrier East is closer to the many shopping options compared to the slightly more rural Greenbrier West. However, all residents are minutes from big-name retailers and multiple dining options.
Recreation is also easy in Greenbrier. The Greenbrier County Club is a premier 18-hole course with amenities like swimming, fitness, dining, and social events. The local YMCA is a popular community center, and several parks have sports courts and walking trails.
This community has townhomes and apartments, as well as single-family homes. There were 46 homes for sale, ranging from $179.9K to $1.3M in September 2022. The median home price is $385,000.
Deep Creek
Once a small town, today's Deep Creek community is the Chesapeake neighborhood for living near nature. It borders the Great Dismal Swamp and is near the Norfolk Naval Shipyard and Elizabeth River.
Once a busy settlement that served as a principal shipping point for lumber, Deep Creek's history includes serving as a location on the Underground Railroad during the American Civil War.
This neighborhood's amenities include Deep Creek Park which has a one-mile trail and a dog park. The Great Dismal Swamp is a place for exploration and appreciating the many unique species that call it home. The Deep Creek Community Center has a gymnasium, fitness room, and meeting rooms.
The large neighborhood comprises mostly single-family homes built in the 1970s through 2000s. The wide-ranging area had properties from $125,000 for undeveloped lots to $865,000 for a custom five-bedroom home with 4,152 sq ft. Townhomes and apartments are available nearby.
Pleasant Grove
Pleasant Grove is another option for those who want space and a more rural feel. It's adjacent to the Great Dismal Swamp and includes ample farmland. Two parks, the Northwest River Park and Northwest River Natural Area, preserve the natural environment. Most stores are in the northwest region.
This neighborhood is made up of mostly single-family homes on larger lots. Most of the residences are owner-occupied. Pleasant Grove homes range from bungalows and ranch to large custom homes.
There were 110 homes for sale in the greater Pleasant Grove area, ranging from $9,000 to $3.1M in September 2022. The median home price was $479,000.
Butts Station
Another spacious, rural community is Butts Station, located east of Pleasant Grove East. You'll discover a lot of farmland and trees, grass, greenery, and shade in this neighborhood. While not highly developed, its colonial history goes back to before the Revolution. It once was a busy train stop with a line running into downtown Norfolk.
Locals recommend playing at Battlefield Golf Club if you're looking to golf. It's a great place to spend an afternoon and play 18 holes.
Western Branch
Western Branch is a convenient option for those who want to live close to Portsmouth or Norfolk. The eastern border runs along the Elizabeth River, making it possible to have a waterfront lifestyle. The wide-ranging area is divided into North and South sections.
This neighborhood is trendy owing to its highly regarded schools and the fact that several of the main interstate routes run through the region. It makes commuting around the Hampton Roads region convenient.
It's mostly residential, although there are some shopping options. The local Chesapeake Mall is being redeveloped into a town center.
Western Branch divides further into many sub-neighborhoods and communities. Styles, prices, and amenities vary widely. Choose from custom homes, master-planned subdivisions, or mid-century developed communities. You'll find coastal cottages through modern brick ranches.
There were 76 homes for sale, ranging from $80,000 to $1.4M, in September 2022. The median home price was $350,000.
South Norfolk
South Norfolk once was an independent city, but today has been incorporated into Chesapeake. Nicknamed "SoNo," it is nestled on the Elizabeth River's Southern Branch. Residents have plenty of amenities and the opportunity for waterfront living.
Interstate 464 runs North-South through SoNo and connects residents quickly to Portsmouth or Chesapeake's downtown.
Here you'll find many older houses, some of which are Victorian and colonial in style. The Historic District is laid out with a grid pattern and has 127 contributing historic buildings dated to the 1890s through 1930s.
There is also extensive revitalization, as evident with the Gateway at SoNo, a mixed-use community with condos, apartments, retail, and office.
The houses are typically closer together than in other Chesapeake communities. South Norfolk homes range from bungalows and ranch to large custom homes. There were 59 homes for sale, ranging from $52,000 to $600,000 in September 2022. The median home price was $250,000.
Norfolk Highlands
Norfolk Highlands is ideal for those who want to live close to the water in an affordable community. The western border runs along the Indian River, while the southwest is adjacent to the 91-acre Indian River Park. Interstate-64 is just south of the community for access to commuting routes.
There is some new construction activity in the community. A large segment of homes were constructed between 1940-1969, with a few more houses being built from 1970-1999. Some condos and apartments are available.
There were 23 homes for sale, ranging from $210,000 to $415,000 in September 2022. The median home price was $300,000.
Chesapeake's Best Neighborhoods
No matter what you're looking for, Chesapeake has a perfect neighborhood for you and your family. You're sure to find the right fit with a range of prices, sizes, and styles of homes, as well as proximity to city amenities or rural landscapes. And with something for everyone regarding lifestyle options, Chesapeake is a great place to live no matter what stage of life you're in.