10 Best Places to Live in Charlottesville, VA
Posted by Preston Guyton on Saturday, August 27, 2022 at 12:14 AM
By Preston Guyton / August 27, 2022
Comment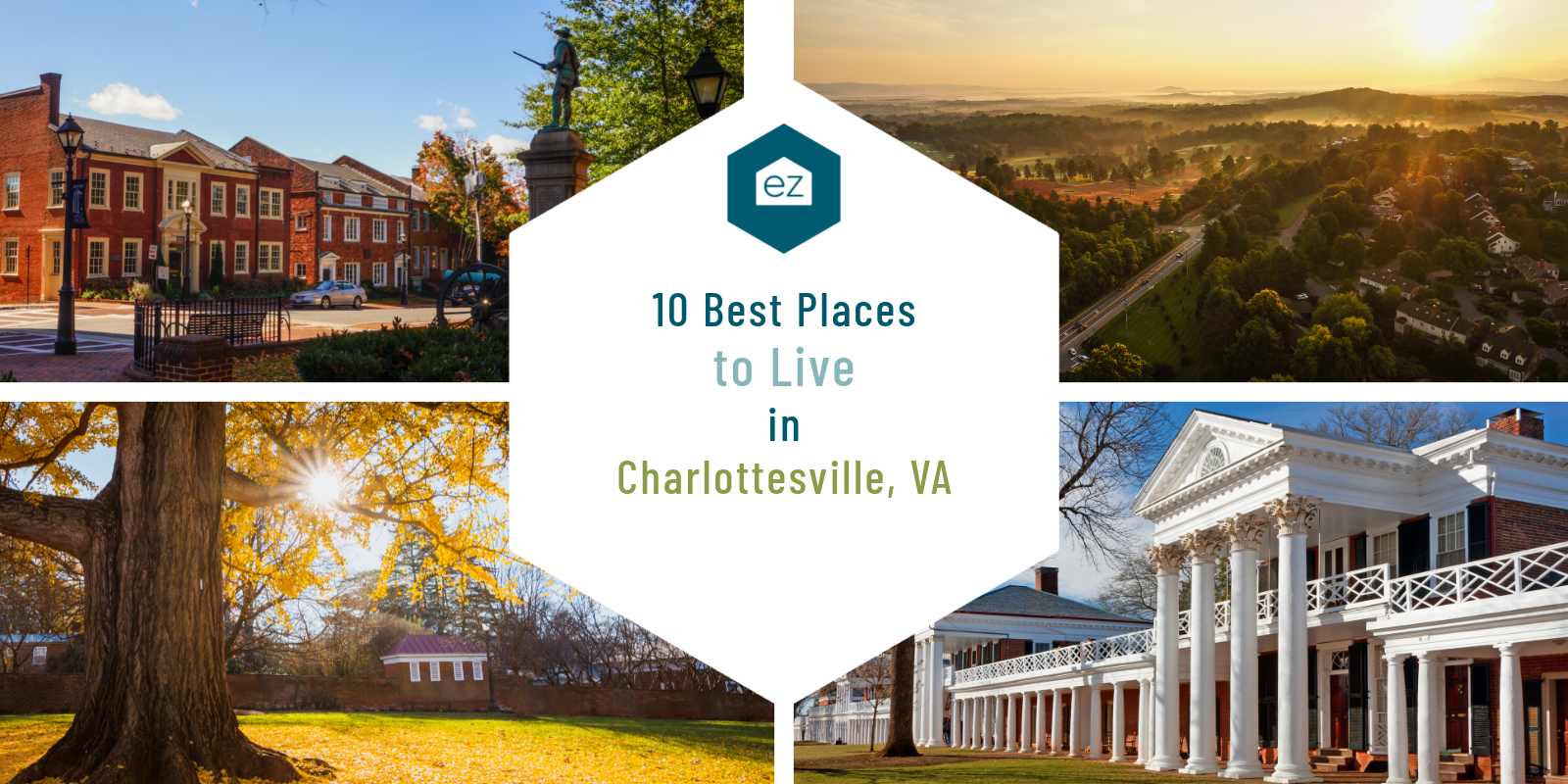 10 Best Places to Live in Charlottesville, VA
Charlottesville, Virginia, is a historic city mixing a college-town vibe with small-town hospitality. It's large enough to boast numerous amenities but not so urbanized that it's over-developed the landscape or the surrounding beautiful scenery. Residents benefit from the many job opportunities, excellent schools, and a long list of activities available for all.
Not sure where you want to live in Charlottesville? No problem, as this town has a lifestyle that suits different tastes. From college student housing to sprawling custom estates to historic homes, Charlottesville has a little bit of everything. To start your home search, learn about these ten top Charlottesville neighborhoods.
Greenbrier
Some call this neighborhood the "hidden gem" of Charlottesville. Tucked between the 250 Bypass, Seminole Trail, and Warner Parkway is a hilly, wooded neighborhood with several "micro-neighborhoods" of varying styles.
Meadow Creek cuts through the neighborhood and is followed by a multi-use trial. The Rivanna Trail provides over 25 miles of connected walking and biking opportunities. Additional paths connect residents to McIntire Park, the YMCA, and the in-progress McIntire Botanical Garden of the Piedmont.
While it's not as walkable to outside amenities, and many neighborhoods lack sidewalks, residents are just minutes by car from downtown Charlottesville and the Shops at Stonefield.
Homes in Greenbrier range from single-family homes to townhouses, making it easy to find something that fits your budget. Greenbrier had seven homes on the market in August 2022, ranging from $435,000 for a 0.3-acre lot with 1,824 sq ft to $685,000 for a half-acre lot with 2,520 sq ft.
Locust Grove
This is one of the oldest neighborhoods in Charlottesville. Situated west of the Rivanna River, it gets its name from the Locust Grove Farm that used to stand at the corner of Locust and Grove Streets. The 1840s main house and kitchen are still present in the neighborhood.
Residents live north of the 250 Bypass and near the Rivanna River. McIntire and Pen Parks connect through the Rivanna Trail. These parks have plenty of outdoor activities, including tennis courts, playgrounds, volleyball courts, picnic areas, and open spaces. Just north of Locust Grove is Meadowcreek Golf Course, an 18-hole course in Pen Park. Centrally located Northeast Park is a popular place to meet up and known for its footbridge and great picnic areas.
The Downtown Mall is only one mile from this neighborhood, so shopping, dining, and entertainment are nearby. There are also commercial centers within Locust Grove on River Road.
The historic homes here have been well-preserved. The original 1890s Victorian homes were joined by smaller brick houses built from the 1940s to the 1970s. Residents say the eclectic styles give Locust Grove character.
This is one of the more affluent Charlottesville neighborhoods, with a high median home value of $750,000. Prices ranged from $375,000 to $1.1 million for new construction.
Martha Jefferson
South of Locust Grove and the 250 Bypass, the Martha Jefferson neighborhood is a beautiful historical area with a rich, 200-year backstory. Most houses mix architecture from the late Victorian, Colonial Revival, bungalow, and post-WWII eras. In 2008, this charming neighborhood near downtown and the Rivanna River was nationally registered as an official historic place.
Its name derives from the original Martha Jefferson Community Hospital constructed on Locust and East High streets in 1903. Today the hospital is on the other side of the river. However, residents still have access to local health care providers.
Downtown Mall is a bikeable distance, and Meade Park is a small green space with an aquatic center and walking trail. Residents can jump on the Rivanna Trail to reach Riverview Park.
Some areas in the neighborhood are more walkable than others. The August 2022 market had six homes listed, from $225,000 for a vacant lot to $595,000.
North Downtown
The North Downtown is one of Charlottesville's most walkable and diverse neighborhoods, with a mix of students, families, and young professionals. Proximity is king here, as many locals can walk or bike to work from their centrally located homes and apartments.
This area is home to many local businesses, with the center being Court Square. The city's first commercial center is home to restaurants, shops, and services. Downtown Mall is the other major venue, serving as the center for Charlottesville retail.
Along High Street are quaint 19th-century homes that have been updated while still maintaining their original beauty. Surrounding the Downtown Mall are commercial buildings renovated into apartments. Luxurious condos and flats are scattered around the area.
The neighborhood is further from the multi-use paths that ring Charlottesville. It's possible to head north on McIntire Rd to pick up the John Warner Parkway Trail and connect through the new pedestrian bridge that links the two halves of McIntire Park.
Homes in this area range from small bungalows and cottages to larger historic homes. Prices vary depending on the size and condition of the home. The August 2022 market had ten homes listed, from $519,000 for a one-bedroom condo to $1.8 million for new construction.
Rose Hill
Rose Hill is an 81-acre neighborhood near central Charlottesville that is part of the historically African-American communities, along with Starr Hill and 10th and Page. It was developed from former plantation lands. Washington Park in the northwest corner has the local swimming pool and recreational fields, while shopping areas, downtown, and the UVA campus are to the south.
Rose Hill largely features residential housing but also has some commercial zoning for places, shops, and markets, mostly along Preston Ave. For commuters, it's easy to get to the Downtown area along this route.
Homes in this area vary in price depending on the size and condition of the home. The two houses on the market in August 2022 ranged from $210,000-$500,000.
Belmont
Belmont is a historic neighborhood southwest of downtown Charlottesville bordered by the Rivanna River and Interstate 64. The western edge backs up to the downtown and its commercial stores. The community is known for its dining scene, as several Charlottesville favorite restaurants and breweries are in the area.
Residents have amenities like corner convenience stores, coffee shops, and restaurants scattered throughout. The rolling hills provide outstanding views of downtown and the surrounding mountains. For recreation, Rives Park has 4.3 acres of open space, basketball courts, playgrounds, and walking trails.
This area is known for its diverse architecture, with a mix of Victorian, bungalow, and post-WWII homes. Prices vary depending on the size and condition of the house, but the August 2022 median price was $334,000.
Meadowbrook Hills
Meadowbrook Hills, also known as Blue Ridge, is a small neighborhood east of downtown Charlottesville bounded by 250 Bypass and Route 29. It lies inside the Barracks-Rugby region. The Barracks Road shopping area is the nearest venue for dining, shopping, and groceries.
The Rihanna Trail picks up just north of the neighborhood, where the Meadowbrook Community Garden lies.
This neighborhood is known for its beautiful homes and gardens built in a classic or Colonial style. The meandering, narrow streets are lined with trees. Paved sidewalks are throughout the neighborhood. Many houses are estate-sized on wooded lots, and some exceed one acre in size.
August 2022 had one listing for $1.67 million with 3,811 sq ft.
Barracks/Rugby
For another option close to UVA, try the Barracks and Rugby neighborhoods. Rugby borders UVA and its arenas on the north, and many Greek houses are on the southern end of Rugby Road. To escape, head closer to Barracks Road, where you'll find a more classic neighborhood feel.
Several historic buildings and community gathering spots are in the neighborhood, including Walker Upper Elementary School, the Crow Recreation Center, and Greenleaf Park. The bustling Barracks Road Shopping Center attracts traffic from the west with its chain stores and dining venues. The convenient location enables residents to walk to UVA, the Corner, and Scott Stadium.
This community has several smaller sub-neighborhoods, like Kellytown and Greenleaf. Homes in this area range from small bungalows and cottages to larger historic homes. Prices vary depending on the size and condition of the home, but the median price was $650,000 in August 2022, with eight homes on the market. Prices ranged from $225,000 for a vacant lot to $1.7 million.
Cherry Hill
Looking to live near the University of Virginia? Cherry Hill awaits just 1.4 miles from downtown Charlottesville and near the UVA campus off Rainer Road. It is adjacent to Johnson Village and Fry's Spring communities, which are also popular with students.
The 14-acre planned community draws inspiration from the work-live-play lifestyle. The neighborhood has plenty of amenities for residents, including a park, walking trails, picnic area, and common space. Residents can bike to UVA, downtown, or the nearby shopping services. I-64 is a five-minute drive away.
Townhomes and single-family homes are available in Cherry Hill. There were no listings in August 2022, but past prices ranged from $225,000 to $425,000.
Johnson Village
Johnson Village is the perfect neighborhood for you if you want a calm and welcoming atmosphere near the southern part of the UVA campus. It is between Fry's Spring and Fifeville, two other communities near UVA developed in the 1960s. With most of the properties being single-family homes, this Charlottesville neighborhood will make you feel right at home.
The sidewalks help residents to get around and explore everything living in the southern part of town has to offer. Residents can walk to attend UVA football games and other events at Scott Stadium. They provide quick access to Cherry Avenue and Forest Hill Park local businesses. Additionally, commuters can easily get to jobs throughout the region thanks to Interstate 64, just minutes from the community.
The bulk of these homes were built in the 1950s and 1960s. Ranch-style houses dominate, with two-story and split-level homes on spacious lots with big backyards. The area closer to campus has more townhomes and condominiums. August 2022 had three homes for sale with a median list price of $429,000.
Living in Charlottesville
Whether you're looking for exciting nightlife or a quiet place to call home, Charlottesville has something for you. Spend your free time hiking, biking, and exploring the downtown area. Enjoy the city's dining scene, which offers flavors for everyone. Visit the events that are part of the thriving art scene or support UVA sports.
No matter what your lifestyle is like, you're sure to find a neighborhood in Charlottesville that's perfect for you. If you're not so sure, try one of these 11 cities in Virginia to live.