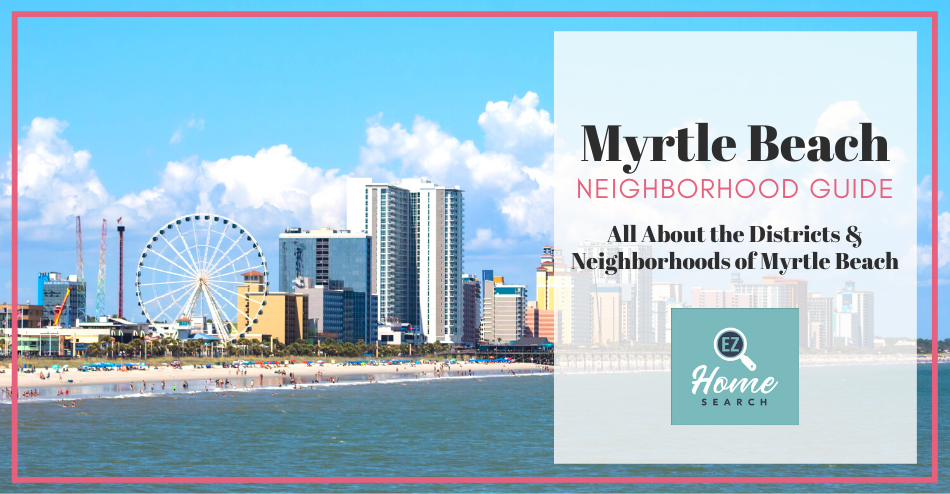 Myrtle Beach Communities & Neighborhoods: All About The Different Districts In Myrtle Beach
Myrtle Beach, located along the East Coast of South Carolina, is a major tourism center, renowned for its subtropical climate and expansive stretches of beach that attract an estimated 14 million visitors yearly.
Though the city itself has a population of 34,695 residents, Myrtle Beach is the second-fastest-growing metro area in the country, with a metro population of about 480,891 residents. Myrtle Beach is located in Horry County, along the center of the 60-mile continual stretch of beach in northeastern South Carolina known as the Grand Strand.
Table of Contents
Parts of Myrtle Beach
Myrtle Beach is typically divided into two general physical areas or regions: north and central. Aside from the obvious geographical differences, these distinct regions of Myrtle Beach each have their very own vibes, making not only for different tourist experiences, but different residential environments as well.
The North Myrtle Beach area includes 10 distinct neighborhoods, including the prestigious Barefoot neighborhood. Central Myrtle Beach consists of 14 prominent neighborhoods and includes Grande Dunes, the large master-planned community along the Grand Strand.
Over the course of the past decade, there has been an upsurge in the development of expansive, master-planned communities and multi-neighborhood subdivisions along the Grand Strand. Many of these communities are developed to have a resort-like feel, complete with the amenities to match such as swimming pools, tennis courts, green spaces, and golf courses. Often, these neighborhoods include lawn maintenance and other services as part of an HOA fee.
North Myrtle Beach
North Myrtle Beach Zip Codes
North Myrtle Beach is known for its more relaxed pace and peaceful atmosphere, set apart from the bustle and tourism of downtown. Generally considered to be the area north of Highway 22, North Myrtle Beach includes the town of Atlantic Beach, as well as the city of North Myrtle Beach. It also includes parts of unincorporated Horry County.
The area was first developed as farmland in 1737, when William Gause received a grant for 250 acres of land near what is now Windy Hill Beach. Gause not only farmed the area, but he set up a tavern along King's Highway, hoping to quench the thirst of travelers.
North Myrtle Beach was established in 1968, resulting from the consolidation of Windy Hill Beach, Ocean Drive Beach, Crescent Beach, and Cherry Grove beach communities.
Despite it's differences from other areas of Myrtle Beach, the North district appeals to tourists with shopping destinations like the Tanger Outlets and Barefoot Landing, along with what is often referred to as "restaurant row," a series of eating establishments dotting Highway 17.
North Myrtle Beach Neighborhoods
List of North Myrtle Beach Neighborhoods
Atlantic Beach
Barefoot Resort
Cherry Grove
Crescent Beach
Ocean Drive Beach
Shore Drive
Tidewater
Windy Hill Beach
North Myrtle Beach consists of at least 10 distinct neighborhoods. What were once the communities of Crescent, Windy Hill Beach, Ocean Drive Beach and Cherry Grove all merged in 1968 to form the city of North Myrtle Beach. Other neighborhoods include Atlantic Beach and popular Barefoot Resort.
North Myrtle Beach offers residents a slower pace of living, compared to other popular areas of the Myrtle Beach metro. However, North Myrtle Beach is still a sought-after tourist destination, due at least in part to its shopping centers and wide array of restaurants.
Central Myrtle Beach
Central Myrtle Beach Zip Codes
Central Myrtle Beach encompasses the area just south of where State Highway 17 splits into bypass and business routes, all the way south to where State Highway 501 enters the city of Myrtle Beach. The area is known as the "Golden Mile" section of Myrtle Beach and for its residential developments, beachfront living, and multiple oceanfront resorts.
The Central Myrtle Beach area, which includes the city of Myrtle Beach, was uninhabited prior to the American Revolution and remained mostly that way even afterwards. The community of Myrtle Beach was first established as New Town, at the time the railroad initially came to the area.
Near the turn of the 20th century, a local landowner envisioned building the community into a tourist destination, suggesting the railroad lead further inland. It was later incorporated as Myrtle Beach.
The district features a variety of residential neighborhoods, from older historic streets to recently developed master-planned communities. Central Myrtle Beach is the heart of the area's tourism sector, with hundreds of restaurants, amusement parks, shopping, and beachfront resorts.
Central Myrtle Beach Neighborhoods
Central Myrtle Beach Neighborhoods
Briarcliffe Acres
Lakeside Crossing
Pine Lake Estates
Plantation Point
River Oaks
Yaupon Circle
Although the Central Myrtle Beach area is well-known for its tourism, the district also includes at least 14 neighborhoods. Briarcliffe Acres was established in the 1950s and exhibits some of the widest range of home styles, from modest bungalows to sprawling mansions. Plantation Point is a luxury community, featuring custom-built homes.
Central Myrtle Beach's tourism industry continues to serve as the cornerstone of the area's economy. The area offers residents a wide selection of neighborhoods and homes to choose from, ranging from modest communities to luxury homes with all the amenities. Recently, a number of master-planned communities have sprung up throughout the area.
Explore Myrtle Beach Today
Myrtle Beach is well-known for its tourism and shopping. But there's more to this sprawling metro area than retail, amusement parks, and long stretches of sandy beaches.
The many communities located throughout the area offer residents a large selection of homes. In the past decade or so, the area has seen a general increase in the number of master-planned communities, many patterned after resorts and offering tennis courts, a pool, and even a golf course. There are also a number of gated communities in Myrtle Beach, as well as communities containing more modest homes.