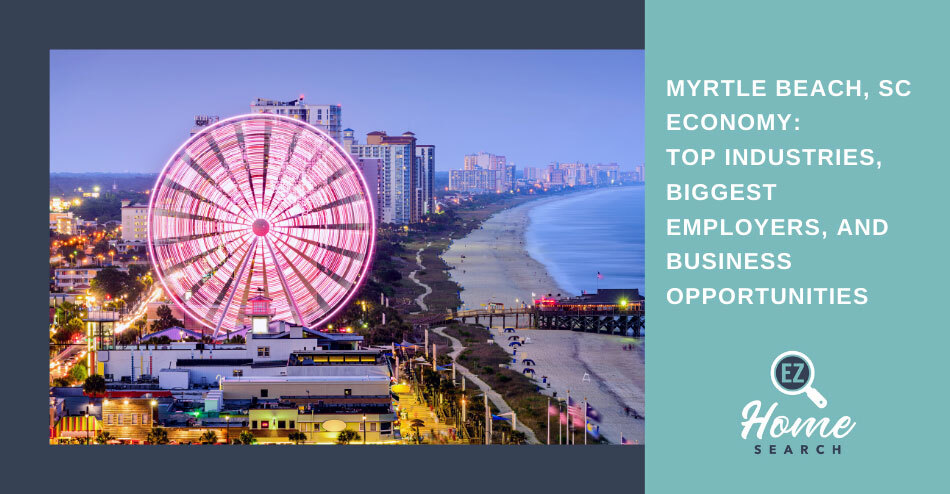 Myrtle Beach Economy: Top Industries, Biggest Employers, & Business Opportunities
If you want to move to Myrtle Beach, you need to do your research on the city's economy before even thinking about packing boxes. A city's economy will have an impact on how easy it will be to get a job and the money necessary to live there comfortably. Myrtle Beach is the second-fastest-growing metro in the United States, and it's known for being a major tourism center, thanks to its warm, subtropical climate and sandy beaches.
The city has a population of 35,760, making it the state's 14th largest city. However, its population swells with 20.6 million visitors yearly. Tourism dominates the city's economy, with an abundance of hotels, attractions, resorts and retail developments.
Myrtle Beach Industries
Tourism and hospitality is easily the largest industry in Myrtle Beach. The city is part of the Carolina coast's Grand Strand, an arc of beachfront that welcomes over 20 million visitors every year, including 100,000 international visitors. In addition to its appeal to leisure travelers with is beaches, golf courses, aquarium, shopping, nightclubs and restaurants, the city hosts a number of conventions, special events and concerts every year.
The hospitality industry employs about 28.3% of the city's workforce, with tourism having a $7 billion impact on the city's economy and providing over 4,000 jobs.
Retail is the second-biggest employer by sector, accounting for approximately 13.3% of the workforce or about 1,894 workers. The median income of full-time retail employees is $31,200, which is higher than the median income of hospitality workers at $29,100.
Retail plays a significant role because of its close ties to Myrtle Beach's tourism industry. The city's stores and malls make it the largest shopping destination in South Carolina, as well as one of the largest shopping destinations in the region.
The third-largest sector by number of employees is construction. The sector employs 9.1% of the workforce or 1,299 workers. The construction industry in Myrtle Beach has increased its workforce by 8% year-over-year. Four out of the five most prevalent positions in the construction sector have higher median incomes than the state's median income.
Healthcare and social services is another important sector to the Myrtle Beach economy, employing about 8.2% of the workforce or 1,172 workers. Healthcare and social services employees have a median income of about $45,900. Myrtle Beach's primary medical facility is the Grand Strand Medical Center, a 369-bed acute care hospital and trauma center, nationally recognized for its cardiology care.
Top Industries in City
Hospitality
Retail
Construction
Healthcare
Education
Entertainment
Top Employers in Myrtle Beach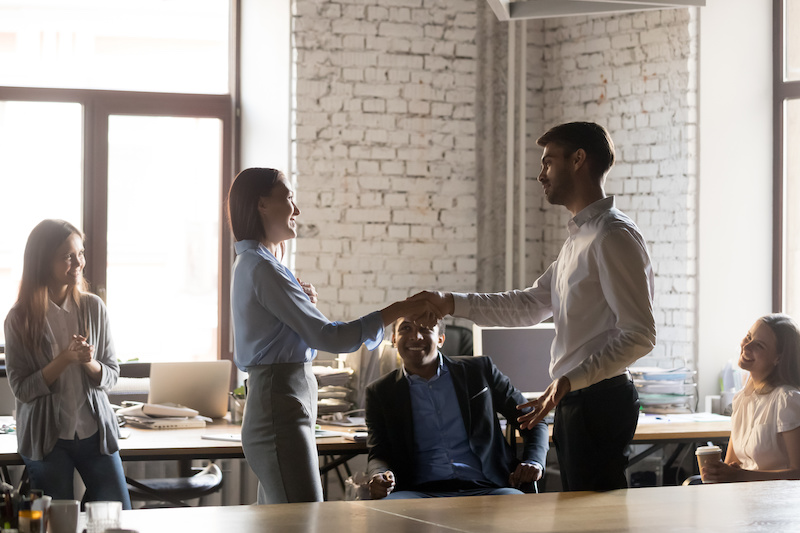 The top employer in the Greater Myrtle Beach area is Horry County School District, which employs about 5,650 people, with district headquarters in Conway. The district is the third largest in South Carolina, serving over 45,000 students across 56 schools.
The district includes nine attendance areas, including Myrtle Beach. Each of the attendance areas has its own high school, with middle and elementary schools feeding into it, for a total of 27 elementary, 13 middle and 9 high schools. The district also includes three career and technical academies, four charter schools, and a Scholars Academy.
The second-largest employer in the Greater Myrtle Beach area is big-box retailer Wal-Mart, with 2,800 employees. The US-headquartered multinational retail corporation includes a chain of hypermarkets, grocery stores, and discount retail facilities. The company was founded in 1962 and currently has 11,496 stores and clubs around the world, operating under 56 different store names.
The third-largest area employer is Horry County Government, with approximately 2,200 employees. Horry County Government is home to 15 boards and commissions, including the park and open space board, museum board of trustees, zoning board of appeals, and solid waste authority, among others.
The government houses 42 departments. These include the county assessor, attorney, and auditor. Also included are the clerk of court, budget office, sheriff's office, and business license department, along with 35 others. The Horry County Council represents 11 districts across the county, with the chairman elected at-large. Council chambers are located in Conway.
Other major employers include Coastal Carolina University with 2,125 employees, Conway Hospital with 1,400 employees and Grand Strand Regional Medical Center with 1,350 employees.
Additional Large Companies in City
Horry County School District
Wal-Mart
Horry County Government
Coastal Carolina University
Conway Hospital
Grand Strand Regional Medical Center
Food Lion
McLeod Loris Seacoast
City of Myrtle Beach
Myrtle Beach Economy Facts and Figures
The overall cost of living in Myrtle Beach is slightly below the national average, at 98.6, making it 1.4% less expensive than the national average. The grocery, utility and healthcare cost indexes are all above the national average at 105.7, 104.5, and 100.4, respectively. The cost index for transportation at 94.7 and housing at 90.6 are both below the national average.
The job market in Myrtle Beach has grown by 1.6% over the past year. Analysts predict job growth over the next decade to be 38.8% in the city, outpacing the U.S. average of 33.5%.
With 2,421 workers, the largest portion of Myrtle Beach's workforce is employed in sales or sales-related fields. Food prep and serving-related occupations make up the second-largest share of the workforce, employing about 2,098 people.
The highest-paid occupations in Myrtle Beach are diagnosing and treating practitioners, computer and mathematical occupations, legal occupations, healthcare technical occupations, and architecture and engineers.
The median household income in Myrtle Beach is about $40,525, with median earnings per work of $32,554. The average hourly earnings in Myrtle Beach are $16.48. About 8% of workers are self-employed.
The median list price for Myrtle Beach homes is $199,900 and has been increasing. The median rent for Myrtle Beach is $1,200.
At 7%, South Carolina's top income tax bracket is one of the highest in the nation, while at the same time, the bottom rate of 0% is the lowest. South Carolina's property and gas taxes are some of the country's lowest. Myrtle Beach's sales tax rate is 9%, which includes the South Carolina sales tax rate of 6%.
Living and Working in Myrtle Beach
With pristine, sandy beaches and perfect weather year-round, it's no wonder so many people want to move to Myrtle Beach. Understanding the city's economy is an excellent first step toward making a home here. Myrtle Beach is a city that has something to offer just about everyone—it's just a matter of making the move and finding it.