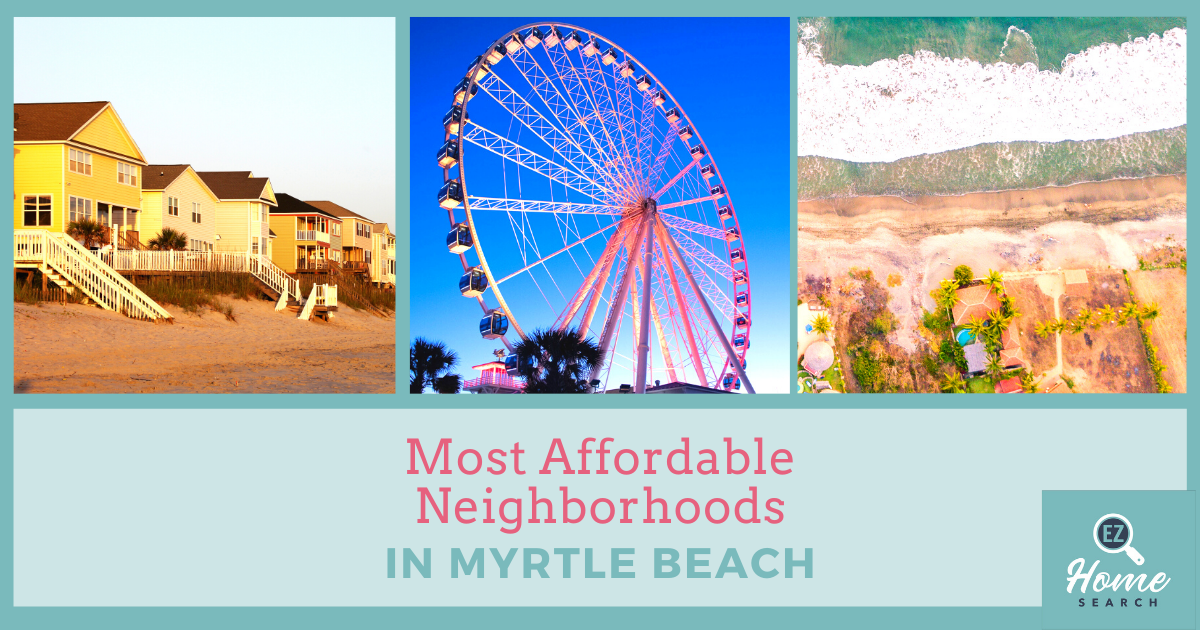 Most Affordable Neighborhoods in Myrtle Beach: Myrtle Beach, SC Affordable Living Guide
Not only is Myrtle Beach a great place for tourists to enjoy the Boardwalk and beach, but it's also a fun and exciting place for people to live, work, and even retire. Those interested in moving to Myrtle Beach should be aware of the different neighborhoods in the area and what types of amenities each offers. The following information details the most affordable neighborhoods in Myrtle Beach to help people decide which one is right for them.
The Lakes
The Lakes Amenities
Community clubhouse
Resort-style swimming pool
Premier location near Myrtle Beach and Murrells Inlet
Schools include St. James High School, St. James Middle School, and Burgess Elementary School
The Lakes neighborhood is arguably one of the most popular places to live in Myrtle Beach, and for good reason. Located in Surfside Beach, The Lakes is just 20 minutes from everything the city has to offer, including beaches, golf courses, shopping, dining, recreation, and more.
Home prices in the neighborhood range from $200,000 to nearly half a million dollars, depending on location, size, and custom home features. Many of the homes in The Lakes boast award-winning floor plans from the renowned DR Horton, making them exquisitely beautiful and functional.
The Lakes Hotspots
The Lakes Cafés
The Lakes Restaurants
The Gates
The Gates Amenities
Community clubhouse
Swimming pool
Biking and walking trails
The Gates is a beautiful residential neighborhood in Myrtle Beach that features affordable, moderately sized and priced single-family homes. It's an older, well-established community in the area just South of Holmestown Road and North of The Lakes neighborhood area. Because there are many home builders that have manufactured houses in The Gates, the styles and floor plans available tend to vary widely.
The Gates is roughly 10 minutes from the beautiful beaches of Surfside Beach, and Pawley's Island is also just a short distance away. Homes in the area generally cost between $150,000 to $350,000 and are less expensive than homes in nearby neighborhoods. Many homes in The Gates feature floor plans with three, four, and five bedrooms.
The Gates Hotspots
The Gates Shopping
The Gates Cafés
The Gates Restaurants
Myrtle Beach Golf & Yacht Club
Myrtle Beach Golf & Yacht Club Amenities
Gated security
Community pool
Playground equipment
Outdoor picnic pavilion
Lighted tennis court
Meeting facility
The Myrtle Beach Golf & Yacht Club is more than just a golf and yacht club; it's a community for golfing and boating enthusiasts. Located East of the Waccamaw River and the Waccamaw National Wildlife Refuge, the neighborhood is just a short distance away from Myrtle Beach and Surfside Beach. Nearby lakes, ponds, and trees make it a gorgeous place to live, while its proximity is highly coveted due to how close it is to Myrtle Beach's activities.
Homes in the community are conveniently located to the neighborhood's amenities, and tend to be moderately sized towards the east side of the area and more expansive towards the west. Although the majority of the lots have been built upon, there are some available lots for new home builds, mostly towards the back of the neighborhood.
Myrtle Beach Golf & Yacht Club Hotspots
Myrtle Beach Golf & Yacht Club Shopping
The Newman Club
Gladden Signs
Coastal Balloon Creations
Myrtle Beach Golf & Yacht Club Restaurants
Lyons Cove
Lyons Cove Amenities
Nearby the Myrtle Beach Skywheel and Boardwalk
Close to Myrtle Waves Water Park
Community yard sales and other events
Lyons Cove is a smaller gated community in Myrtle Beach. It features a number of single-family homes that offer all the luxuries of a condominium-style community, such as landscaping and exterior home and garden maintenance.
Lyons Cove is among the most affordable neighborhoods, with many houses selling between $80,000 and $100,000. Most homes in the area feature two to three bedrooms and a single-car garage. Its location is superior, just a few minutes away from the bustle of the Myrtle Beach Boardwalk.
Brittany Park
Brittany Park Amenities
Tight-knit community feel
Close to it all
Brittany Park is another smaller, centrally located neighborhood in Myrtle Beach that is perfect for those who want to be close to it all. Located between 44th and 48th avenues, residents are within walking distance (less than one mile) from Broadway at the Beach and a few minutes' drive from the beach itself.
Homes in the community typically feature 1,200- to 3,000-square-foot floor plans with three to four bedrooms, and are manufactured with traditional stucco and brick. Kitchens are built to function, and large windows and vaulted ceilings make homes in the neighborhood feel open and airy.
Houses in Brittany Park remain somewhat affordable for the area, ranging between $200,000 and $300,000 due to their desirable proximity to the heart of Myrtle Beach.
Brittany Park Hotspots
Brittany Park Shopping
Brittany Park Cafés
Brittany Park Restaurants
How to Choose the Right Myrtle Beach Neighborhood
With so many great and affordable options available, selecting a neighborhood in Myrtle Beach can be difficult. However, people can narrow down their options with just a few questions. Additionally, people should consider amenities directly available in the communities they are interested in. By figuring out which factors are most important to their unique needs, home buyers can choose the best neighborhood in Myrtle Beach.