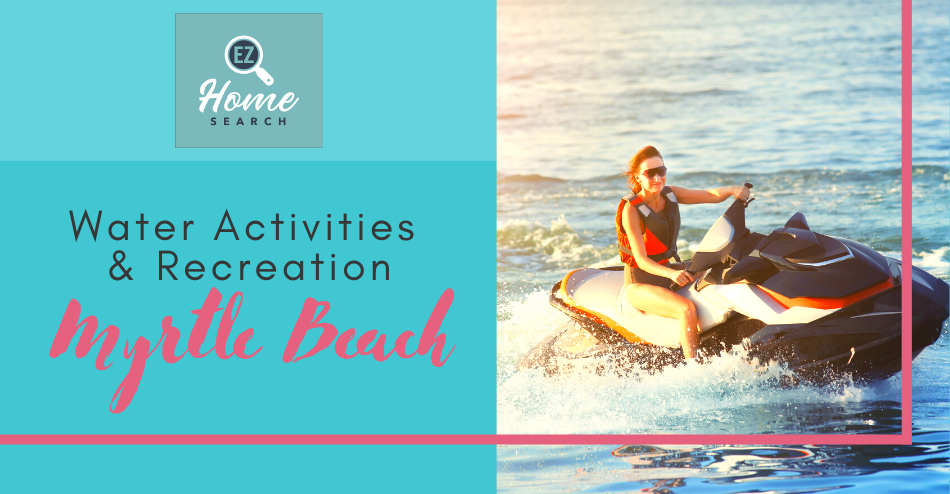 Best Water Activities in Myrtle Beach: Myrtle Beach, SC Water Activities & Recreation Guide
Myrtle Beach, South Carolina, is home to 60 miles of stunning shoreline along the Atlantic Ocean. Additionally, the 210-mile Intracoastal Waterway winds through Myrtle Beach as well. This region of Horry County is popular for a range of water recreation activities beyond simple beach-going and swimming. Residents and visitors can take advantage of the city's water proximity to enjoy everything from jet ski adventures to parasailing, scuba diving in the Atlantic, dolphin tours, surf lessons, and fishing both inshore and offshore on a privately charted boat.
Jet Skiing
Jet Skiing Services
Myrtle Beach Watersports
Action Water Sportz
Ocean Watersports
Downwind Sails
Waterway Power Sports
Jet skis are a great way to hit the water and have an adventure in Myrtle Beach. Jet skiing is an activity that all ages can enjoy; however, to operate a jet ski, an individual must be at least 16 years old and have a valid driver's license.
Myrtle Beach Watersports has locations at 8201 Marina Parkway and 101 Fantasy Harbour Boulevard (Highway 501). A family-owned business since 1996, Myrtle Beach Watersports offers a range of jet ski rental options. People can schedule a professionally led tour that starts out in the Intracoastal Waterway and then heads into the ocean where they can experience dolphin sightings. Tours are about 30 to 40 miles in length.
Action Water Sportz is another option for jet ski rentals, located at the Barefoot Resort Marina at Village Crossing Boulevard. This business offers jet skis that can carry up to three riders.
Parasailing
Parasailing Services
Downwind Sails
Ocean Watersports
Atlantic Water Sports Parasail
Express Water Sports
Shoreline Water Sports
New Wave Watersports
People can get out on the water and feel the wind in their face with a Myrtle Beach parasailing adventure. For those who have never parasailed before, there is a tether that is secured from the parasail to the equipment on the boat. It's similar to flying a kite, except the person gets to be up in the air enjoying the magnificent views.
Downwind Sails Watersports has two locations: 2985 South Ocean Boulevard and 410 South Ocean Boulevard. While parasailing can be done over land, in Myrtle Beach, it's the ocean views that are enjoyed. Flyers journey out into the ocean and then launch from the boat. Each flight lasts about eight to ten minutes, and the full excursion runs approximately 30 to 45 minutes.
Express Watersports, located at 4042 Highway 17 Business in Murrells Inlet, also offers parasailing experiences. It's ideal for those looking for a bit more air time; flights last 10 to 12 minutes. The full excursion runs approximately one hour and 45 minutes.
Scuba Diving
Scuba Diving Services
Coastal Scuba
Scuba Express @ Watersports
Nu Horizons Dive & Travel
Myrtle Beach Watersports
Grand Strand Scuba Experience and More
Those interested in scuba diving in Myrtle Beach can look to Coastal Scuba, located at 1903 Highway 17 South, for certified instructors and classes to suit a range of ages and abilities. From the novice to the experienced, scuba diving is a wonderful way to get out and explore the ocean. Coastal Scuba offers a basic class in a swimming pool for ages eight and older, but after the basics are mastered, ages 10 and up can move on to a more advanced training course to prepare for ocean diving, which is restricted to ages 10 and older.
What might divers see in the ocean near Myrtle Beach?
Pinnacle Reef; about 10 miles offshore near Barracuda Alley
Barracuda Alley; about 10 miles offshore, and a dive for all abilities
Jell II; about 16 miles offshore and filled with marine life, coral, and more
The Sherman; a wreck from the Civil War
The Raritan; a sunken steel freighter and a dive for experienced divers
Coastal Scuba offers open water dive classes, including private instruction.
Dolphin Tours
Dolphin Tour Services
Super Voyager Deep Sea Fishing
Sea Thunder Dolphin Cruise
Island Time Cruises
Blue Wave Adventures Dolphin Watch Tour
Downwind Sails
Hurricane Fleet
Several companies throughout the Myrtle Beach region offer dolphin-sighting tours, including Voyager Dolphin Adventure Cruises. Voyager is located near the Intracoastal Waterway in the North Myrtle Beach area. USCG licensed and certified, Voyager offers various ocean excursions for individuals and groups, and is also a fun thing to do with kids.
People can hop aboard one of the boats for a 2.5-hour cruise to see dolphins. The Voyager boat has a restroom and comes equipped with a full galley with food and cold drinks available. The cruise starts on the Intracoastal Waterway and then heads out into the ocean. Guests will see the shrimp boats working, sharks, various marine life, and dolphins.
Surfing
Surfing Services
Jack's Surf Lessons and Board Rentals
Kokopelli Surf Lessons
Surf City Surf Shop
Downwind Surf & Paddleboard Company
Mega Tsunami Surf Shop
For anyone who has ever wished to get out on the ocean and surf the waves, a visit to Myrtle Beach can make that dream come true. Jack's Surf Lessons at 3200 F South Ocean Boulevard has taught the art of surfing in Myrtle Beach since 2010 and offers a range of lessons, packages, and water fun for all experience levels. Professional surf instructors are CPR and First Aid certified, and basic lessons begin on land.
Surfers will learn how to execute the pop-up, ocean safety, and gain an understanding of waves and movement before venturing out into the Atlantic through one- or two-hour surfing lessons. Sessions may be private or semi-private and are available for groups, couples, and individuals. Photo packages also are available so those special moments riding the waves are captured and preserved.
Ocean and Bay Fishing
Fishing Services
Captain Smiley
Low Country Fishing Charters
Murrells Inlet Fishing Charters
Myrtle Beach Sport Fishing
Carey On Charters
Reel Action Fishing Charters
Located at the Cricket Cove Marina (4495 Baker Street), Captain Smiley offers full and half-day charters for one to three anglers. A fourth angler can be added for a fee. All equipment is provided, from boat and guide to tackle, bait, and license. Captain Smiley has two boats: a 22-foot Pathfinder Bay Skiff and a 22-foot Custom Carolina Express. Fresh catches may include flounder, redfish, trout, Spanish mackerel, whiting, and bluefish.
For ocean fishing, people can look to Low Country Fishing Charters, located at the Myrtle Beach Yacht Club at Coquina Harbour. Schedule a private fishing charter with USCG-licensed captains. Ocean excursions are available and include all equipment, licenses, and bait. Deep-sea fishing adventures are available as well. All trips are private and cater to the experience level of the anglers. Novice and kid anglers are welcome.
Myrtle Beach Water Recreation Activities for All
While many people come to Myrtle Beach to visit the famous Boardwalk or to spend a day on one of the numerous premier golf courses, the water activities are a must. When visiting Myrtle Beach, people should make plans to enjoy at least one (or two or three) of the exciting water activities available. They can schedule a fishing charter to cruise the Intracoastal Waterway or set a date to take a dolphin tour or scuba dive in the ocean. There's water fun for all ages and abilities in Myrtle Beach, South Carolina.