Your Statesboro, GA Real Estate Questions Answered
Posted by Preston Guyton on Monday, August 15, 2022 at 7:30 PM
By Preston Guyton / August 15, 2022
Comment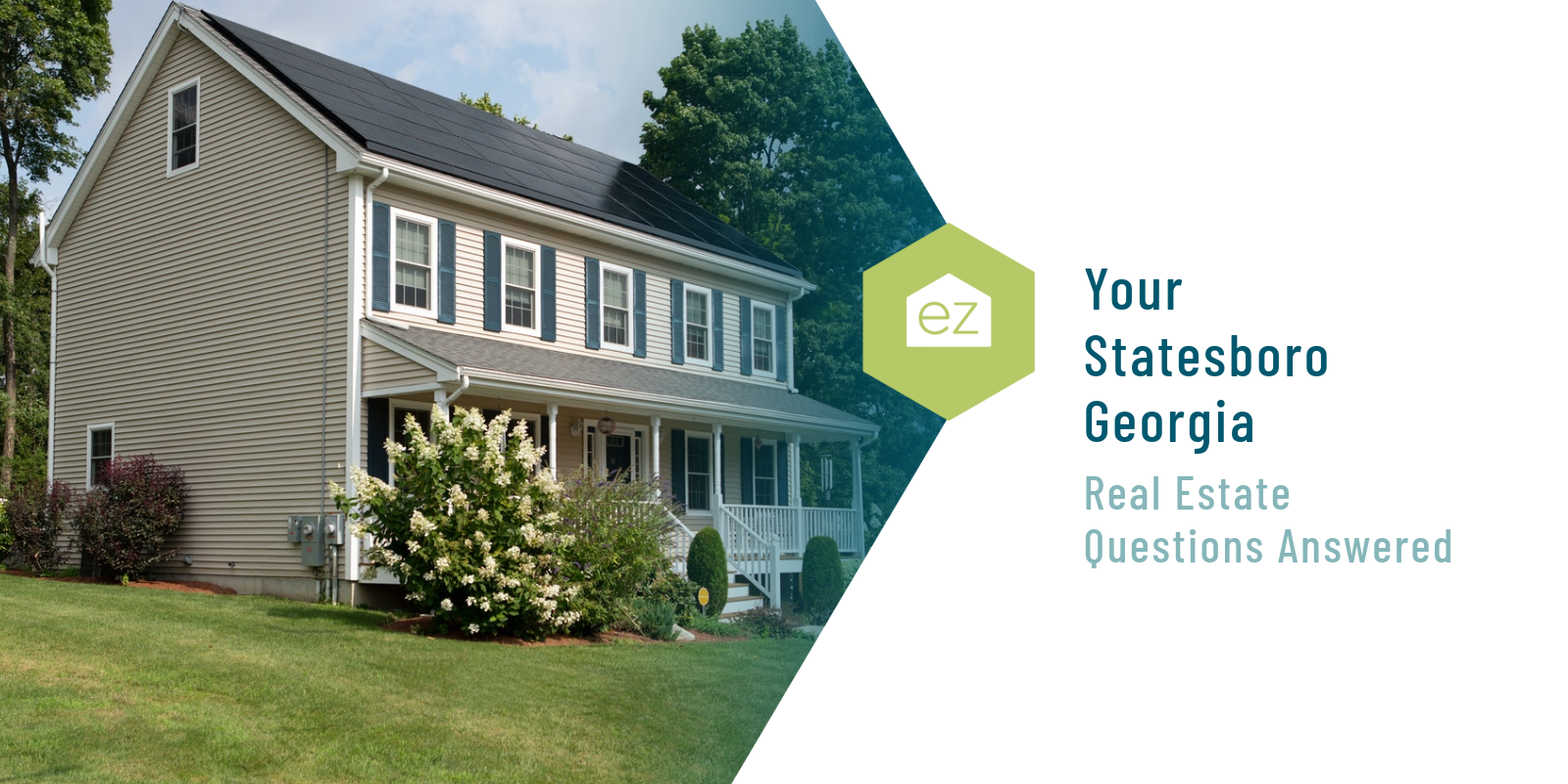 Your Statesboro, GA Real Estate Questions Answered
Are you looking for a quintessential southern town with a slightly more progressive feel? Check out Statesboro, Georgia. Founded by cotton farmers in 1803, the modern town culture celebrates the southern lifestyle while embracing a "Renaissance" image, evident in the progressive-thinking local university and colleges and eclectic downtown area.
The southern small-town ambiance is complemented by charming shops and restaurants, historic structures, and contemporary activities to keep everyone occupied, whether a college student or long-time resident.
If you're thinking about moving to Statesboro, you probably have questions about the local real estate market. Here are some answers to common questions that will help you get started with your research on Statesboro real estate.
What is the average price of a home in Statesboro, GA?
The median home price in Statesboro was $255,900 in August 2022. There were 249 homes for sale, ranging from $1,600 to $3 million.
However, prices can vary depending on the specific neighborhood or type of property you're interested in. For example, in July 2022, a three-bedroom, two-bathroom single-family home needing renovation started at $95,000. The top of the market was a $1.15 million, 10-bedroom, 6.5+ bathroom mansion in the historic district on 1.69 acres and over 8,000 sq ft of living space.
Are there any condos or townhomes available in Statesboro, GA?
Thanks to the local college and universities, this small town has a selection of condo and townhome complexes in Statesboro. Not all are student housing, so you can find a condo or townhome to meet your lifestyle.
Prices for a two-bedroom, two-bathroom unit start at the low $100s in summer 2022. The top of the market was a 1,937 sq ft condo with three bedrooms and two bathrooms for $279,000 in July 2022.
Some places you can look for condos or townhomes include, but are not limited to: Greystone, Tillman Park, The Hammocks, and Bullbay. If you're looking for student housing, see Copper Beech, The Garden District, Southern Downs, Village at Mill Creek, Cottage Row, and The Village at Midtown.
What is the property tax rate for Statesboro, GA?
Georgia assesses property tax on 40% of the home's fair market value as set on January 1 of each year. The property tax is also known as the "ad valorem tax." One mil equals $1,000 of assessed value.
The Statesboro tax assessor can provide you with an estimate of your property taxes, but the actual amount may differ depending on your assessment and any exemptions or abatements you qualify for. The 2021 millage rate for Bulloch County is 11.6 mills, which amounts to $11.60 in taxes for every $1,000 of assessed value. The city of Statesboro assessed at 7.30 mils in 2021.
What is the cost of living in Statesboro, GA?
The cost of living in Statesboro is about 18% lower than the national average and 11% lower than the Georgia average. Statesboro's housing costs are also lower than the national and state averages. A home in Statesboro was 35% cheaper than the national rate and 15% cheaper than Georgia's median.
Looking at all categories, Statesboro comes in under the national median in all areas except for utilities, which were 2% more expensive.
What county is Statesboro, GA in?
Statesboro is in Bulloch County, Georgia. The county lies south of the Ogeechee River, east of the Canoochee River, and north of the Savannah River. Plantation owners, timbermen, and turpentine distillers flocked to nineteenth-century Bulloch for its natural resources.
When Bulloch County was established in 1796 as Georgia's twenty-first county, it covered more than 500,000 acres, mostly of pine trees and sandy soil. Today the county covers 682 square miles.
Cotton production and slavery were prevalent aspects of Bulloch County's antebellum economy. In 1850, enslaved people made up around a third of the county's population; by 1860, their percentage had increased to nearly half due to a drop in the white population as well as an increase in the number of enslaved individuals.
The county experienced action during the Civil War. The Skirmish at Statesboro was an attempt to slow General William T. Sherman's March to Sea. Much of the town was damaged or destroyed.
The area struggled in the immediate aftermath of the war and the Reconstruction era. However, Statesboro emerged as a central town in southeastern Georgia in the 1880s and 1890s as cotton production stimulated the economy. The area transitioned to tobacco in the 1930s in response to the boll weevil decimation of cotton and the Great Depression.
Statesboro became a major town in southeastern Georgia for one reason: city and county officials learned to collaborate. The effort to establish a college is a prime example. When the state declared that it would finance an agricultural and mechanical school in Georgia's First Congressional District, a Statesboro-Bulloch committee formed and outbid its competitors.
The college grew into a multi-campus comprehensive regional university with about 15,000 students by the end of the twentieth century. It became Georgia Southern University in 1992.
Today's major economic forces in Bulloch County are education, agriculture, and industry. Since 1990, Ogeechee Technical College has educated the local workforce with essential industry skills. Several national businesses established facilities in the county during the last decade of the twentieth century.
Bulloch County is home to many natural areas, and residents enjoy outdoor activities. Fields, streams, and ponds entice the hunter and fisherman. Golf is a year-round activity.
Is Statesboro, GA growing?
The Statesboro metropolitan area has been a growing region in Georgia since 2010. The Statesboro metro area increased by about 5,000 residents or a 15% growth over a decade. It exceeded growth projections, reaching 2030 numbers in 2020. The town is estimated to be growing at 1.4% each year.
What neighborhoods are in Statesboro, GA?
A wide variety of homes are available in Statesboro, from historic properties to brand-new construction. The town has about 57 different neighborhoods for you to explore. You can find anything from small starter homes to historic antebellum estates. A few places to consider.
Northbridge is a new community in central Statesboro. This neighborhood has diverse floorplan choices and a prime location to Interstate 16, which makes traveling around easy. It is also close to attractions such as Splash in the Boro water park and Mill Creek Park, both popular with families.
River Bluff is a new construction community outside Statesboro on the Ogeechee River. Residents have waterfront lots and access to swimming, kayaking, and boating. Undeveloped lots are available.
Chatham Place is a developing community where residents enjoy elegantly designed, energy-efficient homes starting in the $200Ks. Locals have quick access to Interstate-16 for travel to Pooler, Savannah, and Metter.
Edgewood Acres is an established community close to Georgia Southern and the Botanic Gardens. Its prime location is between Fair Road and Little Lotts Creek. Homes were built in the 1960s and 1970s.
If you want to get in on investment and revitalization of real estate, Statesboro plans to focus on Johnson Street, Whitesville, Mulberry Street, and Black Bottom.
Are there any waterfront properties found in Statesboro, GA?
Yes! Statesboro is near the Ogeechee River, which offers some wonderful waterfront properties. You can find both developed and undeveloped land along the river.
Your best options in town are creeks, lands, and reservoirs with water views or waterfront. These include Bird Pond and Little Lotts Creek. The landscape surrounding the town is also dotted with lakes and reservoirs.
Seven homes on the market had waterfront in August 2022, and they were primarily on lakes.
How is golf in Statesboro, GA?
Forest Heights Country Club is Statesboro's only private golf course. It hosts the annual Southeastern Amateur Golf Tournament. The 18-hole course weaves through tall pines and oaks and has earned a reputation as one of Georgia's best-conditioned courses.
The Georgia Southern University Golf Course is an 18-hole, par 72 course open to the public. The clubhouse includes a meeting facility, golf shop, and a cafe. The course is located on the Georgia Southern University campus.
There are also many public courses in the surrounding area, such as Evans Heights Golf Course, Briar Creek Golf Club, and Willow Lakes Golf Club.
Are there golf course communities in Statesboro, GA?
The only formal golf course community is just outside of town. The 1947 Club at Forest Heights Country Club is a private neighborhood of just 29 custom-built homes. There are estate, wooded, and golf course lots available.
If you're not interested in a golf course community, for golf course views, you can find a home in Meadow Lakes Plantation, which backs up to the Georgia Southern course.
What areas are near Statesboro, GA?
Several small towns surround Statesboro, such as Portal, Brooklet, and Claxton. Millen, Georgia, is about a 30-minute drive away.
Interstate 16 is a few miles south of town. From here, you can jump on and be in Pooler, GA, in about 45 minutes.
Statesboro is about one hour from Savannah, the closest major city. In Savannah, you have access to all the big city amenities, including an international airport. Around Savannah are the Atlantic beaches and the sea islands like Tybee and Hilton Head.
Residents are about one hour, 45 minutes from Augusta, which is almost directly north of Statesboro. Atlanta is about 206 miles, which can be three and a half hours' drive.
You can get to Jacksonville, Florida, in about two hours and 30 minutes.
What to know about living in Statesboro, GA
Statesboro is a college city of about 30,000 people located in southeastern Georgia. The weather is predominantly sunny, with January low temperatures averaging in the 40Fs.
For a town of its size, residents have quite a few amenities. Take a swim in the area's waterpark, soak up history and culture at the local museums, catch a show at one of the theaters, or do some local shopping in its vibrant downtown area. Enjoy a nature walk and one of the local parks or preserves. Choose from 150 restaurants that offer everything from fast to fine dining.
If you're looking for a place to retire or raise a family with an affordable cost of living, Statesboro could be the perfect place for you! A local real estate agent can help you find the right neighborhood for your needs.