Your Mint Hill NC Real Estate Questions Answered
Posted by Preston Guyton on Saturday, April 23, 2022 at 3:49 PM
By Preston Guyton / April 23, 2022
Comment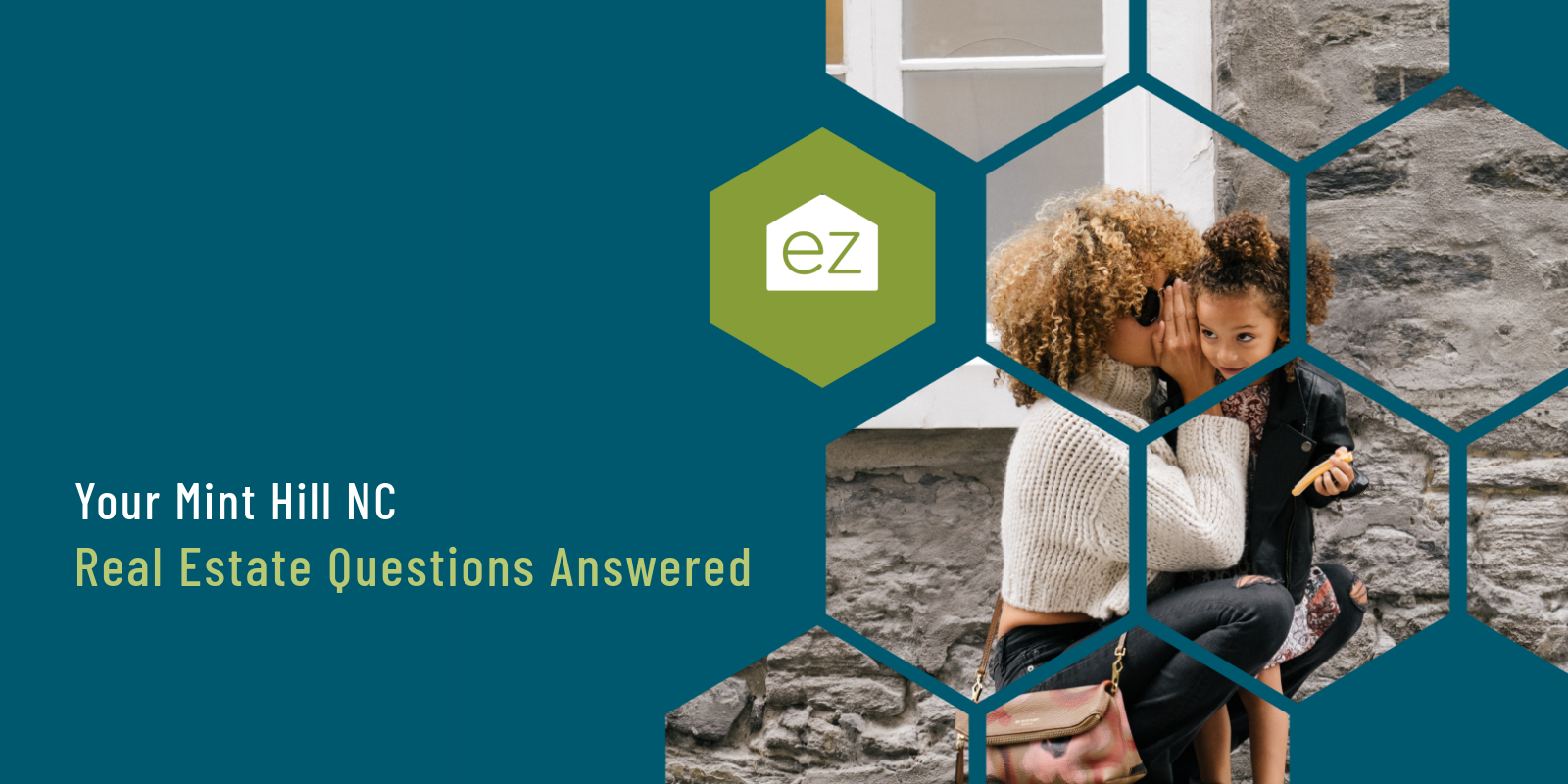 ​​
Your Mint Hill NC Real Estate Questions Answered
Mint Hill is a beautiful town in North Carolina that offers residents an excellent quality of life. Founded in 1750, Mint Hill has a small-town atmosphere with the conveniences of a big city about a 20-minute drive away. The suburban Mint Hill is home to outstanding schools, shopping amenities, and various leisure activities, including public and private golf courses.
If you're thinking of moving to Mint Hill, you may have some questions about what the housing market offers. Here are answers to some common Mint Hill real estate questions.
What is the average price of a home in Mint Hill, NC?
Mint Hill is primarily suburban and is comprised of seven neighborhoods. There were 109 houses for sale in April 2022, ranging from $60K to $9M for undeveloped lots. The March 2022 median list price was $479,600, with a median per square foot price of $198.
The most affordable existing home was $245,001 with 1,732 sq ft with four bedrooms and 2.5 bathrooms. The most expensive home was a new construction estate home for $1,827,500 on a .69 acre lot with 6,000 sq ft of living space. It had five bedrooms and 5.5 bathrooms.
Are there any condos or townhomes available in Mint Hill, NC?
As of April 2022, there were no condos or townhomes for sale in Mint Hill. There are these properties in the town, but they are not very common. Some places you can look at include downtown Mint Hill, Mint Hill Commons, Lawyers Glen, Mint Lake Village, and Brighton Park.
What is the property tax rate for Mint Hill, NC?
The Mint Hill property tax rate was $0.255 per $100 of assessed value in 2021-2022. Mint Hill also has a law enforcement service district tax rate of $0.1558 and a fire protection tax rate of $0.075.
For Mecklenburg County taxes, residents owed $0.6169 in the same taxing year. The town's total tax rate, including the county and state rates, is $1.1027 per $100 of assessed value.
What county is Mint Hill, NC in?
Mint Hill is in Mecklenburg County, home to Charlotte, the state's largest city. Over one million people live in Mecklenburg County and the Charlotte metro, and it is the state's most populated metro area. Mint Hill is about 15 miles southeast of Uptown Charlotte.
Mecklenburg is known for its great schools, parks and recreation, and professional sports teams. The city has large arenas for hosting touring musical acts and events like the state fair. On the south side is the Carowinds Amusement Park. There is a strong NASCAR tradition in the general area, and races are held at the Charlotte Motor Speedway.
There's always something to do in the Charlotte area with so many people and facilities.
Mint Hill is in the Charlotte-Mecklenburg School District (CMS). CMS is one of the largest school districts in the state, with over 151,000 students. The district has 187 schools including traditional public schools, magnet schools, charter schools, and private schools.
Is Mint Hill, NC growing?
Mint Hill had 26,450 residents in the April 2020 census. It added just under 4,000 new residents in a decade. It is growing at a rate of around 1.45% annually. Around 20% of its residents are 18 years or younger, and another 19% are 65 and older. The median age of a resident was 43.8 in 2019.
What neighborhoods are in Mint Hill, NC?
Most of Mint Hill is a highly suburban area with lots more spacious than average. You'll find lots of single-family homes with yards.
Some of the most popular neighborhoods in or around Mint Hill are Downtown Mint Hill, Davis Trace, Farmwood, Stonebridge, and Summerwood.
In spring 2022, the communities with the most available listings were Summerwood, Farmwood, and Olde Sycamore. All three of these communities have single-family homes with three to four bedrooms with square footage at 2,500 and upwards. They are of newer construction.
Summerwood offers a peaceful environment with rolling hills and mature trees that beautify the area. The community has a variety of amenities, including a pond with a walking trail surrounding it and a zero-entry neighborhood pool.
Homes in Plantation Falls are of newer construction and range from 3,300-3,800 sq ft. List prices in April 2022 started at $900,000. The development is near I-485 and the Olde Sycamore Golf Plantation.
If you are interested in a new construction home, several developments in Mint Hill allow you to customize your home or move into a new home. Some places to look include Mint Hill Village, Heron Creek, MacEwen Village, and Sonata at Mint Hill.
Are there any waterfront properties found in Mint Hill, NC?
Mint Hill does not have an extensive waterfront available. If you would like some sort of waterfront in your home, you are most likely to find a backyard creek or river run. The Irvins Creek watershed is the most significant water source inside of Mint Hill and your best bet for finding a waterfront.
How is golf in Mint Hill, NC?
Pine Lake Country Club is a private club that Mint Hill residents can join. It has an 18-hole golf course on 157 acres, tennis courts, a swimming pool, and a clubhouse.
Olde Sycamore Golf Plantation is another option for Mint Hill golfers. It is a semi-private course with 18 holes designed by Hall of Fame architect Tom Jackson. The course was named the "Best New Course" and "Best Eastside Course" by Charlotte's Best Magazine in 1997.
Mint Hill residents also have more golf choices in the communities surrounding them. For example, the Charlotte National Golf Club is next door in Indian Trail.
Are there golf course communities in Mint Hill, NC?
The Olde Sycamore Golf Plantation is a golfing haven located amid a mature hardwood forest just minutes from I-485. The neighborhood has access to the pool and tennis courts complex. The Olde Sycamore Country Club is semi-private, but it offers a variety of cost-effective membership options.
While there is no formal community around the Pine Lake Country Club, you can find some homes with golf course views.
What areas are near Mint Hill, NC?
Mint Hill is a suburb of Charlotte and is located in Mecklenburg County. It is about 16 miles southeast of Charlotte.
Mint Hill is bordered by the cities of Matthews to the east, Stallings to the west, Indian Trail to the north, and Harrisburg to the south. These communities also act as bedroom neighborhoods for Charlotte. Each has its own character and amenities.
Living this close to Charlotte, residents have access to all that the city has to offer. Catch live performing arts, professional sports games, and festivals while appreciating daily living in the quiet community in Mint Hill.
What's the cost of living like in Mint Hill?
The cost of living in Mint Hill is 7% higher than the national average and 17% higher than the North Carolina average. The biggest factor in the cost of living calculation is housing, which was 22% above the national average. All other category expenditures were in line with national averages.
What to know about living in Mint Hill, NC
Mint Hill is a great place to live for those who want to be close to Charlotte but prefer the benefits of living in a smaller community. The town has a rich history dating back to the 1800s, which you can see at its McEwen Historic Village. Even as a historic town, there are things to do in Mint Hill.
If you enjoy the outdoors, Mint Hill has parks and greenways for you to explore. Notable parks include Mint Hill Veterans Park, Crooked Creek Greenway, Steven Branch Nature Preserve, Idlewild Park, and HGBC Recreational Complex.
Mint Hill also has shopping and dining options around its downtown area and along NC 51. The Mint Hill Madness festival is held every October and features over 200 vendors, food trucks, live music, and more.
If you're looking at living in Mint Hill, contact a local real estate agent to find the right neighborhood for you.